Health minister won't say why quarantine order deleted, Facebook account inactive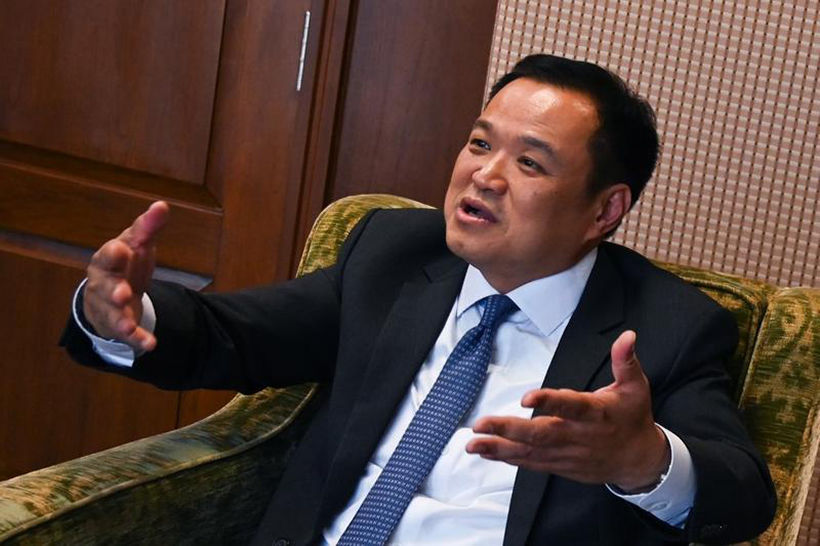 Health minister Anutin Charnvirakul yesterday declined to explain why he removed an order requiring people arriving from 9 countries and 2 Chinese territories designated as high risk areas for the Covid-19 virus to be placed in self-quarantine. According to the quickly deleted document posted on his official Facebook page (now inactive), the nine destinations are "disease areas" and people arriving in Thailand from them could be subject to health measures. He also added his own message that such measures would include a compulsory quarantine.
"Everyone arriving from these nine countries, which have been declared 'disease areas' will have to self-quarantine for 14 days without exception. We will fight through this together." 
The countries and territories mentioned are Germany, Japan, South Korea, China, Hong Kong, Taiwan, France, Singapore, Italy, and Iran.
But just hours after the announcement appeared, the post, and Anutin's entire page, became inaccessible for no apparent reason.
Despite his clearly visible signature, Anutin, who is also deputy PM, denied any knowledge.
"I'm also wondering how the document ended up there, since I haven't signed it. It's still in my room," Anutin said. "I have to revise it again because the issue of undocumented Thai workers returning from South Korea just came in. I need to look back into the issue before making changes."
When a reporter pressed him on why he deactivated his Facebook account after publishing the post, Anutin chuckled and tried to divert the question:
"My son wants me to rest," Anutin said. "In fact, I have many Facebook accounts to communicate with the public. Some of the posts were written by myself, while others by my team."
The post was shared at least 900 times before it was deleted, and was widely picked up by both Thai and foreign media outlets including CNN, causing much confusion for some travelers.
It's not Anutin's first gaffe related to his communications. In February, he raised many eyebrows by suggesting foreign tourists who don't wear face masks in Thailand "should be kicked out." He later apologised for the remark and only Tuesday said face masks are "not necessary."
Keep in contact with The Thaiger by following our
Facebook page
.
Beaches in Phuket closed until further notice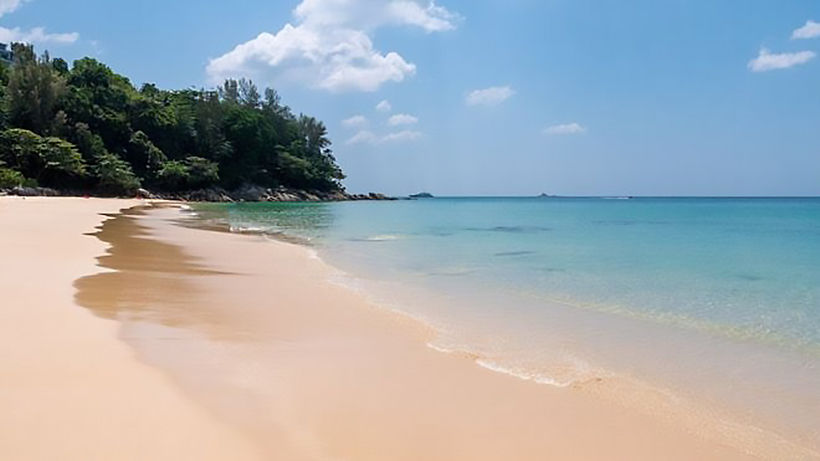 The world famous beaches of the southern resort island of Phuket are now closed indefinitely in another effort by provincial officials to fight the spread of the Covid-19 coronavirus. Governor Phakkhaphong Thawiphat, who is also heading up the Phuket Communicable Disease Committee, made the announcement yesterday. The closures extend to zoos and all venues offering animal shows for tourists. Bangla Road in Patong is also closed.
"The decision is part of an effort to better control and prevent the spread of the new coronavirus. By the governor's authority under sections 22 and 35 of Communicable Disease Act, these places will be closed temporarily until further notice."
Those who violate the order could be jailed for up to one year and/or fined up to 100,000 baht.
All nine Thai airlines have suspended flights, and many, if not most hotels in the province have closed and say they will not receive new tourists. Management are trying to figure what to do with all their staff and are asking the Thai Finance Minister and workplace authorities for clarification over employee salaries and leave entitlements during the crisis.
The governor "sought cooperation" from both locals and foreigners staying in Phuket to remain indoors from 8pm to 3am beginning yesterday until further notice, effectively placing the province under a virtual curfew, except in cases of URGENT matters.
The Public Health Ministry reported 143 new cases across the country in the past 24 hours today, bringing the total confirmed cases in Thailand to 1,388. One more patient died, bringing total deaths to 7 nationwide.
As of today, confirmed infections in Phuket stand at 53, the highest among southern provinces. 7 have recovered and returned to their homes, 46 are under treatment – none of them is considered 'critical'. Test results are pending for 97 other people.
A total of 944 people are "under scrutiny" while 794 have tested negative, according to the Phuket provincial health authority.
SOURCE: The Nation
Keep in contact with The Thaiger by following our
Facebook page
.
Thailand confirms 143 new coronavirus cases, 1 more death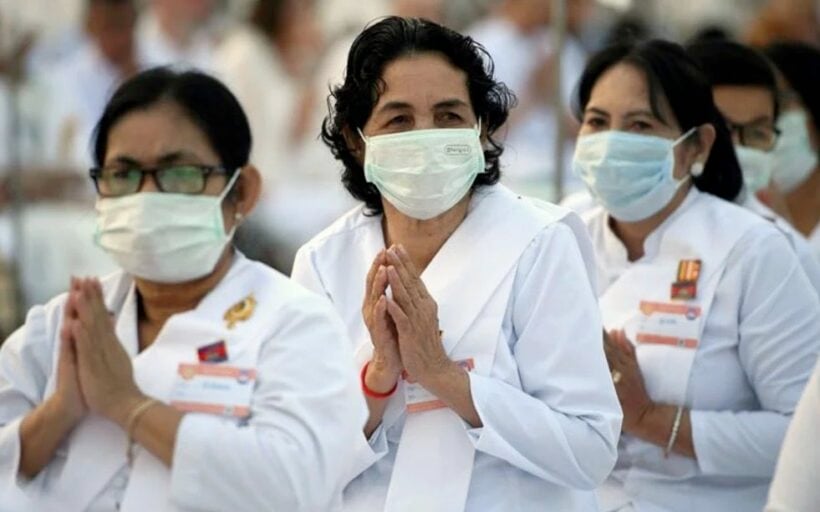 Thailand's Ministry of Public Health and its Department of Disease control announced 143 new confirmed cases of the Covid-19 coronavirus at their daily press briefing today in Bangkok (March 29), up from yesterday's 109 new cases. There has been 1 additional death, bringing the national Covid-19 toll to 7.
The latest figures brought the total cases to 1,388 across 57 Thai provinces – 1,032 of the patients are Thais. Bangkok has a total of 515 cases, followed by Nonthaburi with 58 and Phuket with 53.
A state of emergency has been in effect nationwide since Thursday and travel heavily restricted, with checkpoints along major roads to prevent a mass migration to the provinces as newly unemployed people try to return home.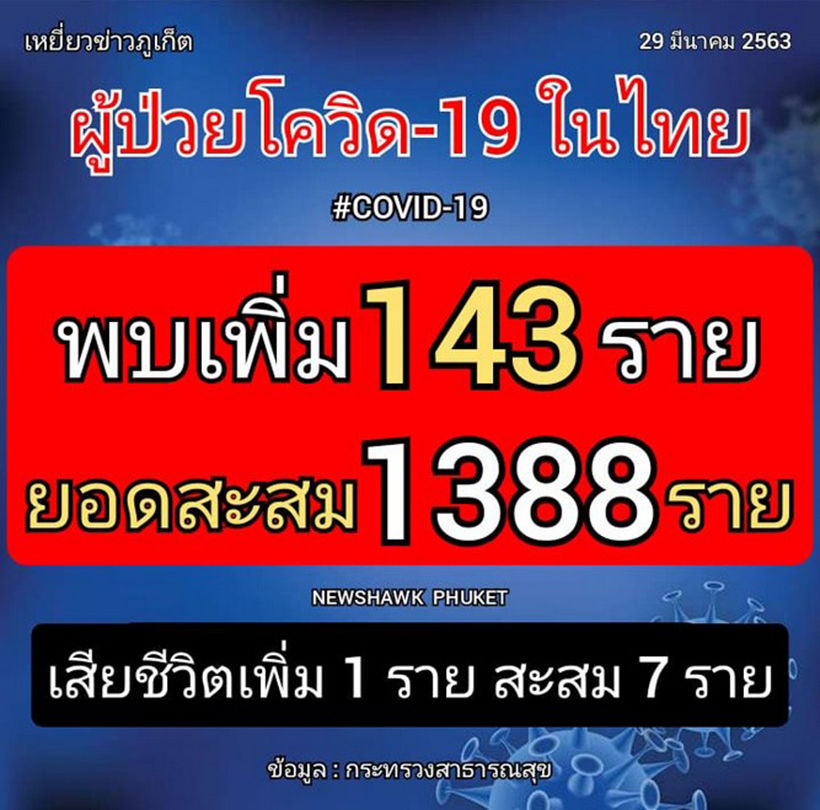 The Public Health Ministry stresses the need for people to stay home to prevent the spread of the virus.
"People should stay at their places and stop social activities for a week. A 24 hour curfew may have to be imposed if people continue to ignore our warnings."
Keep in contact with The Thaiger by following our
Facebook page
.
6 new coronavirus cases in Phuket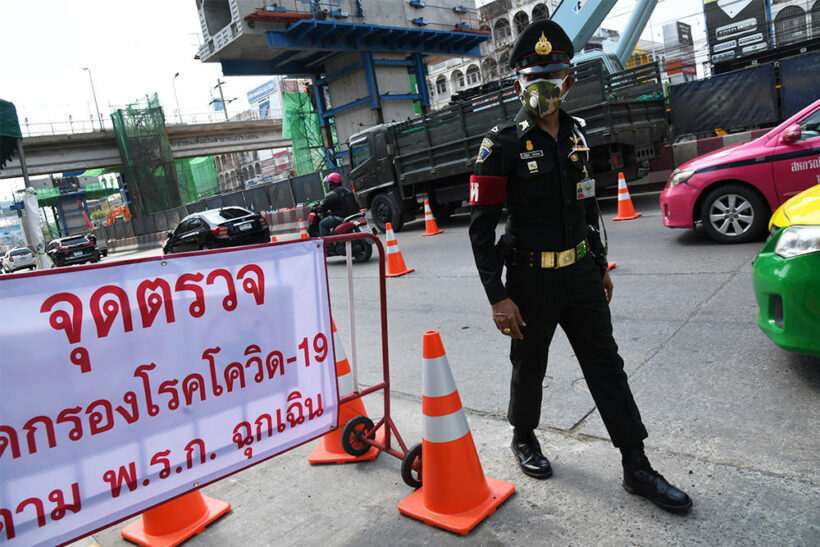 Phuket island officials have reported 6 new cases of the Covid-19 coronavirus as of today (Sunday, March 29), bringing the total to 53 on the southern island. The details as known at time of publication are…
Case 48: A 42 year old Thai woman, a gift shop owner in Patong.
Case 49: A 32 year old Ukrainian woman who runs a health clinic in Karon.
Case: 50: A 27 year old Thai woman who has had close contact with foreigners.
Case 51: A 37 year old Thai man, a bouncer in Patong's Bangla Road.
Case 52: A 36 year old Thai woman, a massuese in Patong.
Case 53: A 22 year old Thai woman who had close contact with another confirmed case, in Patong's Bangla Road.
Since January 5, 944 people in Phuket have gone to hospital for testing. Of those 794 have tested negative and were sent home.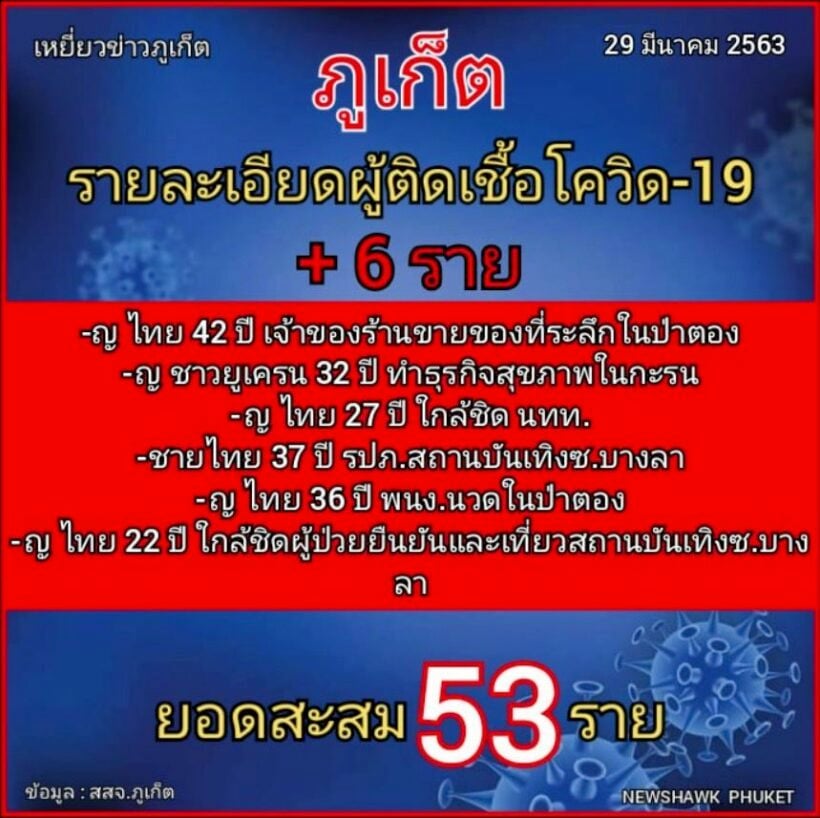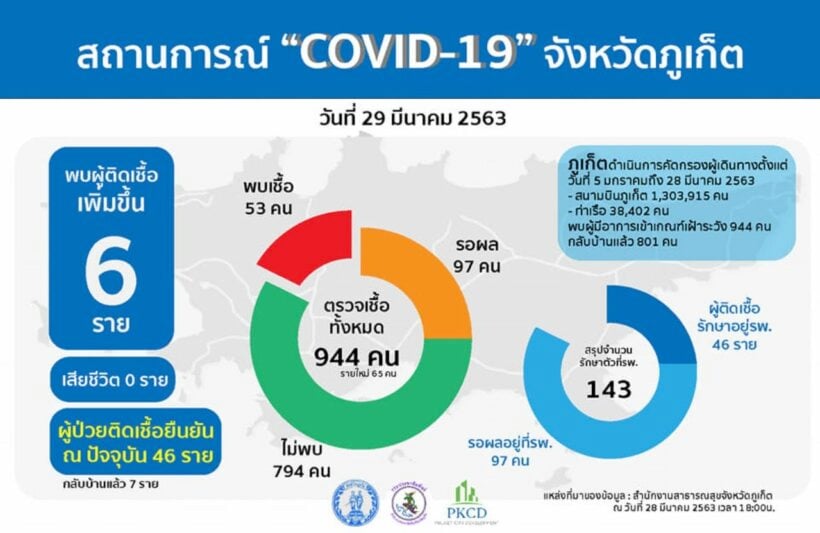 SOURCE: Newshawk Phuket
Keep in contact with The Thaiger by following our
Facebook page
.