Former Deputy PM stresses need for more testing, emulating South Korean model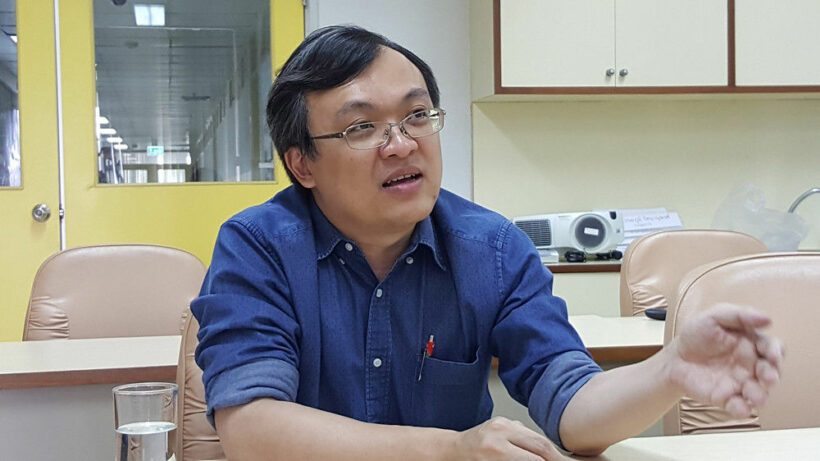 "Test, test, test was the former Deputy PM's message, especially now that the country has the labs to do so."
Dr Surapong Seubwonglee, a former Deputy Prime Minister of Thailand posted on Facebook urging the government to investigate the number of people tested for the Covid-19 coronavirus in Thailand and appeal for wider testing.
He gave several reasons why testing has been sluggish and said that now is the time to expand testing to asymptomatic individuals. Many recently cases confirmed cases have shown no symptoms.
With an improved number of testing labs, the country now has the capacity to do 20,000 tests daily. Labs could now do as many tests as they have done since January in just the next few days.
Surapong' post said that testing for the virus has been low in Thailand, though it's higher than reported on worldometers.info, which as of today says 71,860 have been tested, equating to just 1030 per million inhabitants.
He showed data that suggested 71,860 tests had been done from January to April 4th. The great majority of these were in Bangkok with Chula (pink on the graph) and Ramathibodi Hospital (Blue) the most.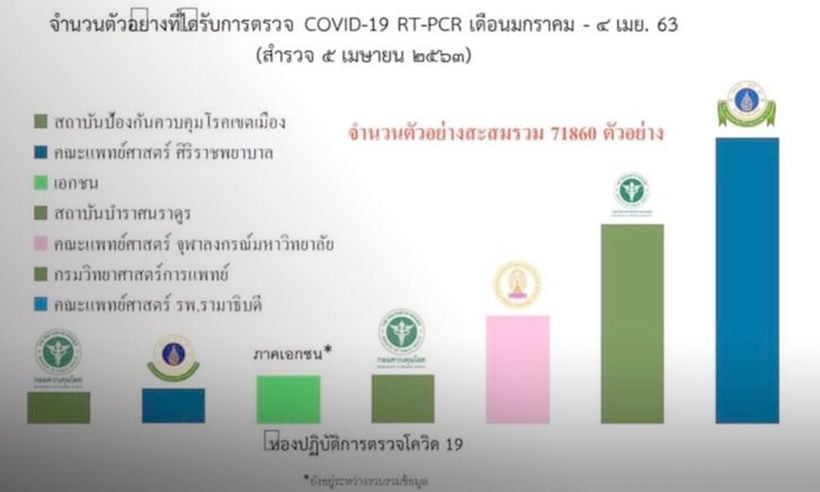 Surapong said that while the testing done in Thailand is just a fraction of that done in South Korea and Germany, Thailand found a greater percentage of people infected because they targeted high risk individuals rather than the asymptomatic population.
He said that tests in Thailand need to be massively expanded so that more people can receive medication early before their symptoms become dangerous. This model has been widely praised around the world after it was adopted in South Korea and Taiwan.
Surapong said there were several reasons for the sluggish approach. There were few testing labs at first and most of those were in Bangkok. But there are now 77 labs nationwide and the capacity for testing daily is now 20,000. There will be 107 labs by the end of the month.
He conceded that there have been problems over the cost of the tests and the lack of uniformity. Now the cost has been fixed at 3,000 baht, and Thais can access a test using their social security or other insurance.
Facebook page
.
Thai police deny using emergency decree as political tool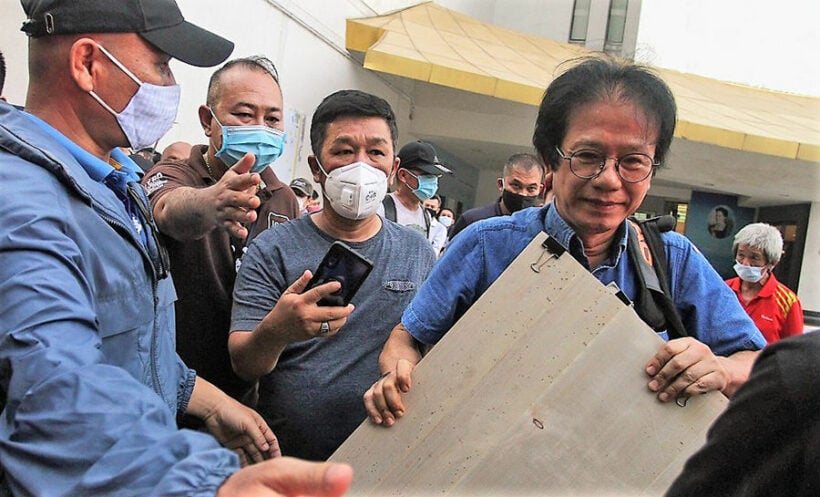 Following the arrest of two activists in Bangkok on Friday, police deny using the emergency decree to suppress political dissent. Both activists were arrested at the Bangkok Arts and Culture Centre, where a small group was commemorating the 6th anniversary of the May 2014 military coup that swept PM Prayut Chan-o-cha to power, tossing out the elected government of Yingluck Shinawatra.
Authorities say both men, who were leading the group, were violating the emergency decree by holding an unauthorised gathering. Police spokesman Kissana Phathanacharoen say the case will likely go to trial within the next month, where the activists could receive a sentence of up to 2 years' imprisonment if found guilty.
The emergency decree, enacted by the government to handle the time of the Covid-19 outbreak in Thailand, has been extended to the end of June.
However, according to a Khaosod English report, one of the men, Anurak Jeantawanich, says neither he nor fellow defendant Totsaporn Serirak, were doing anything to spread the virus, having taken all necessary safety precautions. He says the arrests are politically motivated and plans to appeal to the Office of the Attorney General. The arrests come just hours after several other political activists were arrested for staging a protest at Democracy Monument in the capital.
"The government is using the emergency decree to deprive freedom and liberty of the people, no different from under the junta."
Kissana denies the allegation, saying the police are simply enforcing the current law that prohibits any gatherings.
"My job is not to make people believe or not believe. We enforced the law as usual. The organisers violated the decree and it's the same with those found drinking alcohol in a group."
SOURCE: Khaosod English
Keep in contact with The Thaiger by following our
Facebook page
.
Thai food giant to provide a million meals priced at 20 baht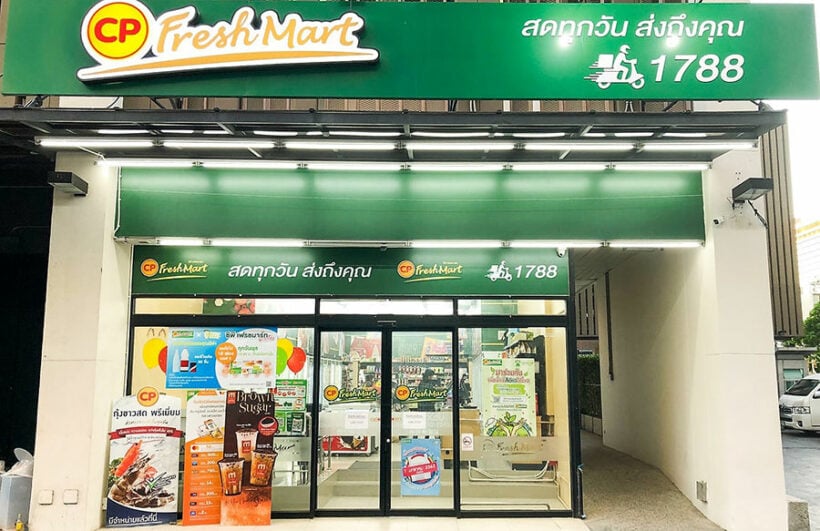 Thai food conglomerate Charoen Pokphand Foods says it plans to offer heavily discounted ready-to-eat meals for those facing financial difficulties as a result of the economic fallout of Covid-19.
CEO Prasit Boondoungprasert says a million meals will be distributed to Fresh Mart shops around the country and will cost just 20 baht. There will be a choice of dishes on offer and customers who purchase 5 meals at a time using the TrueWallet app will get an additional 5 baht discount .
"Six ready-to-eat meals will be offered under the campaign – rice with chicken breast in spicy sauce, rice with roasted chicken, rice with spicy chicken, fried rice with Korean-style roasted chicken, rice with garlic and liver and rice with omlette."
Nation Thailand reports that CPF is also delivering free food to impoverished homes in Bangkok on Tuesdays, Thursdays and Saturdays and distributing vouchers to village healthcare volunteers around the country so they can purchase items at discounted prices at Fresh Mart branches nationwide.
Charoen Pokphand Foods Public Company Limited a company of the Charoen Pokphand Group, is an agro-industrial and food conglomerate headquartered in Thailand. Approximately 64% of its revenue came from overseas operations, with 30% from its home market of Thailand, and 6% from export operations. It recently acquired Bellisio Foods, one of the largest frozen food suppliers in the United States, for US$1 billion, as well as Westbridge Foods, a major British poultry producer with turnover of over £340 Million.
The company's core businesses are livestock and aquaculture. Livestock operations include chicken broilers, chicken layers, ducks, and swine. In aquaculture, the two main marine animals are shrimp and fish – Wikipedia.
SOURCE: Nation Thailand
Keep in contact with The Thaiger by following our
Facebook page
.
Students to wear mask, get temperature checked at school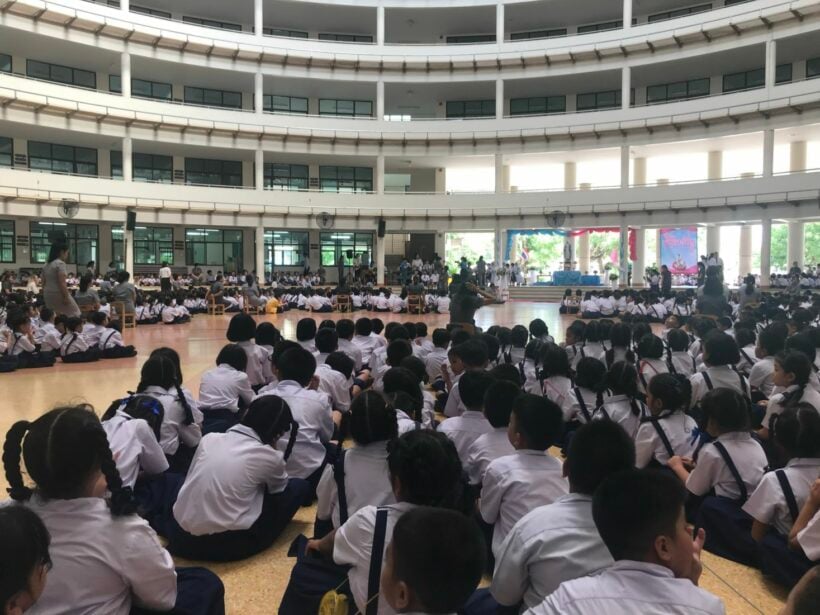 Students will need to wear a face mask and have their temperature checked before entering school. The Public Health and Education ministries recently put restrictions in place for the start of school set for July 1, according to Nation Thailand.
Schools are categorised as a high risk area for the potential spread of the coronavirus. In general, cold and flu bugs spread fast in schools. Now, with a more serious pandemic, teachers and school officials will need to work extra hard to keep students healthy and somehow find a way to make sure students are social distancing.
"Hand sanitising checkpoints are now required throughout school grounds. Door knobs, toilets and playgrounds must be cleaned often. If a student has symptoms, the school must inform public health authorities."
Some advisors are saying schools should wait longer to open, while others say children are less likely to show symptoms of the virus. The start date has already been pushed back and students are looking at a so-called "mega term" with little to no holiday break to make up for lost time until next year.
Thailand's chief virologist, Dr. Yong Poovorawan, from the Faculty of Medicine says reopening schools needs careful consideration.
"If they do reopen in July, class sizes must be reduced to make sure students are seated a safe distance apart. It's unclear how schools that are at capacity will lower class sizes."
Distance-learning classes have launched online, but the system has had a few early bugs, with many Thais without internet or some unable to access the classes.
SOURCES: Nation Thailand| Thai PBS World| Bangkok Post
Keep in contact with The Thaiger by following our
Facebook page
.