Do Thai women prefer 'farang' or Thai men? And why?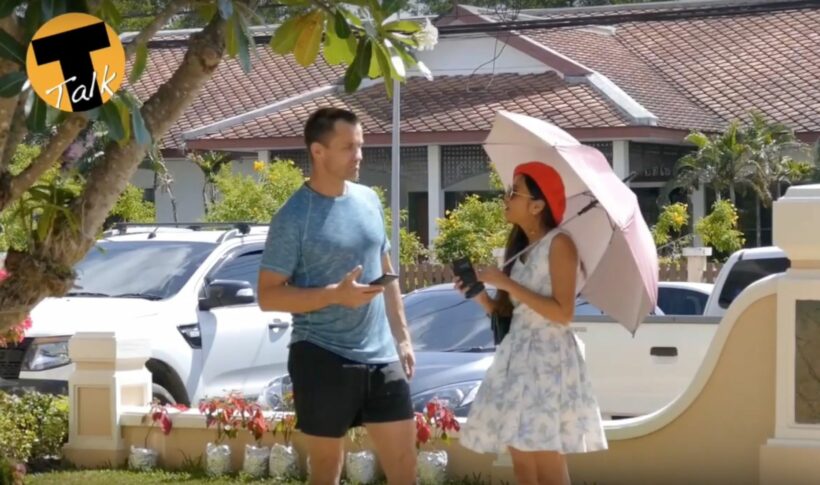 Today Bibi from Thaiger's T-Talk headed out to ask some random females about who they prefer – Farang or Thai guys, and why? And if they have to choose one, who would they go for? Is it the money? Is it the height, the blue eyes? Maybe they want to improve their English. There are plenty of theories, thousands of anecdotal stories – good and bad. Bibi tries to get some first hand information.
Or was she shopping for a husband?
If you like this video don't forget to click LIKE and Subscribe to our channel, and if you have any questions you want Bibi to go out and ask people, please leave a comment below the video.
Keep in contact with The Thaiger by following our
Facebook page
.
Never miss out on future posts by
following The Thaiger
.
Thailand News Today | Shots fired, the yellow ducks, "no coup" promise | November 26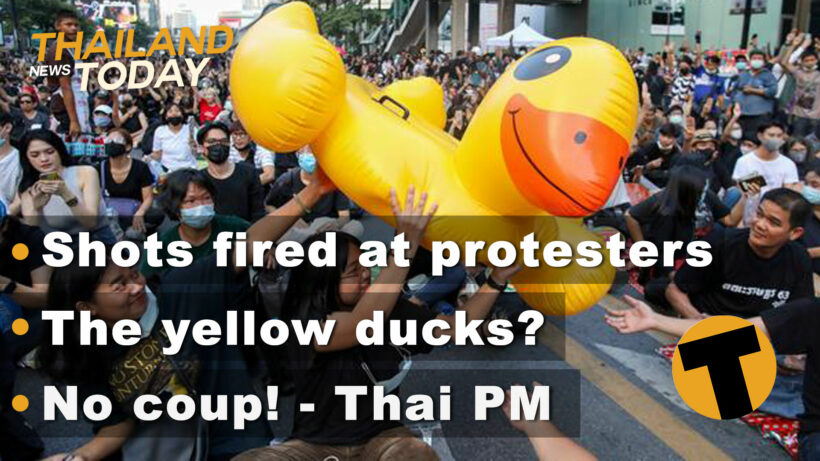 Today's news includes some live footage of the explosion and chaos at last night's rally outside the Siam Commercial Bank building. Here we go with today's Thailand news.
An explosion and gunshots fired at last night's protest outside the Siam Commercial Bank HQ
There were reports of shootings and the throwing of an explosive device, caught on video at last night's protest out the front of the Siam Commercial Bank HQ.
2 people were shot and injured in the chaos that erupted as people were starting to head home after the rally at about 10.10pm.
Firstly there was a man, dressed in a bike helmet, caught on camera hurling some explosive, through to be a pipe bomb, into a crowd of protesters. After the explosion there was up to 4 gunshots fired. A gunman was apprehended whilst other alleged shooters escaped into the crowd. Both the injured protesters were rushed to hospital. The protesters had their own security contingent present at yesterday's rally, some 50 volunteers, who co-operated with police in their immediate investigation into the incident.
Yellow ducks dominate at Bangkok pro-democracy rally
Speaking about the protests, what is it about the yellow inflatable ducks that keep popping up at the rallies?
Having been used at protests in Hong Kong earlier this year, the rubber duck has also become a regular feature at the Thai protests, a symbol of mutual support between both pro-democracy movements. And, more practically, became a useful defensive shield to fend off the water cannons and anything else that ended up hurled at the protesters.
At yesterday's rally outside the SCB building, the duck could be seen everywhere, with enterprising vendors selling t-shirts, toys, hats, torches and hair pins, all bearing the yellow duck's image.
Yesterday's protest was originally set to take place at the Crown Property Bureau, but organisers took to social media the night before to announce a change of location to the SCB headquarters. Protest leaders say the change was to avoid a confrontation with royalists who, they claim, were being deliberately sent to provoke them.
10 passengers injured after Bangkok-Chiang Khong bus crashes into tree
10 people were injured and sent to the hospital after a bus driver lost control of the vehicle and crashed into a tree early this morning.
The double-decker passenger bus on the Bangkok-Chiang Khong route was passing through the Phitsanulok province in Central Thailand when the driver lost control and crashed into a tree on the side of the road. The incident happened at 2:50am.
Thai PM insists martial law will not be used against protesters
Thai PM Prayut Chan-o-cha says he has no intention of resorting to martial law to put an end to the current political impasse and protests. He says that existing laws provide enough scope for dealing with those who take matters into their own hand.
But the then General Prayut, head of the Thai army, made similar assurances in the latter stages of the Yingluck Shinawatra government before he led the NCPO in a bloodless military coup against her government in May 2014.
City officials plan to demolish abandoned Pattaya condo project
After years of talks, threats, and complaints, the abandoned Waterfront condo development overlooking Pattaya's Bali Hai pier looks set to be demolished.
The Waterfront Suites and Residence is a half-finished condo project that was stalled in 2014 after safety inspectors discovered that the building's fire escapes and elevator systems designs varied from the already approved construction designs.
Now Pattaya's mayor says officials plan to tear down what many have condemned as an eyesore, "as soon as possible", and charge the owners for the costs of the demolition.
The Israeli-owned development company, Bali Hai, are accused of violating building regulations, by building a structure that exceeds the legal height limit, as well as restrictions on proximity to the beach. Local residents have also complained that the development obstructs the panoramic vista of the bay from Pattaya Hill.
Ex-Thai Airways official gets fat prison sentence for failing to pay excess baggage fees
You'll never complain about excess baggage charges after hearing what happened to a former Chairman of Thai Airways who's ended up with a 2 year prison sentence for fudging his baggage allowance on a flight back in 2009.
The former chair for the airline has been sentenced to 2 years in jail because he didn't pay for 300 kilograms of excess baggage. The court says he abused his authority by ordering airline staff to change the stated weight of luggage so he could get out of paying excess baggage fees.
The judge says the sentence could not be suspended. Ex Chairman Wallop's lawyers say they will appeal the harsh sentence.
Keep in contact with The Thaiger by following our
Facebook page
.
Never miss out on future posts by
following The Thaiger
.
Thailand News Today | No vaccine, no flight, protest latest, smoking ban | November 25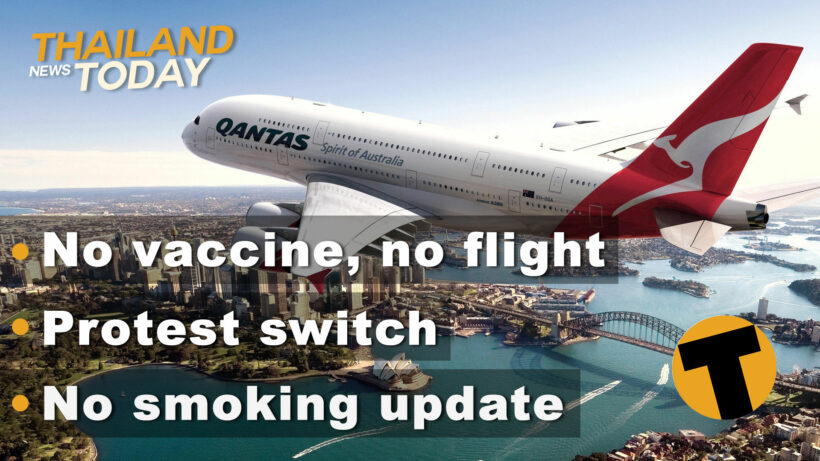 The latest on today's protests and the background as to why the protesters moved from the Crown Property Bureau. All on Wednesday's Thailand News Today.
Protesters flip the location of today's protest. Counter protests planned.
Protesters moved the location of today's protests to the the headquarters of Siam Commercial Bank in Bangkok.
When protesters heard about a counter rally to meet and challenge them at the Crown Property building they decided to switch locations to the SCB headquarters around 10.30 last night.
SCB is a Thai bank that was set up under the auspices of the Crown Property Bureau. Thailand's King Maha Vajiralongkorn is still the largest single shareholder, owning 23.35% of SCB shares.
Deputy PM and police warn protesters to stay away from the Crown Property Bureau
Stay away. That was the orders from police when the protesters were set to rally outside the Crown Property Bureau. Demonstrators would have been required to stay at least 150 metres away from the building in Phitsanulok Road.
A record 6,000 police were mobilised to handle the expected large crowd. Additional police have been shipped in from the provinces to bolster security for today's rally.
Army re-inforcements have also been called in today, according to an Army spokesperson. The anti-government groups have also brought in their unarmed security force of some 50 people calling themselves "special services".
Deputy PM Prawit Wongsuwon also warned royalists groups to avoid mounting a counter-demonstration against the planned anti-government rally yesterday.
12 anti-government protesters summonsed to hear lèse majesté charges
Meanwhile, with almost impeccable timing, 12 pro-democracy protesters have been issued with police summons to hear charges under the lèse majesté laws.
Section 112 covers insulting, defaming or threatening the Monarchy. Anyone convicted on lèse majesté charges faces imprisonment of between 3 and 15 years.
In June this year the Thai PM announced that HM the King had asked the government not to impose the country's lèse majesté laws.
BBC names Thai protest leader Panusaya in global list of 100 most inspiring women
One of the protesters facing charges has also been named by the BBC as one of the world's 100 most inspiring and influential women of 2020.
Thai pro-democracy activist, Panusayaaka. "Rung", has been singled out in thelist of women around the world who are driving change in challenging times. Panusaya is one of 3 Thai women to be listed.
As the leader of protest group, the United Front of Thammasat and Demonstration, she came to international attention at a Bangkok rally in August, when she read out the group's controversial 10 point manifesto calling for reform of the Monarchy – a taboo topic never before publicly discussed.
We'll have the latest information about today's protests at the end of the bulletin.
Monk dies after jumping in front of speeding train in north-east Thailand
A monk has died after jumping on to rail tracks and into the path of an approaching train in the north-eastern province of Si Sa Ket, near the Cambodian border.
The incident occurred at a provincial train station in front of horrified witnesses yesterday morning.
Witnesses report that he jumped onto the tracks and stood with his arms open, in the path of an oncoming train.
Health officials call for smoking to be banned in residential buildings in Thailand
Thai health officials are calling for a ban on smoking in residential buildings, such as condominiums, hotels, and dormitories.
Those campaigning for a change in the law say it's needed to protect the health of residents, and children in particular. The Health Laws and Ethics Centre at Thamassat University, says residential buildings should be smoke-free in order to protect residents from second-hand smoke. He was speaking at a seminar on the protection of non-smoking condo residents.
According to recent surveys only 15% say they are still smokers. 89% of respondents were in support of a total ban on smoking in condo buildings.
No vaccine, no flight – Qantas will require international travellers to be vaccinated
Qantas, Australia's national airline, has been the first of what will likely be a common airline stipulation, with a requirement that all international travellers will need to have a vaccination against Covid-19 when it finally becomes available.
Qantas CEO Alan Joyce says the Australian flag carrier would implement the measure once a coronavirus vaccine was made available to the public.
"For international visitors coming to Australia and people leaving the country, we think that is a necessity."
Joyce says the new rule is likely to become a standard practice by all airlines worldwide as many governments are now working to introduce electronic vaccination passports.
Keep in contact with The Thaiger by following our
Facebook page
.
Never miss out on future posts by
following The Thaiger
.
Thailand News Today | Holiday road toll, protests tomorrow, GDP recovery | November 24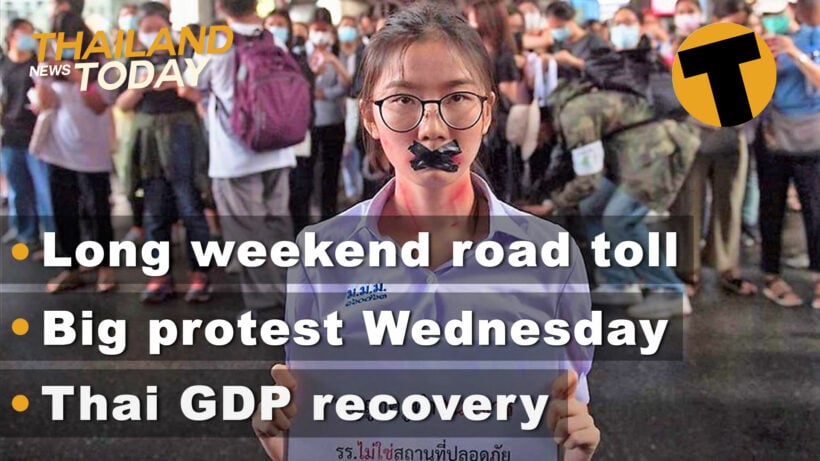 There's been some heavy downpours around sections of Bangkok over the past few days. We start with some video of the flooded streets. Then, into the news…
139 killed, 653 injured, as Thailand's holiday weekend sees surge in road accidents
The Ministry of Transport has confirmed that hundreds of road traffic accidents have taken place over Thailand's 4 day holiday weekend.
139 people have died and 653 have been injured in the course of the 4 day break, which was introduced to boost domestic tourism.
455 car accidents were recorded, with nearly 79% of them being caused by excessive speed. 82 people died in car accidents, with another 466 injured.Another 153 accidents involved motorbikes, with 47 bike riders killed and 165 injured.
Public transport vehicles and trucks accounted for 21 accidents, with 13 caused by trucks, 5 by buses, and 3 by trains. Over 10.7 million people took to public transport between last Wednesday night and Sunday night.
Protesters target the Crown Property Bureau tomorrow, taking direct aim at the country's Monarchy
Tomorrow the protest road show moves to the Crown Property Bureau in Phitsanulok Road, taking aim directly at the the management of the Thai monarch's affairs.
Protesters, who first brought up the issue of the role of the Thai Monarchy in July this year, say they have "a big surprise" in store. This will be the first time when the entire focus of the protest will be Thailand's Head of State, previously considered a taboo topic in Thai society and the media.
The Crown Property Bureau is the quasi-government agency responsible for managing the property of the Thai Monarch. The bureau is legally defined as a juristic entity and is not a government agency. It also has no tax obligations.
In speeches during last week's protests, speakers at the rally said… "we demand the return of taxpayers' money".
But Thai PM Prayut Chan-o-cha questioned the protester's plans…
"Why they want to get close to the Crown Property Bureau? I think you know their purpose."
There's a longer article with some history about the Crown Property Bureau at TheThaiger.com
Protester slammed for dressing as schoolgirl to highlight sexual harassment in Thai schools
2 government MPs have criticised a member of the "Bad Students" protest movement after she dressed as a schoolgirl to highlight sexual harassment in Thai schools.
In an online protest, the activist put on a school uniform and held up a sign condemning sexual harassment in the Thai education system.
Whilst her actions have generally been supported by netizens, some pro-establishment figures have hit out at the protester including 2 Palang Pracharat MPs, who says the protester's decision to wear a school uniform will bring Thai schools into disrepute.
His accusation comes as sexual harassment figures from the Office of Basic Education Commission have been released, showing hundreds of sexual harassment incidents recorded between 2013 – 2017. In January this year alone, there were over 700 cases reported of sexual harassment. The report says that many other victims remain too scared to come forward.
Finance Minister says Thailand's GDP will take 2 years to recover
Thailand's finance minister says the country's GDP will take 2 years to recover the 9% it has lost since the Covid pandemic ravaged the economy.
The Finance Minister says the economy would have expanded by 3% this year if it weren't for the pandemic.
"The pandemic crisis will make the economy contract by around 6% in 2020, therefore there is a 9% gap that needs to be recuperated. If Thailand's GDP growth could arrive at 4% in 2021 and 2022, this would propel the country's economic growth momentum to return to a normal ratio."
As for the 2022 budget, he says it is still being designed to support economic growth through public investments in infrastructure and energy, with some projects relying more heavily on help from the private sector.
Police have yet to investigate illegal hiring of foreign teachers at international school in Phuket
Chalong police in Phuket say they have yet to start investigating the illegal hiring of foreign teachers at an international school in Rawai.
Palm House International School allegedly hired foreign teachers illegally where 2 were arrested by Phuket Immigration police on November 4.
The Chalong police leading investigations into the case, says the 2 Brits were informed that police were processing a charge of working illegally in the country against them, where both denied the charges. The 2 men have been released on bail.
But he says the investigation is yet to begin with police saying they haven't even questioned the owner of the school.
"The investigation into the school will take time. The investigation into the two British people must be finished first."
Keep in contact with The Thaiger by following our
Facebook page
.
Never miss out on future posts by
following The Thaiger
.