VIDEO REPORT: Yoga: breathing in new life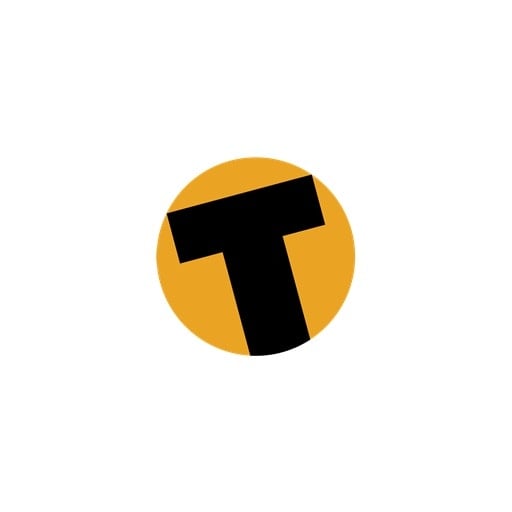 PHUKET: Young Spanish filmmaker and inveterate traveller Josu Ozkaritz's latest documentary project Breathing Ashtanga Yoga was largely filmed in Phuket and features teachers and students of the popular Ashtanga Yoga style talking about the profound effect the ancient discipline has had on their lives.

Josu has worked on a number of self-funded film projects and stumbled across the idea to do a film on Ashtanga yoga when he met his Chilean girlfriend Carol Milstein, who is an experienced Ashtanga and Yin yoga practitioner and teacher.

After arriving in Phuket they noticed yoga's popularity on the island and this was the inspiration for the film. It examines the fascinating tradition of Ashtanga and its origin but also on the stories of the people who practice it here in Phuket. For this reason, yoga practitioners and professionals will find this film interesting. But the film goes beyond that.
"The documentary itself is not only about yoga, it's about how the whole rhythm of the world, the fast pace that we all live at, causes a lot of stress for people. This is why I think it will appeal to audiences in general as this hectic lifestyle affects us all nowadays," said Josu.
"Many people have found yoga [and have used it to] get away from this fast pace of life, as a way to relax and connect to themselves," he adds.
The documentary includes interviews with teachers and students of Ashtanga yoga who tell how the both the physical and mental practices of yoga have helped them improve their well-being.
"Some people were working regular jobs, and once they found yoga, it just captured them and changed their whole lifestyle," says Josu.
"One teacher from the US used to work in the finance industry in New York, so you can imagine the kind of lifestyle he was living. He found himself doing a lot of sport to try to disconnect from this lifestyle and then he found yoga and got more and more into it and now he teaches yoga for a living, so it changed his life," said Josu.
The importance of questioning commonly held materialistic values is one of the most important messages Josu says he wanted to get across in the film.
"It's not only focused on yoga, but whole health. Sure, it is important to keep yourself fit, but the other message is not to get too caught up in this materialistic world, and what we see in television commercials. They are leading people away from personal relationships and now it's all about iPads and cell phones and computers.
"Yoga helps people connect with themselves and others again. They get to know themselves better and realize what really matters in life," he adds.
Having filmed and edited the self-funded, low-budget film, Josh is now hoping to find a venue to host its premiere here in Phuket.
"I would like to hold a free premiere here in Phuket where most of the film was shot. So if I can find any place that can host a screening, so other yoga fans and anyone who wants to see it can come, that would be fantastic," he said.
Tomorrow (Saturday August 17) the premiere of the documentary BREATHING ASHTANGA YOGA will be held at Sukko Spa at 11am. Entry is free and all are welcome.

— Mark Knowles
Keep in contact with The Thaiger by following our
Facebook page
.
Never miss out on future posts by
following The Thaiger
.
The World's 50 Best Foods: Thai massaman curry tops the list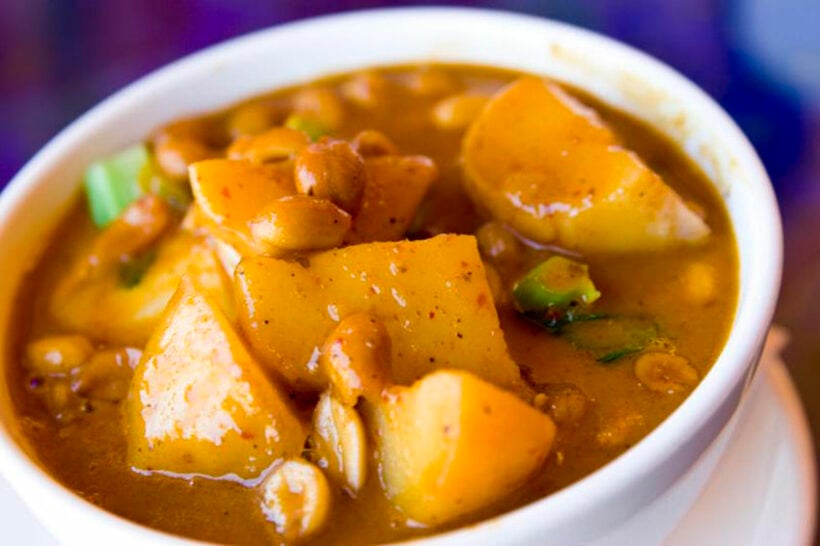 The humble massaman curry has topped a list of the World's 50 Best Foods, compiled by CNN Travel. Thailand's coconut milk and potato-based curry (add the meat, tofu or vegetables of your choice) comes in at number 1, with 2 other popular Thai dishes also featuring. The hot and spicy shrimp soup, Tom Yum Goong, comes in at number 8, with papaya salad, aka somtam, in 46th place (mai phet please!) Tell us your favourite Thai dish, and why, in the comments section (below).
CNN Travel says its staff conducted extensive research on global cuisine to find the 50 best dishes ever created. Nice work if you can get it…
Italian pizza, Mexican chocolate, Japanese sushi, Chinese Peking duck and German Hamburger also top the delicious list.
Here's what the writers had to say about the 3 Thai dishes that made the top taste grade…
Massaman curry, 1st place: Emphatically the king of curries, and perhaps the king of all foods. Spicy, coconutty, sweet and savoury. Even the packet sauce you buy from the supermarket can make the most delinquent of cooks look like a Michelin potential. Thankfully, someone invented rice, with which diners can mop up the last drizzles of curry sauce. "The Land of Smiles" isn't just a marketing catch-line. It's a result of being born in a land where the world's most delicious food is sold on nearly every street corner.
Tom Yum Kung, 8th place: This best food Thai masterpiece teems with shrimp, mushrooms, tomatoes, lemongrass, galangal and kaffir lime leaves. Usually loaded with coconut milk and cream, the hearty soup unifies a host of favourite Thai tastes: sour, salty, spicy and sweet. Best of all is the price: cheap.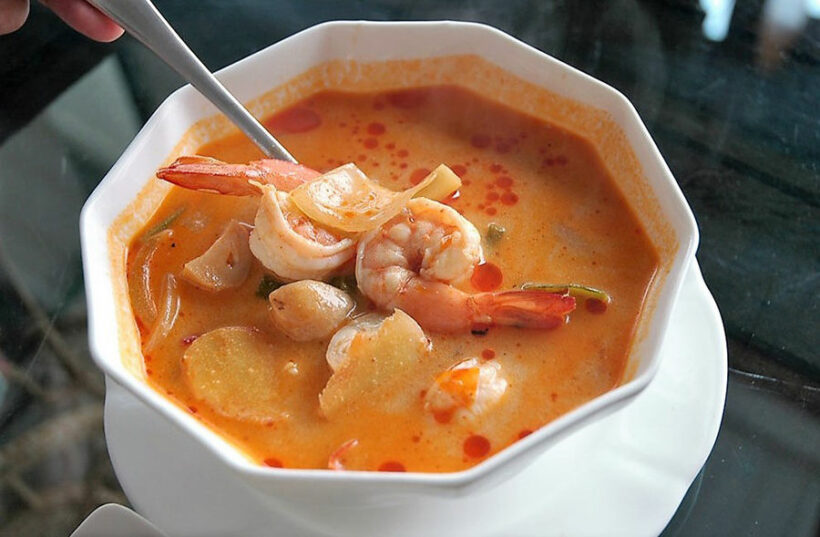 PHOTO: Richard Lee on Flickr
Som Tam/Papaya salad, 46th place: To prepare Thailand's most famous salad, pound garlic and chilies with a mortar and pestle. Toss in tamarind juice, fish sauce, peanuts, dried shrimp, tomatoes, lime juice, sugar cane paste, string beans and a handful of grated green papaya. Grab a side of sticky rice. Variations include those made with crab (som tam pu) and fermented fish sauce (som tam pla ra), but none matches the flavour and simple beauty of the original.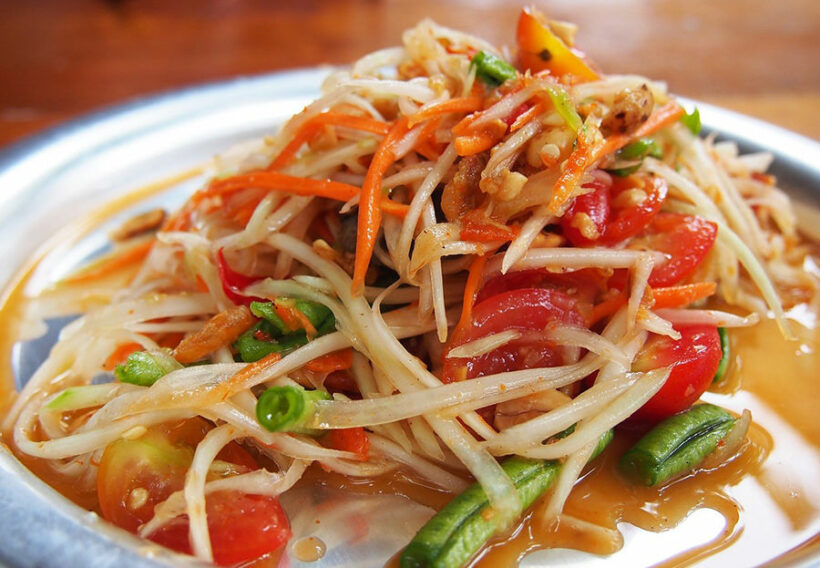 PHOTO: www.needpix.com
SOURCE: Thai Residents | CNN Travel
Keep in contact with The Thaiger by following our
Facebook page
.
Never miss out on future posts by
following The Thaiger
.
K-Pop fans show their support for the young Thai protesters, donate 3 million+ baht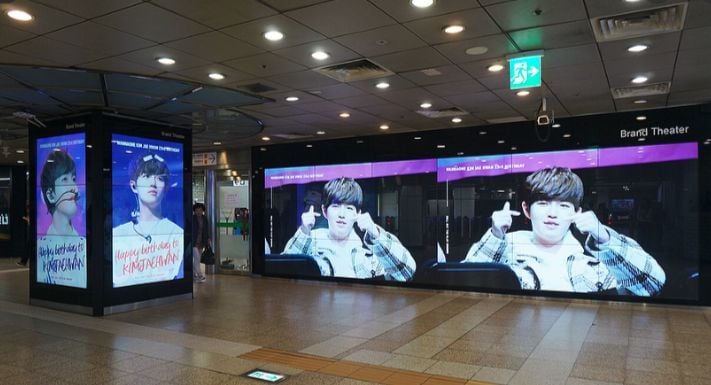 Art meets politics again, this time with hundreds of thousands of K-Pop fans raising funds in support of the growing student protest movement in Thailand. So far they've raised more than 3 million baht (as of 10am this morning) but the amount is rising quickly as Thai and overseas K-Pop fans respond. The most popular band in Thailand at the moment is BTS, the South Korean septet which is currently the most popular band in the world (as of today BTS commands the Number 1 and Number 2 positions on the US Billboard singles chart).
BTS fans have so far been the largest contributors donating funds to the protest cause.
The BTS Thailand page, not to be confused with the BTS Skytrain, is urging K-pop fans to stop the practice of paying for billboards in support of their favourite idols and to celebrate the birthdays of the 7 members. RM, Jin, Suga, J-Hope, Jimin, V and Jungkook issued a statement on their fanpage asking fans to stop funding the BTS and MRT "inconvenienced protesters and normal citizens from getting home and putting them in danger".
Bangkok's two main rail systems were closed down over the weekend as police and protesters played a cat and mouse game. The protesters were withholding the announcement of protest locations to the last minute whilst police second-guessed their moves, ending up in mass inconvenience for the wider public in shutting down the entire network, including the Airport link.
"We're calling Armys and other fans to stop buying ad projects with the BTS and MRT." ("Army" is the name of BTS fans.
Fans of K-pop groups as well as other "idol" groups often pool their resources to purchase display ads in the MRT and BTS stations wishing their stars happy birthday or on other significant anniversaries.
It's thought that many more millions of baht will be raised by the K-Pop fans in the next few days.
The young Thai protesters are tapping into a strong social media network, and have "weaponised" the social media and messaging platforms. The main App they are now using, to communicate their intentions, is "Telegram", developed by a young Russian couple but now operating out of Germany. The App features encypted messages, impossible to track, and has 400 million monthly active users.
Telegram is a cloud-based instant messaging, video telephony and voice over IP service with end-to-end encryption for secret chat only, whereas Cloud chat uses client-server/server-client encryption and its messages are stored encrypted in the Telegram Cloud – Wikipedia
Meanwhile, other K-Pop acts that have mobilised their fans win support include Girls' Generation, GOT7, NCT, WannaOne, Nu'est, X1, Day 6, Red Velvet, MonstaC, Woodz, Shinee, Super Junior and R1se. We're sure the fans of Black Pink are also contributing but didn't have their figures available at the time of publishing. Fans of popular Thai actors and celebrities are also donating to the pool.
Keep in contact with The Thaiger by following our
Facebook page
.
Never miss out on future posts by
following The Thaiger
.
Thailand's property market waits for an end to Covid-19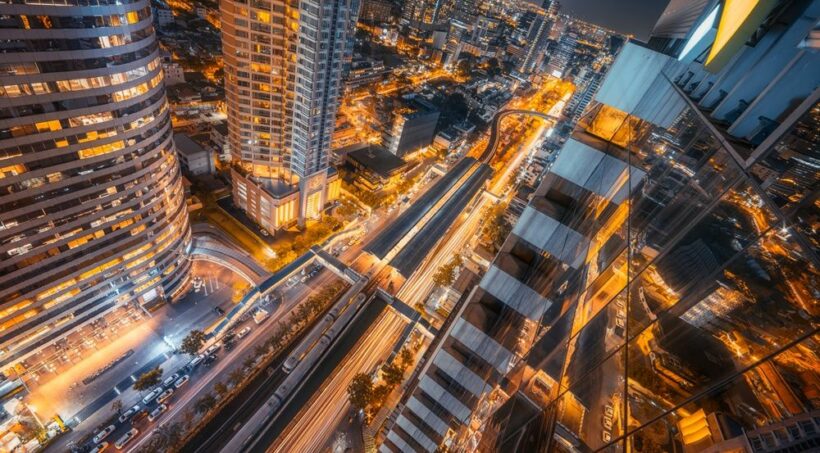 The Coronavirus outbreak poses challenges for Thailand's property market as potential Chinese condominium buyers remain stranded in China. Meanwhile, some believe that the outbreak may bring opportunities for non-Chinese buyers and in the long-run, the Chinese may be looking for an overseas refuge in the event of these types of emergencies popping up again
Through all this, there will be a certain level of pent up demand for Thai real estate.
Of course, it's not just the Chinese unable to come and inspect potential buys, the rest of the world is also mostly shut out of Thailand.
Market remains weak
The pandemic is hurting the condominium market as Chinese nationals were accounting for half of the international buyers in Thailand, or 57.6% of the total foreign condo owners in 2018.
Vichai Viratkapan, acting director-general of the Real Estate Information Centre says that 50% of Chinese condo transfers are expected to disappear in the first 2 quarters of this year and the total transfer value by the Chinese will miss the mark of the usual 29 billion baht by about 25% (around 7 billion).
However, since Chinese property buyers only make up 6% of the total international and domestic housing transfers in Thailand, the proportion of total housing transfers in the country is likely to be similar to last year.
Developers looking to sell current stock whilst shelving new projects
CBRE reports that most Thai developers are postponing the launch of new condo projects to focus on clearing existing stock.
"Discounting completed projects to generate quick revenue as a financial lifeboat is the best solution for many of the country's larger developers whilst the market is in limbo."
Rathawat Kuvijitrsuwan, head of CBRE Research and Consulting in Thailand believes that, now business is gradually recovering, a few developers have started to launch new condominium projects.
"In the first half of 2020, the Bangkok condominium landscape was gloomy with fewer than 10,000 condominium units launched, which was much lower than the total number of new launches in the past three years of more than 60,000 condominium units per year."
The Chinese are reluctant to complete transfers
The virus has continued to affect hospitality operators, including hotels and condominiums that service tourists, nationwide. Since China has suspended tours, put restrictions on movement, and locked down cities, home to over millions of people, it also poses a threat to real estate developers as their clients are unable or unwilling to fly.
"Currently multiple off-plan condominium developments are approaching completion, and Chinese clients are unable or unwilling to transfer. Chinese clients who made a reservation in Q4 2019 are requesting a refund and withholding their investment," said Marciano Bijmohun, Business Development Director at FazWaz Property Group.
He believes every condominium that is in transfer status will see the percentage of non-transfer units rise in the coming months.
"These non-transfer units will cause a big financial hit to developers."
If a client refuses to transfer, does not comply with the terms and conditions stipulated in the sales and purchase agreement, and decides to release the property, their deposits will be forfeited.
"However, there is some good news, these non-transferred units can be offered with a discount to new clients."
Also, as China has been susceptible to a few disease outbreaks – from bird flu to the current coronavirus – it may prompt Chinese buyers to look for second homes outside of China.
Keep in contact with The Thaiger by following our
Facebook page
.
Never miss out on future posts by
following The Thaiger
.