Songkran Survival Guide – Top 10 Tips (2019)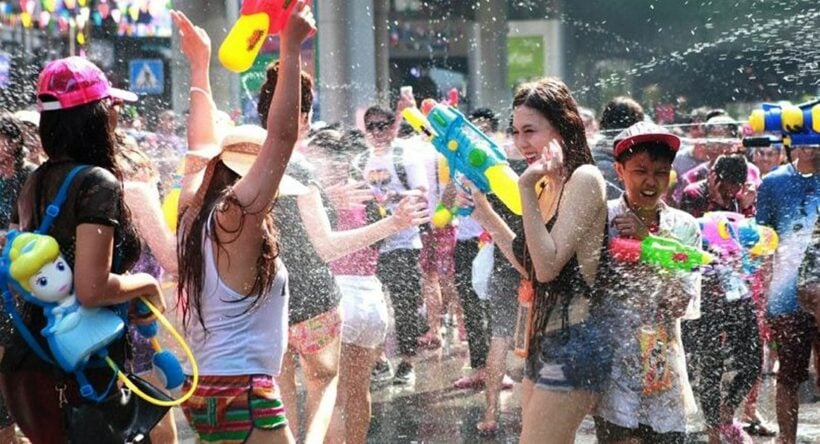 Songkran is a celebration of the Thai New Year on April 13 each year. What started as a respectful washing of Buddha images with water to welcome in the forthcoming wet season, has turned into a mega-water fight.
No prisoners are taken in this annual water battle – if you head outside or drive along the roads you WILL get wet. If you're in a car it WILL get water thrown at it and probably a few handprints made with the sludge left over from the Prickly Powder.
It is a celebration and there's plenty of music, noise, smiles AND water.
Sawasdee pi mai!! Happy Songkran.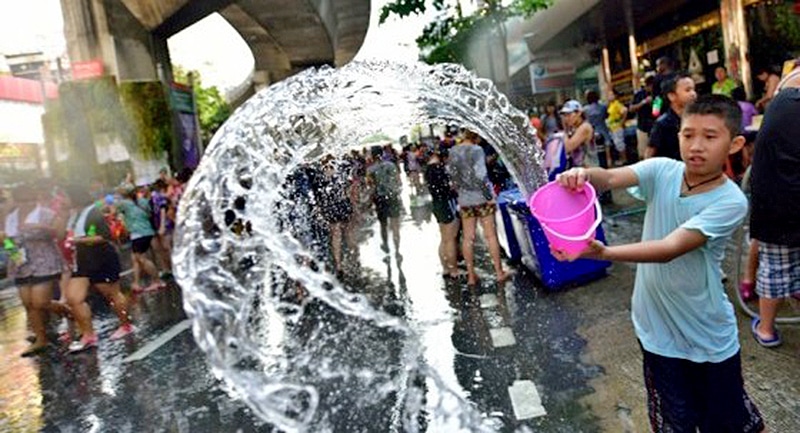 1) Wear goggles
Where did that water come from that just shot in your eye? You don't know and you probably don't want to know! Suffice to say your eyes are at danger from the many things that end up in the water, including the prickly powder that was thrown at you and now dribbling down your forehead or added to the water before it was squirted at you. It will sting either way.
A cheap pair of swimming goggles are a perfect accessory for the Songkran Fashionista. And keep your mouth closed as much as possible. You really don't want to be drinking that stuff being shot at you. Be aware that come people reload their water guns with iced water that is very bracing when it hits you – it's not all nice room temperature Evian heading in your direction. Second option, protective eyewear.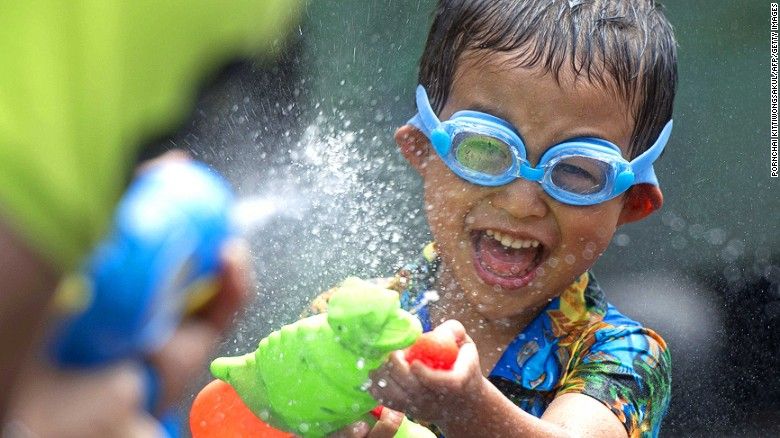 2) Have an exit strategy
Getting into an area where Songkran is going to be 'busy' is easy enough. Getting out can be another thing altogether. If you park your bike nearby it's probably going to get parked in and leave you waiting to get to wherever you were intending to go next.
If you intend to drink alcohol whilst 'partaking of the new year waters' then definitely plan to get a taxi home or have someone organised to get you back to your hotel safely. Having an exit strategy is a good financial investment tip – it's also a very good tip for Songkran as well.
Know how you're going to escape if 1) you need to or 2) when you want to.
3) Riding bikes will be VERY hazardous
Riding motorbikes at any time of the year is dangerous on Thailand's roads. It's a LOT more dangerous during Songkran. You might be quietly going to pick up a sandwich at your local convenience store and WHOOSH, an entire bucket of water is thrown at you from Songkran revellers on the side of the road. In fact, if you're on a motorbike you're considered a good target.
So don't wear your favourite Armani outfit if you're on a motorbike and either avoid getting on a motorbike on April 13 or take it EXTREMELY slowly – you WILL get water thrown at you.
4) Don't take phones or cameras with you
Water and electronic devices don't usually mix. You want to capture all the fun of Songkran but you want to get your expensive camera back home still working, right? You have two options. 1) Leave any expensive electronic equipment, including your phones, at home 2) Put them in a plastic zip-lock bag and keep them secure in a bum bag.
Even the latest 'waterproof' phones can get broken easily in the argy-bargy of a water skirmish. Consider taking your phone with you very carefully and think about how you're going to protect it – putting it in your pocket ain't going to cut it during Songkran!
5) Apply sunscreen
It's hot, damn hot. It's the hottest time of the year (which is what the water festival is all about). So the sun is likely to to be out. You're going to be running around outside enjoying yourself so Mr Sunshine is going to love giving you a good case of sunburn unless you cover up. Obviously, you'll need a waterproof application of SPF30+. Wear a hat and protect yourself from the sun.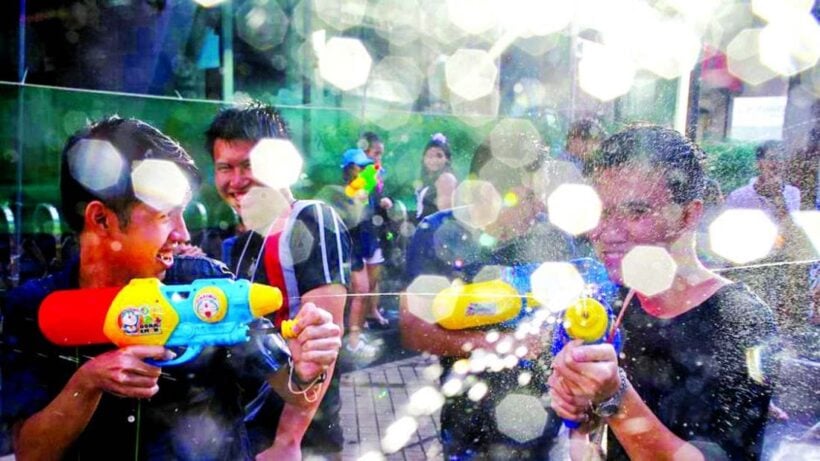 6) Hydrate
Ironically, dehydration is a big problem each Songkran. You're having water thrown at you all day. The last thing you'll be thinking about is drinking water. But all that running around in the heat, despite the water being thrown at you, is going to dehydrate you very quickly. So take a water bottle or keep in reach of a convenience store where you can get refreshed throughout the day. DON'T refill from the tanks people are refilling their guns!!! Just don't.
7) Be aware of the prickly powder
The type of powder used in Songkran has gone from just plain powder to what's called Prickly Powder. When its applied to your face it leaves a burning sensation – not painful but you'll certainly notice it. You certainly don't want that stuff in your eyes – it will really sting. The powder seems about as prevalent as the water these days so be prepared to not only be saturated but coated in a white/grey sludge for most of the day.
8) Consider how you're going to refill your gun
You're all ready. You've got a water gun all full and ready for action. Locked and loaded! You rush out and start firing it at a few people and in approximately 2 minutes, you're empty. You're going to need to figure out how you're going to reload your water gun otherwise it's going to be a very short day or a day spent running away from people because you're out of ammunition. Sea water is a great alternative if you're near a beach.
9) Enjoy yourself, don't take it seriously
If you head out into daylight during Songkran you're likely to get wet. Period. Wear clothes that are going to be comfortable when totally saturated – cotton and natural fibres will retain the water a lot more than synthetic fibres that will tend to repel the water better and dry quicker. Wear a 20 baht plastic raincoat if you really need to but it sort of defeats the purpose of the day.
People are going to rush up to you and throw water at you, usually with a great big smile to go along with it. If you're out there, smile along with them and enjoy the locals' celebration of their new year. If you get your brand new Zara wool suit ruined by a bucket of water on April 13 you only have yourself to blame.
10) Seek an alternative
So, you've done Songkran for years and you really don't want to do it again. No problems. You can go and sit in a quiet cinema for a few hours, walk around the shopping centres or enjoy Songkran-lite at many of the international hotels who host 'toned down' family-friendly Songkran celebrations.
Otherwise stay at home and read a book or binge-watch some Netflix. It's one day (or two days if you are in Patong or Chiang Mai) each year – you will survive avoiding the streets for one day.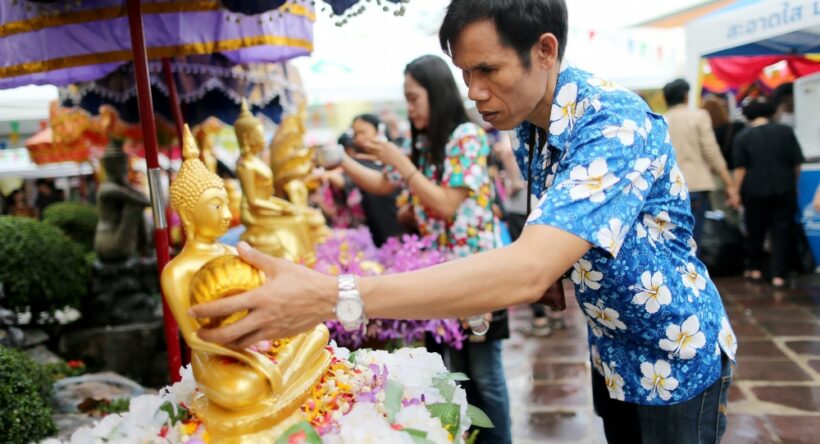 Keep in contact with The Thaiger by following our Facebook page.
Never miss out on future posts by following The Thaiger.
27 migrants allegedly disguised as monks arrested on illegal entry charges, Bangkok abbot under investigation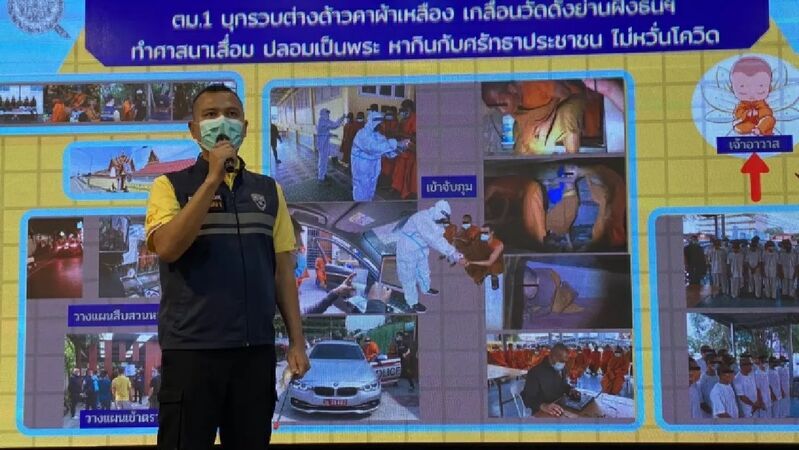 Immigration police arrested 27 Cambodians for allegedly entering Thailand illegally and impersonating Buddhist monks. Police say the migrants allegedly disguised themselves as Buddhist monks at Wat Talom in Bangkok's Phasi Charoen district. The temple's abbot is also under investigation for allegedly assisting and hiding illegal migrants.
Police searched the temple after receiving a tip that hundreds of monks lived in crowded rooms, conditions that officials worry could lead to a cluster of Covid-19 infections.
"We received a tip-off that the temple had several hundred monks living in a crowded space that could become a hotspot for Covid-19… People also reported that some monks from this temple were selling food they received from the public in the morning to merchants at nearby markets for reselling."
Police asked for identification documents from the more than 200 migrants at the temple. 181 monks from Myanmar, India, Cambodia, Laos and Bangladesh had proper documents, but police say 27 Cambodians had no identification documents. The 27 Cambodians were arrested and charged with illegally entering the country and impersonating Buddhist monks.
SOURCE: Nation Thailand
Catch up with the latest daily "Thailand News Today" here on The Thaiger.
Keep in contact with The Thaiger by following our Facebook page.
Never miss out on future posts by following The Thaiger.
CCSA mulls the easing of Covid-19 restrictions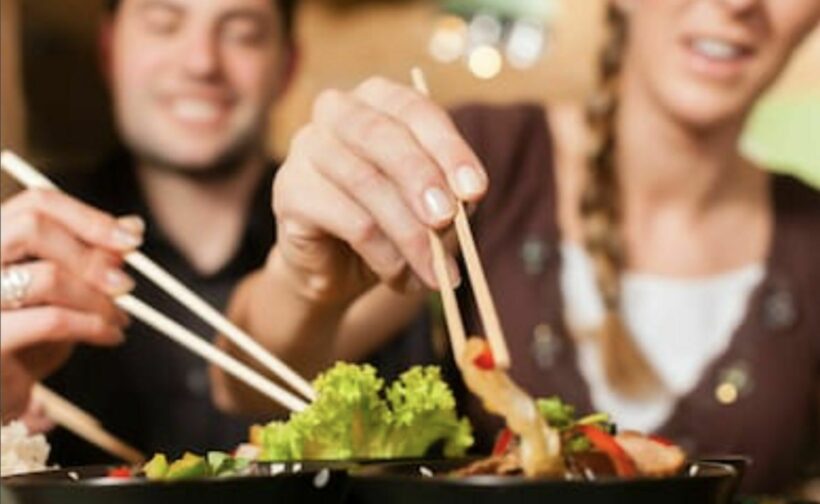 Late night diners rejoice. Your option to eat all that great Thai food around the country looks to be back on the table as the government looks to lift some of the current restrictions on dining and business operating hours. Deputy Prime Minister and Public Health Minister Anutin Charnvirakul has announced that they're likely to lift restrictions on dining, currently set at 9pm, by the end of this week.
The Thai Restaurant Association have been lobbying hard for an extension of the opening times for in-restaurant dining times to at least 11pm.
The CCSA will gather on Friday to assess the current Covid-19 situation and decide if the extension is viable at this time. But the Public Health Minister maintained that alcohol will still be prohibited and other precautions like hand-sanitisers at entry points and social distancing will still need to be strictly applied.
Speaking to Bangkok Post, Anutin said the alcohol ban must remain in place for now.
"If violations of the alcoholic beverage-drinking ban are found at any restaurants, they can't simply get away with claiming that it was their customers who brought the alcohol to drink at the restaurants because the ban applies to 'alcohol drinking' at restaurants in particular, not only alcohol selling or serving."
Meanwhile, PM Prayut Chan-o-cha says the easing of various restrictions around the country will be looked at on a case-by-case basis depending on the outbreak situation in each area. The early clusters in the four eastern coastal provinces of Chanthaburi, Chon Buri, Rayong and Trat, for example, appears to have eased and the local governors are pleading with the government for some relief from the strict restrictions on their provinces. Chon Buri has had a run of days over the past week where there has been no new Covid infections reported to the CCSA.
Yesterday there was a surge of new cases uncovered by a strategic track and trace program in Samut Sakhon, but the government says it will base its decision to ease restrictions around the county on the overall outbreak situation province by province. Provincial governors have also been given powers to add or modify national restrictions, a different situation from the April and May 2020 'lockdowns' which were much more restrictive.
959 new Covid-19 infections were announced yesterday, 844 of them were found through the track and trace operations in Samut Sakhon, the ground zero for Thailand's latest outbreak which kicked off 5 weeks ago and has now spread to most provinces.
Keep in contact with The Thaiger by following our Facebook page.
Never miss out on future posts by following The Thaiger.
Thai DJ Celebrity party is likely to be "super spreader" event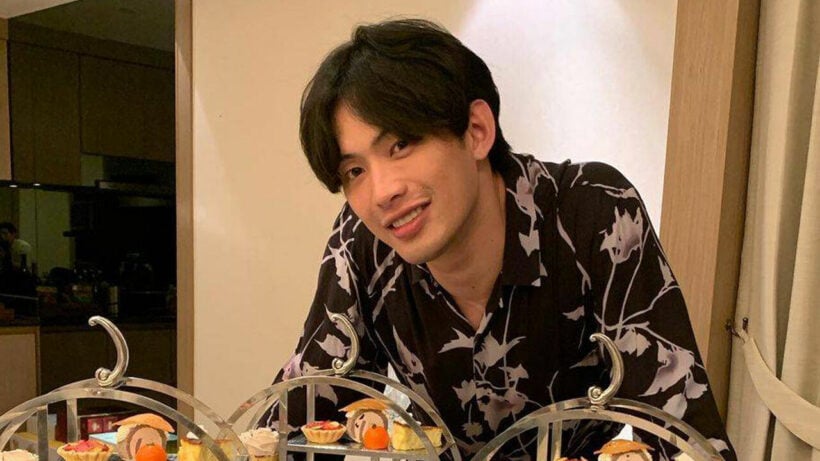 The birthday party of Techin Ploypetch, better known as "DJ Matoom", is now considered a super-spreader source of Covid-19, with 19 people already found infected after attending the event. According the CCSA spokesperson during the daily briefing today, "Transmissions in Bangkok should be highlighted. They show the possibility of a person becoming a super-spreader".
The birth of the super spreader birthday party started with a guest to the DJ's party who had visited a well-known entertainment venue in Chiang Mai between January 1 and 4. He sought a Covid-19 test on January 5 following news that infected people had visited the pub, but tested negative. He should have self quarantined for 14 days, but he still flew to Bangkok and then attended the DJ celebrity's birthday party on January 9.
DJ Matoom says he met the guest, one of his friend, on January 9, but that friend didn't know he was infected until January 19 in which he told Matoom.
According to Dr Tanarak Plipat, now acting inspector-general of the Public Health Ministry, an infected person can transmit disease to two others on average, while a "super spreader" will transmit to multiple people.
DJ Matoom and the party's guest were criticised of violating the disease control measures.
SOURCE: Thai PBS World
Keep in contact with The Thaiger by following our Facebook page.
Never miss out on future posts by following The Thaiger.