Songkran Survival Guide – Top 10 Tips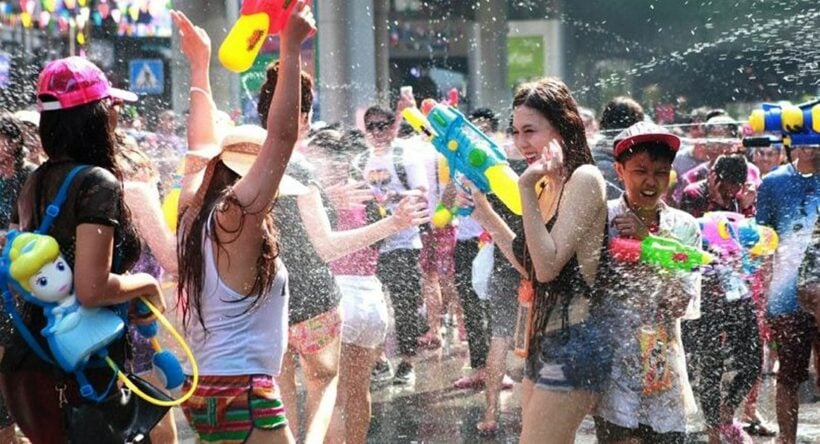 Songkran is a celebration of the Thai New Year on April 13 each year. What started as a respectful washing of Buddha images with water to welcome in the forthcoming wet season, has turned into a mega-water fight. No prisoners are taken in this annual water battle – if you head outside or drive along the roads you WILL get wet. If you're in a car it WILL get water thrown at it and probably a few handprints made with the sludge left over from the Prickly Powder.
It is a celebration and there's plenty of music, noise, smiles AND water.
Sawasdee pi mai!! Happy Songkran.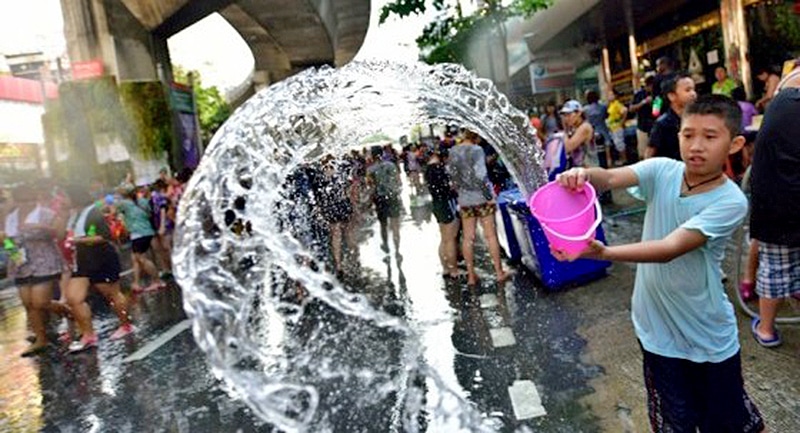 1) Wear goggles
Where did that water come from that just shot in your eye? You don't know and you probably don't want to know! Suffice to say your eyes are at danger from the many things that end up in the water, including the prickly powder that was thrown at you and now dribbling down your forehead or added to the water before it was squirted at you. It will sting either way. A cheap pair of swimming goggles are a perfect accessory for the Songkran Fashionista. And keep your mouth closed as much as possible. You really don't want to be drinking that stuff being shot at you. Be aware that come people reload their water guns with iced water that is very bracing when it hits you – it's not all nice room temperature Evian heading in your direction. Second option, protective eyewear.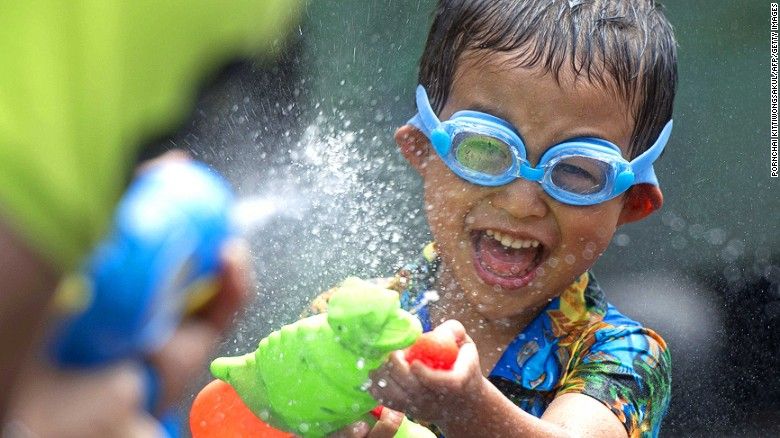 2) Have an exit strategy
Getting into an area where Songkran is going to be 'busy' is easy enough. Getting out can be another thing altogether. If you park your bike nearby it's probably going to get parked in and leave you waiting to get to wherever you were intending to go next. If you intend to drink alcohol whilst 'partaking of the new year waters' then definitely plan to get a taxi home or have someone organised to get you back to your hotel safely. Having an exit strategy is a good investment tip – it's a very good tip for Songkran as well. Know how you're going to escape if 1) you need to or 2) when you want to.
3) Riding bikes will be VERY hazardous
Riding motorbikes at any time of the year is dangerous on Thailand's roads. It's a LOT more dangerous during Songkran. You might be quietly going to pick up a sandwich at your local convenience store and WHOOSH, an entire bucket of water is thrown at you from Songkran revellers on the side of the road. In fact, if you're on a motorbike you're considered a good target. So don't wear your favourite Armani outfit if you're on a motorbike and either avoid getting on a motorbike on April 13 or take it EXTREMELY slowly – you WILL get water thrown at you.
4) Don't take phones or cameras with you
Water and electronic devices don't usually mix. You want to capture all the fun of Songkran but you want to get your expensive camera back home still working, right? You have two options. 1) Leave any expensive electronic equipment, including your phones, at home 2) Put them in a plastic zip-lock bag and keep them secure in a bum bag. Even the latest 'waterproof' phones can get broken easily in the argy-bargy of a water skirmish. Consider taking your phone with you very carefully and think about how you're going to protect it – putting it in your pocket ain't going to cut it during Songkran!
5) Apply sunscreen
It's hot, damn hot. It's the hottest time of the year (which is what the water festival is all about). So the sun is likely to to be out. You're going to be running around outside enjoying yourself so Mr Sunshine is going to love giving you a good case of sunburn unless you cover up. Obviously, you'll need a waterproof application of SPF30+. Wear a hat and protect yourself from the sun.

6) Hydrate
Ironically, dehydration is a big problem each Songkran. You're having water thrown at you all day. The last thing you'll be thinking about is drinking water. But all that running around in the heat, despite the water being thrown at you, is going to dehydrate you very quickly. So take a water bottle or keep in reach of a convenience store where you can get refreshed throughout the day. DON'T refill from the tanks people are refilling their guns!!! Just don't.
7) Be aware of the prickly powder
The type of powder used in Songkran has gone from just plain powder to what's called Prickly Powder. When its applied to your face it leaves a burning sensation – not painful but you'll certainly notice it. You certainly don't want that stuff in your eyes – it will really sting. The powder seems about as prevalent as the water these days so be prepared to not only be saturated but coated in a white/grey sludge for most of the day.
8) Consider how you're going to refill your gun
You're all ready. You've got a water gun all full and ready for action. Locked and loaded! You rush out and start firing it at a few people and in approximately 2 minutes, you're empty. You're going to need to figure out how you're going to reload your water gun otherwise it's going to be a very short day or a day spent running away from people because you're out of ammunition. Sea water is a great alternative if you're near a beach.
9) Enjoy yourself, don't take it seriously
If you head out into daylight during Songkran you're likely to get wet. Period. Wear clothes that are going to be comfortable when totally saturated – cotton and natural fibres will retain the water a lot more than synthetic fibres that will tend to repel the water better and dry quicker. Wear a 20 baht plastic raincoat if you really need to but it sort of defeats the purpose of the day. People are going to rush up to you and throw water at you, usually with a great big smile to go along with it. If you're out there, smile along with them and enjoy the local's celebration of their new year. If you get your brand new Zara wool suit ruined by a bucket of water on April 13 you only have yourself to blame.
10) Seek an alternative
So, you've done Songkran for years and you really don't want to do it again. No problems. You can go and sit in a quiet cinema for a few hours, walk around the shopping centres or enjoy Songkran-lite at many of the international hotels who host 'toned down' family-friendly Songkran celebrations. Otherwise stay at home and read a book. It's one day (or two days if you are in Patong or Chiang Mai) each year – you will survive avoiding the streets for one day.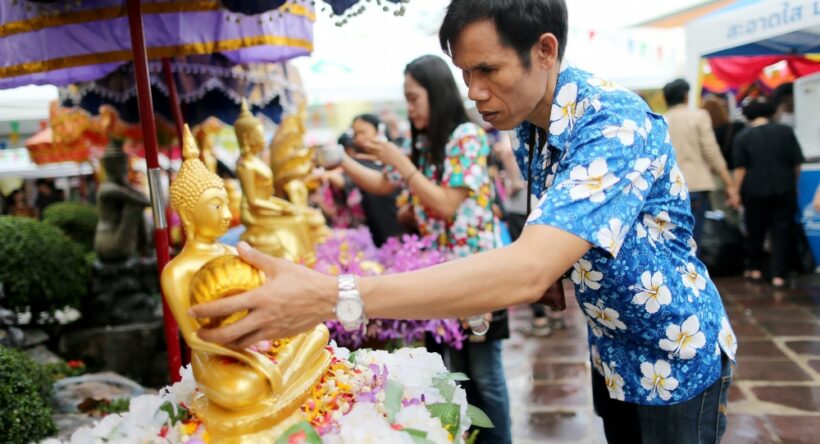 Read more headlines, reports & breaking news in Chiang Mai. Or catch up on your Thailand news.

Find more Chiang Mai top 10s and top 10s in Thailand on The Thaiger.
Thailand will swelter through searing temperatures this summer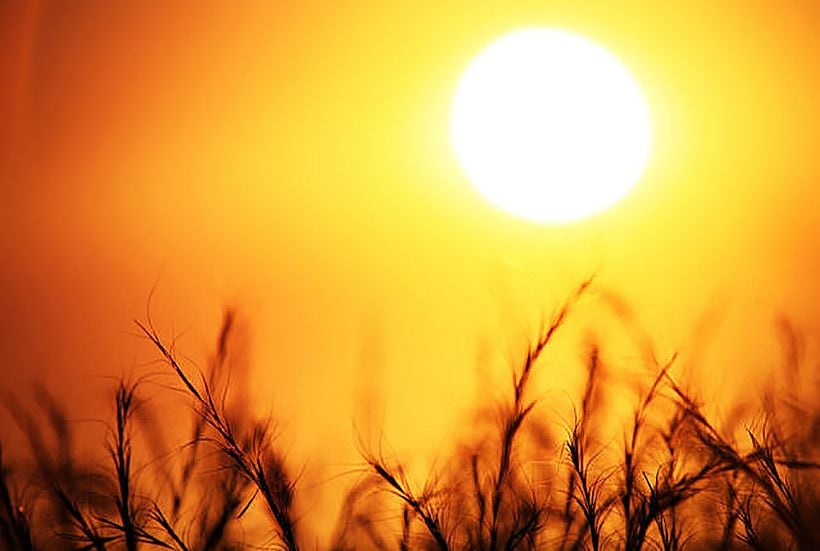 Temperatures in Thailand this summer is forecast to be 1-2 degrees Celsius warmer than last year. The announcement comes from the Thai Meteorological Department director-general Phuwiang Prakammin.
And it's predicted to hit 42-43C in seven provinces in northern Thailand.
In Thailand summer, as a regional season, is listed as running between February 21 to mid-May.
Phuwiang says daytime temperatures in March and April will hit 40C in much of the North, Northeast, Central and Eastern regions. But he doesn't foresee the record set on April 28, 2016, when Mae Hong Son, on the north-western border sweltered at 44.6C, being broken.
"But Mae Hong Son is one of the seven provinces forecast to reach 42-43C this year, the others being Lampang, Uttaradit, Sukhothai, Tak, Nakhon Sawan and Kanchanaburi."
"In southern regions, the maximum temperature will be 38-39C in Prachuap Khiri Khan, Surat Thani, Nakhon Si Thammarat, Yala, Krabi, Trang and Satun, accompanied by occasional rain and waves at sea up to a metre high."
"Rain will increase towards the end of April (the traditional start to the country's wet season is Songkran which is on April 13 each year), and waves will be up to three metres high."
"The weather in Pattaya in Chon Buri will match that of the South, with a maximum temperature of 35-37C in April."
Chiang Mai's sword-wielding song thaew driver charged over intimidating tactics – VIDEO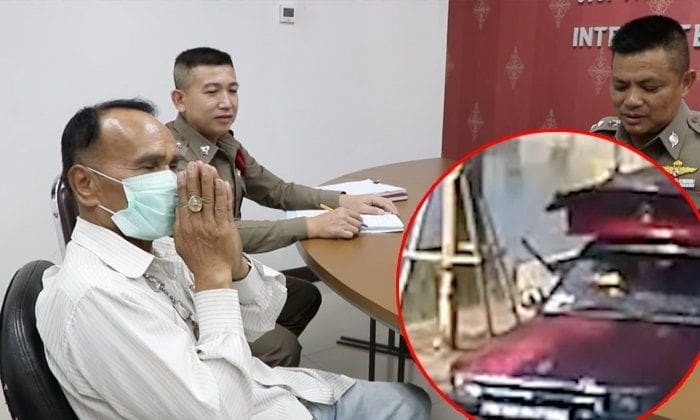 Story from Sanook. Video from Thai Rath
The red song thaew driver, who followed a white sedan around the moat road waving a sword in Chiang Mai, has now been charged by the police.
Sanook reports that 69 year old 'Son' has now been charged with having a knife in public and behaving in an intimidating manner that could scare the public.
The original video showed the public transport driver tailgating a white Honda Jazz, waving a large knife or sword.
But Son insists he acted because he was "furious about the driving of the man behind the wheel of the white car".
He claims that the white car was cutting in and out of traffic dangerously before the car braked in a "dangerous manner" three times, almost causing him crash into the back of the vehicle.
He remained adamant that, despite the post being made by a woman, it was a man driving… "a woman would not behave like this, believe me" he told a Channel 7 reporter. Sanook showed the man apologising and doing a wai.
They also reported that the head of the Chiang Mai song thaews as saying that the driver had been warned about his conduct. He said that Son had never been in trouble before.
สี่ล้อแดงเข้าพบ ตร. หลังก่อเหตุชักดาบขู่เก๋งกลางถนน ตำรวจแจ้ง 2 ข้อหา

Posted by Thairath on Tuesday, February 19, 2019
Swordwielding song thaews driver slapped on the wrist – no police action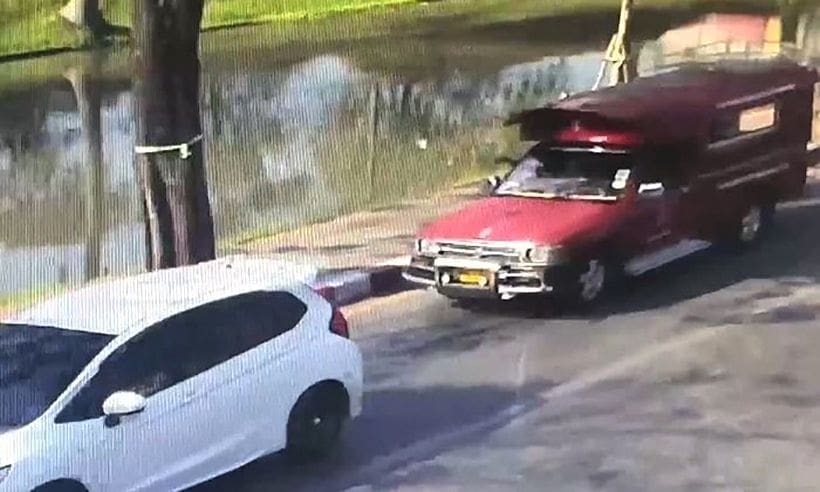 The head of the infamous Chiang Mai red song thaews says he has spoken with a driver after the man wielded a sword out of his window at another driver who he claimed had tooted his horn.
But that's it. Nothing more.
CCTV on the Maneenopparat Road shows the incident as the song thaew driver tailgates the white Honda Jazz, waving the sword out of his driver-side window .
The hatchback driver had earlier posted about the incident on Monday. He says that the song thaew had cut in front of him and he had sounded his horn. He was then chased around the city moat.
The post was later deleted.
Bunniam Buntha, head of the local song thaew association, says he spoke to the driver who admitted that he was angry and waved the long knife out the window. He says he was warned the driver that there may be more questioning with a view to possible punishment.
At this stage no police action has been taken.
SOURCE: Sanook