Songkran Survival Guide – Top 10 Tips (2019)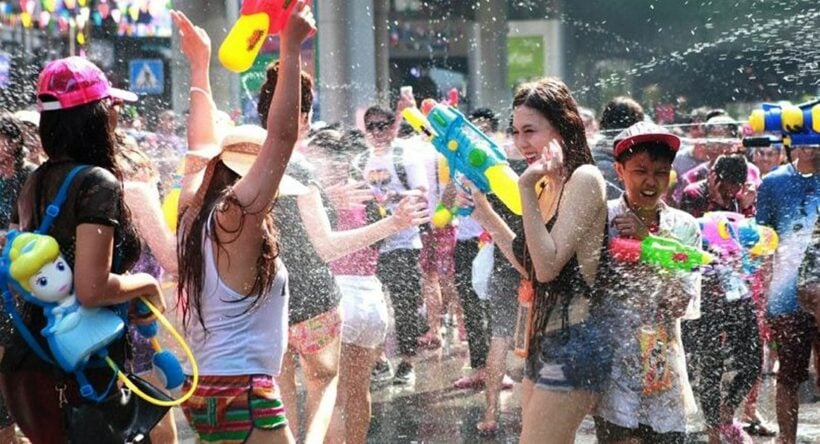 Songkran is a celebration of the Thai New Year on April 13 each year. What started as a respectful washing of Buddha images with water to welcome in the forthcoming wet season, has turned into a mega-water fight.
No prisoners are taken in this annual water battle – if you head outside or drive along the roads you WILL get wet. If you're in a car it WILL get water thrown at it and probably a few handprints made with the sludge left over from the Prickly Powder.
It is a celebration and there's plenty of music, noise, smiles AND water.
Sawasdee pi mai!! Happy Songkran.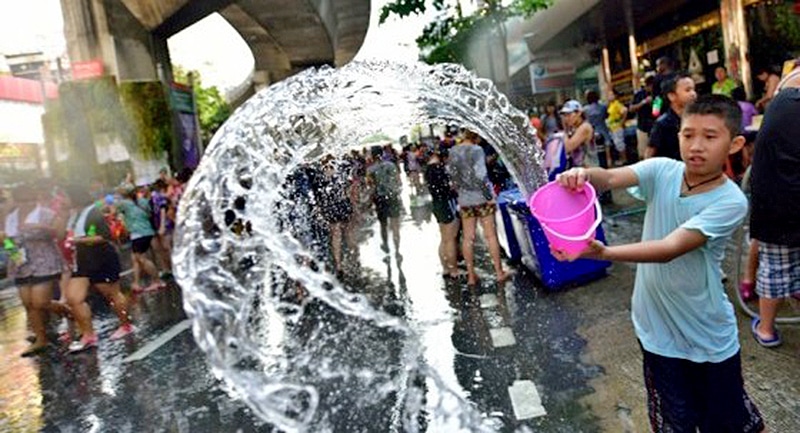 1) Wear goggles
Where did that water come from that just shot in your eye? You don't know and you probably don't want to know! Suffice to say your eyes are at danger from the many things that end up in the water, including the prickly powder that was thrown at you and now dribbling down your forehead or added to the water before it was squirted at you. It will sting either way.
A cheap pair of swimming goggles are a perfect accessory for the Songkran Fashionista. And keep your mouth closed as much as possible. You really don't want to be drinking that stuff being shot at you. Be aware that come people reload their water guns with iced water that is very bracing when it hits you – it's not all nice room temperature Evian heading in your direction. Second option, protective eyewear.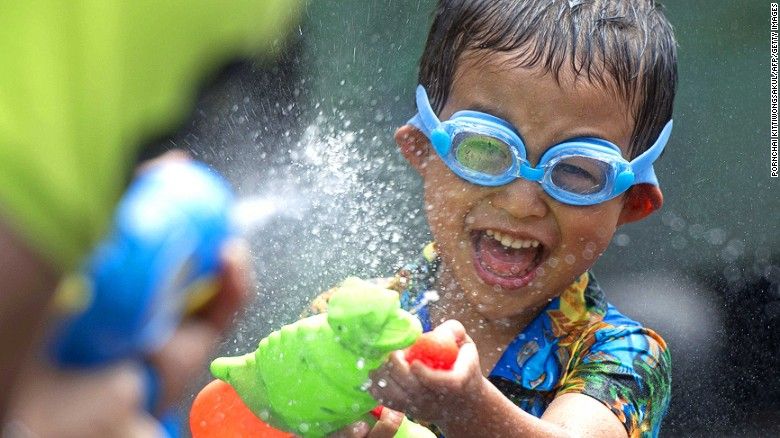 2) Have an exit strategy
Getting into an area where Songkran is going to be 'busy' is easy enough. Getting out can be another thing altogether. If you park your bike nearby it's probably going to get parked in and leave you waiting to get to wherever you were intending to go next.
If you intend to drink alcohol whilst 'partaking of the new year waters' then definitely plan to get a taxi home or have someone organised to get you back to your hotel safely. Having an exit strategy is a good financial investment tip – it's also a very good tip for Songkran as well.
Know how you're going to escape if 1) you need to or 2) when you want to.
3) Riding bikes will be VERY hazardous
Riding motorbikes at any time of the year is dangerous on Thailand's roads. It's a LOT more dangerous during Songkran. You might be quietly going to pick up a sandwich at your local convenience store and WHOOSH, an entire bucket of water is thrown at you from Songkran revellers on the side of the road. In fact, if you're on a motorbike you're considered a good target.
So don't wear your favourite Armani outfit if you're on a motorbike and either avoid getting on a motorbike on April 13 or take it EXTREMELY slowly – you WILL get water thrown at you.
4) Don't take phones or cameras with you
Water and electronic devices don't usually mix. You want to capture all the fun of Songkran but you want to get your expensive camera back home still working, right? You have two options. 1) Leave any expensive electronic equipment, including your phones, at home 2) Put them in a plastic zip-lock bag and keep them secure in a bum bag.
Even the latest 'waterproof' phones can get broken easily in the argy-bargy of a water skirmish. Consider taking your phone with you very carefully and think about how you're going to protect it – putting it in your pocket ain't going to cut it during Songkran!
5) Apply sunscreen
It's hot, damn hot. It's the hottest time of the year (which is what the water festival is all about). So the sun is likely to to be out. You're going to be running around outside enjoying yourself so Mr Sunshine is going to love giving you a good case of sunburn unless you cover up. Obviously, you'll need a waterproof application of SPF30+. Wear a hat and protect yourself from the sun.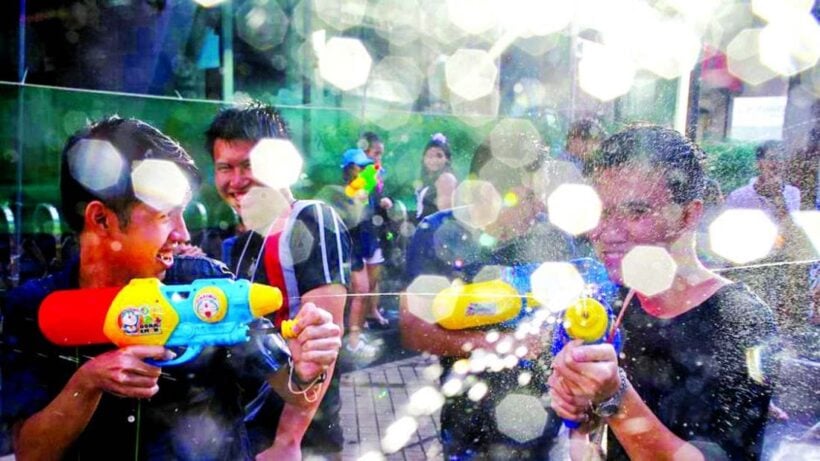 6) Hydrate
Ironically, dehydration is a big problem each Songkran. You're having water thrown at you all day. The last thing you'll be thinking about is drinking water. But all that running around in the heat, despite the water being thrown at you, is going to dehydrate you very quickly. So take a water bottle or keep in reach of a convenience store where you can get refreshed throughout the day. DON'T refill from the tanks people are refilling their guns!!! Just don't.
7) Be aware of the prickly powder
The type of powder used in Songkran has gone from just plain powder to what's called Prickly Powder. When its applied to your face it leaves a burning sensation – not painful but you'll certainly notice it. You certainly don't want that stuff in your eyes – it will really sting. The powder seems about as prevalent as the water these days so be prepared to not only be saturated but coated in a white/grey sludge for most of the day.
8) Consider how you're going to refill your gun
You're all ready. You've got a water gun all full and ready for action. Locked and loaded! You rush out and start firing it at a few people and in approximately 2 minutes, you're empty. You're going to need to figure out how you're going to reload your water gun otherwise it's going to be a very short day or a day spent running away from people because you're out of ammunition. Sea water is a great alternative if you're near a beach.
9) Enjoy yourself, don't take it seriously
If you head out into daylight during Songkran you're likely to get wet. Period. Wear clothes that are going to be comfortable when totally saturated – cotton and natural fibres will retain the water a lot more than synthetic fibres that will tend to repel the water better and dry quicker. Wear a 20 baht plastic raincoat if you really need to but it sort of defeats the purpose of the day.
People are going to rush up to you and throw water at you, usually with a great big smile to go along with it. If you're out there, smile along with them and enjoy the locals' celebration of their new year. If you get your brand new Zara wool suit ruined by a bucket of water on April 13 you only have yourself to blame.
10) Seek an alternative
So, you've done Songkran for years and you really don't want to do it again. No problems. You can go and sit in a quiet cinema for a few hours, walk around the shopping centres or enjoy Songkran-lite at many of the international hotels who host 'toned down' family-friendly Songkran celebrations.
Otherwise stay at home and read a book or binge-watch some Netflix. It's one day (or two days if you are in Patong or Chiang Mai) each year – you will survive avoiding the streets for one day.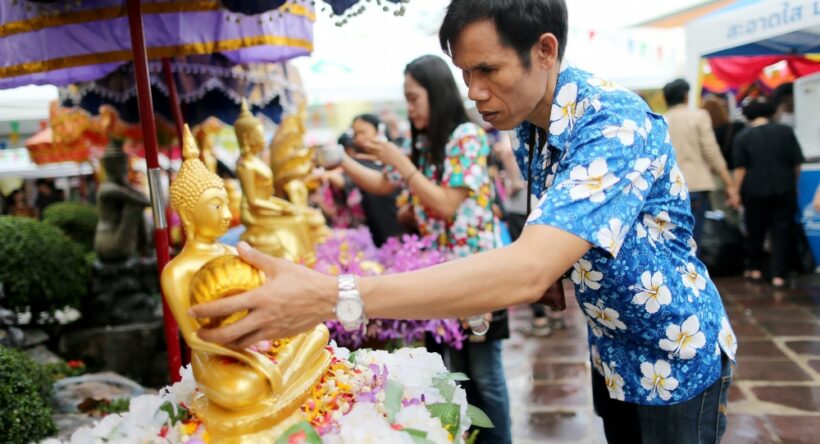 Keep in contact with The Thaiger by following our Facebook page.
Never miss out on future posts by following The Thaiger.
Famous Thai actor tests positive for Covid-19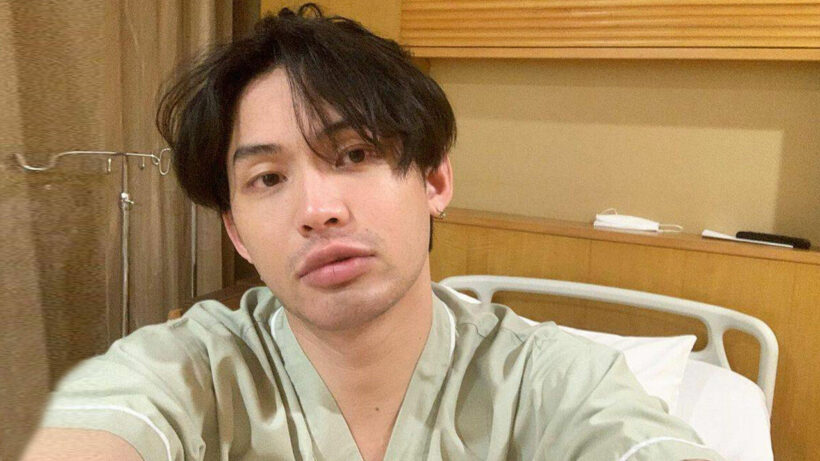 A famous Thai actor has announced he is infected with Covid-19after posting a video on Instagram. He says both him and his mother were tested, but he was the only one with a positive test result.
Techin Ployphet, aka DJ Matoom, says he met an infected but asymptomatic friend on January 9, but that friend didn't know he was infected until January 19 in which he told Matoom.
Matoom detailed his timeline in the Instagram video which reveals that on January 7, he was at his condominium in the Ladprao area, but then visited Power-Buy at the Central Ladprao shopping centre at around 8pm.
The following day, he went to GMM Grammy in the morning to work and then visited the Banyan Tree Hotel at around 4pm. Then, he went to the Big C supermarket in the Ladprao area at 6pm.
On January 9, he says he checked in to a hotel at 9am and had dinner at a rooftop restaurant in the evening. It was there that he met his then-asymptomatic friend. The next evening he left the hotel and had dinner at a Korean restaurant in the Ari area before going back to his condo.
On January 19, he was again working at GMM Grammy in the morning, and then went to Central Embassy for work at 12:30pm. He visited the FoodLand supermarket at The Street Ratchada at 5pm. Then, that same day, he was notified that his friend had tested positive for the virus, which prompted him to also get tested at Bangkok Hospital that night at 10pm. He says he received the positive results yesterday.
Celebrities and actors who worked with him have now taken Covid-19 tests. One of them is actress Natapohn Taemeeruk,who says her test was negative, but will enter a self-imposed quarantine for 14 days and then will get tested again.
The Banyan Tree Hotel has issued a statement saying that it has closed its rooftop restaurant, called "Vertigo," for cleaning and disinfection, and will reopen it this Saturday. The hotel says it will also disinfect the entire floor where the actor stayed, and has urged all employees, who were in contact with Matoom, to get tested and quarantine themselves for 14 days.
FoodLand supermarket also announced its closure for cleaning and disinfection and says it will reopen this Saturday. The air-conditioning system of the entire mall is also being cleaned. Employees deemed to be at-risk have also been tested and confirmed negative for the virus.
The CCSA's spokesman, Taweesin Wissanuyothin, says that it is too early to determine whether Matoom could be considered a super-spreader, but he thanked him for disclosing his timeline in the public interest.
SOURCE: Thai PBS World
Keep in contact with The Thaiger by following our Facebook page.
Never miss out on future posts by following The Thaiger.
13 Bangkok businesses allowed to reopen tomorrow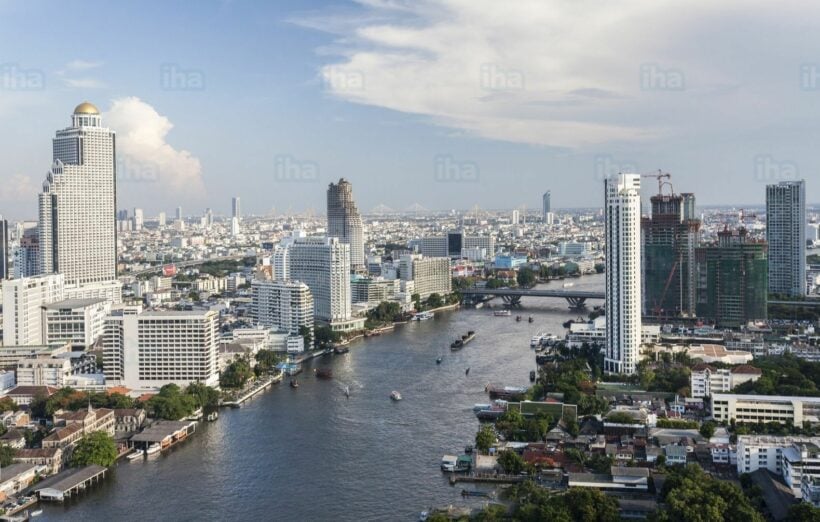 Tomorrow, 13 types of businesses in Bangkok are being allowed to reopen but must have strict disease control measures in place. The Bangkok Metropolitan Administration made the decision which would undoubtedly give many businesses some relief as well as potential customers.
Such businesses with restrictions include:
Banquet venues, which will need authorisation from BMA for events with over 300 participants
Amulet shops and markets
Beauty salons, tattoo and piercing shops
Fitness centers, but personal trainers and communal steam rooms are not allowed
Game Arcades; but all points of contact must be regularly disinfected and facemasks worn at all times.
Internet shops
Senior nursing homes, but with limited activities
Sports venues, except for boxing rings and race tracks, but no audiences allowed
Spas, Thai massage shops, excluding massage parlours
Gymnasia and boxing venues for training only
Bowling alleys and ice skating rinks, but no competitions or audiences allowed
Dancing academies
Martial art schools, but no tournaments or audiences allowed
Playgrounds, night entertainment venues, cock fighting, fish fighting, child care centres, theme parks, snooker clubs, bull fighting venues, massage parlours, tutoring schools and nurseries, however, are still ordered to stay closed.
The announcement comes after Bangkok saw 14 new cases today, joining 128 other cases reported in Thailand by the Centre for Covid-19 Situation Administration.
Meanwhile, plans for Chinese New Year seem to be on the back burner as the upcoming February 12 holiday has yet to see anything concrete to celebrate the new year. Pattaya city has decided to decorate its streets for the holiday, but like many other provinces, Chon Buri remains as a highly controlled zone, which essentially bans domestic and foreign tourists from entering, despite single digit infections being recently reported by authorities.
The lifting of the measures in Bangkok come after PM Prayut urged the publicto stay away from social gatherings, specifically pointing out political gatherings, which have rocked the streets of the nation's capital for months.
SOURCE: Thai PBS World
Keep in contact with The Thaiger by following our Facebook page.
Never miss out on future posts by following The Thaiger.
Air pollution in Bangkok expected to get worse due to "cold spell"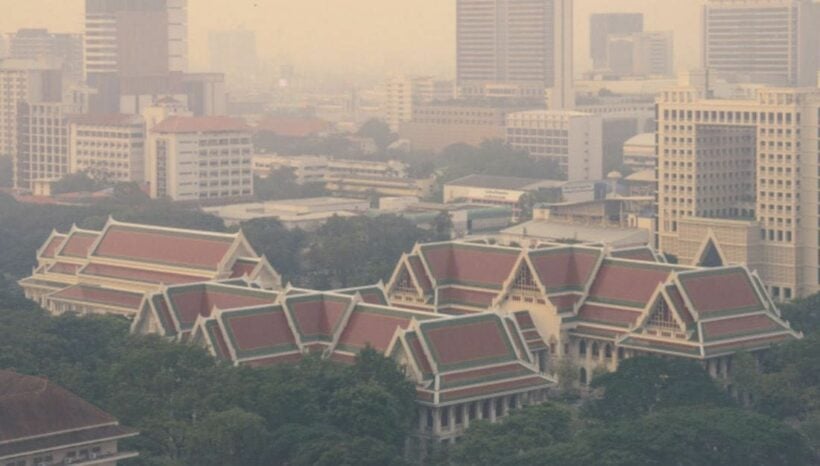 Air pollution in Bangkok is expected to get worse over the next few days as pollutants are getting trapped in the atmosphere thanks to a recent cold spell and a lack of wind to blow the haze away from the city. In response to the unhealthy air pollution, The PM's Office permanent secretary says he has asked several ministries to step up efforts in combatting the PM2.5 micron 'dust' particulate that has blanketed the city.
He says that the issue has been contained so far due to Covid-19 measures which have made many people work from home.
"But vehicle exhaust fumes, construction sites and burning garbage in open areas is not helping."
"To add to the problem, the cold spell is creating an "inversion layer" as meteorologists call it, which stops air below it from rising and trapping pollutants."
As usual, Bangkok officials are looking to some of the smaller, localised traffic issues to blame, although the annual "smoke from the north" problem is the key and overriding issue regarding Bangkok's smog problem months. The local traffic pollutants, whilst ever-present, don't cause the skyline smog and haze for the rest of the year.
And when the Thais refer to a "cold spell" it usually means the ambient temperature has dropped to the low 20s. In other parts of the world that would be considered a heat wave!
The secretary says police and other officials are being asked to curb traffic build-ups at intersections as some had seen a sharp increase in dust pollution. Motorists are also being advised to take their cars for routine engine check-ups but some owners are refusing, saying their cars are new and not releasing black smoke. Public transportation vehicles are also being checked for emissions that could further add to the pollution issue in the country's capital.
Meanwhile, PM Prayut has recently asked people to avoid large gatherings out of what he says is "concern" for their health after the recent cold spell from China hit the nation. But, more particularly, he pointed out political gatherings and has also asked everyone to adhere to social distancing and mask wearing to help curb the recent outbreak of Covid-19 that has swept the country in the past couple of months.
SOURCE: Bangkok Post
Keep in contact with The Thaiger by following our Facebook page.
Never miss out on future posts by following The Thaiger.