Songkran Survival Guide – Top 10 Tips (2019)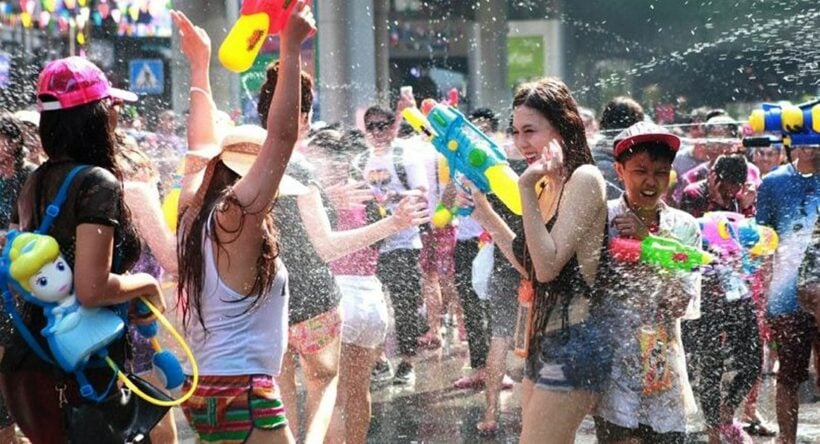 Songkran is a celebration of the Thai New Year on April 13 each year. What started as a respectful washing of Buddha images with water to welcome in the forthcoming wet season, has turned into a mega-water fight.
No prisoners are taken in this annual water battle – if you head outside or drive along the roads you WILL get wet. If you're in a car it WILL get water thrown at it and probably a few handprints made with the sludge left over from the Prickly Powder.
It is a celebration and there's plenty of music, noise, smiles AND water.
Sawasdee pi mai!! Happy Songkran.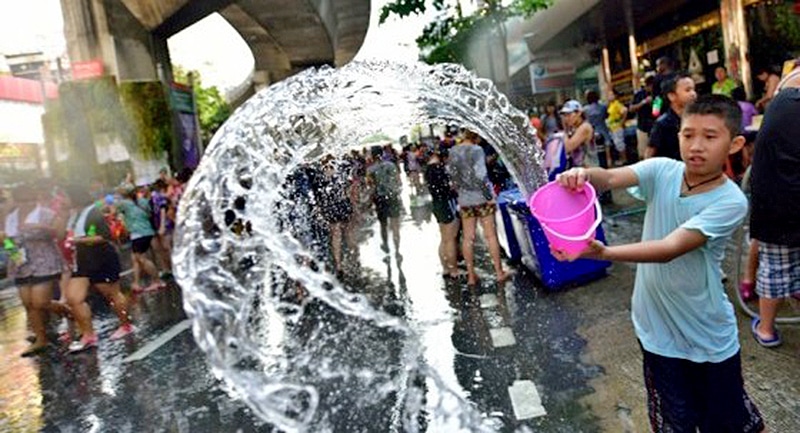 1) Wear goggles
Where did that water come from that just shot in your eye? You don't know and you probably don't want to know! Suffice to say your eyes are at danger from the many things that end up in the water, including the prickly powder that was thrown at you and now dribbling down your forehead or added to the water before it was squirted at you. It will sting either way.
A cheap pair of swimming goggles are a perfect accessory for the Songkran Fashionista. And keep your mouth closed as much as possible. You really don't want to be drinking that stuff being shot at you. Be aware that come people reload their water guns with iced water that is very bracing when it hits you – it's not all nice room temperature Evian heading in your direction. Second option, protective eyewear.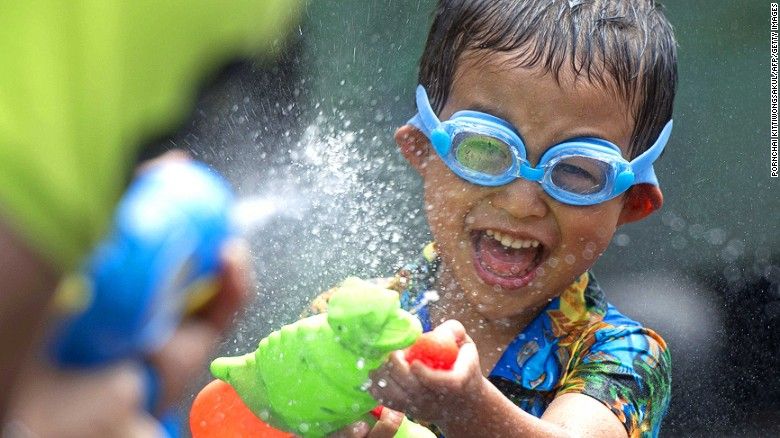 2) Have an exit strategy
Getting into an area where Songkran is going to be 'busy' is easy enough. Getting out can be another thing altogether. If you park your bike nearby it's probably going to get parked in and leave you waiting to get to wherever you were intending to go next.
If you intend to drink alcohol whilst 'partaking of the new year waters' then definitely plan to get a taxi home or have someone organised to get you back to your hotel safely. Having an exit strategy is a good financial investment tip – it's also a very good tip for Songkran as well.
Know how you're going to escape if 1) you need to or 2) when you want to.
3) Riding bikes will be VERY hazardous
Riding motorbikes at any time of the year is dangerous on Thailand's roads. It's a LOT more dangerous during Songkran. You might be quietly going to pick up a sandwich at your local convenience store and WHOOSH, an entire bucket of water is thrown at you from Songkran revellers on the side of the road. In fact, if you're on a motorbike you're considered a good target.
So don't wear your favourite Armani outfit if you're on a motorbike and either avoid getting on a motorbike on April 13 or take it EXTREMELY slowly – you WILL get water thrown at you.
4) Don't take phones or cameras with you
Water and electronic devices don't usually mix. You want to capture all the fun of Songkran but you want to get your expensive camera back home still working, right? You have two options. 1) Leave any expensive electronic equipment, including your phones, at home 2) Put them in a plastic zip-lock bag and keep them secure in a bum bag.
Even the latest 'waterproof' phones can get broken easily in the argy-bargy of a water skirmish. Consider taking your phone with you very carefully and think about how you're going to protect it – putting it in your pocket ain't going to cut it during Songkran!
5) Apply sunscreen
It's hot, damn hot. It's the hottest time of the year (which is what the water festival is all about). So the sun is likely to to be out. You're going to be running around outside enjoying yourself so Mr Sunshine is going to love giving you a good case of sunburn unless you cover up. Obviously, you'll need a waterproof application of SPF30+. Wear a hat and protect yourself from the sun.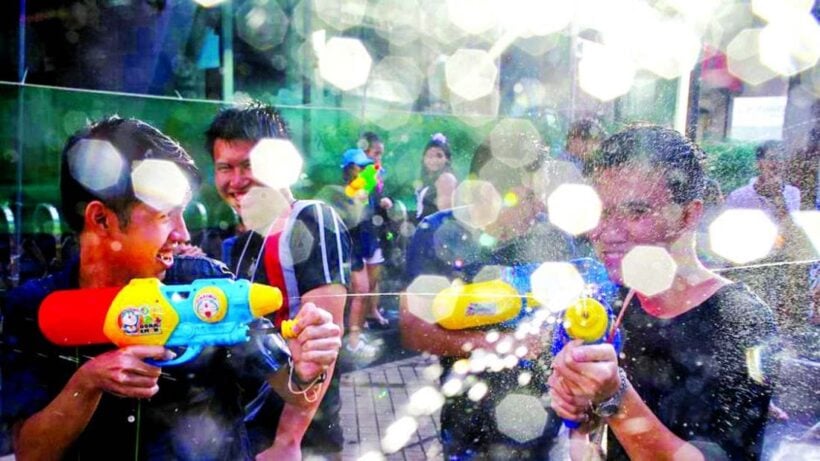 6) Hydrate
Ironically, dehydration is a big problem each Songkran. You're having water thrown at you all day. The last thing you'll be thinking about is drinking water. But all that running around in the heat, despite the water being thrown at you, is going to dehydrate you very quickly. So take a water bottle or keep in reach of a convenience store where you can get refreshed throughout the day. DON'T refill from the tanks people are refilling their guns!!! Just don't.
7) Be aware of the prickly powder
The type of powder used in Songkran has gone from just plain powder to what's called Prickly Powder. When its applied to your face it leaves a burning sensation – not painful but you'll certainly notice it. You certainly don't want that stuff in your eyes – it will really sting. The powder seems about as prevalent as the water these days so be prepared to not only be saturated but coated in a white/grey sludge for most of the day.
8) Consider how you're going to refill your gun
You're all ready. You've got a water gun all full and ready for action. Locked and loaded! You rush out and start firing it at a few people and in approximately 2 minutes, you're empty. You're going to need to figure out how you're going to reload your water gun otherwise it's going to be a very short day or a day spent running away from people because you're out of ammunition. Sea water is a great alternative if you're near a beach.
9) Enjoy yourself, don't take it seriously
If you head out into daylight during Songkran you're likely to get wet. Period. Wear clothes that are going to be comfortable when totally saturated – cotton and natural fibres will retain the water a lot more than synthetic fibres that will tend to repel the water better and dry quicker. Wear a 20 baht plastic raincoat if you really need to but it sort of defeats the purpose of the day.
People are going to rush up to you and throw water at you, usually with a great big smile to go along with it. If you're out there, smile along with them and enjoy the locals' celebration of their new year. If you get your brand new Zara wool suit ruined by a bucket of water on April 13 you only have yourself to blame.
10) Seek an alternative
So, you've done Songkran for years and you really don't want to do it again. No problems. You can go and sit in a quiet cinema for a few hours, walk around the shopping centres or enjoy Songkran-lite at many of the international hotels who host 'toned down' family-friendly Songkran celebrations.
Otherwise stay at home and read a book or binge-watch some Netflix. It's one day (or two days if you are in Patong or Chiang Mai) each year – you will survive avoiding the streets for one day.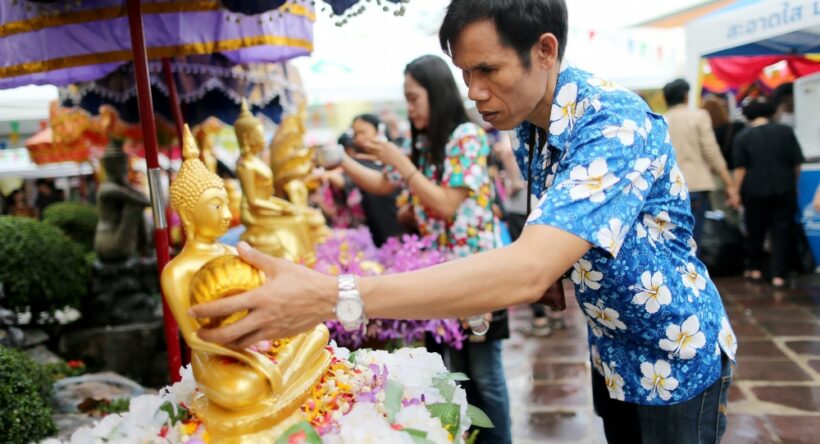 Read more headlines, reports & breaking news in Chiang Mai. Or catch up on your Thailand news.

Find more Chiang Mai top 10s and top 10s in Thailand on The Thaiger.
Thanathorn faces more charges from EC over media shares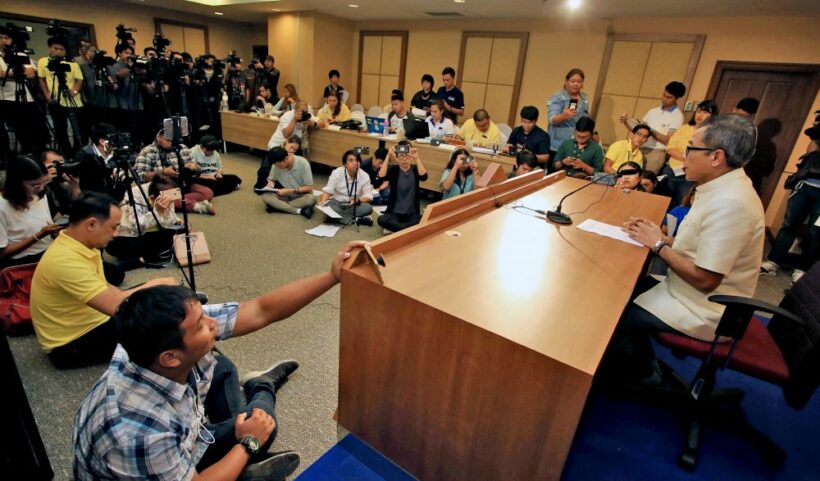 Future Forward's Thanathorn Juangroongruangkit, the 40 year old leader of the new party, has cut short his trip to Europe over an 'unexpected incident'
The Thai Election Commission yesterday unanimously resolved to press charges against Thanathorn over an alleged violation of Thai media shareholding rules.
Citing investigations by two EC panels, Sawang Boonmee, the EC deputy secretary-general, told a press conference that Thanathorn had allegedly violated the law by owning or holding 675,000 shares in V-Luck Media Company while registering as a candidate for the general election.
"Thanathorn's share certificate number is from 1350001 to 2025000," said Sawang, referring to the findings of two panels the EC had set up to investigate the case.
Thanathorn has been accused of contravening the electoral laws that state a shareholder in a media company is barred from contesting an election for member of parliament, according to the EC. The action is punishable by disqualification. The case was filed by Srisuwan Janya, secretary-general of the Association for Protection of the Thai Constitution, on March 25.
An EC source said the agency had yet to suspend Thanathorn's right to contest in elections for one year or give him an "orange" card, as it was just an initial charge. Thanathorn will have seven days to give testimony or submit documents in his defence to the EC, Sawang said, adding his lawyers would also be allowed to witness the trial.
After the testimony, the EC will finalise the case as soon as possible in order to finish it before May 9 when it will announce the election results.
Thanathorn, whose party is tipped to win around 80 MP seats in the new lower house, was on the way back from his tour to Europe. He posted on his Facebook page yesterday that he had been notified to quickly return to Thailand to face an "unexpected incident".
Future Forward secretary-general, Piyabutr Saengkanokkul has questioned the EC's decision, saying the poll agency needs to wait until Thanathorn is endorsed as an MP before it can question his qualification.
Meanwhile, Raksagecha Chaechai, secretary-general of the Office of Ombudsman, said the EC had until today (Wednesday) to submit an explanation to the office regarding a petition seeking an annulment of the March 24 election.
The office last week resolved to accept the petition filed by the now-defunct Thai Raksa Chart Party's former MP candidate, Reungkrai Leekijwatana, who asked the office to submit its opinion to the Administrative Court or the Constitutional Court regarding whether last month's election should be annulled.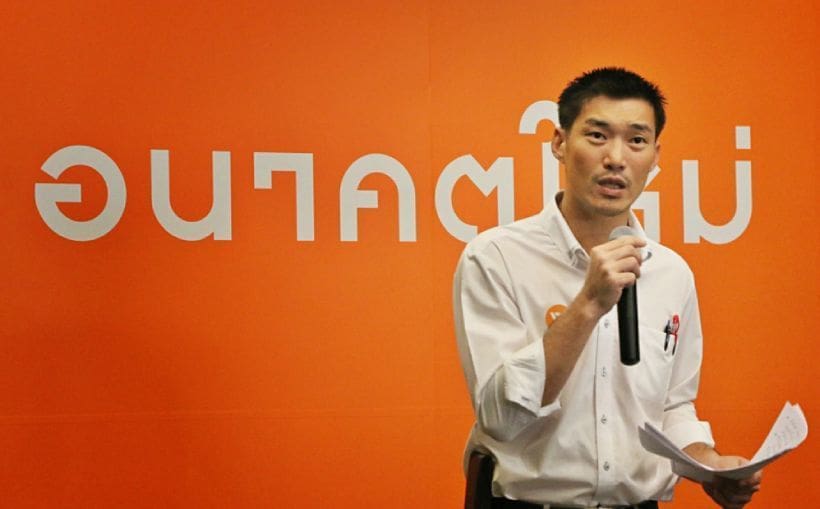 SOURCE: The Nation
Mother says customer paying for sex with 5 year old daughter was girl's father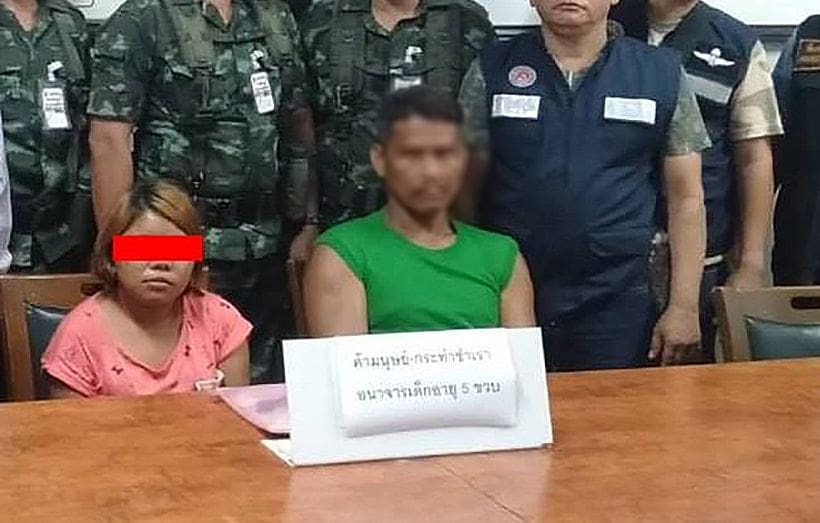 PHOTOS: tnews.co.th
A 28 year old woman, arrested in Chachoengsao, east of Bangkok, for allegedly selling her five year old daughter for sex, has revealed to police that the 52 year old customer who was allegedly caught in the act, and arrested at the time, was the young girl's biological father.
The woman – whose name is being withheld to protect the victim's identity – had reportedly taken the child twice weekly to be molested and raped by the customer, identified only as 'Winai'. The mother allegedly received 200-300 baht each time.
The Nation reports that following their arrest on Sunday evening in an isolated location in Tambon Nong Yao in Phanom Sarakham district, the woman told police that she had had a sexual relationship with Winai – who was an already-married man with a daughter – and became pregnant with a baby girl.
She claimed that she had told Winai that the girl was his daughter, but the man had refused to accept that and so she had found another person to sign the birth certificate.
This case was brought to the Thai authority's attention after a complaint was filed with the Dhamrongtham Centre over alleged child abuse.
The mother was charged with procuring a child for prostitution, illegal detention and coercion, while the man was charged with raping a minor under 16 and molesting a minor under 15.
The child has been put under the care of the Social Development and Human Security Ministry.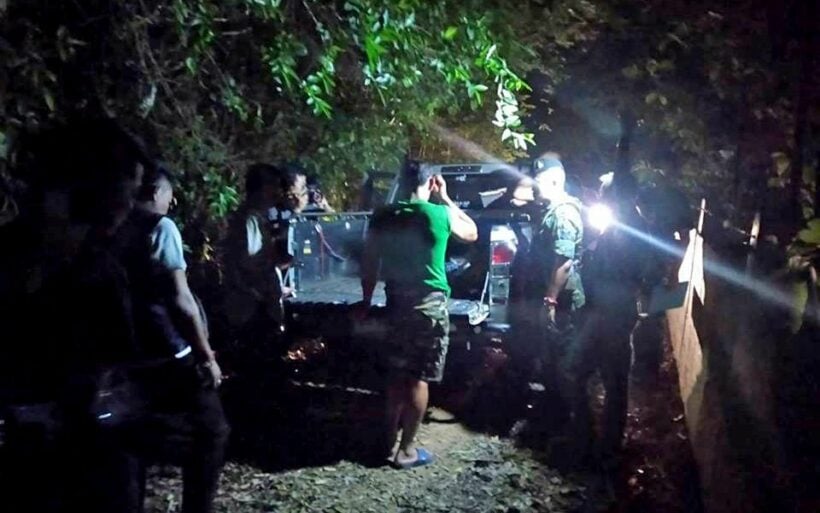 PHOTO: news.co.th
SOURCE: The Nation
Thon Buri pub raid, 38 patrons test positive for drugs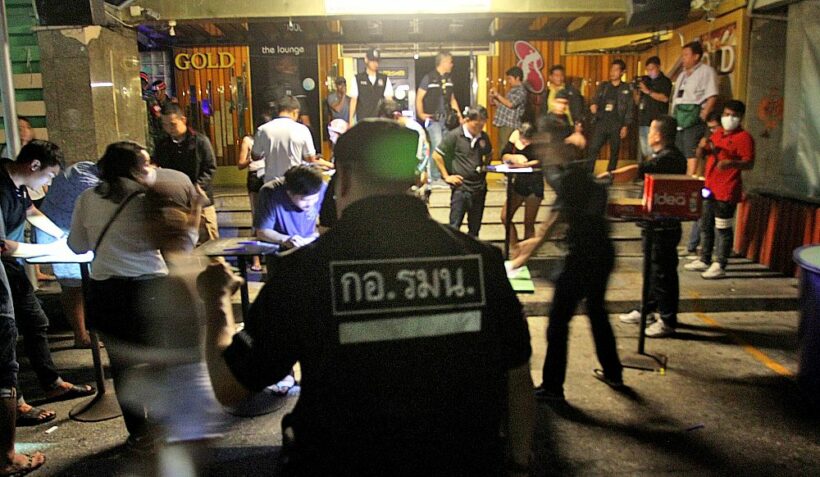 Sur-PRIIISE!
Troops and police have raided a nightclub in Bangkok's Thon Buri district at 3am this morning and found that 38 of its patrons tested positive to illicit drug use.
The Bangkok office of the Internal Security Operations Command conducted the early morning raid against the Wave Pub (formerly known as the Poseidon Pub) on Ratchadapisek Road in Talad Plu sub-district. The unit was joined by ISOC officials and anti-narcotics police from the Talad Plu police station.
The pub was closed under its old name three years ago on similar charges.
When the authorities stormed inside, they found 440 customers joining in a foam party for a late Songkran celebration. Of the 38 patrons arrested for drug use, 25 were woman. No underage drinkers were found inside the pub, or at least none were apprehended.
The authorities also found quantities of drugs, including ketamine and crystal methamphetamine, on the pub floor.
The 43 year old deputy manager Rewat Chaiyaphum was arrested on a charge of violating closing hour and allowing drugs to be used on the premises. The pub is now facing a five-year closure for violating closing hours and allowing drug use.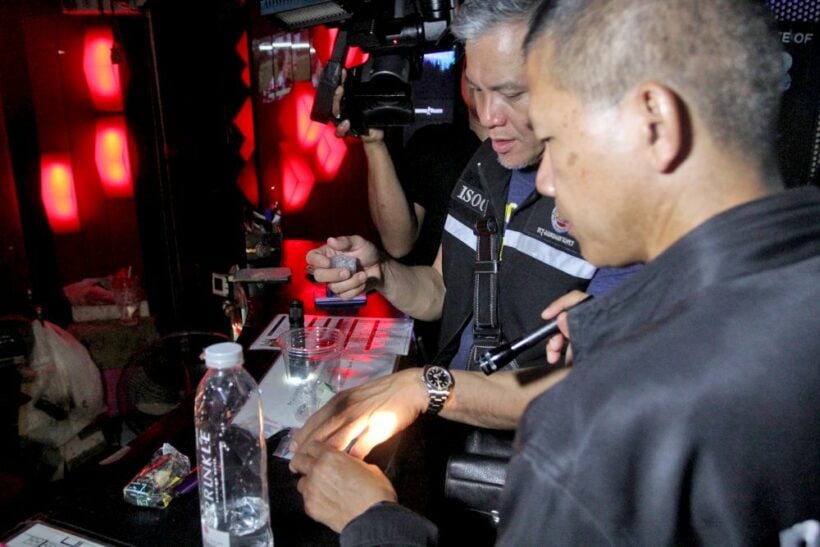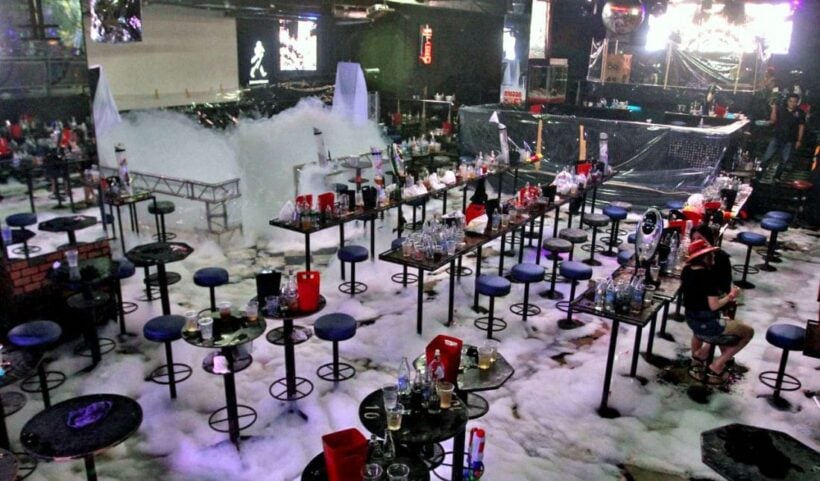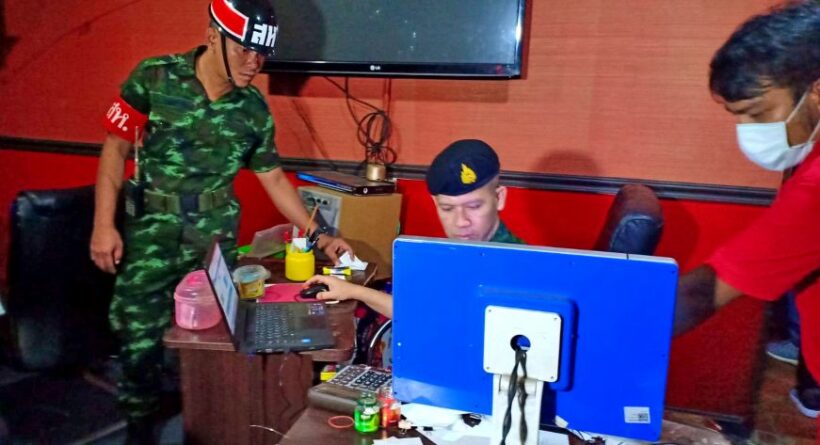 SOURCE: The Nation