Everything you need to know about Songkran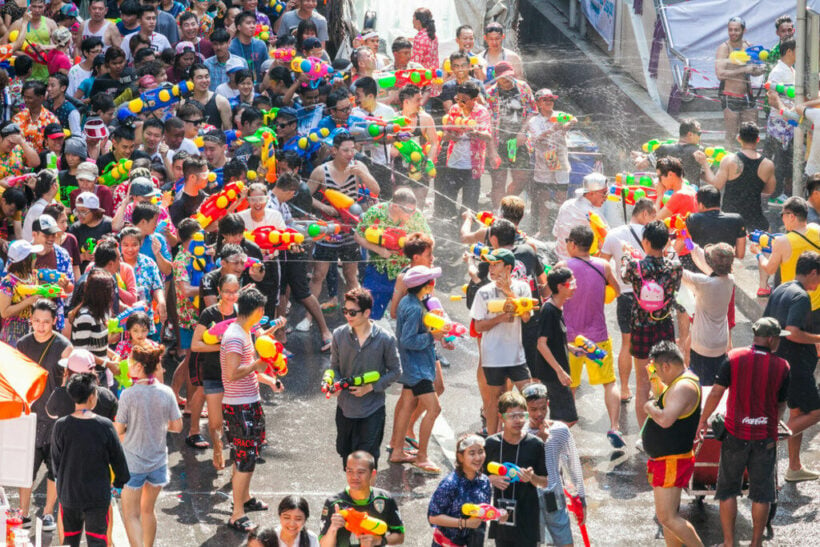 Thailand celebrates its New Year every April with the world's wettest festival, Songkran. It is the world's largest water festival, when everyone, including children, adults, friends, and strangers, gathers to get soaked.
Although it's widely known as the 'Water Festival' among foreigners, Songkran is actually deeply rooted in traditions. In fact, it's one of the most important events in the Buddhist calendar. So, what is Songkran, and what should you do during the festival? Keep reading to find out everything you need to know about the fun celebration!
What is Songkran?
Songkran is a celebration that marks the start of the Thai New Year. It's very important to both the culture and the religion of Thailand. The festival is all about purification, cleaning, and having a fresh start.
To prepare for the holiday, the statues of Buddha are bathed with flower water, and houses are cleaned. In addition, younger Thais honours monks and elders by gently washing their hands with water in a respectful manner. Another key Songkran tradition is carrying sand to the local temple. Thai people will spend the holiday by spending time with their families, visiting temples, leaving offerings, carrying out processions through the streets, and honouring their ancestors.
The true Songkran tradition is to sprinkling water on others. However, it has transformed as locals and travellers use buckets and water guns to take the festival to a whole other level and make it into a massive water fight.
In Thai tradition to soaking people with water is a symbol of cleaning bad actions and thoughts. During Songkran, the splashing of water is believed to bring good health, prosperity, longevity, and good luck. Although Songkran is more popular for its water fights, parades, dancing, and folk entertainment are part of the festival as well.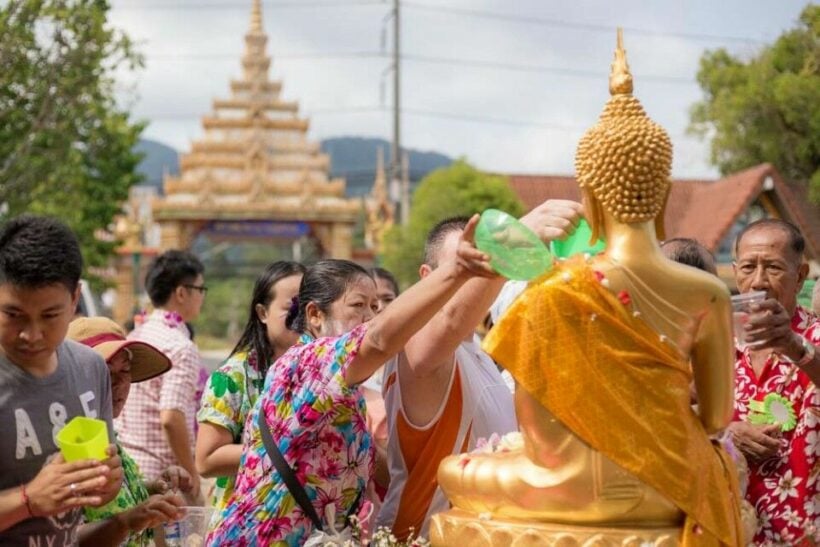 When is Songkran celebrated?
The exact dates of Songkran traditionally fluctuated according to the Thai calendar, which is dictated by the lunar calendar. The dates, however, are now fixed, and the holiday runs from April 13 to April 15. The festival officially starts early morning in April 13 with opening ceremonies. The festival is officially only three days long, but it could actually last from anywhere between 3 to 10 days, depending on where you are in the country.
Where is Songkran celebrated in Thailand?
Songkran is celebrated all across Thailand. Most big cities have robust Songkran celebrations that are bigger than in smaller towns. Also, the festival tends to last longer the further north you go. In the northern city of Chiang Mai, for example, the festival can last for as long as a week.
Chiang Mai
Chiang Mai hosts most of the famous Songkran festivities. The epicentre of the water festival in the city is around Tha Phae Gate. Here, people fill their water guns and buckets using hoses or moats that bars provide. You'll also be able to watch the parade of Buddha statues carried through the main gate. The statues are to be washed in a religious ceremony. Other cultural celebrations, traditional performances, and street food are all part of Songkran in Chiang Mai.
Bangkok
Although Songkran lasts longer in Chiang Mai, many people argue that the festival is more fun in Bangkok. The capital has numerous spots where you can join and celebrate Songkran. Khao San Road is one of the most popular spots, both among foreigners and local Thais. Here, you can participate in a huge street party filled with water and alcohol. It's crowded and frenetic, with loud music blaring from the bars. Silom Road is also a popular spot for Songkran. It typically attracts more local Thais than Khao San Road. If you want a more chilled and family-friendly Songkran experience, Siam Square is the place for you and the official ceremony is normally held at Wat Pho.
Phuket
Phuket is also buzzing with festivities during Songkran, particularly in the Patong Beach area. The streets are filled with pickup trucks throwing water at everyone, tourists and locals alike. The celebrations continue well into the wee hours along Bangla Road. In Phuket Town, the festivities are mainly held around Saphan Hin Park. Here, you can enjoy traditional performances and live music.
Koh Samui
In Koh Samui, Songkran typically only lasts for a day, but it's fun nonetheless. The celebrations in Koh Samui kick off in Chaweng. You can expect street parties with DJs and buzzing crowds.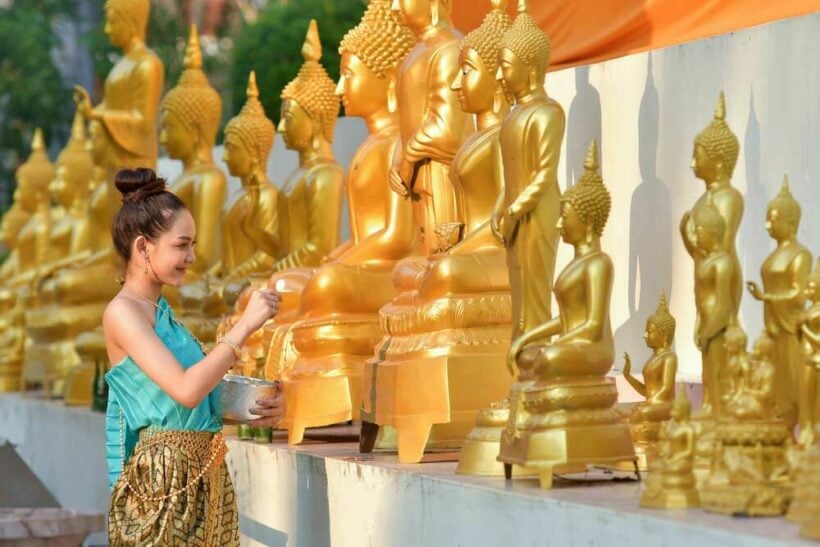 Songkran is usually celebrated more traditionally in smaller towns. The celebrations tend to focus on temple activities. If you want to experience a more traditional Songkran festival, consider going to Isaan in the northern part of Thailand.
Remember that Songkran is taken seriously throughout Thailand. Therefore, regardless of your location, you'll be in for a good time.
What to do during Songkran for foreigners
While Songkran has a significant meaning and importance to Thai people, foreigners are always welcome to join in the celebrations. So, be prepared to get soaked and have fun!
Here's what you can do during Songkran to make the most out of it:
Protect your phone and other valuables
It's important that you purchase a small waterproof bag or a ziplock to keep your phones and valuables dry during the water fight. Songkran has led to the destruction of many cameras and phones, so make sure you waterproof all your devices. If you want to scroll through your phone or take pictures with it, there are many touch-screen waterproof bags that allow you to use your phone. If you can, leave all valuables at your hotel and only carry with you what is really necessary.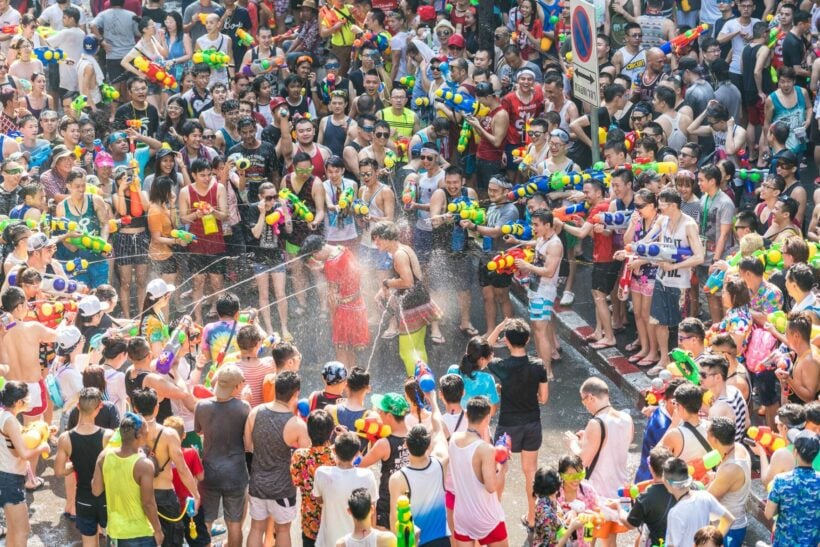 Wear proper clothes and shoes
Since you're going to be wet, choosing your clothes wisely is essential. It's best to wear light and fast dry fabrics that can get dirty. Also, be sure to avoid clothing that appears "suggestive" when soaked with water. See-through shirts, white clothing, and crop tops are best avoided. You can wear flip-flops. However, it's better to wear something that lets you walk on slippery streets safely and protect your feet. If you don't want to keep wiping your eyes, be sure to wear goggles to protect them.
Get ready to have water fights and plan to get wet
Everybody has either water guns, buckets, garden hoses, or even kitchen bowls. So make sure you bring something to splash and soak others. Also, get ready to be soaked when you're outdoors. There's no escape – no matter what items you carry or how much you plead, you could be attacked with water.
Respect people and places
Keep in mind that the water fight happens on the streets. If you come across shops or markets that stay open during the holiday, be sure to respect them. Avoid splashing water indoors and always be polite. You should also avoid splashing people who are working – not everyone can participate in the water fight. Additionally, bear in mind that Songkran is a religious festival, so you should stay out of the way of worshipers. If you decide to visit a temple, always be respectful.
Learn how to say "happy new year" in Thai
The traditional way to make peace after splashing someone and wish them well at Songkran is to say Sawasdee Pee Mai!. It means happy new year in the Thai language. Make sure to always smile and be nice too. You are likely to hear suk san wan Songkran as well, which means "happy Songkran day."
Just have fun!
There's no malice involved in Songkran. Therefore, if you want to avoid getting wet but someone pours water on you, just go with it. Yes, it can be annoying to constantly have water dumped over your head, especially after the first day. However, it's the holiday, so just embrace it and have fun! If you really want to avoid getting wet, it's best that you hide indoors.
Stay alert when crossing the road
Drunk driving is a big problem during Songkran. Therefore, always be careful when crossing the road or standing at intersections since pedestrians can be hit by vehicles.
Ride your motorbike with precaution
Riding a motorcycle during the Songkran Festival is very dangerous. The roads are wet, slippery, and bustling. Accident rates are higher during the festival. Therefore, if you really have to ride your motorbike, make sure to ride it with precaution. Always ride slowly and wear your helmet. Also, it's okay to stop and get water to slash on.
What NOT to do during Songkran for foreigners
It's easy to get lost in the excitement, but the festival does come with some caveats when it comes to safety. It's true that the festival is about having fun. However, there are some things you need to bear in mind so you can make the most out of it.
Don't splash water on Monks, the elderly, and babies
Remember that monks are revered figures in Thailand. Hence, splashing a monk is always off-limits. Shooting water to elderly people, pregnant women, and babies is also a big no-no. Therefore, always pay attention to the person before you're throwing water at them. If you get too carried away and do it by mistake, make sure to apologize immediately.
Don't be a bully
Carrying a plastic water gun can embolden some people, but don't use the festival as an excuse to act like a bully. Things can get really ugly if you don't mind the power of your water gun. Be gentle when splashing water at others and avoid shooting water into people's eyes. Additionally, you shouldn't splash people after sundown.
Don't take off your shirt
You can get arrested and charged with public obscenity if you take off your shirt or dress indecently. Yes, you're wet, and it may seem okay to remove your shirt but remember that you're in Thailand, and the culture is different.
Don't pay for water
Some people will try to charge you to refill your water gun or buckets, but be sure to ignore them. There are many people who share water for free.
Don't drink the water
The water is fresh and clean, but it's typically not potable. Therefore, avoid swallowing water during the festival.
Other Songkran traditions you need to know
Along with splashing water to others, it's a tradition to paste a powder known as din sor pong to others in some regions. It's natural talc that has been used to protect yourself against the sun. The powder is typically stroked gently on the forehead or cheeks. It's used as a way of wishing good luck. Don't worry about the paste staining your clothes as it's water-soluble.
Some people might also tie sai sin or blessed stings to others' wrists as part of Songkran traditions. If someone who's holding a string approaches you, extend your wrists with the palm facing up. They will tie the string and say a short blessing to you. Traditionally, you have to leave it on until it fall off on its own. However, if it becomes too dirty to wear, you can untie them.
If you're planning to join Songkran in Thailand or you will be in the country during this time, we hope that this guide has given you some insights into the festival and prepared you for what you can expect from the celebration.
There was a lot less water in 2021's Songkran due to the Covid-19 pandemic. The festival focused more on the traditional side as people were encouraged to wear Thai dresses or colourful shirts. Let's hope the situation gets better so we can all enjoy water fights again!
Things To Do

Join the conversation and have your say on Thailand news published on The Thaiger.
Thaiger Talk is our new Thaiger Community where you can join the discussion on everything happening in Thailand right now.
Please note that articles are not posted to the forum instantly and can take up to 20 min before being visible. Click for more information and the Thaiger Talk Guidelines.