Santiburi Koh Samui 'launches' a floating breakfast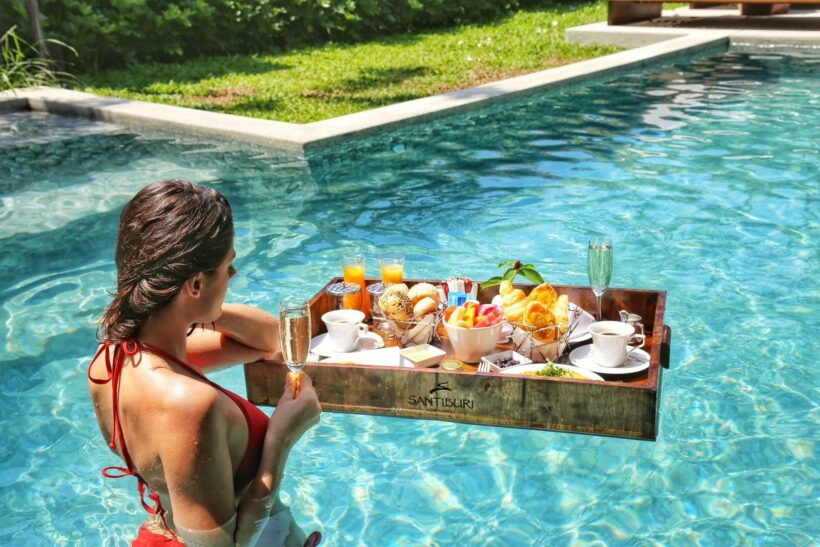 Santiburi Koh Samui has created a choice of Exclusive Culinary Experiences for guests staying in one of the resort's Grand Reserve Pool Villas or Grand Deluxe Pool Villas, as well as introducing more personalised in-room dining options for all resort guests.
Those staying in a Grand Reserve Pool Villa or Grand Deluxe Pool Villa can indulge in the ultimate resort lifestyle by starting the day with a Floating Breakfast, complete with Champagne or Prosecco served on a specially designed floating wooden tray in their private swimming pool. A choice of six breakfast items – including pancakes, Israeli-style baked eggs, and eggs benedict – is served with a fresh fruit juices, bread rolls, Danish pastries, croissants, house-made jams and tropical fruit.
Later in the day, for a relaxed and private poolside dining experience, villa guests can also book a Private Barbecue for up to six people with a personal chef on hand to prepare a sumptuous platter of choice meats and fresh seafood.
"We wanted to personalise the dining choices for our pool villa guests, while also adding to the choices for our guests who enjoy more exclusive culinary attractions," explains Sabine Gabrielle Lamberts, General Manager at Santiburi Koh Samui.
"In addition to the private villa options, twice a week we have introduced a Santiburi Kick Start Breakfast, which includes a refreshing morning run, restorative yoga session, nutritious detox drinks, and a healthy beachside breakfast followed by an energising Ayurvedic massage. Guests can also enjoy a selection of freshly made, customised smoothies served in the privacy of the suite or villa," she adds.

Those keen to create their own memorable meals as part of a memorable holiday at Santiburi Koh Samui can take a private Thai cooking class, or even arrange to cook a special Thai meal as a family. Meanwhile, cocktail aficionados are invited to 'Be Your Own Mixologist' with a professional cocktail kit and recipes provided with ingredients delivered on-call for each of the resort's signature drinks.
Couples looking for an intimate, romantic dining experience can book a Private Dinner with a candlelit table set up on their private terrace, or right the soft sands of Mae Nam Beach with a personal chef on hand to orchestrate an unforgettable feast.
The unique selection of culinary adventures adds fun, romance, relaxation and interaction into every meal at Santiburi Koh Samui.

Santiburi Culinary Experiences
For Pool Villa Guests
Floating Breakfast – Ultimate Champagne Breakfast 1,990 THB ++ Per Person
Floating Breakfast – Sparkling Breakfast with Prosecco 1,390 THB ++ Per Person
Private BBQ 1,290 THB ++ Per Person
For All Resort Guests
Kick Start Breakfast 2,900 THB++ Per Person (min 4 pax)
6.15am – 12pm
Smoothie Express 240 THB ++ / Smoothie
11am – 10pm
Be Your Own Mixologist
Individual Cocktail Ingredients from 220 THB ++
Spirit Bottles from 450 THB++
Private Dinner
Information on enquiry.
Private Thai Cooking Class 2,350 THB++ Per Person (max 2 pax)
12-1.30pm Daily
Family Thai Cooking Class 1,750 THB++ Per Person (max 4 pax)
12-1.30pm Wednesday & Friday

Looking to jettison some items before jetsetting away or chartering a yacht? Look no further than Thaiger Classifieds where you can find and post items, work, property and more for free.

The art of Thai massage – Chann Wellness Spa, Kamala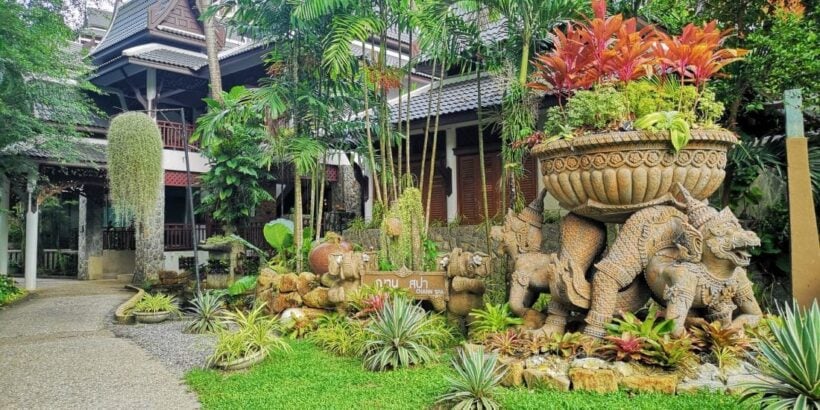 Time to relax, time to be pampered. You deserve some 'me' time to get refreshed and be indulged at the Chann Wellness Spa at Thavorn Beach Village Resort & Spa, Phuket in Kamala. Tim Newton headed to Kamala for an hour of well-deserved pampering.
Chann Wellness Spa is one of the island's most established spas combining experienced staff, the right 'mood' and a perfect location on the shores of Phuket's west coast.
Chann Wellness Spa has their own Signature Massage which is a full body traditional Thai massage using essential 'energising' oils containing lemongrass, ginger and verbena.
Find out more about the art of the Chann Spa massage HERE.

The spa is visited mostly by guests of the Thavorn Beach Village Resort & Spa but is becoming increasingly busy with locals who know about Chann's quality and experience. Many guests from the Thavorn Palm Beach Resort also visit the Kamala property to enjoy some relaxing therapy.
Massages come in many varieties as well as 'soft, medium of strong'. I like a 'medium' which I can dial up to 'strong' when needed. My masseuse was Khun Natty who did her training with official Chiang Mai Government masseuse training. Lots of experience makes all the difference.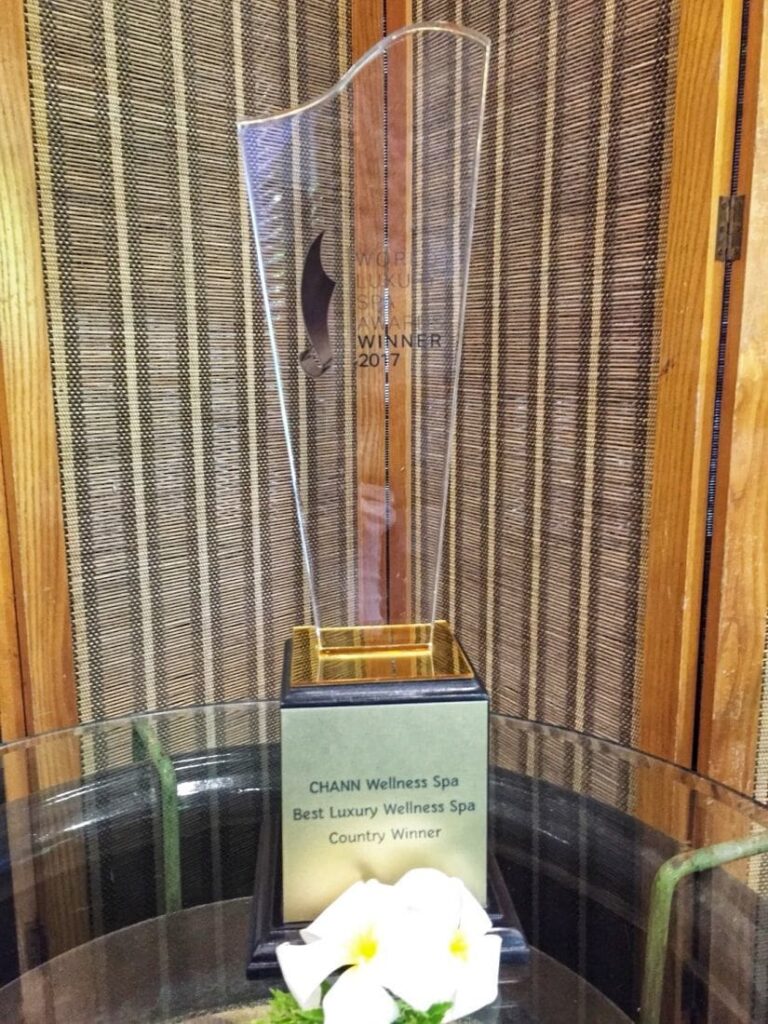 Chann Wellness Spa operates from its own building amidst the sprawling Thavorn Beach Village Resort & Spa facility, just moments away from the beach. The spa has been operating for over 10 years, bringing pleasure, comfort and relaxation to its customers.
Chann Spa features 10 individual treatment rooms and a Relaxation Sala. All of the treatments use bespoke signature spa products, with ingredients to soothe, rejuvenate and invigorate your body leaving you feeling totally relaxed. And in today's hurly burly world sometimes it's exactly what we need.
The spa was a deserved winner of the "Best Luxury Wellness Spa" from the World Luxury Spa Awards in 2017 – a culmination of the decade perfecting the craft of relaxing and rejuvenating tired, sore and stressed bodies. 

I had the Signature massage, a traditional Thai massage where Khun Natty perfectly tuned the pressures and techniques to my requests. An hour of total relaxation where I turned off and just let Chann Spa take care of me.
But how trying their Mango Sticky Rice skin treatment package? It blends a Thai favourite with the known benefits of antioxidants, vitamins and energy.
Getting a Thai massage is almost ubiquitous in Thailand. There are many options but few that can boast a decade developing a reputation and experience that Chann Spa can offer.
Finishing my treatment with Natty, I was floating on air and quite happy just to 'chill' with the sounds of nature and the music maintaining me in the 'relax' zone for a just a little longer.
Find out more about the Thavorn Beach Village Resort & Spa experience HERE.

Tim and Masseuse 'Natty'
Tim Newton was a guest of the Chann Spa and the Thavorn Beach Village Resort & Spa, Kamala.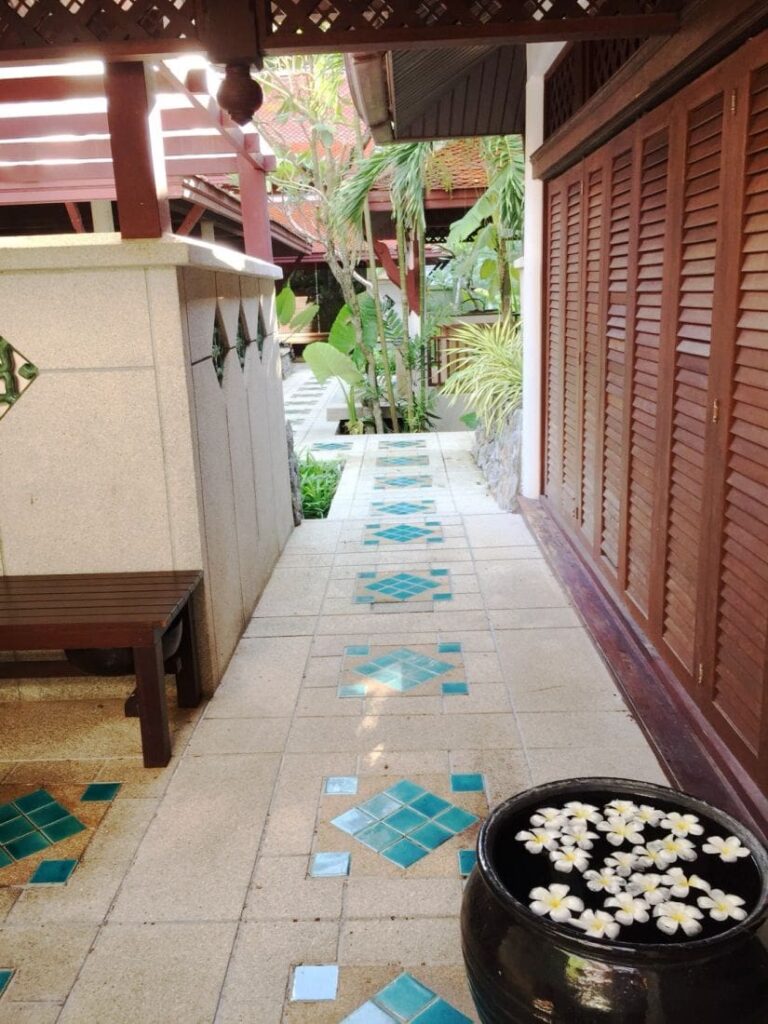 Calls to restrict foreign property purchases in Bangkok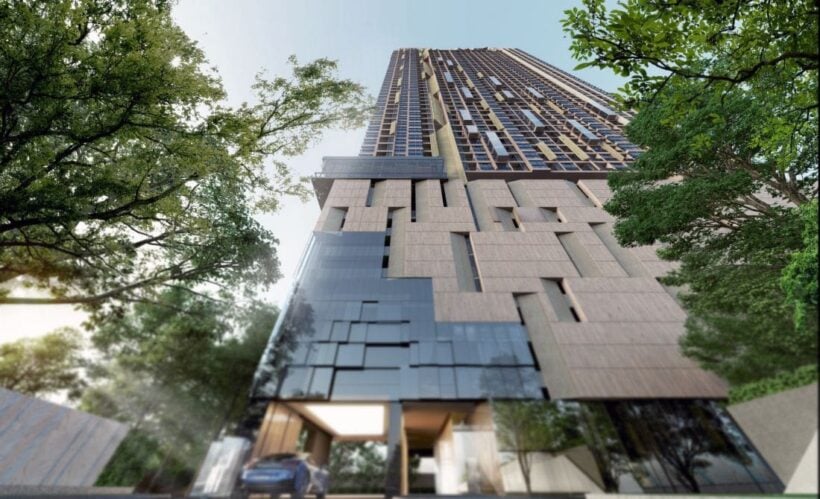 Dr. Sopon Pornchockchai, the President of the Thailand Agency for Real Estate Affairs, is calling for controls to restrict foreign property buyers.
Thailandproperty.news is reporting than he is justifying his comments saying the growth in income of Thais is slower than the property price rises being pushed up by high foreign demand.
"Some measures should be adopted, such as higher stamp duty for foreigners," he said.
The article says that this is the first time an industry figure has spoken out about the need to restrict or reduce the amount of foreign investment in the Bangkok property market. Dr. Sopom says he believes that foreign buyers account for around 20 percent of all Bangkok property purchases.
He noted that Chinese purchases account for about 80 percent of foreign buyers.
Read the original story HERE.
Savoury staples with a touch of the finest Swiss chocolate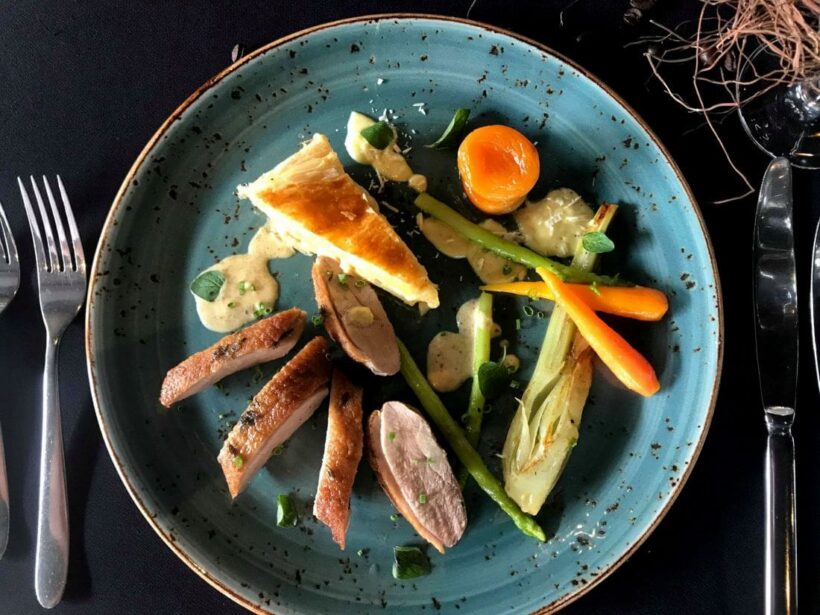 Chocolate… mmmmm. But did you consider it as part of a broader savory menu? I enjoyed an evening of chocolate-infused cuisine and, well, it really works!
Mövenpick Resort & Spa Karon Beach Phuket is treating guests to a new menu of savoury dishes with a sweet twist as Mövenpick Hotels & Resorts launches its 'Chocolate on the Salty Side' promotion.
In celebration of Swiss cuisine and the wonderful versatility of chocolate, the brand's talented 'food artisans' have made Mövenpick chocolate the hero of seven dishes in its latest global campaign, which runs to 20 November, 2018.
From salmon fillets enlivened with dark chocolate to a savoury tarte tartin with a white chocolate flourish, each new creation offers up something distinctively flavourful and showcases chocolate in new exciting ways to guests dining at Movenpick Karon Beach El Gaucho Restaurant.


The seven chocolate-inspired creations include: marinated 'beetroot salmon' with root vegetables and 72% dark chocolate to enhance the meal's rich earthiness; 'tomato tarte tartin' where 'white lemon' chocolate complements the goat's cheese, pine nuts and coffee beans; 'sea bass and green tea' – a light foam of green tea, almonds, nuts and Mövenpick 'Maple Walnut' is the star; 'minute beef goulash', with a traditionally-made Hungarian goulash sauce, enriched with dark chocolate; 'lamb shank and pesto', slow-roasted and then refined with pistachio and hazelnut chocolate pesto; and 'duck breast and potato pie', with white chocolate, lime and pepper giving the pink-roasted meat a delicate yet spicy freshness.
Whilst the dishes have been infused with chocolate, it's barely noticeable in most cases but makes for some subtle new tastes on European classics.
Less subtle are the exquisite desserts which are a blatant celebration of all things chocolate. Guests can finish their meal with a tempting 'chocolate pavés au chocolat', combining milk chocolate, crispy cocoa bean fragments, sizzling pecan nuts and slightly bitter matcha powder, all with a hint of green tea and paired with an espresso.
The quality of Swiss craftsmanship is world-famous and even the country's chocolate is produced with legendary precision. Mövenpick chocolate is made in keeping with the tradition, as well as its own culinary values that date back 70 years, and is produced in Switzerland using 100% cocoa butter.
Make a booking HERE or find out more about the El Gaucho Restaurant HERE.



Tim Newton was a guest of the management of Mövenpick Resort & Spa Karon Beach Phuket