Two more Chinese airlines flying into Pattaya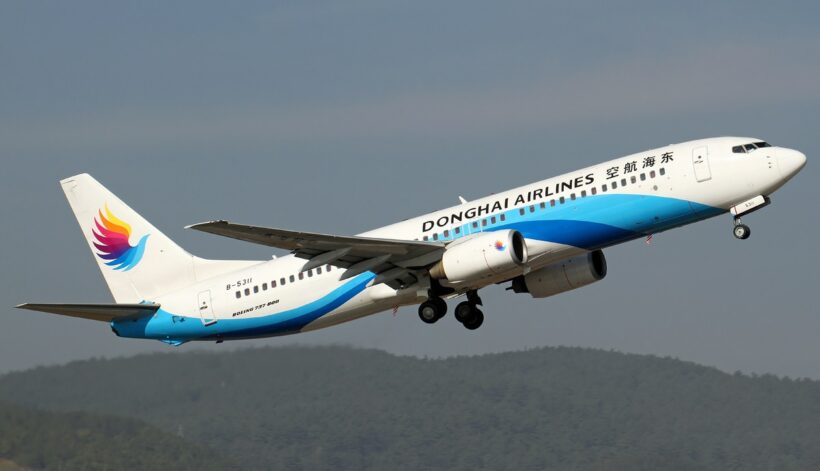 PHOTO: Planespotters.net
More Chinese airlines heading to Thailand. This time they're adding services to the eastern seaboard.
Two Chinese airlines are headed to U-tapao airport, 36 km south of Pattaya.
Donghai Airlines is flying from Wanzhou to U-tapao, while Kunming Airlines is launching a service from Kunming this July.
Donghai Airlines is already flying three times a week to U-tapao (Tuesday, Thursday and Saturday) using Boeing 737-800 series aircraft.
Wanzhou city is on the upper reaches of the Yangtze River in China with a population of a round 1,75 million residents. Wanchou district borders Sichuan to the northwest and Hubei to the southeast.
Owned by Sichuan Airlines, Donghai Airlines is also expanding with a flight to Darwin, Australia as well as U-tapao in Rayong, Thailand. The airline is aiming to expand its fleet to 120 aircraft by 2025, including Boeing 787 Dreamliners, additional Boeing 737-800s and Boeing 737 MAX aircraft.
Meanwhile, Kunming Airlines is adding its U-tapao service effective July 1, four times a week.
The flights are on Monday, Wednesday and Friday and geared to the holiday package market in Kunming, the capital of Yunnan province.
Partly owned by Shenzhen Airlines, Kunming Airlines already flies from Kunming to Hat Yai.
Yunnan  is the closest Chinese province to Thailand sharing a border with northwest Laos near the town of Luang Namtha. The Chinese province was a founding member of the Greater Mekong Sub-region Tourism Working Group along with five countries – Cambodia, Laos, Myanmar, Thailand and Vietnam.



Looking to jettison some items before jetsetting away or chartering a yacht? Look no further than Thaiger Classifieds where you can find and post items, work, property and more for free.

Read more headlines, reports & breaking news in Pattaya. Or catch up on your Thailand news.
Belarusian 'Anastasia' will be in Moscow detention another 3 days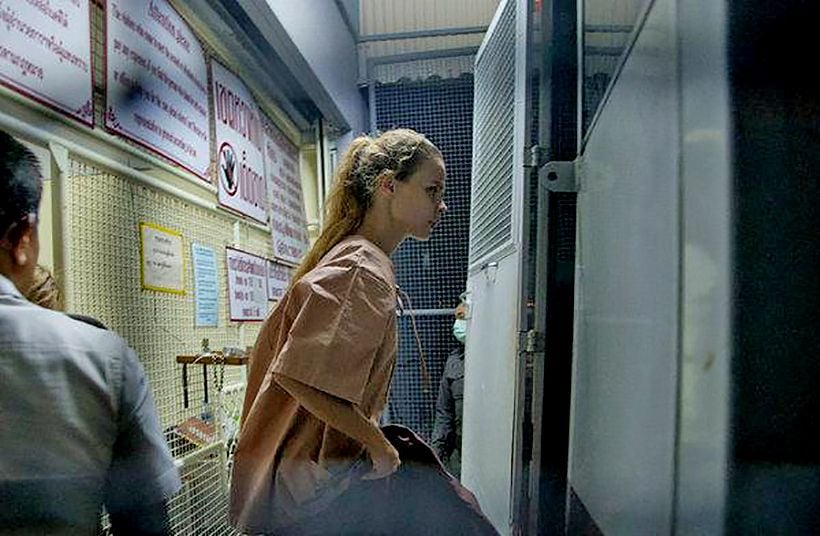 Anastasia Vashukevich, aka. Nastya Rybka, the Belarusian model/sex-educator/Instagramer who spent a year in a Thai jail awaiting last week's Court case, and was then deported, remains in a Moscow jail as of last night after the presiding judge decided to extend her detention by 72 hours.
She was arrested at Moscow airport on Thursday after being deported from Thailand on Tuesday night. She, and seven others, pleaded guilty last Tuesday for participating in a "sex training course" in Pattaya nearly 12 months ago.
During a hearing yesterday in Moscow, she said she did not want to "in any way compromise aluminum mining magnate, Oleg Deripaska".
According to Interfax she said in the hearing, "I have had enough."
Her lawyer Dmitry Zatsarinsky, told reporters that his young client "has committed no crime" and had "nothing to do with" Deripaska and "still less with US President Donald Trump".
On Friday her lawyer denounced Anastasia's arrest, which was made while she was in transit in Moscow after a flight from Thailand on her way to Belarus.
The Belarusian gained notoriety last year when she claimed she had proof of Russian collusion with the Trump Presidential election campaign. She has now had her detention in Moscow extended by three days by a Russian court.
According to Interfax reports, she told the court she denied the accusation of prostitution, telling the court that "I am not guilty of what I am accused."
She unexpectedly pleaded guilty in a Bangkok court to charges of prostitution relating to last February's sex training course in Pattaya. The Thai judge suspended the group's sentences but deported them, effective immediately.
Anastasia had been in custody in Thailand since a police raid in what AFP described as the "sleazy seaside resort of Pattaya" last February.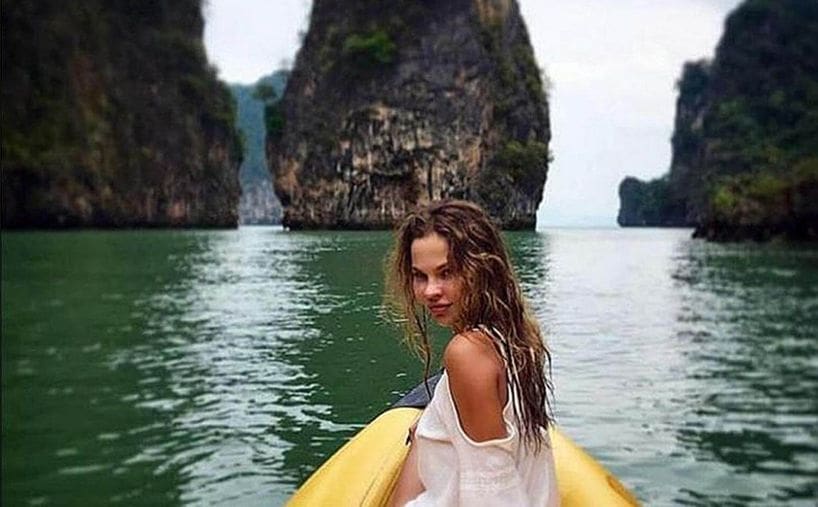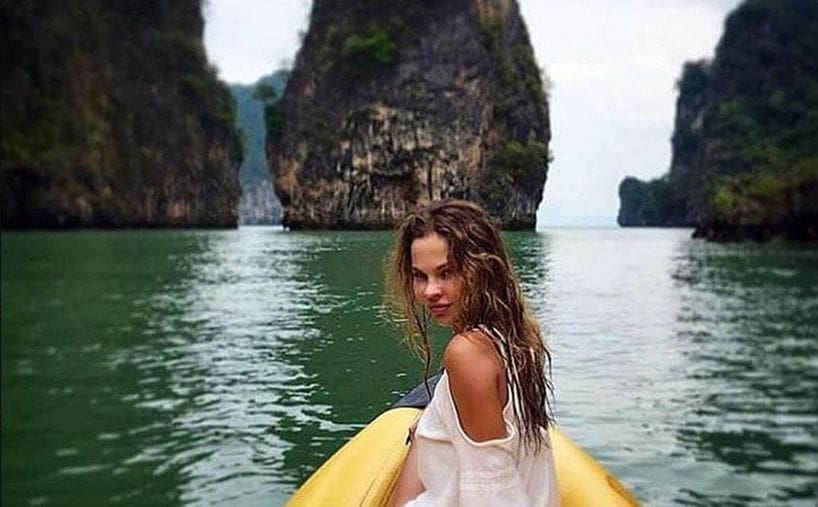 Anastasia cruising around Phang Nga in 2017 – Instagram
Deported Belarusian model, and seven others, detained in Moscow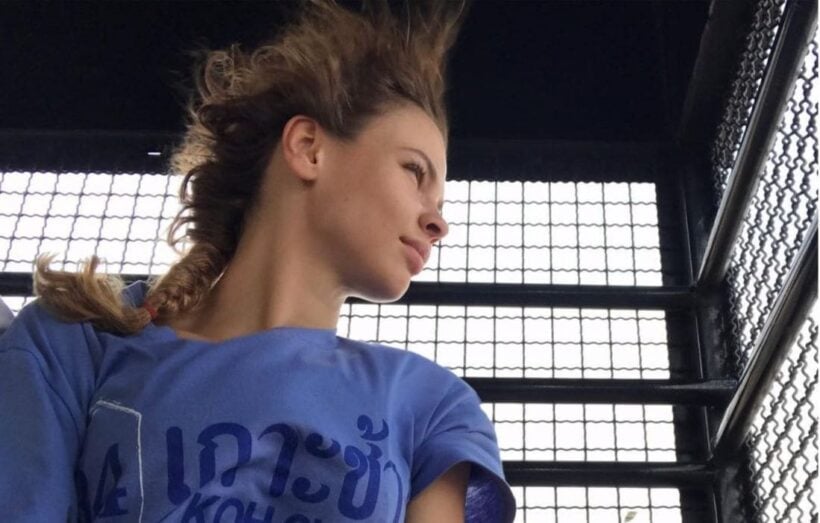 PHOTO: Instagram/nastya_rybka.ru
A woman who had claimed to have 'dirt' on Russian attempts to meddle with the US Presidential elections in 2016, is now in detention in Moscow.
Anastasia Vashukevich, aka. Nastya Rybka on social media, was deported from Thailand on Thursday after pleading guilty to charges including soliciting prostitution in a court case last Tuesday in Bangkok.
She, and seven others who were also deported over the Pattaya sex-training courses, arrived at Sheremetyevo Airport, Moscow, on Friday morning. Vashukevich was detained on suspicion of enticement into prostitution, according to state news.
"They speak very rudely!" she claimed in a text message.
"They say we must go with them for a couple of days somewhere!"
The deportees were detained by a group of people "in civilian clothes" who did not introduce themselves or say why she was detained, according to Anastasia.
Vashukevich came to world attention last year when, from her cell in Bangkok, publicly called for the US to help free her in exchange for information on alleged ties between the Trump campaign and Russia.
She was deported from Thailand on Thursday after she and seven others pleaded guilty at the start of their trial to charges including soliciting prostitution and "forming and being a member of a secret society" (translated).
The group were each sentenced to 18 months in jail but released to serve the remainder of their sentence on parole.
Belarusian 'sex trainer' deported from Thailand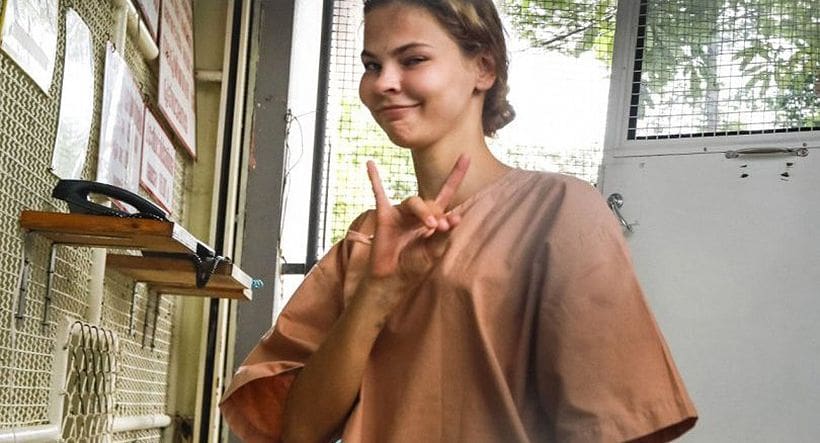 Anastasia Vashukevich, aka. Nastya Rybka, the Belarusian model who claimed she had 'dirt' on Donald Trump and Russian efforts to help win the US Presidency, has been shipped off to the airport and deported from Thailand.
She was convicted of participating in a "sex training course".
"I want to get a bed. I want to get a bed so much! I have been sleeping on the floor for nine months. Now, here, in the IDC (Immigration Detention Centre), I've got a pillow. I am awaiting my deportation, so I've got a pillow here. You cannot imagine how happy it makes me feel", she told Sputnik News in a phone interview from Thailand.
Along with seven others, she has been languishing in a Bangkok jail since police raided their 'sex classes'  last February in Pattaya.
Vashukevich claimed she had travelled to Thailand after becoming embroiled in a political scandal with Russian aluminium tycoon Oleg Deripaska, a one-time associate of Trump's former campaign director Paul Manafort. She then expanded the story with her promises to reveal details about Russian involvement in the 2016 US Presidential campaign, none of which could be verified.
According to AFP, Vashukevich pleaded guilty alongside seven others to multiple charges, including solicitation and illegal assembly at a Pattaya court on Tuesday. The court wound up the proceedings demanding the group be deported.
Vashukevich, along with most of her 'sex training class' associated boarded an Aeroflot flight for Moscow this afternoon.
Surachate Hakparn, the Immigration Chief, says the rest of the group would leave the country tonight.
Throughout the past year Vashukevich has pleaded with Thai authorities not to send her back to Russia saying that she would be in danger. She has more than 120,000 Instagram followers and has written a book about seducing Russian oligarchs.

PHOTO: Instagram/Nastya Rybka