What makes a good rental villa?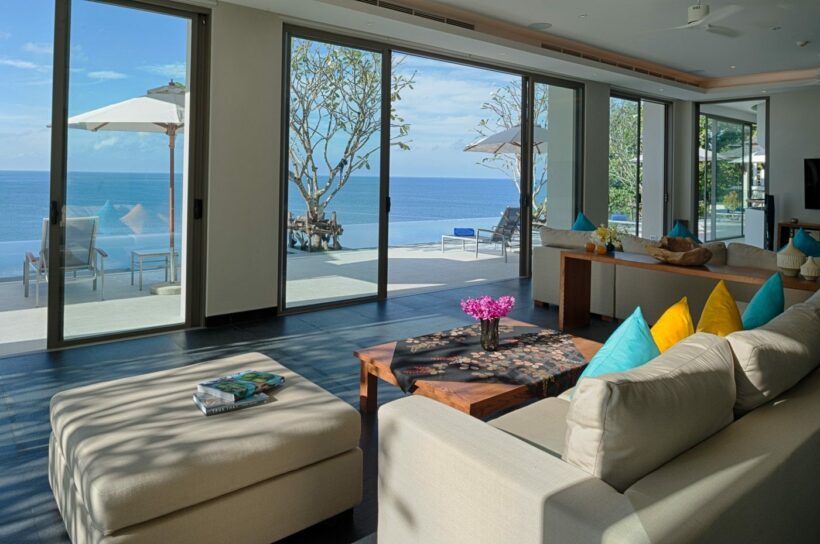 by Ian Macaulay
Not everyone who has gone through the process of owning or building a villa will want to rent it out.  Even if you don't, rentability can have a significant impact on the asset and resale value so it's well worth being aware of a given property's potential appeal to the rental market.
Here are a few things to consider:
Location
No, we won't say this 3x, but it always should be remembered as a major factor.
Every location has its advantages, which can range from the mundane – number of parking spaces (for when you want to have a gathering of friends), or accessibility to restaurants as some examples. How close is the villa to the major spots of appeal for visitors?
Views and surroundings are also valued and appreciated by guests, and consequentially impact desirability.
Some places will win because they are close to the action, others are be able to play the card of being away from it all – the first may have better occupancy, the latter may enjoy a better price per night.
The more sought-after the location, the more the rental appeal which will normally convert to good rental rates and solid occupancy levels.
Equal size bedrooms
We don't think of this so much in the houses we live in, but when rental clients start looking for a rental villa for a group of friends or family, suddenly not only the room sizes get important but the relative size of each of them.
If people are splitting the bill evenly, in a case where there are two bedrooms each twice the size of the remaining two, or even more challenging, something like three gradients of rooms – it has the unfortunate effect of reducing desirability.
The rental market seeks rough parity in room sizes.  There is rarely a problem if the master bedroom is larger than the other rooms as long as the other rooms are roughly equal in facilities and have en-suite bathrooms.
Owing to the fact there is often someone in any given group more equal than others; whether it be the couple who organised the villa booking or the parents being granted respect, having one bedroom being disproportionate with the others is not going to be a major issue, as long as the other bedrooms offer decent size and facilities and are themselves roughly equal.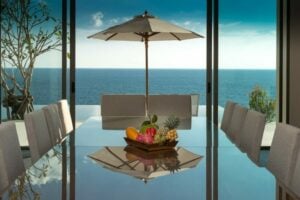 En-suite bathrooms
The expectation of most clients in the villa world is to have each bedroom with a private access to a bathroom, or en-suite bathrooms.  If any of the bedrooms in a rental villa have separate bathrooms (access through a hall, whether that walk be long or short) it will impact on the overall pricing of the villa.
If there is a shared bathroom in a villa that will substantially impact both price and appeal – because now by its very nature the villa is needing 2 rooms of guests who are willing to share a bathroom with one another, as opposed to choosing another villa which doesn't suffer from this issue.
If it is a big villa that sees lots of entertaining, additional service bathrooms are welcomed and desired for maximum guest comfort (notably few people will weigh up this aspect when selecting a villa for a gathering).
Number of bedrooms
I am commonly asked questions like "What rents better? 4 bedrooms, or 6?"  The answer is the market is really divided into one-bedroom villas (normally found only in resorts or villa complexes) and then multiple-bedrooms villa options.
Admittedly there are more people looking for 2-bedroom villas than 8-bedroom villas, but the moment you have more than one person/couple making a decision on accommodation it falls into the same booking parameters as every multi-room accommodation (there are roughly the same number of 3-bedroom requests as 4-bedroom ones).
Rental guests tend to shape their stays around what is on offer.  Someone finds a 5-bedroom villa being presented as a holiday option, and they fall in love with it – they will find another 4 bedrooms of friends and family to come and share and help them enjoy it
The other way rounds is 5 bedrooms of friends or family decide on a trip together and then cast around for options.  In parallel, 4 bedrooms of friends are looking for 4 bedroom villa options.
So there is no ideal configuration for market appeal.  It should be noted that the more bedrooms a villa possesses the better the economies of scale from both operational as well as a marketing and distribution perspective which will impact on yield.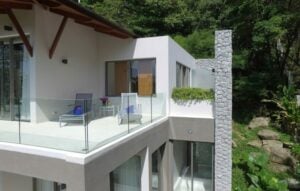 Facilities
The more facilities that the villa can offer (this can be a barbeque, to a private movie theatre, to spa facilities), the better.  It helps distinguish it from other villas, it offers differing levels of appeal to its guests, and in the internet age we live in, the more additional features which can put on a listing will help to underpin the pricing ask.
Quality of those facilities and features is very important.  If a villa claims to do or offer something, it needs to do that well – or you wind up with dissatisfied guests and a loss in market appeal in a review-based modern world, which is especially relevant to travel options, one must be careful about execution of such.
As the villa industry grows from a cottage industry to an increasingly developed one, a growing list of heavily desired aspects, bordering on 'musts' for villas at the luxury end, include:
A swimming pool
Wi-Fi connection
Reliable and reasonably high speed internet connection
Backup power facilities
TVs in every bedroom*
Privacy
(*Personally I think that people renting a house in the tropics should have access to an absolute minimum of 2 screens in any house – one for the adults and one for the children.  Having said that there is a large portion of the market who expect a personal AV solution for each bedroom as that is what they have come to expect from the hotel market/personal preferences – so this impacts on desirability.)
Events
One of the dimensions of villas that sets them apart from hotels is the ability to entertain.  Villas will normally be expected to able to host its sleeping capacity without question.  If it's a large villa, one thing that should be reviewed carefully is its suitability for events – events normally translate into weddings in the commercial market.  Sunset facing and proximity to ocean are the biggest selling factors externally for this.
Then it becomes about what the villa offers internally.  Is there a large flat space, either on the deck, or the lawn that is suitable for hosting a group of people? With the unpredictable weather these days, having the space to do a wet weather solution – either a marquee on the lawn or a large room inside the villa which can host in inclement weather will add value to the villa's commercial appeal.
Maintenance
Good maintenance is something that is not easy to accomplish, but looking after the materials and equipment of the villa has a direct impact on its desirability in the rental market (and also its appeal to the property market).
Regular guests from rental bookings can assist with this – houses in the tropics do much better when they are lived in and being used.  Taps get turned, switches get flipped.  Anything fails, it will be reported by either the owner or guests to the onsite staff and it gets repaired.  Staff stay on their toes and service levels are consistent.
Quality of Cooking
Food is one of the major reasons visitors come to Thailand.  If you haven't got the food right there is a problem and it will complicate everything else you do.
Clients can get sold on the architecture and stay once, but they will not return if they do not have a good culinary experience when they are at the villa, nor are they going to recommend it to others, ruining potential word of mouth business which is critical in the villa industry.
Quality of staff
Service is the secret sauce which makes everything else work to its potential.  Reasonable levels of English are important to let foreign guests interface with the staff and enjoy their holidays.
Consistent delivery in terms of client requests is needed.  Staffing can be done at various levels from housekeeper to butler but what clients care about the most is its smooth functionality and reasonable delivery of standards promised/expected.
It should be remembered that good service will hide a number of sins and potential drawbacks in a property if done well.
Having a professional management company which can structure the onsite team and provide backup resources is normally the most efficient way to succeed in this area.
Marketing materials
Building, designing and decorating a fantastic villa is one challenge, being able to convey to remote parties as in over the internet the villa's wow factors, facilities and appeal, and achieve top rental rates is a separate one.
Top end professional photograph is a must.  A visual identity for the villa must be established and woven carefully through all the villa's marketing materials to present to potential holiday renters.
Pricing
Pricing needs to reflect all the other variables referenced above.  Comparable villas should be carefully reviewed to ensure that pricing is realistic vis-à-vis the market.
When pricing, dimensions such early bird pricing offers, reduced occupancy prices, last minute booking price should be considered.  These are not all necessarily required however let's remember villa time is like an airline seat so extracting some value before the plane flies empty often makes sense.
Summary
The sum of all these above factors which will determine its appeal to the market.  You have a fantastic villa but if it's not priced correctly, it will have very low chances of success.  A great looking villa with poor operational management will underperform. Great service and operations, but poor marketing will also bring sub optimal results.
Think through every dimension of the guest experience, work to your villa's strengths and do what you can to compensate for its shortcomings, and things will come out well.
PHOTOS: Christopher Leggett


Find more property for sale and rent across Thailand at Thaiger Property, powered by FazWaz. You can even list your property for free.
Bangkok luxury poised to push through the US$300 ceiling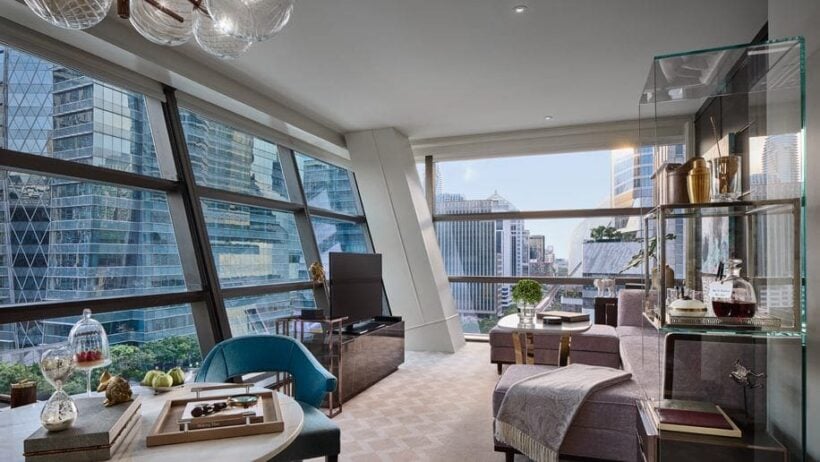 by Bill Barnett of c9hotelworks.com
PHOTOS: Rosewood Bangkok
For hotel owners and managers in South East Asia, one of the great mysteries of the past ten years has been the low rate profile of Bangkok's luxury hotel set. Despite soaring and sustained tourism growth, rising airlift and a strong economy, rates at Bangkok's top tier properties have remained fairly stagnant.
Have we reached the tipping point?
I had had the opportunity to visit the latest entry to the Bangkok luxury class a few days ago, the Rosewood. With 159 keys which includes a limited number of posh houses with private pools and terraces the property is seeing an exceptional response and already achieving high rates.
What's impressive about the entry is a take on the design approach that sees hotel developers apply a non-uniform approach with AvroKO coming in to focus on the restaurants and bars, while the rooms and public areas were led by Celia Chu Design and Associates.
While the speakeasy Lennon's has not be opened yet, the 6,000 record vinyl collection is impressive and the bar will clearly have a strong pull. Taking the approach to designing restaurants and not typical hotel outlets, the Chinese eatery Nan Bei is a breath of fresh air and limited seating provides a bespoke appeal.
Taking a step back, and looking at recent entries like the Waldorf Astoria, and upcoming 101 key Capella, what is clear is luxury properties are shifting in terms of key drivers of the segment of art, fashion, residential vibe, bar and restaurant offerings, wellness and events.
So, what about rates?
On a broad basis Bangkok's top tier hotels have averaged rates of US$200-240 for the past few years. This set has seen longer serving properties such as the St. Regis, Kempinski, and Okura effectively flatline on rates, though newer entries have come up including the Park Hyatt. On the broader horizon is the return of the Four Seasons and Capella by the river and the Orient Express at the MahaNakhon skyscraper.
With the entry of Rosewood driving rates, my expectation is that a few of the set will follow and at the end of 2019 we will set limited number of hotels crash through the US$300 average room rate barrier and effectively smash the legacy glass ceiling of Bangkok's luxury hotels.
As in any business there will be winners and losers. Smaller hotels with some rate leading premium key types will be able to push up average daily rates. Segmentation is another key and hotels on the river that lack substantial corporate numbers will remain challenged until transport links to the area improve.
Where in the world are Bangkok luxury hotels heading?
To sum up 2019, size and location matter, the shift on food and beverage and social events along with niches like wellness and  smaller meetings/weddings are the key to the future. As for the quantum leap in rates, it's about time Bangkok hoteliers be confident and push rates towards a more global norm.
Reservations now open for 'Twinpalms MontAzure' with enticing promotions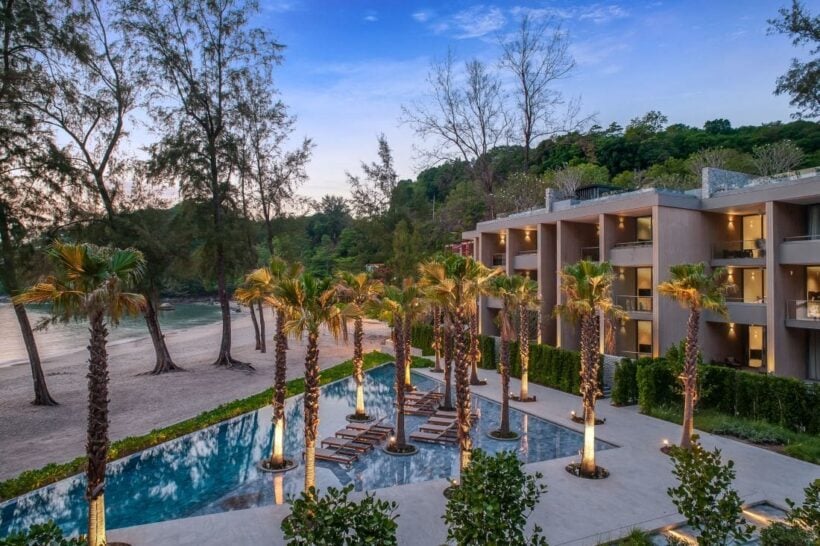 Celebrate the grand opening of Phuket's newest beachside hotel by booking now to snap up fantastic deals. Twinpalms MontAzure in Kamala is offering irresistible packages ideal for both short and long-haul getaways for those who book directly from their website.
Guests may choose to enjoy three nights and pay for just two and for those who are looking to book a longer holiday, stay for six nights and pay only three on all Penthouses and Suite types. Guests may book from now until November 30, 2019, for stays from July 1 to 19 December 2019.
The latest addition to the Twinpalms Hotels & Resorts portfolio is set directly on Kamala Beach, on Phuket's popular west coast and will welcome its first guests in July 2019. A member of Small Luxury Hotels of the World, the boutique beach hotel offers beautifully appointed Penthouses and Private Pool Suites and a collection of stunning Suites.
Suites range in size from 70m2 to splendid Penthouses with private pools and sea views boasting large living spaces of up to 300m2. Guests will also enjoy using a lap pool or an infinity pool offering views of the Andaman sea.
Adding to the collection of fantastic places to be on Phuket, Twinpalms MontAzure will launch its beachside restaurant and lounge, 'Shimmer', with uninterrupted sea views. Shimmer restaurant will serve vibrant and tasty food with an Asian focus, delicious and creative cocktails, and a great wine list, all served with the customary gusto and flair expected from the Twinpalms brand.
Designed by Martin Palleros, following the original Twinpalms concept and style, of utilising Phuket's beautiful landscape, Martin has allowed the design to maximise the sea views from most of the Suites and areas within the buildings, whilst also ensuring the preservation of the views of the mountainside from other perspectives.
Guests of Twinpalms MontAzure also have access by complimentary transport to the brand's other dining and entertainment destinations, taking full advantage of the three beautiful beaches Twinpalms has a presence on.
HQ Beach Lounge, a few steps away on Kamala Beach, Catch Beach Club, Catch Junior and Palm Seaside, located on Bang Tao Beach and of course, the flagship resort, Twinpalms Phuket is just a few steps from Surin Beach.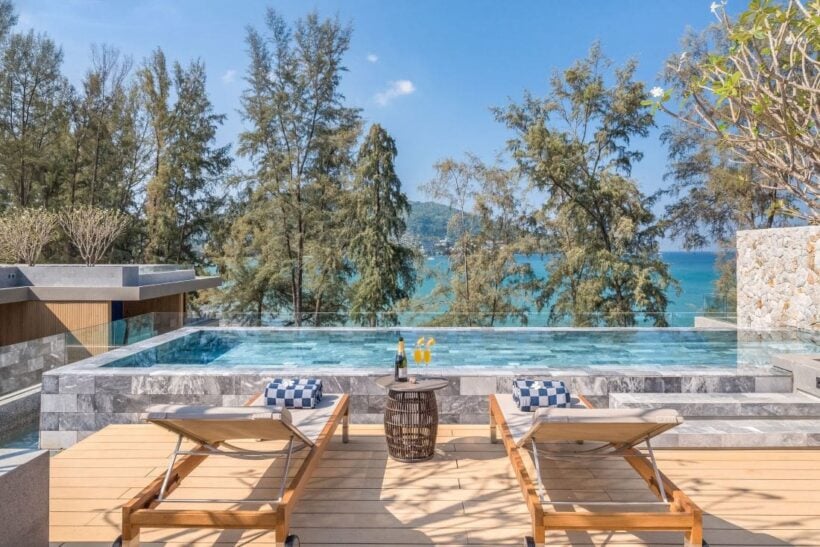 Phuket hotel watch – 3 months down, 9 to go in 2019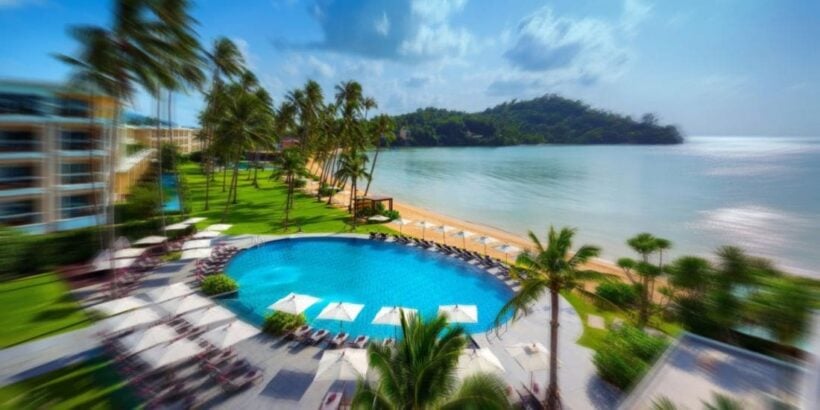 by Bill Barnett of C9Hotelworks.com
At the beginning of the year Phuket's tourism and hotel sector was cautiously optimistic after a strong first half of 2018 and humbling second half. Key terms that kept popping up were Mainland Chinese, Thai Baht Appreciation, Elections and Supply Concerns.
So today, with three months of performance under the belt in 2019 what are the key trends in hotel trading? These can best be compressed in the following points –
According to data from hotel benchmarking group STR, Thailand remains Southeast Asia's leading destination for Mainland Chinese, but the gloss is being diminished by Vietnam's meteoric rise, and strong numbers by the Philippines and Cambodia.
Market-wide RevPar shunk by 0.04% in 2018 and flat demand at the onset of the year is now shifting into negative territory moving into February and beyond. Turning back to last year, group demand is falling which is as key concern in a wholesale driven marketplace.
One stark positive is that RevPar is being propped up by rates and not occupancy. A key takeaway is that in peak and high season, Phuket hotels are able to drive rates up in key periods and continue to do so. This of course is a broad trend.  Good hotels tend to perform at higher levels, while poorly managed ones remain subpar.
Getting beyond the numbers, as I speak to hoteliers the expectation is that wholesalers remain a critical component of the island's hotel industry and despite the expected shift with technology to more direct bookings, the reality is that wholesale models are sensitive to demand volatility and the result of this feeding frenzy most often will be either flat rates for the year or in some cases a retraction.
We expect the remainder of 2019 to be challenging. Some hotels will look at this as an opportunity to reposition, renovate or cut costs. While others will look at new segments, niche offerings or emerging markets like India to regain momentum.
As for the top critical issues facing Phuket hotels, in my opinion these can be distilled in the following Top 3 Things Keep Me Awake at Night…
• Mainland Chinese – If tourism players or hotels believe the damage to Brand Phuket is over, think again. Talking to key tour operators there remains a hangover from last year's boat sinking incident and travellers remain keenly concerned over safety. Only time and more concentrated promotion will see a return of the numbers.
• Growing Supply and Demand Imbalance – The current pipeline is just over 8,000 keys in development on the island. What's more concerning is that projects in planning are not represented in this metric, and by our estimate there are approximately 5,000 more keys in planning. While both the pipeline and planning numbers will see some wash, the sum total exceeds current and forecasted demand.
Moreso, the rise of unlicensed condominiums, apartments, houses and villas is continuing unabated and is further exacerbating supply issues. Every time you see a group of tourists renting a 3 or 4 bedroom villa, that's three or four hotel rooms that lay empty. Government control of unlicensed properties is a key issue facing Phuket's tourism industry.
• Diminished Natural Resources and Strained Infrastructure – Water tops the list and there is little doubt we are reaching the tipping point with mounting shortages and soaring demand. Electricity is another concern. Lastly is a rising number of vehicles on the road, a urbanising trajectory and slow development of roads and public transport.
To these point's lets revisit the hotel development pipeline and reflect that a island long term master plan, zoning for new tourism expansion and requirements for developers to invest in public infrastructure to obtain operating licenses is sorely lacking. Something has to give on this front.
In conclusion am I pessimistic about Phuket's tourism and hotel future in 2019 and beyond? Absolutely not, direct airlinks are growing and the island has a well-structured capacity for handling tourism, but I firmly believe looking into our problems, discussing and finding ways to resolve these are critical to a sustainable growth pattern.