Property
Phuket's Eden Oasis is now complete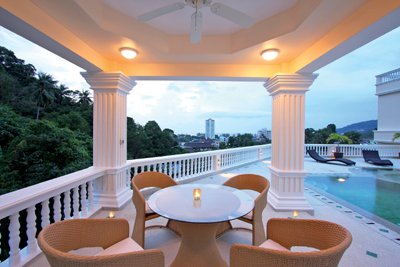 PHUKET: Developers of the Eden Thailand property development near Karon Beach recently announced that the 11 newly completed units of Phase Two of their Eden Oasis project are now for sale.
Eden Oasis includes seven one-bedroom condominiums and four two-bedroom, two-level duplexes ranging in price from 4.9 million baht to 8.2mn baht.
Eden Oasis is nestled on the hillside with panoramic views overlooking the Mövenpick Resort & Spa and the bay of Karon, Phuket. Surrounded by tropical jungle-covered mountains, Eden offers classic, open-plan architecture blended in a modern-style resort setting.
The initial 14 units from Phase One of the project sold out in just 45 days in 2006 but the developers recognize how much the real estate buying market has changed since the global financial crisis.
"We're very aware of the fact that the majority of new buyers are no longer interested in buying property off-plan in Phuket," says Ted Hulbush, president of Eden Equity Partners, the developers of Eden Oasis.
"Consequently, we waited to have a finished product to show potential buyers before we announced the opening of sales for these 11 units. Now Eden Oasis buyers have the opportunity to move into their new homes very quickly," he added.
Inspired by the sparkling bay views and rich mountain vistas, the resort interior was designed for luxurious modern living by well-known hotel and resort designer Vincent Chye Tan. A brown and cream color scheme form the basis of his interiors and are consistently applied throughout.
Furniture, fabrics and fixtures, such as the European-style kitchen, along with the lighting, are all designed to enhance the modern aesthetic.
The private aspect of each guest room is contrasted by a balcony, with optional Jacuzzi tub, that offers views over the tropical forest, abundant mountains and ocean while bathing.
The condominium and duplex units come complete with air conditioning, hot and cold water, satellite TV, telephone, wireless internet, patio doors leading to the private balcony, a beautiful Western-style kitchen, and en-suite bathroom with shower and some units with Jacuzzis.
Furniture packages are also available.
Eden Oasis offers a wide range of facilities and services such as full security, shared swimming pool, panoramic roof deck and bar with barbecue.
Fitness center memberships are also available.
For further details visit eden-oasis.com.