Property
Phuket Property Watch: Tourism heads off to the mall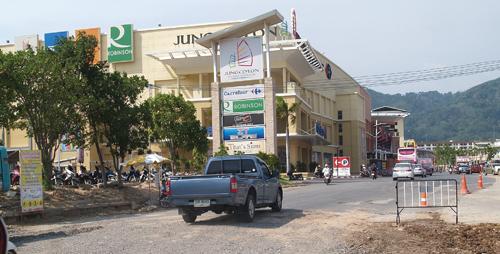 PHUKET: 'Bling bling' goes the ringing in my head, as I frantically search out my missing car in the massive underground car park at one of the island's ubiquitous shopping malls. I am not at all prepared for the event, which has taken on a real life adventure of Stanley and Livingstone proportions. Where is Indiana Jones when you need him?
It turns out silver SUVs are not unlike black suitcases or the Thai 'Noi'-like incarnation of Mr and Mrs Smith. In this case my chosen anonymity has only bred absolute confusion. Note to self: go home and Google 'What age is Alzheimer's likely to set in?'
Readers can no doubt sense the situation given the extensive use of question marks so early in the piece. Barely out of the starting gate and that mechanical jackrabbit has gone stark raving mad.
Mall culture has immersed Phuket in a baptism of fire and brimstone. It is religious in proportion and requires far more devotion than any of the legacy churches. Fanaticism on the razor's edge, as zealots patiently wait in automobile hell, all for an opportunity to visit the hallowed halls for retail therapy.
Sure there is more to it than "shop 'til you drop"– my mind goes back to the movie scenes from a Mall, which cut to the chase and staged the misanthropy of it all in one vast expansive shopping complex.
Winding back my internal calendar to the Millennium here in Phuket, we all dodged the Y2K monkey but no one knew what was in store. One of my highlights was a trip to the far away corners of Phuket Town to Robinson and Ocean Mall. I'd always top off the adventure with a heart-stopping Mac attack meal.
No one realized how fast the island-scape was about to change, with the hypermart duo of Tesco Lotus and Big C, followed by Makro. The retail fever pitch hit a high note with Central Festival, followed up with Jungceylon, which included it's very own hyper-Carrefour.
These days it's a very different scene as community malls such as HomePro Village are multiplying into micro markets, along with smaller Tesco Lotus' and all of those dwarf-like Tesco Express stores tucked into every nook and cranny.
Popularity has its down side as any A-listed celebrity can attest to, as they do a fast and furious vehicular exit with snap-happy paparazzi in close pursuit. Swap over the 'Click Click' to the 'Bling Bling' and this brings us back to the mall, where just trying to find a parking place takes us back in time to those trans-African safaris: "Dr Livingston, I presume?".
Island visitor numbers through Phuket International Airport this year will no doubt break 5 million. As anyone who has gone to the mall this high season can attest, tourists are trading in the beach for shopping and entertainment in the hallowed halls of commerce.
You can point to a shift in demographics, or perhaps skyrocketing cases of melanoma or maybe it's a culture thing, but Our Town is now played out in 'Mall Town'. Consumerism, coffee culture, fast food and a rising middle class are all accomplices in the new age.
Recent news that Central's new massive extension will include a convention center, luxury shops and more entertainment, shows where the mindset is. An arranged marriage between tourism and retail means the tribes have merged.
There is little doubt in my mind that Phuket's future, which will continue to host a stunning ocean backdrop, has little to do with the beach. More will come. Be they retail malls, tourism attractions or theme parks. The planners are busy and development is headed in that direction already.
As I plonk away at my MacBook keys, a scribbled note reminds me to call one of those altruistic NGOs where able-bodied, highly educated types lounge about in sweater vests and Birkenstocks. My mission is to place the humble parking slot on the list of endangered species.
I really do want to come to that stunning mall space, to while away days in air-conditioned splendor. But please, just give me somewhere to park.
Bill Barnett is Managing Director of C9 Hotelworks and can be contacted through C9hotelworks.com.
— Bill Barnett