Property
Phuket Property: Quality homes in a nice part of town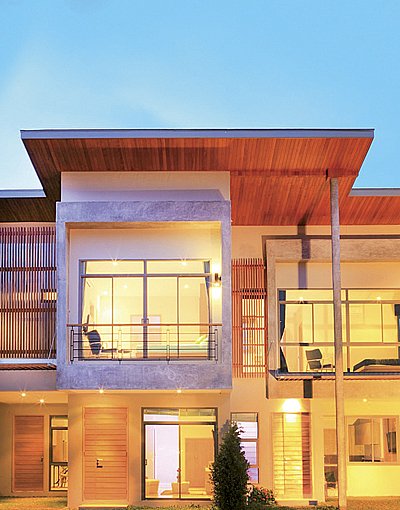 PHUKET: On the verge of closing sales for Eva Town Suan Luang, a city-park housing project in the heart of Phuket Town, Eva Group is taking reservations for the last 10 units.

Sales for the 250 million baht housing development opened in December last year. With the project now 85% sold out, the developer doesn't think it will be long before the remaining units take on owners.

As an incentive boost, Project Manager Kamthorn Chairat told the Gazette that he will throw in a free 12,000 BTU air conditioning unit for any clients who present this article (see June 12 ed.) during contract signing.

Centrally and strategically located just to the south of Rama IX Park, off the unnamed avenue that connects Daoroon Witthaya School and Chao Fah West, the development's sales pitch is: "Quality, modern homes with a unique design born from an evolutionary new idea".

Elaborating on this new idea, the project's main selling points were outlined by Eva Group Managing Director Authanop Pankamnerd: "The style and design of these homes is different from anywhere else, mainly because of the high-quality materials we used.

"These materials are of the same standard and similar price as ones we used for villas in Rawai that we built for the international market.

"So we wanted to build homes for Thais, the prime target group, that are of a similar quality to those occupied by foreigners.

"Yet these homes are affordable while being centrally located near government offices, schools and other amenities in Phuket."

Built with the utmost attention to detail by a skilled construction and design team, every inch of space of these homes has been utilized for optimal value.

All in, the development comprises 72 units of two design styles: 20 Type A units and 52 Type B units.

The larger Type A homes feature three bedrooms and three bathrooms. Measuring 8 meters wide in the front, and comprising total built up space starting from 150 square meters, the homes are built on plot sizes starting from 30 square wah or 120 square meters. These units are priced between 3.99 and 4.99mn baht

Priced from 2.99 to 3.99mn baht, Type B homes feature two-bedroom, three-bathroom units measuring six meters wide in the front. These homes feature built up space starting from 100 sqm, while plot sizes start from 20 square wah or 80 sqm.