Property
Phuket Property: Best of the best 2013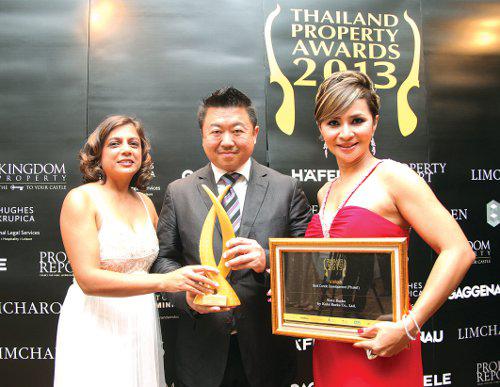 PHUKET: Thailand's real estate industry came together on Thursday, September 19 to acknowledge the best of the best at the 2013 Thailand Property Awards tand awards presentation ceremony held at the Centara Grand & Bangkok Convention Center at CentralWorld.
In total, 33 awards were on offer, including regional awards for best condominiums and villa developments in Phuket, Hua Hin, Samui, Chiang Mai and on the Eastern Seaboard, as well as arguably the two most sought after awards: Best Developer Thailand and Best Boutique Developer Thailand.
Among the highlights for Phuket property was the recognition of Jones Lang Lasalle (JLL) for Best Agency Deal" for the sale of Laguna Phuket Beach Resort. In addition to this, JLL took home four more trophies in the Real Estate Services categories, having also won Best Commercial Agent; Best Property Management Company (Bangkok) and Best Property Management Company (Resort).
As for Phuket's Best Villa Development, honors went to Anchan Villas by Pearl Island Property Co Ltd, while The Royal Villa by Royal Phuket Marina Co Ltd was "Highly Commended" in the category. Kata Rocks by Kata Rocks Co Ltd was winner in the Best Condo Development (Phuket) category, while Zcape Condominium by Tri Property Co Ltd was highly commended.
Two Phuket properties were recognized in the Best Shared Ownership Development category, with the Anantara Vacation Club, Phuket by Samui Beach Club Owner Ltd named winner, and Absolute Twin Sands Resort & Spa by Absolute Word Group of Companies, highly commended.
As for Phuket's Best Residential Agent, Exotiq Property – Phuket was named winner, while Indigo Real Estate Co Ltd was highly commended. Also making a name for Phuket property was the Anantara Vacation Club by SODA (Thailand) Co Ltd, for Samui Beach Club Owner Co Ltd, which was highly commended, along with Khao Lak's Casa de La Flora by Phuket VaSLab Architecture Co Ltd in the Best Hotel Architectural Design category.
Winner of this category was the W Hotel Bangkok by SODA (Thailand) Co Ltd, which shared the honors with the Istithmar World – Dubai by Golden Land Property Development PLC. Now in it's eighth year, the awards organizers welcomed a new Chairman to the Judging Panel this year, Khun Sunchai Nuengsit, managing director of Builders mart Public Company Limited, and recognizing the evolving nature of the industry, introduced four new awards: Best Residential Development (Khao Yai), Best Villa Rental Agent, Best Villa Architectural Design and Best Villa Interior Design. For the third consecutive year Kalara Developments was crowned Best Boutique Developer Thailand.
Sansiri Public Company Limited scooped the prestigious Best Developer Thailand award, and acknowledging Sansiri's success, the judging panel stated: "With 257 projects since 1984, Thailand's Sansiri has introduced numerous innovations and advancements in the luxury villa and condominium sector, with customer satisfaction and lifestyle always at the core of the company's impressive achievements."
"The quality of nominations and entries this year was exceptional and have pushed the bar ever higher, showing the growth and diversity of Thailand's robust real estate industry," said Terry Blackburn, CEO, Ensign Media Co. Ltd, organizers of the awards.
A thorough and rigorous judging process by an independent panel of judges, with oversight by BDO Advisory, evaluated a record number of nominations and entries this year. Those developments short-listed were then subject to site inspections before the judging panel submitted their list of Winners and Highly Commended developments and businesses to BDO Advisory for safe keeping.
"That the judges and the judging process is independent is paramount for us and has been the cornerstone to success for the awards since their inception eight years ago. BDO Advisory have again overseen the entire process from start to finish ensuring the judging process was undertaken fairly, without bias or favor," added Blackburn.
The only award not to follow the same procedure is Real Estate Personality of the Year, which is decided upon by the editorial team at Property Report Magazine, who this year recognized Khun Sorapoj Techakraisri, CEO, PACE Development Corporation for his bold and contemporary vision of modern Bangkok encapsulated in the iconic MahaNakhon development. – Phuket Gazette
For more information, and a full list of all the winners, visit thailandpropertyawards.com.
The Gazette's 'Phuket Today' show was a proud sponsor of the Thailand Property Awards. Watch the show this Friday evening, and every day for a week thereafter, on Truevisions channel 85 (hi-def) or 59, and local provincial cable for full coverage of this major Bangkok event. A full PGTV broadcast schedule can be found on page 35 of the issue of the Phuket Gazette newspaper due out tomorrow afternoon (October 4).
— Phuket Gazette