Phuket's little Bird on the water paddles her heart out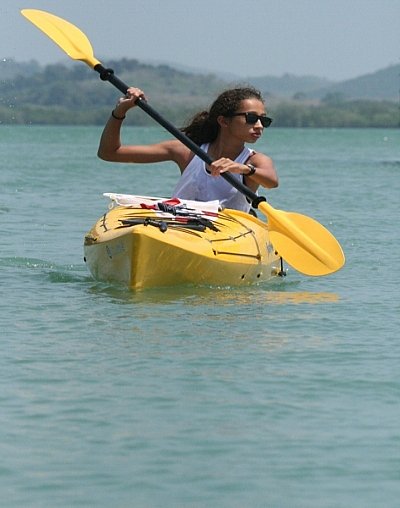 PHUKET: Rapturous applause and the roar of fog horns at Yacht Haven Marina signaled the end of 11-year-old Victoria Bird's epic sea adventure – and a landmark moment in Phuket's maritime history.
Victoria, her Ironman athlete father Les, 59, and kayaking instructor Rob Ford paddled more than 120 kilometers around Phuket, completing the first recorded kayak circumnavigation of the island.
"I'm exhausted but feel great, I will remember this for the rest of my life," said Victoria.
The team paddled in midday heat and in the dark of night to complete their five-day circuit just after noon on February 16.
Father Les said the challenge was tough going, with a few setbacks along the way.
Paddling around Phromthep Cape in heavy seas, Les capsized and at one point the team tied all three kayaks together and used them as a raft to make it safely to the next bay.
Team Bird also had to contend with boat traffic, exhaustion and unpredictable weather and tide changes on the trip.
But Les said Victoria was determined to finish and giving up for her was not an option.
"To see this from such a young girl is truly phenomenal," said the Bird's safety boat captain, Australian mariner Bill O'Leary.
"This was a massive undertaking for her, and I feel very proud to have been a part of this great challenge. I'm sure Victoria will go on to accomplish great things in her life based on the remarkable bravery she showed during this adventure."
Victoria's accomplishment also raised more than 32,000 baht for children under the care of the 100 Friends international foundation and Phuket Sunshine Village.
"We sometimes underestimate what children can achieve, but this is proof that with the right support they can do great things," said Rob Ford, Headmaster of Primary at British International School, where Victoria is a student.
Les now plans to swim the English Channel in July. Victoria will join Les on the trip, but will stay on board the safety boat on that occasion.
— Fraser Morton
BTS match long-standing Beatles' record and reach the Top 6 in 26 countries with new album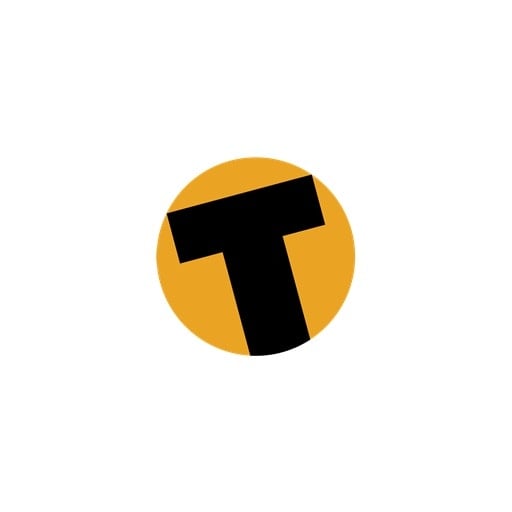 South Korean band BTS is making waves across music charts around the world. Their new album 'Map of the Soul – Persona' has matched a long-standing Beatles record of having three number one albums on the US Billboard chart in one year. The all-male band comprises RM, Jin, Suga, J-Hope, Jimin, V and Jungkook, all aged between 22 and 27 years old. They debuted in 2013 amid the highly competitive K-Pop industry but have been able to break free and become international superstars selling out stadiums around the world, singing mostly in Korean.
BTS visited Bangkok in at the start of April filling the Rajamangala Stadium for two nights, the only band that has ever achieved two sell-out concerts in the massive sports stadium.
At the same time the seven-member band has reached the number one position in the Billboard Top 100 Artists and their candy-coated new single 'Boy With Luv', with US singer Halsey, has debuted at #8 (this week) in the Billboard Top 100 with most music pundits predicting it will hit the number one spot in the next few weeks. The single is in the Top 30 of 35 world music charts this week.
In the 24 hours following the single's release, 'Boy With Luv' broke the YouTube record for the most views in 24 hours, beating out fellow South Korean K-Pop band BlackPink. 'Boy With Luv' was viewed 74 million times in 24 hours!
The band has been flipping between the US and Asia actively promoting their new album and single which was released on April 12, including their much-discussed live performance on Saturday Night Live. Accused of being just another music 'fad' BTS continue to break music records and break down stereotypes in the 'white-washed' world music industry.
Thai Cabinet extends waiver of Visa On Arrival fees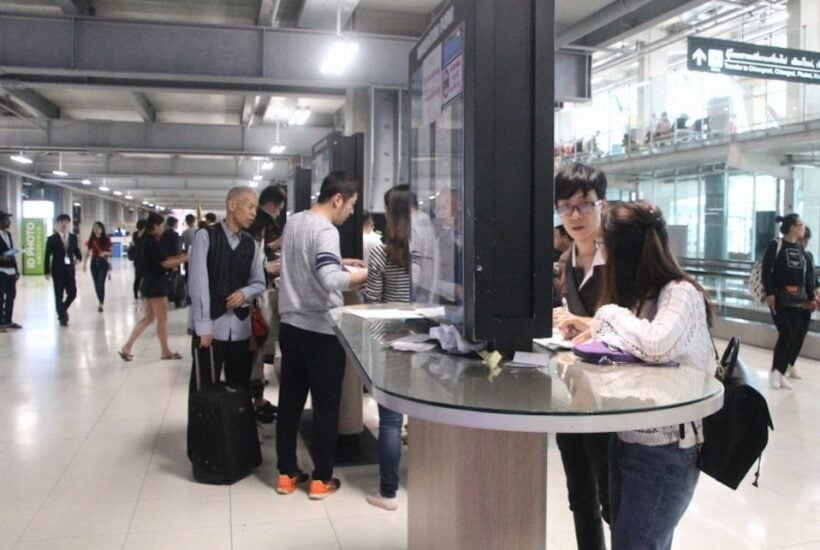 Thailand's Cabinet has extended the waiver of the fees for 'visa on arrival' for some foreign tourists to Thailand. The waiver of the 2,000 baht VOA fee will be extended to at least October 31.
The fee had previously been waived until January 14 this year in a bid to boost tourism. It was then extended until April 30 and has now been extended again. According to the Ministry of Sports and Tourism, waiving the VOA fee had helped support the increase of foreign visitor numbers.
Between November 15, 2018 to March 31, 2019, 3.58 million foreigners visited Thailand, an increase of 83% compared to the 1.6 million visitors during the same period in the previous year.
Meanwhile, waiving the VOA fee resulted in the government losing 2.95 billion baht in revenue but the extra tourists generated an estimated 105 billion baht in tourism revenue.
The Visa On Arrival waiver is available to tourists from 21 countries and regions, including China and India.
Bangkok home prices among the cheapest in the Key Global Cities report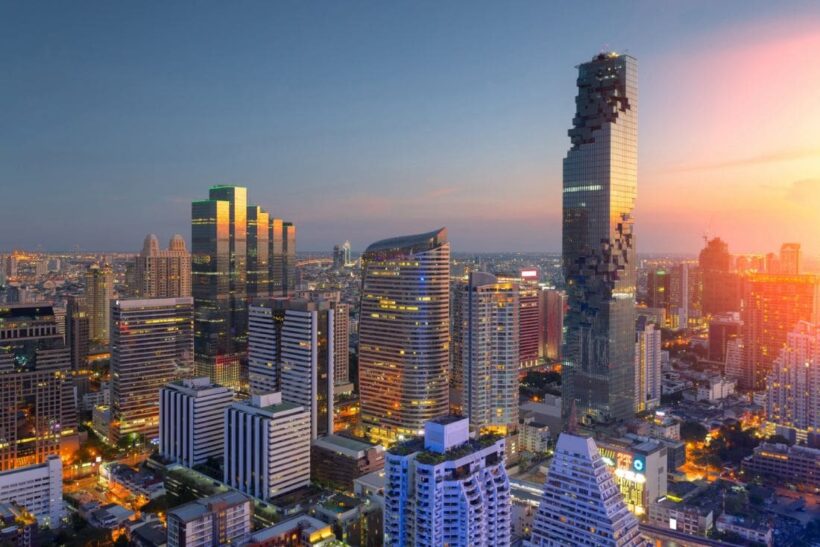 Hong Kong maintains its position as the world's most expensive residential city, while Bangkok ranks at #33 out of 35 global cities surveyed.
In the fifth annual Global Living Report, CBRE profiles the property markets across 35 key global cities. The results highlight that investments in urban areas such as transport infrastructure, connectivity, retail, cultural centres and housing are key drivers of economic growth.
"In the fifth edition of the 'Global Living' report, we have expanded the number of cities we examine from 29 to 35. They include the most exciting cities in the world, from emerging technology-driven powerhouses like Shenzhen and Bangkok through more traditional capital cities such as Rome and Lisbon, to rapidly evolving modern urban centres like Dubai and Johannesburg," according to Jennet Siebrits, Head of Residential Research at CBRE UK.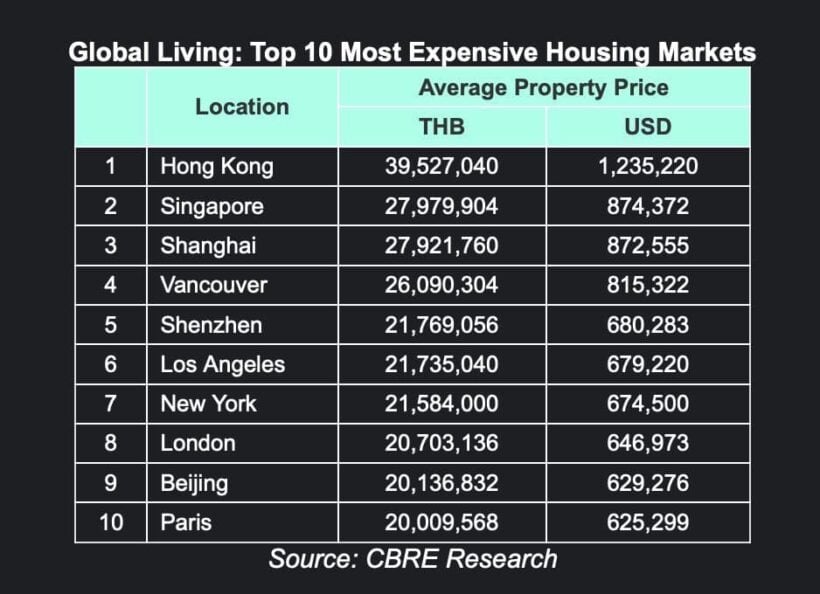 The top three most expensive places to buy a residential property are all in Asia. Hong Kong remains the city with the highest value residential real estate, with an average property costing 39.52 million baht (USD 1.235 million), Singapore in second place, averaging 27.97 million baht (USD 874,372), and Shanghai third at 27.92 million baht (USD 872,555).
Bangkok stands at #33 position with an average residential property price of 3.4 million baht (USD 106,383), followed by Ho Chi Min City at 3.29 million baht (USD 103,057) and Istanbul at the bottom with average prices of 3.11 million baht (USD 97,396) amongst the 35 surveyed world cities.
The biggest year-on-year growth was experienced in double-digits by Barcelona (16.9%), Dublin (11.6%), Shanghai (11.2%) and Madrid (10.2%). London remains one of the top ten performing global cities, with the average property price of 20.7 million baht (USD 646,973) although growth was down by 1.1%.
You can read the full report HERE.
Find the largest list of Bangkok city properties for sale HERE.