Phuket Lifestyle: Art Dinners designed to expose local artists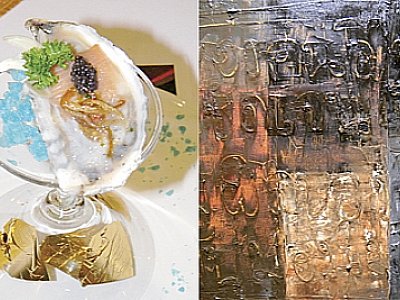 PHUKET: Michael Earle is an architect and local magazine publisher with a mission to expose and support Phuket's local artists.
"I moved to the island three years ago after working as an architect in Spain for many years. I immediately noticed a great number of interesting art galleries operated mainly by local Thai artists in Phuket Town. They were not getting much exposure or recognition for their work from the international community."
While wanting to actively support this local art community, Michael, with his partner, Trisha Miller, decided to first launch an international-style art magazine, now known as Think Design. Their first issue appeared in January, 2010.
"Our mission is to expose good design in all forms, whether it is industrial, architecture or interiors, from every region in the world. There's an emphasis on eco-friendly and technological innovations, but we also publish articles on developing trends in design as well as profiles on past and current icons who have been major influences in architecture and other forms of design," says Michael, who trained in the United States at the Boston Architecture Center.
He has been very busy these past two years promoting his upscale magazine to an island not generally known for sensitivity to a beautiful or interesting environment. He hopes to change that by supporting intelligent and eco-friendly design.
He writes most of the articles in Think Design based on research and his vast knowledge of the history of art and design, and has never lost his interest in the Thai art community. Last December, he produced one of Phuket's largest art festivals at the Royal Phuket Marina, which was a showcase mainly of local painters with some international artists as well.
"It then occurred to me that we could produce art dinners on a regular basis, promoting one Thai artist at a time. This would be a great way to expose the local talents and provide an entertaining evening for those who care about painting. The objective of these art dinners is to encourage artistic cross pollination of art through different mediums."
He began to produce these art dinners earlier this year at such prestigious locations as Andara, the Centara Grand, Le Meridien Phuket and at upscale beach clubs such as 'Up' at Nai Thon and Bliss at Bang Tao.
His formula for the evening is quite unique. He chooses a local artist that he believes deserves the exposure and then chooses six of their paintings. Then he gives them to the Executive Chef at the venue who visualizes and designs an artistic six course gourmet dinner inspired by each painting. The meals are joined with wines to match.
Before each course, a painting is presented and Michael describes the techniques and the influences drawing upon his vast knowledge of art. Then the chef describes how the painting influenced his choice of each entrée by ingredients, shape and color. It makes for a stimulating environment where what the eyes see and what the tastes experience are meant to combine for an extraordinary marriage of arts.
Last week, the Think Design Art Dinner was held at the Kata Beach Resort, featuring painter Inthira Plangklang, who has a studio at Surin Beach. Inthira has been painting for more than 10 years, working at learning her craft with other painters as well as some university training. She is drawn to abstract paintings, but ones with a meaning.
"I wanted to paint about my feelings about the flooding in Bangkok, so I read the media and government reports and then made a painting to express my sadness about the effects of the floods on the local people. First I covered the canvas in gold leaf and then wrote about the floods in Thai language. I then used rather dark, basic colors to cover both the gold leaf and the words."
To match her painting, Executive Chef Soonthorn Ratchpol created a dish he named Oyster Tower, which reflected her use of gold leaf and used a marine theme.
Italian Chef Massimo Marcato, who is part of Chef Soonthorn's team at Kata Beach, provided half of the menu's cuisine, including the dessert finalé named 'The Balance', which imitated Inthira's painting of swirling figures and bright colors.
The six paintings ranged from softly muted meditations on loss to celebrations of Thai culture with the references to rice fields and elephants, culminating in a six-panel explosion of dancing red-and-orange design motifs cut through by a stripe of gold leaf.
The cuisine produced at Kata Beach Resort, hosted by General Manager Andrew Sawatpakdi, was equally exciting with courses such as the Naked Prawn, the Flooding Scallop and a Lobsterlamb duo accented with a tomato reduction.
The Art Dinners are proudly sponsored by the Phuket Gazette. The next one will be on July 20 at Dedos Restaurant. For more information, please contact info@thinkdesignmagazine.com.
— Bruce Stanley
Keep in contact with The Thaiger by following our
Facebook page
.
Out of 37 countries, Thailand has the worst pension system, says Bloomberg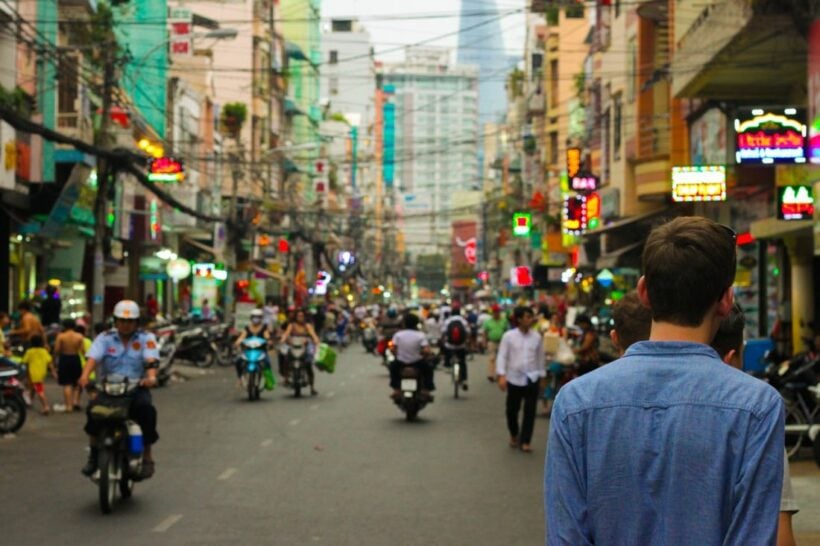 Thai Residents reports that on Sunday, Bloomberg published an article on the world's best pension systems, using information gathered from the 2019 Melbourne Mercer Global Pensions Index.
The survey looked at the pension systems of 37 countries with metrics including employee rights, savings, the number of homeowners, growth of assets, and growth of the economy. The purpose of the analysis was to determine what was needed to improve state pension systems and to gauge the level of confidence citizens had in their state pension system.
The Netherlands and Denmark were found to have the world's best state pensions, with Australia, Finland, Sweden, Norway, Singapore, New Zealand, Canada, and Chile next. Out of all 37 countries, Thailand finished last, with what the report described as an extremely ineffective and ambiguous system.
"Thailand was in the bottom slot and should introduce a minimum level of mandatory retirement savings and increase support for the poorest."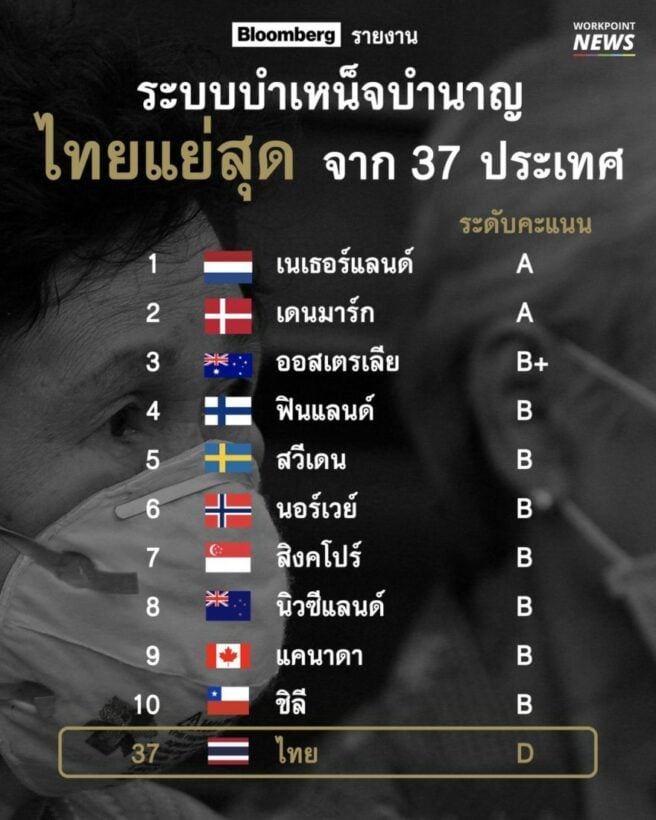 Photo: WorkpointNews
Thai Residents states that only those employed within the government system in Thailand are eligible for a pension based on salary. For most Thai citizens, pension amounts vary from 600 baht to 1,000 baht a month, depending on the recipient's age.
A report carried out by The Securities and Exchange Commission (SEC) advises Thai citizens to have at least 4 million baht saved by the time they retire, but Thai Residents reports that 60% of Thai retirees have less than 1 million baht in savings, with one in three citizens who have reached retirement age are forced to continue working in order to survive.
SOURCE: thairesidents.com
Keep in contact with The Thaiger by following our
Facebook page
.
Tax on salt content being considered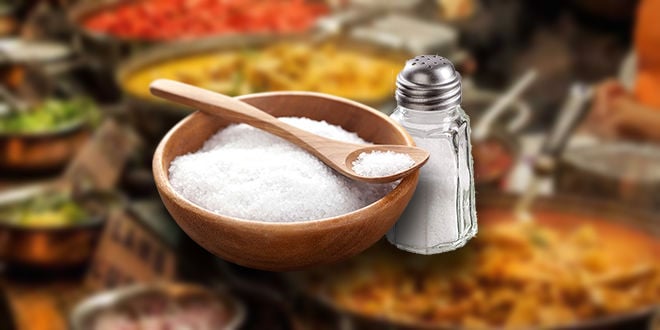 The Excise Department is considering imposing a tax on the salt content of food to encourage food producers to reduce the sodium content of snacks, instant noodles and seasoning cubes.
The director of the Office of Tax Planning said that the department is discussing a limit on the amount of sodium food can contain, in line with the standard set by the World Health Organization (WHO), which is 2,000 milligrams of salt per day.
In reality, Thai people consume an average of 1,000 milligrams per meal, making their daily intake well above WHO guidelines, according to the director.
He said any tax imposed would be at a level which would encourage food producers to reduce the sodium in their processed food without being punitive, adding that the proposal isn't intended to generate more tax revenue, but to help protect the health of consumers. Excessive sodium in the diet can lead to high blood pressure and kidney disease.
Fish sauce, soy sauce and salt would not be taxed.
SOURCE: thaipbsworld.com
Keep in contact with The Thaiger by following our
Facebook page
.
Water shortage warnings in 22 provinces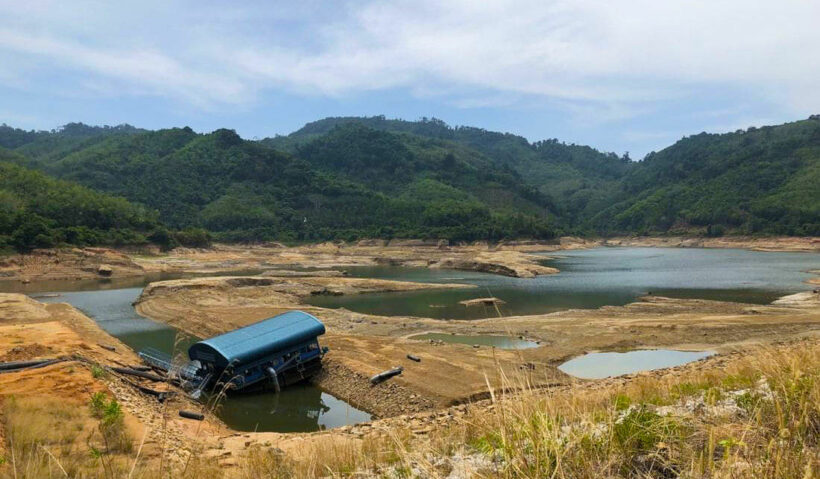 People living in 22 Thai provinces are being warned to prepare for shortages of drinking water during the upcoming dry season, due to start on November 1st.
The warning was issued by the National Water Resources Office, citing low levels in reservoirs, which are the main sources for tap water production waterworks in 22 provinces.
Areas at risk identified by the office are in northern, north-eastern, eastern and southern provinces.
Measures have been adopted by agencies charged with dealing with water shortages. including dredging water channels to allow greater volumes of water to flow into reservoirs, drilling underground wells, enlarging storage ponds and the purchase of water to supply to those in urgent need.
The Royal Irrigation Department has announced that people should use water sparingly.
There are currently about 6 billion cubic metres of usable water in reservoirs in the affected provinces, with 5 billion cubic metres reserved for consumption and ecological preservation, leaving only 1 billion cubic metres for use in agriculture.
This means farmers in the Chao Phraya river basin may not be able to grow a second crop of rice this year.
SOURCE: thaipbsworld.com
Keep in contact with The Thaiger by following our
Facebook page
.