Phuket Life: Daunting decisions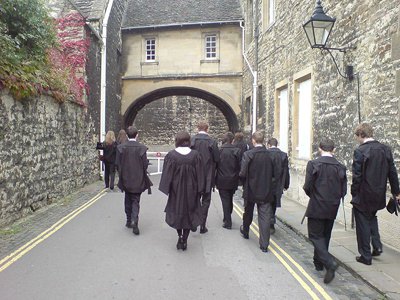 PHUKET: Choosing your child's school might be one of the most daunting decisions you ever have to make.

It might even be harder when living abroad, as educational standards that are common back home may not be supported in the new county you're living in.

The first rather difficult point you have to consider is where your child will study, live and work when he or she gets older.

Are you here in Thailand for a few years, or are you here with no plans to go back home?
These kinds of questions are important since they directly affect the curriculum your child should follow to increase his or her chances of a successful future.

If you are staying here for a couple of years and are planning to send your child to a school in your home country, then an international school is definitely the answer.

Make sure the international school you choose offers a student portfolio that is recognized all over the world, so that transitions between schools are easy and hassle free.

If you are planning to stay here but you want your child to study abroad or at an international university within Thailand, then an international school is also the better option. It prepares your child for an international community. International schools usually follow a Western curriculum, with a world focus, plus additional Thai and foreign language/cultural classes.

Choosing a Thai (bilingual/English Program) school is an option if you're staying in Thailand and have no plans to move back to Western society. A Thai school may still offer English for the majority of subjects, but the curriculum will be based on the Thai standard, in order to prepare your child for Thai society.

The second point to look at is the school's mission and vision statements. These inspiring statements should reflect the purpose of the school and its disposition toward education, learning and the school community.

Parents should investigate how this mission and vision has been put into practice at the school and its community. This is important since teaching and learning practices should be based on the school's mission and vision.

How this vision is realized will affect your child as a student and your role as a parent in the school community. During an intake session with the School Head or Head of Department, ask how their vision is put into practice and if you are allowed to watch a class. Or better yet, ask if your child can have a trial run and join a class for a day.

The third point to look at is the amount of time instructing from textbooks. Teaching from textbooks immediately tells you that creative learning is taking place less than at schools with fewer textbooks (or even no textbooks at all).

Frequent use of textbooks creates a static, teacher-centered way of teaching (not learning). Exploring through using one's own creativity and independent thinking in a social setting is what you want for your child. Activity-based learning through exploration, in a strong social setting, is when children are most encouraged to learn. They use and expand their own skill set to the best of their ability. Thus, independence and creative thinking are triggered.

The fourth point to look at is the facilities and the physical education (PE) program at the school. A vast amount of facilities is needed to support effective learning.

A fully equipped library with books from well respected publishers, covering both fiction and nonfiction is a must, and it should be made available for parents to take reading home.

All classrooms should have an interactive white board so that learning in classrooms is taken a step further.

What about display boards in and around the classroom?

Children's work should be displayed so that they can see how they have progressed, feel proud and show parents when they are visiting the school.

Children should enjoy weekly swimming periods at the school's age-appropriate swimming pools, as swimming is a great physical activity and a very important skill.

When choosing a school, ask: "Are children offered sports and how many PE sessions per week?"

Is there appropriate PE equipment and is there a covered PE/activity field to protect the children from the elements?

Obviously it is difficult to envision where your child will or would like to be a decade from today.

However, it is possible for you as a parent/guardian to influence your child's chances at a positive future, if you look for the right things.

Lennard Kolthof is currently finishing his master's in education and is the marketing coordinator, and a physical education instructor, at Kajonkiet International School Phuket .
— Lennard Kolthof
Keep in contact with The Thaiger by following our
Facebook page
.
Out of 37 countries, Thailand has the worst pension system, says Bloomberg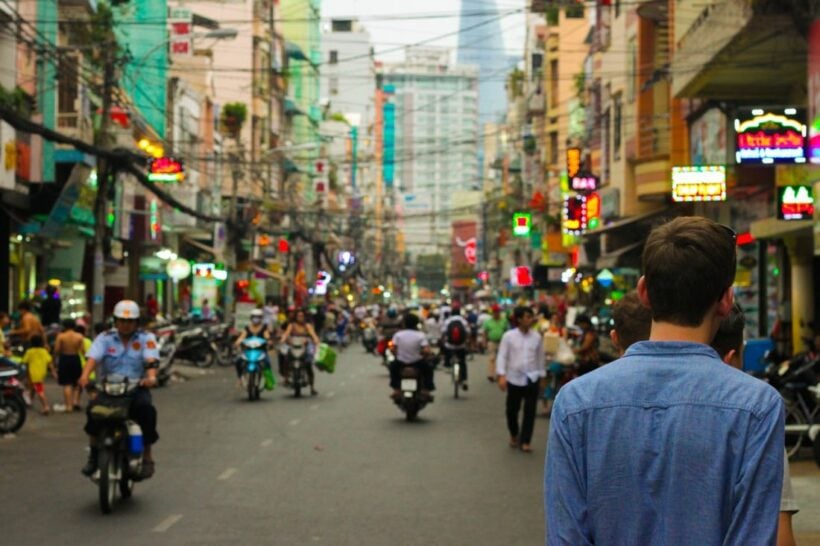 Thai Residents reports that on Sunday, Bloomberg published an article on the world's best pension systems, using information gathered from the 2019 Melbourne Mercer Global Pensions Index.
The survey looked at the pension systems of 37 countries with metrics including employee rights, savings, the number of homeowners, growth of assets, and growth of the economy. The purpose of the analysis was to determine what was needed to improve state pension systems and to gauge the level of confidence citizens had in their state pension system.
The Netherlands and Denmark were found to have the world's best state pensions, with Australia, Finland, Sweden, Norway, Singapore, New Zealand, Canada, and Chile next. Out of all 37 countries, Thailand finished last, with what the report described as an extremely ineffective and ambiguous system.
"Thailand was in the bottom slot and should introduce a minimum level of mandatory retirement savings and increase support for the poorest."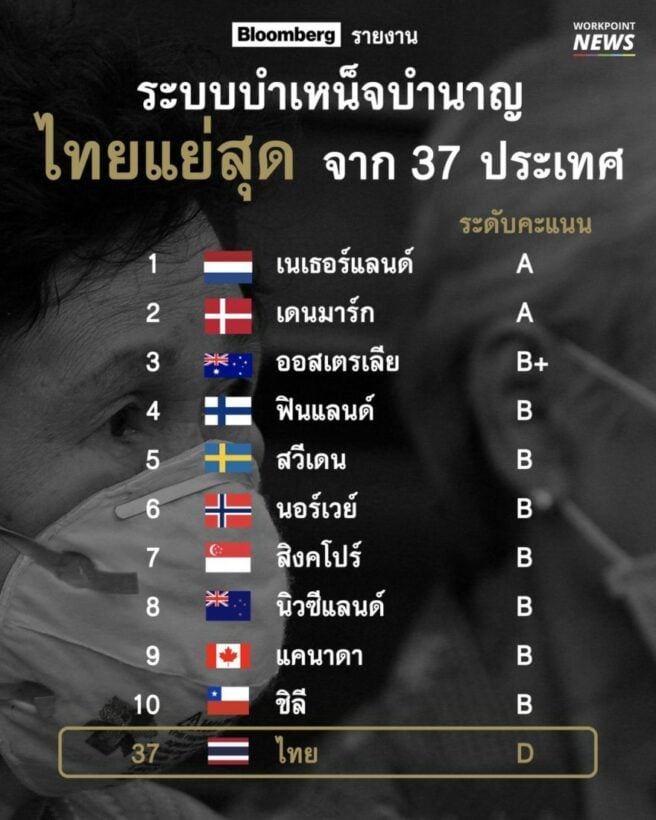 Photo: WorkpointNews
Thai Residents states that only those employed within the government system in Thailand are eligible for a pension based on salary. For most Thai citizens, pension amounts vary from 600 baht to 1,000 baht a month, depending on the recipient's age.
A report carried out by The Securities and Exchange Commission (SEC) advises Thai citizens to have at least 4 million baht saved by the time they retire, but Thai Residents reports that 60% of Thai retirees have less than 1 million baht in savings, with one in three citizens who have reached retirement age are forced to continue working in order to survive.
SOURCE: thairesidents.com
Keep in contact with The Thaiger by following our
Facebook page
.
Tax on salt content being considered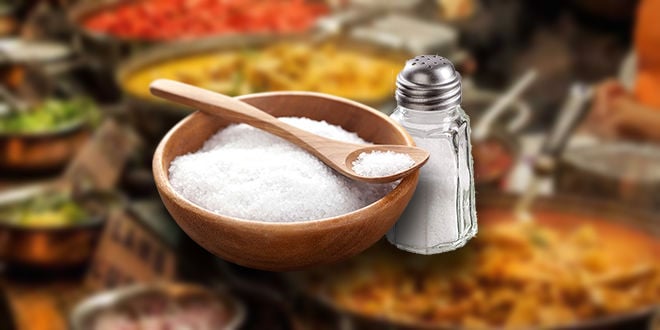 The Excise Department is considering imposing a tax on the salt content of food to encourage food producers to reduce the sodium content of snacks, instant noodles and seasoning cubes.
The director of the Office of Tax Planning said that the department is discussing a limit on the amount of sodium food can contain, in line with the standard set by the World Health Organization (WHO), which is 2,000 milligrams of salt per day.
In reality, Thai people consume an average of 1,000 milligrams per meal, making their daily intake well above WHO guidelines, according to the director.
He said any tax imposed would be at a level which would encourage food producers to reduce the sodium in their processed food without being punitive, adding that the proposal isn't intended to generate more tax revenue, but to help protect the health of consumers. Excessive sodium in the diet can lead to high blood pressure and kidney disease.
Fish sauce, soy sauce and salt would not be taxed.
SOURCE: thaipbsworld.com
Keep in contact with The Thaiger by following our
Facebook page
.
Water shortage warnings in 22 provinces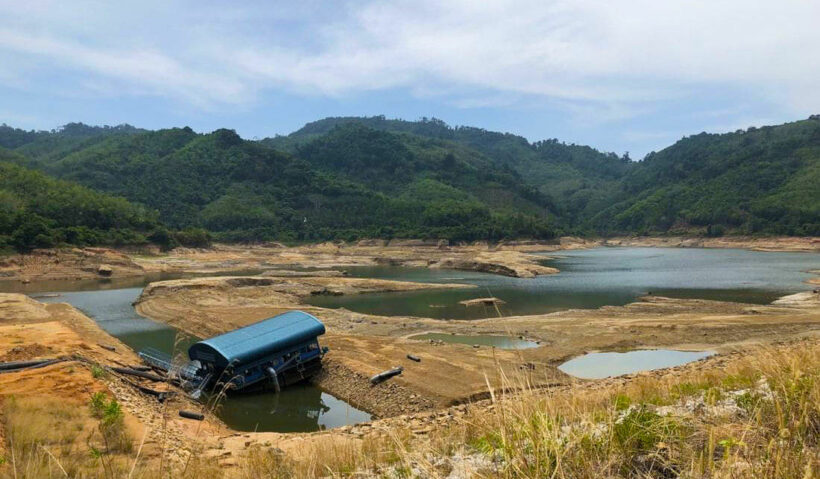 People living in 22 Thai provinces are being warned to prepare for shortages of drinking water during the upcoming dry season, due to start on November 1st.
The warning was issued by the National Water Resources Office, citing low levels in reservoirs, which are the main sources for tap water production waterworks in 22 provinces.
Areas at risk identified by the office are in northern, north-eastern, eastern and southern provinces.
Measures have been adopted by agencies charged with dealing with water shortages. including dredging water channels to allow greater volumes of water to flow into reservoirs, drilling underground wells, enlarging storage ponds and the purchase of water to supply to those in urgent need.
The Royal Irrigation Department has announced that people should use water sparingly.
There are currently about 6 billion cubic metres of usable water in reservoirs in the affected provinces, with 5 billion cubic metres reserved for consumption and ecological preservation, leaving only 1 billion cubic metres for use in agriculture.
This means farmers in the Chao Phraya river basin may not be able to grow a second crop of rice this year.
SOURCE: thaipbsworld.com
Keep in contact with The Thaiger by following our
Facebook page
.