Phuket History: A journey from Aceh to Lipe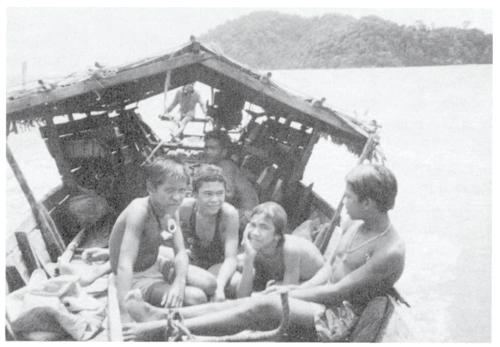 PHUKET: The Adang-Rawi archipelago is situated in the Andaman Sea, just 50 kilometers from mainland Satun province.
The archipelago consists of more than sixty islands, of which Adang, Rawi, Lipe and Tarutao are the largest.
The group of islands was designated as a marine national park in 1974. Today the pristine islands offer some of the finest beaches and dive sites in Thailand for those who are willing to travel the distance.
Of the sixty or so islands within the Adang-Rawi archipelago, only Koh Lipe is inhabited all year round by native Urak Lawoi people who settled there over a hundred years ago. Today Koh Lipe has a population of almost 900 Urak Lawoi, a sea-nomadic group, who still maintain their own distinct culture and language.
The Urak Lawoi of Adang-Rawi credit their arrival in the archipelago to an adventurer from Aceh named Kiri.
According to local stories, in the early 1900s Kiri began his search for a new home. He was looking for a place rich in natural resources where he could settle down and live out his days.
Kiri along with his two brothers travelled across the sea in a rowboat until they reached the northern part of Kedah on the Malay Peninsula.
In Kedah, Kiri got married to a Chinese-Malay woman. While his two brothers decided that the land they had stumbled upon was good enough to settle down, Kiri wanted to push northwards further into the Andaman Sea. So, this time with his wife and four friends, Kiri started on another sea voyage. Sure enough they sailed into Bulon Island near Langkawi. Here Kiri and his friends decided to stop off for a while.
Shortly after their arrival in Bulon, Kiri's wife died. His three other friends, not wanting to sail any further decided that Bulon Island was good enough for them to settle down.
Kiri however was not satisfied. He wanted to venture further north. He set sail once again, this time with only his daughter Teh and his friend Jaebeenae.
Their third expedition took them to Lanta Island near Krabi. Here Kiri got remarried, this time to an Urak Lawoi native. He finally settled down in Lanta, with his new wife. They had a son and a daughter together.
Although Kiri lived in Lanta for a while, he could not forget the richness and abundance of the Adang-Rawi archipelago that he had passed during his voyage.
At that time Kiri had become well acquainted with Phraya Phuminart Phakdee. The Phraya served as governor of Satun province from the year 1900 until 1914.
During that time the British were aggressively asserting their claims on the Malay Peninsula. This culminated in the signing of the Anglo-Siamese Treaty of 1909, in which Siam agreed to secede four Malay states under Siamese rule to British control.
The states, Kedah, Kelantan, Terengganu and Perlis became part of British Malaya. Satun, at the time part of Kedah, was given to Siam due to its majority Thai population.
Just before the treaty was drawn up, Phraya Phuminart Phakdee was worried that the British might declare the Adang-Rawi islands as part of their dominion due to their close proximity to Kedah. He therefore asked Kiri to lead some of the Urak Lawoi people from Lanta Island and resettle them in the Adang-Rawi archipelago.
The governor thought that if the Urak Lawoi of Lanta settled in the archipelago, Siam could prove to Britain that the islands rightfully belonged to them.
Kiri readily agreed. He led a group of Urak Lawoi people from Lanta to the Adang-Rawi archipelago where they settled down.
The plan worked. In the treaty of 1909, Britain withheld claims to Adang-Rawi and Satun, but took all the islands further south, including Langkawi, under British protection.
Over the next few years, Kiri drew a number of Urak Lawoi people from Lanta Island and Sireh Island in Phuket to Lipe Island. In the years that followed, he was appointed the first village head of Lipe Island. He died on the island, sometime around the year 1949. Although he was not an Urak Lawoi, Kiri is still deeply revered by the Urak Lawoi people of Adang-Rawi.
During World War II the population of the Adang-Rawi archipelago increased as more Urak Lawoi migrated there from the mainland to avoid being drafted into the military. Still they were the only people that inhabited the islands.
The only other people who frequented the Adang-Rawi archipelago during that time were crews of merchant ships that travelled frequently through the Strait of Malacca, and pirates who used the islands as their bases to rob these merchant ships.
Interestingly, Tarutao Island, loosely part of the Adang-Rawi archipelago, had been used as a Thai penal colony for some time up until the Second World War.
Thai political prisoners and convicts had been incarcerated there since the early 1930s. During the Second World War, supplies from the mainland were cut off due to naval
blockades. The prisoners and even the wardens on Tarutao Island were soon left to starve.
Knowing that supplies were not going to arrive any time soon, the prisoners and wardens banded together and took to piracy, attacking merchant ships that ventured near Adang-Rawi and Tarutao. The pirates continued their raids on the high seas until the end of the Second World War, when the British finally stamped them out for good.
Anand Singh is an avid Phuket historian. He can be contacted at as.pkt@hotmail.com.
— Anand Singh
Thai Life

Join the conversation and have your say on Thailand news published on The Thaiger.
Thaiger Talk is our new Thaiger Community where you can join the discussion on everything happening in Thailand right now.
Please note that articles are not posted to the forum instantly and can take up to 20 min before being visible. Click for more information and the Thaiger Talk Guidelines.