Phuket Gardening: A motley crew of variegated plants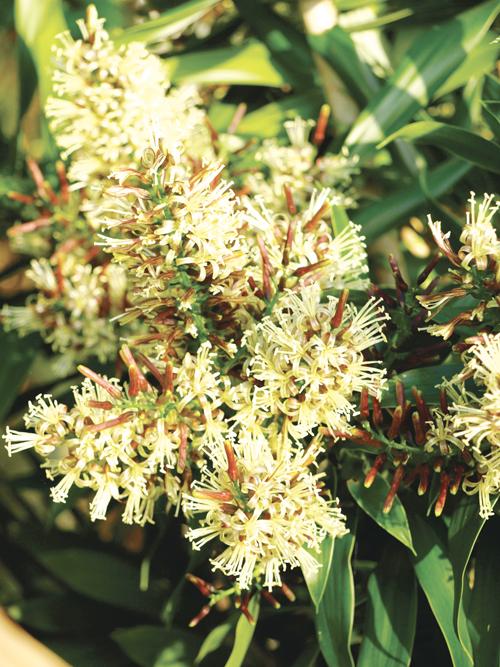 PHUKET: When Shakespeare used the expression "motley", he meant the multi-colored garb of the court jester, also known as the harlequin or fool. His role was to crack jokes, behave foolishly and thereby divert and amuse the King. In the nineteenth century, the Italian composer Leoncavallo told one of his characters in Il Pagliaggi to press "on with the motley", meaning to go out, play the fool and have fun.

The phrase has stuck, as has the tradition of associating zany behavior with "motley" attire. Indeed, as Thai comedy shows can attest, the more outlandish and garish the dress of a character (thanok), the more visible and daft his antics are likely to be.

Multi-hued plants in the tropical garden are often outlandishly different and certainly add drama and color to a predominantly green environment. So, in terms of gardening, "on with the motley", is an invitation to add impact to your patch with foliage color.

One of the best plants for providing unusual color is the cordyline. While it does not have the range of coloration that the croton possesses, it refuses to be upstaged by other plants.

Right now, there are maybe a dozen cordylines in my garden, exhibiting a range of color from red-edged green foliage to deep crimson leaves. The latter are the most spectacular of all, and contrast superbly with their greener neighbors.

Once it is established, the corydyline becomes an imposing single-stemmed, fibrous plant up to eight-feet tall, with large broad leaves up to a foot or so in length. A Southeast Asian native, it does best when there is some shade and moisture for its roots as well as direct sun.

A common and vigorous variety, Alberti has green leaves edged with crimson, but the form rubra, which initially sports bright pink leaves that then turn a deep crimson, is the variety which is most popular here – deservedly so. All cordylines grow well once established: the trick is to make sure they are watered during the initial weeks. It is also possible to cut back the main stem in order to encourage new and bushy growth. You may even be able to re-pot the existing top.

Another variety of cordyline – petiolaris – hails from Australia.

This is not a genuine "motley", one having large, spreading clusters made of uniform, green lance-shaped leaves and rolled leaf stalks. It is a vigorous grower, up to fifteen-feet tall. But perhaps its most prized role is indoors, since it is one of the very few house plants that will tolerate shade for extended periods.

Cordylines used to be frequently confused with dracaenas, a larger genus of perennial herbs, which are mostly West African in origin. The smooth, glossy, sword-like leaves are often variegated with a broad white or yellow stripe down each leaf, and the plant's habit varies from spiky or rosette-like to a softer, more shrubby appearance.

It is much better in a pot than the cordyline, and will put up with dry conditions for several weeks. Most often seen in Phuket is the corn plant (dracaena fragrans), a popular yard plant, which has a tall columnar habit and can attain twenty feet or more. Lindenii has yellow leaves with a green central stripe, and the spectacular Victoriana has wide, drooping, bright green leaves with a silver central stripe and yellow edges.

Reflexa has a slightly different appearance: it consists of a tangle of wiry stems with attractive and dramatically variegated clumps of green leaves with yellow borders. It is a very robust plant and will do well in a container with limited attention.

As with all varieties, propagation is from stem or tip cuttings, though it is possible to strike seed obtained from the insignificant flowers. No thanok there.

Tip of the week – Garden pests: Aphids
Aphids, known as plant lice in the USA or as greenfly (also blackfly, whitefly) in the UK, are one of the commonest and most pernicious garden pests.

They are small sap-sucking insects, which cluster together in large numbers, and feed on the plant's juices as they rise through the stems and shoots. They breed rapidly, with a life cycle of twenty to forty days and can be very destructive. Aphids excrete a sweet, sticky substance called honeydew, which attracts ants. Ants protect the greenflies from natural predators in order to feed on the gummy secretion.

This honeydew also attracts bacteria and mold. Natural enemies of aphids include ladybirds (beetles) and hover fly larvae. Chemical insecticides are effective as sprays, but it is better to use eco-friendly plant extracts, which work equally well. For example, extracts from local plants such as neem or lantana. Washing up liquid also works when sprayed on affected plants.

If you have a question or a garden that you would like featured, you can email the author here.

Keep checking our online Phuket Lifestyle pages or join our Facebook fan page for regular gardening features and tips.
— Patrick Campbell
Paris Airshow overshadowed by Boeing's woes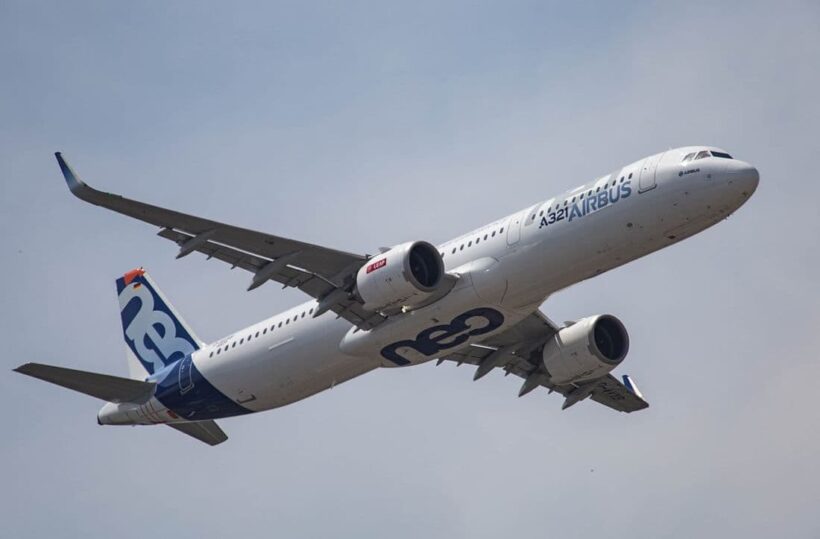 PHOTO: The new, single-aisle Airbus A321NeoXLR, extra-long-range version
Boeing suffered more setbacks whilst Airbus launched an update to their single-aisle line up. Day one at the Paris Airshow.
Boeing's latest creation the 777X will have to wait for General Electric's specially-constructed new jets to arrive following another delay in testing.
The long delay is a blow to Boeing, already struggling to cope with the crisis in its single-aisle 737 MAX jet program. It will likely postpone the new 777's entry into service, planned for the middle of next year, and will hit both Boeing's airline customers and the downstream supply chain.
GE Aviation say they've found unexpected wear in a component for the new GE9X engine it is making for Boeing's latest version of the 777, the world's largest twin-engined jet, forcing a delay of several months while it redesigns and tests the part.
Boeing commercial airplanes boss Kevin McAllister told Reuters it was premature to predict any delays to the 777X program. The planemaker says they're still targeting a maiden flight this year and entry into service the next.
This year's Paris Airshow, usually a slug-fest between the US and European plane manufacturers, is being over-shadowed this year by the problems the US Seattle-based company is facing, on many fronts.
Meanwhile, Airbus has used the show to launch a long-range version of its A321neo jet, which will allow airlines to carve out new routes with smaller planes.
The Airbus chief salesman Christian Scherer says the new single-aisle A321 variant will be able to economically fly "from north-eastern Asia into south Asia, from the Middle East to Bali or from Japan deep into Australia, and so on".
The new A321 variant is a direct competitor to the troubled Boeing 737 make-over, the MAX 8 & 9 series, which has become embroiled in controversy since the crash of two of the new planes, in October last year and March this year. The model remains grounded around the world as airlines moot cancellations of orders and court cases are being mounted by families of the dead passengers from the two disasters.
Sources at the Paris Airshow says Airbus was trying to assemble close to 200 orders or conversions to the new A321 model as it chases deals with carriers including American Airlines, JetBlue, Cebu Air and Frontier Airlines owner Indigo Partners.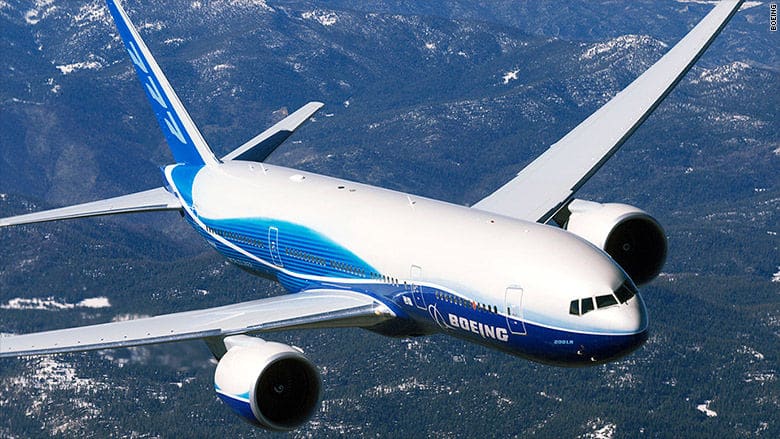 The new Boeing 777X model is facing further delays with an announcement that GE have to do further testing of the jet's new engines.
Chinese move their purchase power away from Bangkok condo market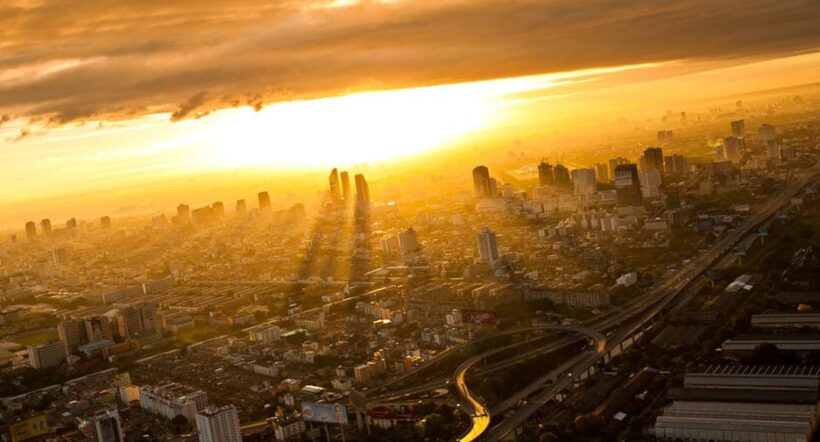 Chinese condo buyers are veering their purchase power away from the Bangkok property market citing the strong Thai currency, overpricing and a supply glut.
2015 – 5.8 Yuan to the Thai Baht
2019 – 4.4 Yuan to the Thai Baht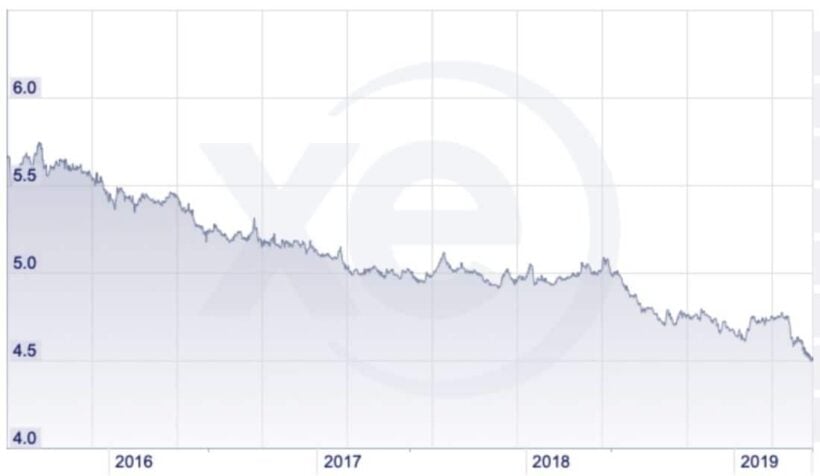 The rise of the baht and the weakening of the Chinese Yuan over the past four years, have culminated in a 25% softening in Chinese investment power in the Thai property market (chart from xe.com)
Property consultants say that Chinese buyers are now containing their investment risk by buying into the lower-end 2-6 million baht condo market instead of the 5-10 million baht condos they were previously purchasing.
At the same time the annual returns for Bangkok condominiums is reported to have dropped from 6-7% five years ago to only 3-4% in some locations in the current market.
Speaking to the Bangkok Post, Simon Lee, President of property brokerage Angel Real Estate Consultancy, says overall sales volume of Bangkok condos bought by Chinese buyers will shrink by half in 2019.
He also notes that the current Thai government crackdown on investors renting out condos on daily or weekly leases, has scared a lot of new investment into the sector away  as the 'law' appears to be applied in a haphazard manner.
The Chinese investors are also expressing disappointment when they buy into a development at one cost, only to find that locals pick up the balance of the stock at a lower price as the developers clears the stock.
Bangkok's soaring land prices, which should see the value of condos rise, is being balanced out with the sheer glut of stock available, pushing down values. Rental returns are also being pushed down by the volume of stock available to the rental market.
SOURCE: Bangkok Post
Here's another report about signs of weakness emerging in the Bangkok condo market from The Thaiger.
'Fast and Furious 9' to be partly filmed in southern Thailand, including Phuket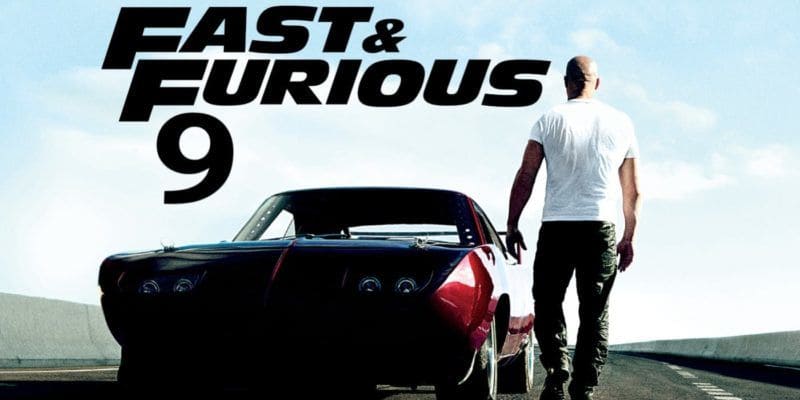 The latest sequel of the 'Fast and Furious' movie franchise will partly be filmed in Phuket, Phang Nga, Krabi and Surat Thani next month.
Yesterday Piya Petonji, the film's production manager, met with Krabi Governor M.L. Kitibadee Prawit at the Krabi City Hall before the cast arrives and filming begins.
The filming will be from July 1-27 in locations around Phuket, Phang Nga, Krabi and Surat Thani. It is estimated the production will bring a 340 million baht benefit to Thailand and the local film industry.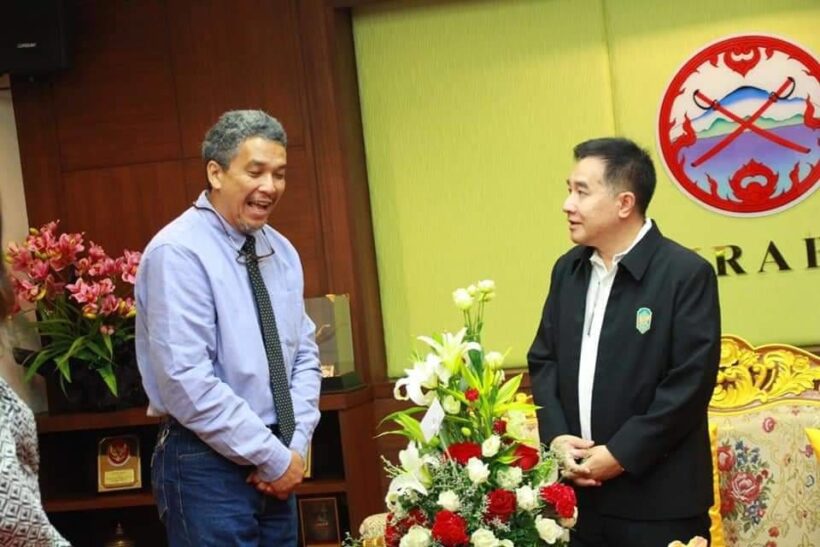 The Krabi Governor says this is a good opportunity for Thailand to present its beautiful nature, culture and history to the world through the film. There has been no announcement of when filming may be taking place around Phuket's roads.
The Thaiger recommends the plot of the film as a race between a visa-run passenger van and a Chinese Tour Bus to the Malaysian border, with a feature muay thai face-off on Maya Bay beach between Vin Diesel and Leonardo DiCaprio (though the 45 year old might have to get some training in before returning to 'The Beach').
Here's our Top Ten movies made around Phuket and Thailand.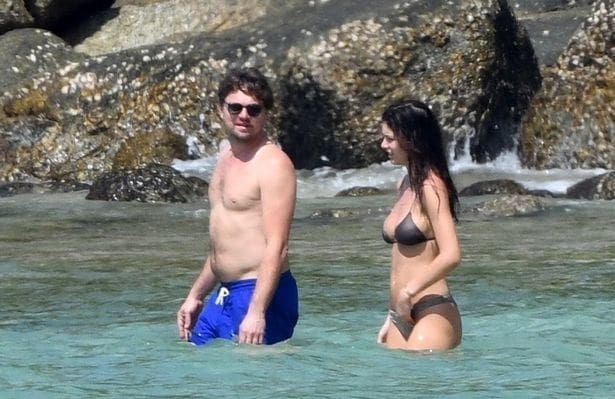 Leonardo in Phuket last year during a quick break