Phuket health: Top 10 liver questions you should be asking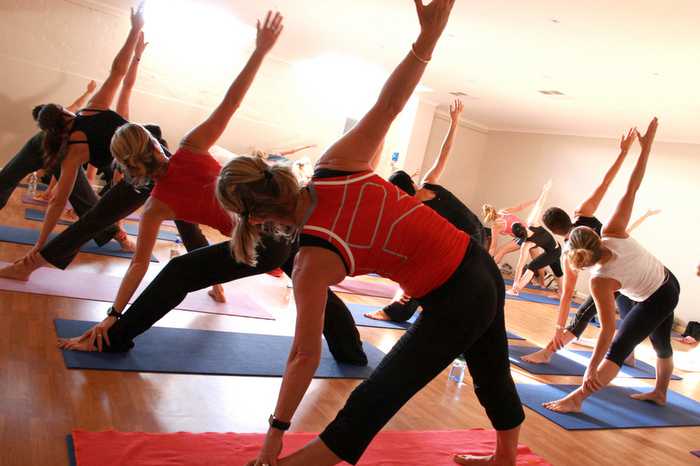 PHUKET: There are many world-class detox centers here in Phuket that attract people from all over the world to lose weight, feel better and recharge.
Our bodies are constantly waging battle to detoxify themselves of foreign entities that enter the system through exposure to pollution, chemicals in processed food, as well as through pathogens and by-products of metabolism.
The main organ involved in the breakdown of toxins is the liver. Let's look at 10 of the most important questions about the liver, and how they address how harmful a diseased liver is to the body, how a healthy liver can make you a healthier person and what you will experience – and what you should do – during a liver detox.
1. What does the liver do?
The liver carries out more than 500 functions, but the following are five of the most important.
Detoxification: The liver detoxifies the blood of metabolic waste products like ammonia, drugs, alcohol, chemicals and matter such as dead cells and microorganisms.
Digestion aid: The liver secretes bile that aids in the digestion of food.
Metabolism: The liver metabolizes major carbohydrates, proteins and fats. For example, it helps control blood-sugar levels by converting excess glucose in the bloodstream to glycogen – stored energy – and back for use when needed.
Vitamin and mineral storage: The liver provides storage for numerous vitamins and minerals like A, D, E, K, B12, folate, iron, potassium, copper and zinc.
Hormone breakdown: The liver can break down testosterone and insulin.
2. What causes liver disease?
The liver can be damaged in a variety of ways. One of them is through inflammation, which is also known as hepatitis. Hepatitis results from damage to the liver by sugar, pathogens, trans fats, alcohol consumption, use of drugs and ingestion of chemicals.
The liver can also be damaged through lack of either bile or blood flow. Bile and blood flow can both be obstructed by gall stones, which can cause scarring and a build-up of toxins in the bloodstream.
The liver can also incur damage as a result of obesity and having too much iron in the blood.
3. What are the symptoms of liver disease?
The main symptoms of liver disease are jaundice – yellow discoloration of the skin – weakness and fatigue, loss of appetite leading to weight loss, nausea and vomiting, stool discoloration and a distended abdomen.
4. How can a liver detox help me lose weight?
A well functioning liver boosts metabolism, and better metabolism means less food will be stored as fat and more fat will be burned as energy. Also, by reducing toxins in the body, you reduce inflammation and "false fat" or excess water weight will disappear.
5. What other benefits come from a clean liver?
Having a cleaner liver will result in better digestion. With better digestion comes better health, as you will not be "what you eat" but "what you assimilate". Your body will also be better prepared to break down and remove potentially harmful toxins from the body. Lastly, you will have clearer skin as a result of a healthy, happy liver.
6. How will I feel during a liver detox?
Just a fair warning: as the body detoxifies you could experience a "healing crisis", which can result in flu-like symptoms such as headaches, joint and muscle pain, body aches, sore throat, sweating, chills and nausea. These generally last a few days at the most. They can be reduced by drinking lots of water and getting plenty of rest. Also, light exercise such as yoga, stretching and walking, as well as deep breathing, can help lessen the pain of uncomfortable side effects. As a precaution, be careful to limit the intake of detox herbs and supplements.
7. What should I eat during a liver detox?
An ideal diet would feature local and organic vegetables at the top of the list, including juices. Raw or lightly steamed vegetables should be the basis of a liver-detox diet. You can also include some free-range meats like fish, chicken and eggs. Add some good fats as well, such as avocados, coconut oil, olives, olive oil, hemp, soaked nuts and sprouted seeds.
Be sure to choose organic, low-fructose fruits like berries and kiwi fruit, and include some whole, non-gluten grains like brown rice and quinoa.
8. What should I avoid during a liver detox?
Take care to avoid processed foods, trans fats, sugar, alcohol, recreational drugs, red meat and processed flour products like bread and pasta.
9. What herbs and supplements help the detox?
Herbs such as milk thistle, artichoke, dandelion and burdock, and supplements of antioxidants like Vitamins A, C, E, Alpha Lipoic Acid, B vitamins, Methionine/S-adenosylmethionine (SAMe) and MSM will help support the body during a liver detox.
10. How often should/can you do a liver detox?
Our livers are under constant attack from toxins, so my belief is that you should do your best to eat clean regularly and take care to keep toxins at a minimum. Perhaps a few times a year, it would be smart to elect a stricter liver detox regiment, and throw in some supplements.

Craig Burton is a nutritional expert with more than 15 years of experience at the forefront of the health and well-being field. He offers a high-level of expertise in functional training and nutrition, focusing on detoxification, food intolerance and nutrient deficiency. For more information about Craig and his services, visit thevitruvianmethod.com
— Craig Burton
Keep in contact with The Thaiger by following our
Facebook page
.
Never miss out on future posts by
following The Thaiger
.
Happy Loy Krathong Phuket. Where to launch your krathong tonight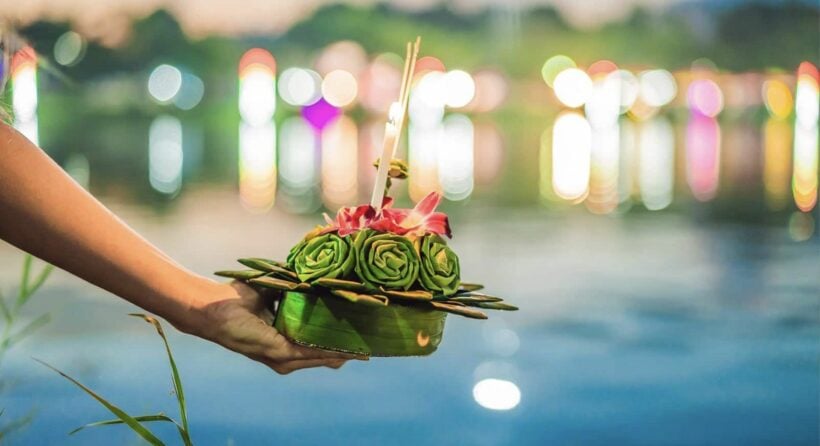 Happy Loy Krathong Phuket. But this year authorities are saying 'only floating Krathongs thanks'. No polystyrene, no steel pins – keep it natural and plant-based please. This year Loy Krathong in Thailand co-incides with the annual Halloween celebrations on October 31.
Authorities are also urging people to choose, or make, their krathongs using natural materials only. The latest craze for "edible" krathongs is also causing problems. Read about that HERE.
Loy Krathong is a festival celebrated annually throughout Thailand The name could be translated as "to float a basket", and comes from the tradition of making krathong or buoyant, decorated baskets, which are then floated on a river. Loi Krathong takes place on the evening of the full moon of the 12th month in the traditional Thai lunar calendar so the exact date of the festival changes every year.
In Phuket, the Provincial Office says fireworks, fire crackers and sky lanterns are prohibited "for people's safety" (but be assured there will still be a few sky lanterns seen flying off the islands beaches this evening).

Loy Krathong is celebrated at many of the island's popular waterways and at many of the beaches. Many hotels also host their own celebrations for their tourist customers. Here are a few of the locations you will be able to launch your own Krathong or buy one on site and watch families and couples launching Krathongs.
Popular locations in Phuket include…
• Saphan Hin Park Lake, Phuket Town
• Suan Luang Park (off Naka Market Road)
• Bang Wad Dam, Kathu
• The recreation lake near Ket Ho Temple in Kathu (The Thaiger 'local')
• Tin Mine Museum Lake on the Kathu back road, near BIS International School
• Nai Harn Lake and Nai Harn Beach
• Bang Maruam near the Alan Cooke Cricket Ground in Thalang
• Laguna (the main lake just inside the entrance)
• Just about anywhere along Patong Beach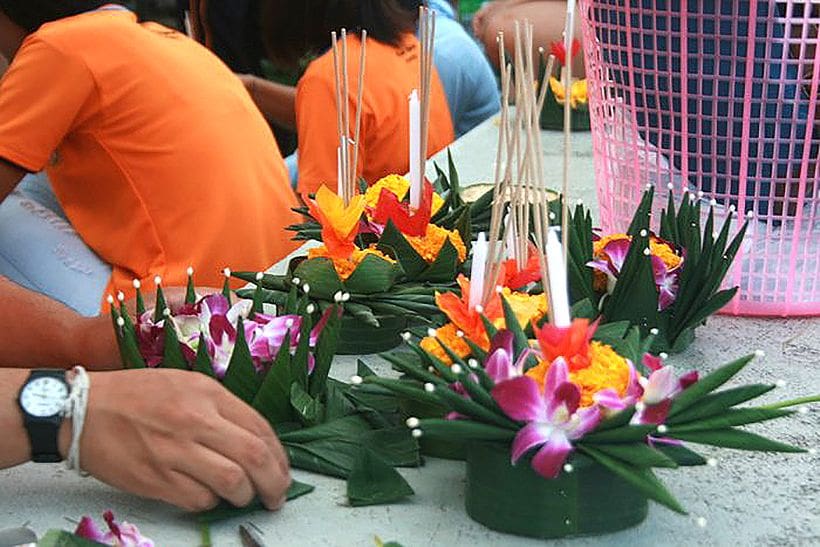 On the night of the full moon, Thais launch their krathong on a river, canal or a pond, making a wish as they do so. The festival may originate from an ancient ritual paying respect to the water spirits.
We would urge people to consider the environment if you're making your own Krathong or try and select Krathongs that are made from natural products. Many of the 'commercial' Krathongs use polystyrene and pins that end up scattered along our waterways and provide a hazard on the island's beaches when the Krathongs eventually wash ashore and disintegrate.
Same goes for the new fad of bread and "edible" krathongs. Officials say these can be dangerous for the fish and cause long term problems for water catchments.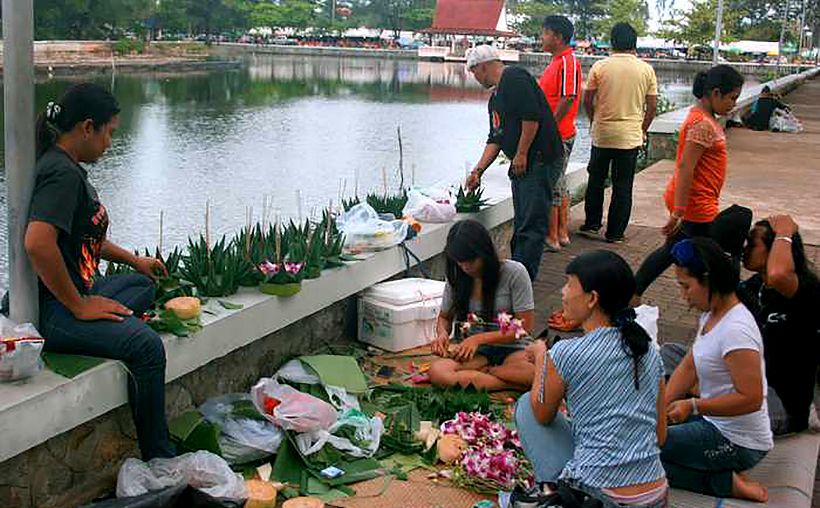 If you'd like to make a krathong, here's a very quick guide…
If you want the easy way out, you will find hundreds of stalls on the way or near any waterway around the island that is participating in the event. Try and pick ones that appear to be made from natural materials.
Happy Loy Krathong Phuket!
Keep in contact with The Thaiger by following our
Facebook page
.
Never miss out on future posts by
following The Thaiger
.
'Bread' krathongs are killing the fish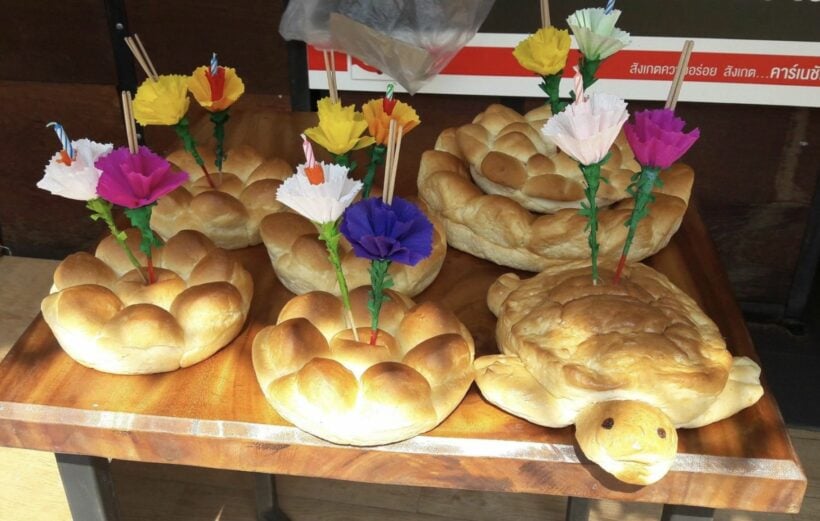 First it was no polystyrene or steel pins. The push was for natural, sustainable ratings as Thais floated away their woes in the annual celebration. Now there is a new warning that the "natural" kratongs, made from bread and edible ingredients, are causing river pollution.
Fish found in the river don't eat bread and the ingredients have broken down before cleaners remove the krathongs from the waters and along the shores.
Department of Fisheries' Wichan Ingsrisawang, is asking Krathong launchers, celebrating Loy Krathong Festival this evening, to be careful what they're pushing out onto Thailand's waterways. He noted that bread and ice cream cone krathongs have become increasingly popular over the past few years because people believed that fish would eat the au natural krathongs. After years of foam and polystyrene krathongs, held together with pins and plastic cable ties, became a clean up nightmare, authorities urged people to consider more environmentally-suitable components of their floating offerings.
Wichan says that the intention behind edible krathongs is good, "but the truth is that not all fish can eat these ingredients".
"Even if they can, there are too many krathongs for the fish to eat and they just end up stinking the river."
The situation is even worse in closed water catchments like temple and school ponds because the food ends up sinking and makes the water rotten over a long period time, killing the fish.
"The only fish that can eat these types of krathongs are herbivorous fish while thai rivers often have a lot of predatory fish including catfish and snakehead fish."
"If you intend to use edible krathongs because that is what you prefer or the kratongs have already been purchased then it is best to float them in open waters.
The best materials for a krathong are natural, plant-based products like banana tree trunk, spider lily plant, banana leaves, flowers, and wooden sticks to join all the materials. In the past krathongs were made from natural materials but the banana tree trunk later became replaced with polystyrene and foam and the krathongs decorated with plastic, sharp needles, and other materials that don't break down and cause pollution and a dangerous, unsightly mess.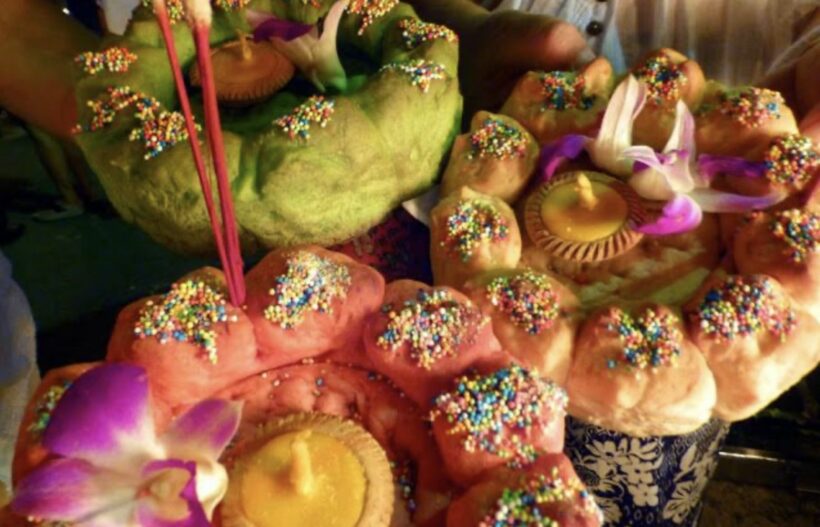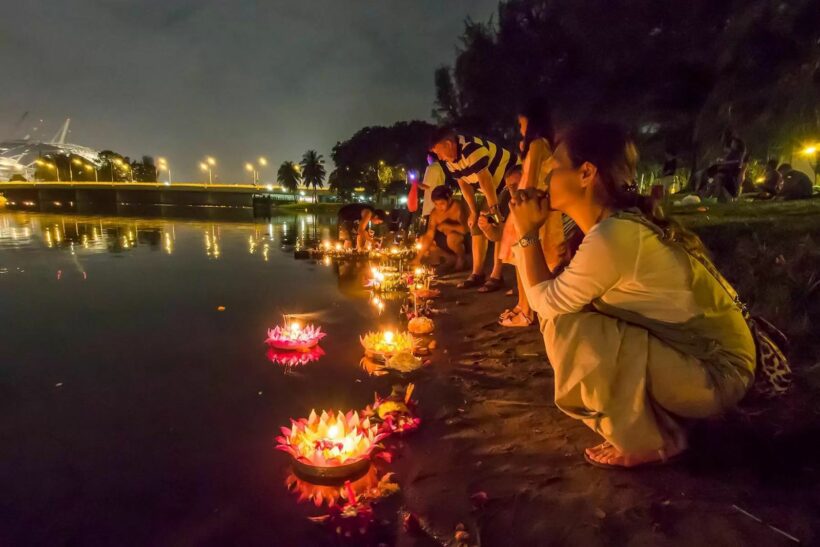 SOURCE: Thai Residents
Keep in contact with The Thaiger by following our
Facebook page
.
Never miss out on future posts by
following The Thaiger
.
The Isan Project honours a hero of Tham Luang cave rescue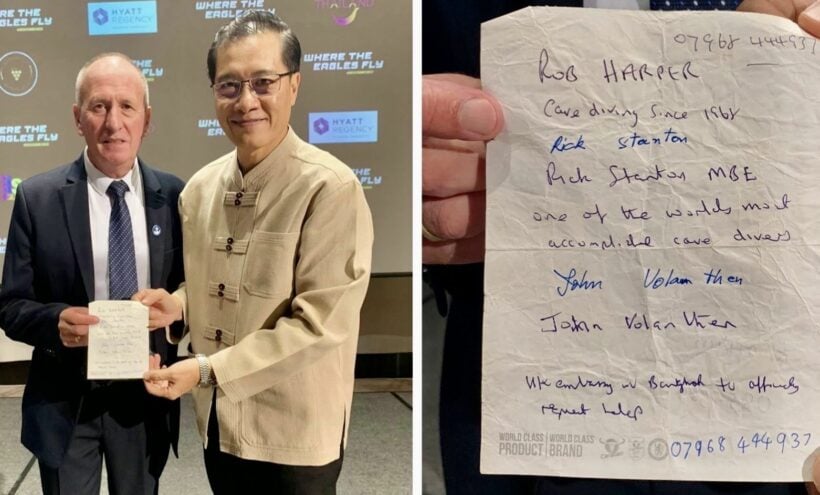 The Isan Project has collaborated with the TAT on new marketing campaign featuring music commemorating the Tham Luang cave rescue.
The story of how 13 young men, members of the Mu Pa (Wild Boar) football team, were saved in the caves of Chiang Rai continues to ignites interest in the miraculous internationally-followed rescue in July 2018 from the flooded Tham Luang cave
To honour the safe rescue music video company The Isan Projectrecently launched "Where the Eagles Fly", video to pay tribute to the British hero of the dramatic saga, Vern Unsworth MBE.
The release of a movie and Netflix mini series shortly will also boost interest globally in Thailand. The series includes the first individual interviews with the boys and they coach.
The launch, in collaboration with the Tourism Authority of Thailand, and supported by the Hyatt Regency Bangkok Sukhumvit and Serenity Wines, was attended by several key persons involved in the rescue mission two years ago, including former Tourism & Sports Minister, Weerasak Kowsurat, who played a major role in flying in special cave divers from the UK as requested by Vernon Unsworth, a recognised cave explorer, who knows virtually every inch of the Tham Luang cave.
"It is absolutely true that without Vernon's persistence in obtaining the help from the UK cave diving experts to initially spearhead the rescue mission, the boys and their coach would not be alive today."
"Needless to say, assistance from experienced and skilled cave divers from around the world, who later volunteered to join as well as our own Navy Seals, all contributed to the mission's ultimate success."
Vernon Unsworth MBE, his partner Woranan Ratrawiphakkun, and his caving buddy Kamon Kunngamkwamdee, all starred in the "Where the Eagles Fly" fantasy music video, which was set in deep jungle and caves in the mountain of Doi Nang Non in Chiang Rai, Thailand.
"I'm truly honoured to have this song written about me. It was very moving to relive parts of the rescue while making the music video, especially when I think back on how Kamon and I covered over 16 km. on the first day after we knew the boys were missing. We virtually lived in the cave for the first 4 days prior to the arrival of my cave diving colleagues from the UK".
The story of how the football team were saved in the caves is a heart warming one. For many attending the event it was a privilege and an honour to meet 63 year old Vernon Unsworth in person. An event filled with stories of bravery, emotion and moving music.
Vernon, who has mapped the cave system for 8 years, was the first professional cave diver at the site and realising the enormous danger the boys were in, played a significant rôle in the rescue and earned him the UK's high honour, an MBE medal.
As the rescue became a race against time ahead of impending monsoon rains, Vernon undertook reconnaissance dives upstream through flooded passages against strong currents.
Weerasak Kowsurat, the former Minister of Tourism and Sports, recalled how a message written on a piece of paper by Vernon and handed to his colleague for safe keeping with instructions that it was to be handed over in case Vernon, fearing the worst, didn't make it out on an exploratory dive. It was very dangerous work and one Thai diver died during the course of the rescue.
Although Vernon was safe, the message was handed to the Minister who was at the cave site. The message was to contact the British Dive Caving Association and gave names of expert divers and telephone numbers. Within 24 hours the Tourism Minister had managed to get the UK divers on a hastily arranged flight to Thailand to assist in the rescue effort.
The team of UK divers, working under appalling conditions and with time running out, in poor visibility located the team marooned on a ledge above the water about 4 kilometres inside the cave complex.
Writer and executive producer of The Isan Project, Will Robinson says… "Although I had penned and produced "Heroes of Thailand" honouring all those involved in the Tham Luang cave rescue, I felt it was time to pay a special tribute directly to the mastermind of the extremely complex mission."
"Vernon is such a humble man, I wanted to create a song not only to honour him, but also to establish Tham Luang and what is now known as the 'Wild Boar Cave', where the boys were found, as a new tourist attraction for those who love to explore caves."
At the beginning of the video it reads…
"On June 23, 2018, 12 boys from the Wild Boar football team went exploring the Tham Luang cave with their coach in Chiang Rai. They never returned home that night, next day locals contacted cave explorer Vern Unsworth in nearby Mae Fah Luang. Over the course of the next two weeks Vern put his life on the line for the young football team with a daring rescue engineered by Vern and Elite British cave divers. This song was written in honour of Vern Unsworth M.B.E. and inspired by the above events."
You can watch the video HERE.
Commenting on the Isan Project Tanes Petsuwan, TAT's Deputy Governor of Marketing Communications said, "TAT appreciates Will's love of Thailand, and we are delighted to be supporting this launch. We also believe that this song combined with the newly-published children's book, "All Thirteen" and the soon-to-be released Hollywood movie, "Thirteen Lives", will help to dramatically boost tourism in and around Chiang Rai even though we will need to rely mainly on domestic tourists until the end of the year while international travel is still restricted."
"Where the Eagles Fly", co-written by Will Robinson and Daniel Ryan, and performed by Daniel himself, is tipped to top the charts when the MGM blockbuster movie, "Thirteen Lives" and the Netflix mini-series about the epic story of the Tham Luang cave rescue are released. The song is now available from all digital music stores including iTunes, Spotify, Apple and Amazon.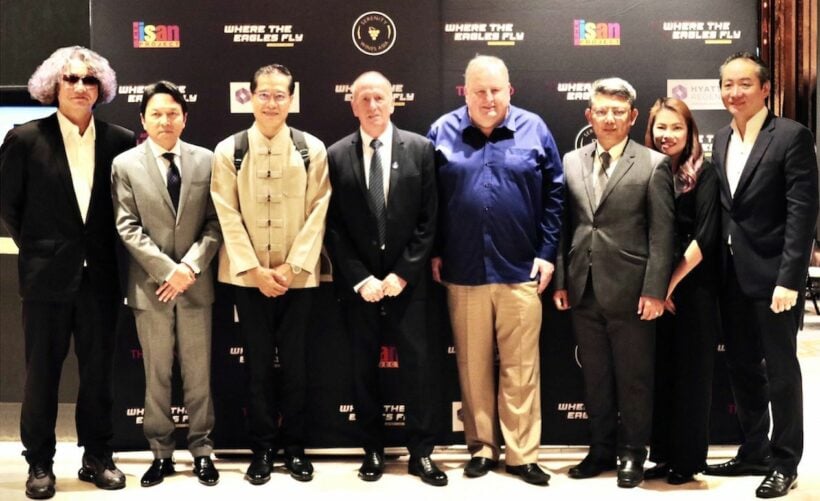 From left: Mr. Sobchai (Ford) Kraiyoonsen Singer/composer, Mr. Tanes Petsuwan TAT's Deputy Governor of Marketing Communications, Senator Weerasak Kowsurat former Minister of Tourism and Sports, Mr. Vern Unsworth British cave explorer, Mr. Will Robinson Writer and Executive Producer of The Isan Project, Mr. Nithee Seeprae TAT's Executive Director of Advertising & PR Department, Ms. Woranan Ratrawiphakkun Vern's partner, Mr. Sammy Carolus GM of the Hyatt Regency Bangkok Sukhumvit
Keep in contact with The Thaiger by following our
Facebook page
.
Never miss out on future posts by
following The Thaiger
.