Phuket Gardening – still waters run deep
PHUKET: Asians prize water features in their gardens – from the humble pot in the front yard with its mandatory water lily and darting swordtail fish, to the blue fiberglass fish pond with a row of pebbles embedded in its rim.
If you're lucky, you may have a natural pond or klong (canal) within the bounds of your property. Unarguably, water adds another dimension to your garden, both as an eye-catching feature and because it allows the cultivation of plants that otherwise would not be possible.
The simplest version is a large ceramic pot, usually set on a matching ceramic pedestal.
Or you can use a terracotta pot, but it must be glazed. Natural terracotta is porous, so the water will seep out. Furthermore, natural terracotta is not healthy for fish. It used to be difficult to find pots without drainage holes but now manufacturers have wised-up to the demand for watertight versions.
A third alternative is perhaps the most attractive option: a do-it-yourself pond.
Select your location – next to a wall is good – and level a suitable-sized rectangular plot of ground. It can be a shallow trench, or at ground level.
Then, use large, flattish briquettes to create a supporting wall about twelve or fifteen inches high, add a light layer of sand to the bottom to ensure that there are no sharp protruding stones, and then line the entire construction, including the flat bricks, with a sheet of heavy-duty, black plastic. Place a final row of bricks on top of the plastic liner, to hold it in place, then trim off the surplus plastic.
Add a ceramic vase to the middle of your new feature. Some of them have a projecting metal nozzle which you can connect to a pump, preferably a submersible one, and – presto, you have a fountain with water cascading down the sides of the vase. The whole process is well illustrated in a CD entitled Bali Garden (price 89 baht) obtainable from bookshops such as Sengho in Phuket Town.
Having a small pump to oxygenate the water is especially desirable if you want small fish to keep the plants company. Submersible pumps are best, but there are cheaper alternatives. The hardiest fish are guppies and swordtails. There are many others, but these are good starters. They are pretty, lively and will certainly breed. Ensure you let everything in your new pond settle down for a few days before introducing them to their new home.
As for plants, the list is extensive. Everyone's favorite is the water lily (nymphea), now available in hybrids so exotic that they are not yet featured in books. At the recent Saphan Hin plant market in Phuket Town, there were huge double blooms on sale in deep Prussian blue, and some with golden centers that are absolutely gorgeous.
Nympheas are sold either in plastic pots which you can submerge straightaway in the water, or as trimmed roots. Whatever style you choose, ensure that the old leaves are removed, and if you buy a root remember to purchase a few bags of the special mud required for water lilies and lotuses.
Finally and most importantly, ensure that the crown of the root is visible above the surrounding mud. Otherwise, the lily will die from suffocation.
Some plants, such as elodea or Canadian pond weed barely feature as visible attractions but are excellent as oxygenators for fish, especially if you don't have a pump. Other water plants, such as the lotus, look superb in tall vases but are less suited to the average water feature.
Tip of the week

In a previous column I suggested that you suspend your potted orchid from a structure such as a trellis or tree. In garden centers, orchids are normally sold in porous plastic pots with wires for hanging. There are also wooden baskets.
I think the husk of a coconut, stapled together to form a natural bowl, is best, as it most closely simulates conditions in the wild. As an alternative, you can anchor your orchid vertically to the trunk of a tree – after the manner of a stag-horn fern. Loosely packed coir (coconut fiber) is normally used for potting, though you can use compost, or even charcoal.
Some varieties such as cattleya, dendrobium and oncidium only need water during their growing period; others such as cymbidium, vanda, and phalaenopsis should be kept slightly moist. Never water the leaves, and you should feed with a liquid orchid fertilizer as prescribed.
Phuket Gardening is Phuket Gazette columnist Patrick Campbell's feature of all things flora.
If you have a garden that you would like featured on this page, please email Patrick by clicking here.
Keep checking our online Phuket Lifestyle pages for regular gardening features and tips.
— Patrick Campbell
Keep in contact with The Thaiger by following our
Facebook page
.
Hundreds of Thais stranded in New Zealand, denied boarding without documentation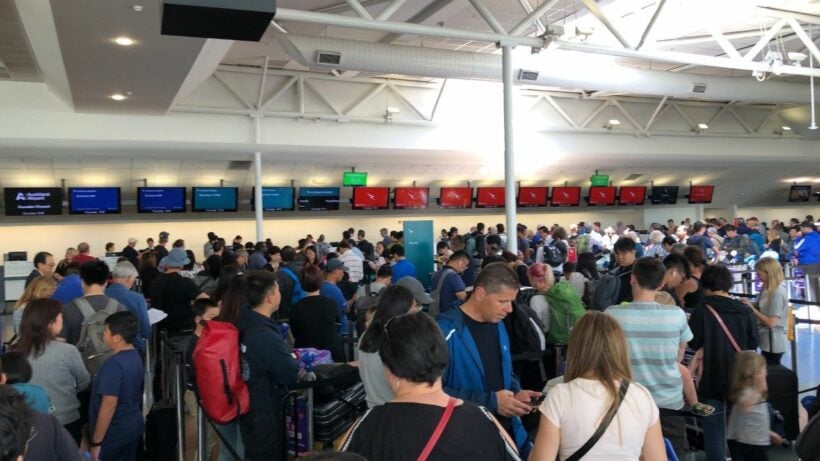 A Facebook post from a Thai Airways aircrew says hundreds of desperate Thais are trapped in New Zealand, denied boarding on a Bangkok-bound flight as they couldn't provide the mandatory "fit-to-fly" letter now required of Thai nationals, and proof of residency once in Thailand. Aaron Puranasamriddhi (known online as Krissanarat) called on the Civil Aviation Authority of Thailand to sort out the problems as a matter of urgency.
Due to the Covid-19 coronavirus pandemic, Thais need the documentation to get on planes heading home, including a "Fit to Fly" Health Certificate and a letter from a Thai embassy or consulate where they are announcing their intention to return home.
Many people are unable to get this documentation.
The post said that of the 280 people trying to board Thai flight TG492 from Auckland to Bangkok, only six were allowed to do so as they were the only ones with the required documentation.
Some 274 people were arguing to be allowed to board but were left stranded at the airport, according to the post.
Keep in contact with The Thaiger by following our
Facebook page
.
Search on for tour bus passengers after three test positive for Covid-19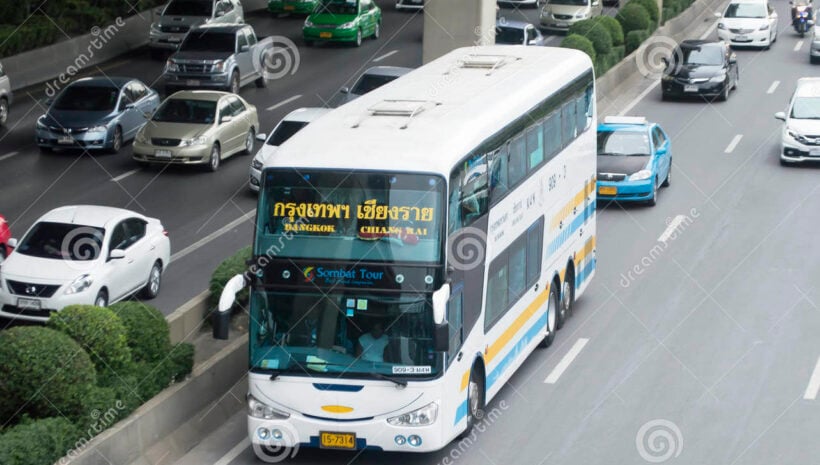 Authorities in Chiang Rai, Northern Thailand, have been tracking down 3 passengers who have tested positive for Covid-19. The passengers were travelling on a VIP tour bus from Bangkok to Chiang Saen, Chiang Rai disrtict.
Chiang Rai deputy governor, Mr. Pasakorn Boonyalak, and Dr. Tossathep Boonthong, the provincial health chief, say…
"…that they are asking passengers on Sombat Tour Company's bus No 16-3473, which left Bangkok for Chiang Saen on March 21 at 7.15pm, to report to provincial health officials for all fellow travellers now need to be screened."
All three confirmed Covid-19 cases from the bus are now being treated at Chiang Rai Prachanukroh Hospital.
Meanwhile, yesterday, Public Health Minister Anutin Charnvirakul and senior health officials accepted the delivery of Chinese medical supplies, at the Public Health Ministry, from Mr. Yang Zen, the Chinese chargé airfares. The medical supplies consists of 100,000 hygienic face masks, 10,000 N95 face masks, 2,000 protective gowns and 332 Covid-19 test kits.
SOURCE: Thai PBS World
Keep in contact with The Thaiger by following our
Facebook page
.
9 Thai airlines stop services during Covid-19 crisis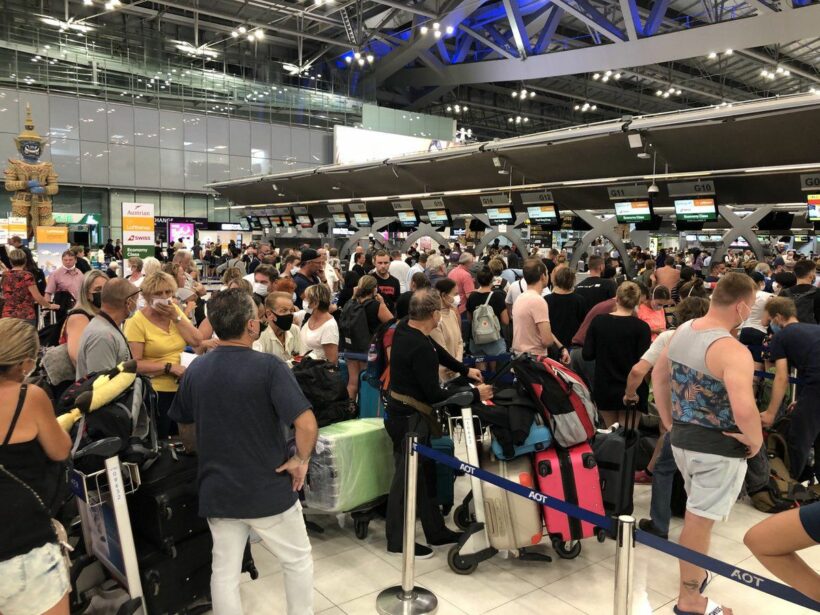 Yesterday, director general Chula Sukmanop of The Civil Aviation Authority of Thailand (CAAT), granted nine airlines permission to halt their flights due to the Covid-19 situation.
Chula says "that the nine airlines that had submitted requests to temporarily halt their operations".
The airlines are…
Thai Airways International, Thai Smile, Bangkok Airways, Thai AirAsia, Thai AirAsia X, Thai Lion Air, Nok Air, Nok Scoot and Thai VietJet Air.
"Most airlines want to cancel only some flights and some routes, so we have approved their requests accordingly. However, they must have plans to compensate customers who have already bought their tickets and they must notify the customers of flight cancellations in advance."
Thai Lion Air had earlier announced that they would suspend all domestic and international flights between March 25 and April 30.
Thai Smile, Thai AirAsia and Bangkok Airways also announced that they would suspend all international flights from March 22 until further notice.
Thai Airways has also announced yesterday that all TG flights to Europe will be suspended from April 1 to May 31, while regional flights, including flights to Singapore would be suspended from March 25 to May 31.
Read MoreHERE
The Ministry of Transport had earlier announced that airlines wishing to cancel their flights due to the Covid-19 crisis, must compensate their customers by refunding the cost of tickets and other related fees. In the case where the customers had bought tickets with cash, the refund transaction must be completed within seven days of the customers submitting their request.
SOURCE: The Nation
Keep in contact with The Thaiger by following our
Facebook page
.