Phuket Gardening: Delving into the Dragon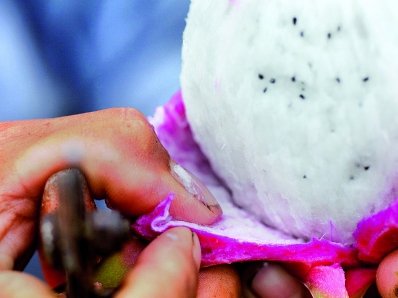 PHUKET: ONLY a select few members of the cactus family produce edible fruit. In Thailand, you will only regularly encounter one that does – the dragon fruit (hylocerus undatus), known locally as the pitaya.
It is one of those tropical oddities that make your mind boggle in astonishment when you first encounter it at fresh markets – a unique rose-pink colored fruit covered with sparse, green scales like a dragon's armor.
The flesh, which is somewhat reminiscent of a kiwi or prickly pear, contains many crunchy black seeds and has a mild and slightly sweet flavor.
The pitaya is grown widely in Thailand. It is a cactus-like, climbing tree that can produce five or six crops a year. This may not be ideal for your home garden, but it is a valuable commercial proposition nonetheless.
In fact, Phuket is probably a bit too wet for the dragon fruit, since it flourishes in areas of relatively low rainfall. It blooms only at night, when its attractive flowers are pollinated by nocturnal creatures such as bats or moths.
But if you do decide to go for it, be encouraged by the fact that it grows readily from seed, and will germinate in as little as two weeks. Be careful not to over-water though, since, as is the case with all succulents, too much liquid will be the kiss of death for the plant.
If you're feeling adventurous, save a few seeds from your next pitaya purchase and give it a try.
Next, another cactus-like oddity. It took me some time to identify it. Its name is euphorbia lactea or yok in Thai. A smallish plant, it is usually sold in pots at select nurseries. SuperCheap's garden section normally carries a few. The plant is grown commercially in Thailand, but not here in Phuket.
What is distinctive about this fellow is that its oval, pale green foliage is surmounted by a fleshy, yellow and red-edged, semi-circular, fan-shaped crest, so large that it dominates the whole plant.
Other cultivars come in orange and variegated green and violet. It is like nothing else in the plant kingdom. I have two of these, one on my rockery and the other in a pot where it quickly lost its crest, thanks to over-zealous watering.
There are other, much bigger varieties of lactea, such as candelabra, but only this one, thong kham, has the distinctive crest.
Less eye-catching without its crowning glory, the plant will continue to grow and produce its attractive leaves, even if neglected. Each leaf has a spine underneath its axil.
Moreover, the sap is latex-like and sticky to the touch, a characteristic which at first suggests it must be a member of the euphorbia clan. It can be propagated from cuttings, but as with most euphorbias, they should be left to dry out for a week or two before putting in a potting mix with plenty of sand.
Some succulents belong to the crassulaceae genus of sedums. They possess only shallow roots, but have particularly fleshy and often unusually colored leaves, which also close their pores during the day in order to retain moisture.
Known colloquially as "stone-crops", they are forgiving of poor soil, and some desert varieties can exist without water for a month. In fact, over-watering or over-feeding is a no-no. If you want to pot them, use porous containers such as unglazed terra cotta.
On the other hand, you can use the low-growing varieties as ground cover, or add the rosette-like flowers of some species to your rock garden to create variety.
One more succulent worth cultivating is the mesembryanthemum, a mouthful of a word meaning "midday flowering". It has long, pointed, juicy leaves, and spreads rapidly across the ground, producing masses of deep pink or white daisy-like flowers.
It will grow in the most unlikely places, including sand dunes in Spain, and it blooms almost continually in the sunshine. This succulent has yet to be spotted in Phuket though, which is a pity.
Phuket Gardening is Phuket Gazette columnist Patrick Campbell's feature of all things flora.
If you have a garden that you would like to be featured on this page, please email: pcampbell45@gmail.com
Keep checking our online Phuket Lifestyle pages for regular gardening features and tips.
— Patrick Campbell
Thai Life

Join the conversation and have your say on Thailand news published on The Thaiger.
Thaiger Talk is our new Thaiger Community where you can join the discussion on everything happening in Thailand right now.
Please note that articles are not posted to the forum instantly and can take up to 20 min before being visible. Click for more information and the Thaiger Talk Guidelines.