Phuket Food: Chalong's Rimtang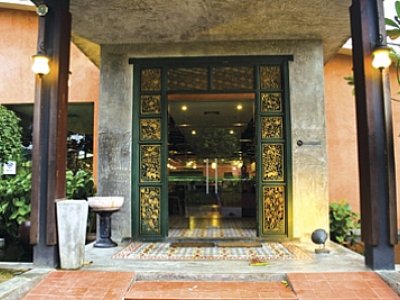 PHUKET: The first thing you notice when walking into Rimtang@Chalong, Phuket, is its smart ambiance. Past the intricately carved wooden door, is a light and airy space, tastefully decorated with Thai objet d'art and minimalist furniture.
Tall glass windows invite in the surrounding flower garden and the tantalizing views of Wat Chalong beyond.
Talking to the staff, we learn that Rimtang started life some fifteen years ago as a humble roadside shack, whose modest menu included only a few local dishes. However, it was famous for serving the best chao kuey in town. This popular black jelly in iced syrup soon became Rimtang's signature dessert.
Having expanded and opened their first restaurant on Tungka Road, Rimtang, has carved out a niche that combines an eatery serving tasty food and, to cater to Thai tourists, a shop that stocks the local produce Phuket is famous for – dried fish, curry paste, and of course the famous black jelly.
Its latest branch Rimtang@Chalong, opened two years ago, and has kept its tradition in tact by dedicating one large area of space at the back to stocking these dried delicacies.
The eating areas are sectioned into three zones: an air-conditioned indoor-space, serving lunch; an outdoor café area with over-sized rattan chairs and its own coffee bar, and a charming balcony dining area surrounded by a lush garden and overlooking a lagoon.
For a quick lunch, there's no better place to be than close to the fast-food counter that runs the length of the indoor space.
Don't let this canteen-styled setting put you off, the food laid out behind it – although a common fare – is of fresh and good quality. You can choose from various curries and stir-fries, but there's also a noodle bar where you can order soups or fried noodles, which are freshly made for you.
Moving along the counter there's a som tum bar where papaya salad with soft-shell crabs can be rustled up exactly to your liking. For example, we like it medium hot, without peanuts and with plenty of crabs.
Don't like pre-made food? No problem. Rimtang's menu offers many local delicacies: Malaysian-styled kari mai fan (chicken curry with tofu); or the creamy and sweet curry with crab meat, both accompanied with fine rice noodles; noodle soup with pork ribs; mee hokkian (famous Phuket stir-fried yellow noodles) and an assortment of meats and seafoods.
Of course, to end the meal and cleanse the palate, you must try the stuff that made Rimtang famous: its refreshing health-giving black jelly in iced syrup. There are also a few other iced desserts – our favorite being the multi-grain cereal in coconut milk. But Rimtang also serves a very good crème brûlée.
Rimtang's location opposite the side gate of Wat Chalong means that any overindulgence can be walked off as you stroll over to the temple grounds to enjoy the beautiful architecture. Rimtang@Chalong is a favorite luncheon spot for many local Thais and Koreans, but the assistant manager notes that expats tend to come in the evening when the indoor section is closed and life continues on outside at the balcony.
The dinner menu features many delectable seafood dishes such as tamarind prawns, fish cooked in many different styles and sauces. Our favorite is fried whole fish served with green mango salad. Try also the yam apple or apple salad, which combines apple slivers with plenty of sliced lemon grass (a great combination), shallots and cashew nuts in a dressing of lime, fish sauce and mint.
For quality food and super ambiance, Rimtang@Chalong is definitely unbeatable. What's more, is that the price is quite reasonable too.
Open: 8:30am to 11pm daily Location: Soi Luang Por Cham (the road beside Wat Chalong that runs between Chao Fah East and West) Tel: 076 374911, 089 7305388.
— Nanthapa Pengkasem
Keep in contact with The Thaiger by following our
Facebook page
.
Tax on salt content being considered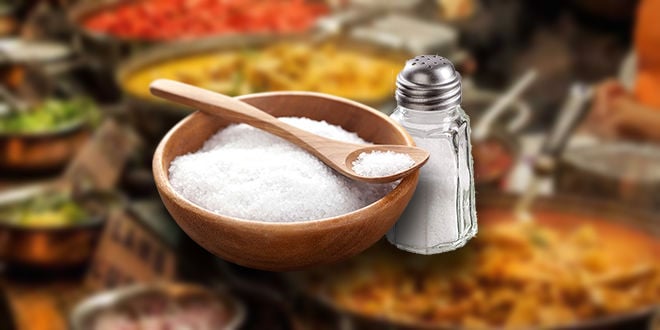 The Excise Department is considering imposing a tax on the salt content of food to encourage food producers to reduce the sodium content of snacks, instant noodles and seasoning cubes.
The director of the Office of Tax Planning said that the department is discussing a limit on the amount of sodium food can contain, in line with the standard set by the World Health Organization (WHO), which is 2,000 milligrams of salt per day.
In reality, Thai people consume an average of 1,000 milligrams per meal, making their daily intake well above WHO guidelines, according to the director.
He said any tax imposed would be at a level which would encourage food producers to reduce the sodium in their processed food without being punitive, adding that the proposal isn't intended to generate more tax revenue, but to help protect the health of consumers. Excessive sodium in the diet can lead to high blood pressure and kidney disease.
Fish sauce, soy sauce and salt would not be taxed.
SOURCE: thaipbsworld.com
Keep in contact with The Thaiger by following our
Facebook page
.
Water shortage warnings in 22 provinces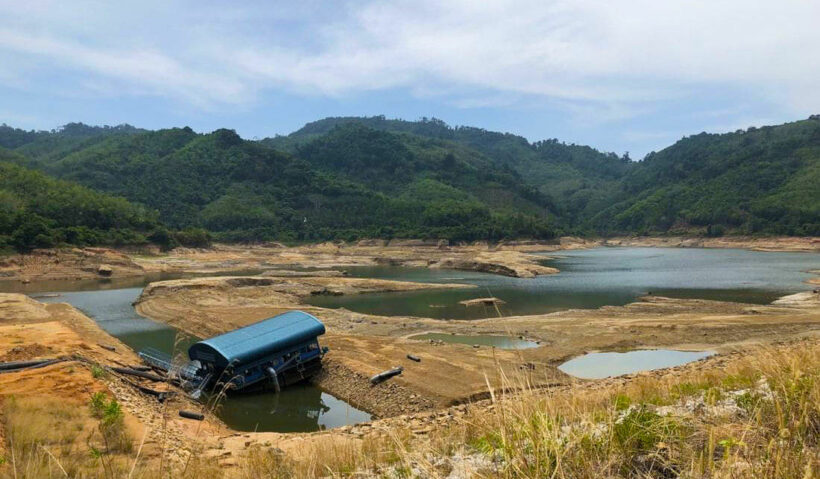 People living in 22 Thai provinces are being warned to prepare for shortages of drinking water during the upcoming dry season, due to start on November 1st.
The warning was issued by the National Water Resources Office, citing low levels in reservoirs, which are the main sources for tap water production waterworks in 22 provinces.
Areas at risk identified by the office are in northern, north-eastern, eastern and southern provinces.
Measures have been adopted by agencies charged with dealing with water shortages. including dredging water channels to allow greater volumes of water to flow into reservoirs, drilling underground wells, enlarging storage ponds and the purchase of water to supply to those in urgent need.
The Royal Irrigation Department has announced that people should use water sparingly.
There are currently about 6 billion cubic metres of usable water in reservoirs in the affected provinces, with 5 billion cubic metres reserved for consumption and ecological preservation, leaving only 1 billion cubic metres for use in agriculture.
This means farmers in the Chao Phraya river basin may not be able to grow a second crop of rice this year.
SOURCE: thaipbsworld.com
Keep in contact with The Thaiger by following our
Facebook page
.
Green Day heading back to BKK in 2020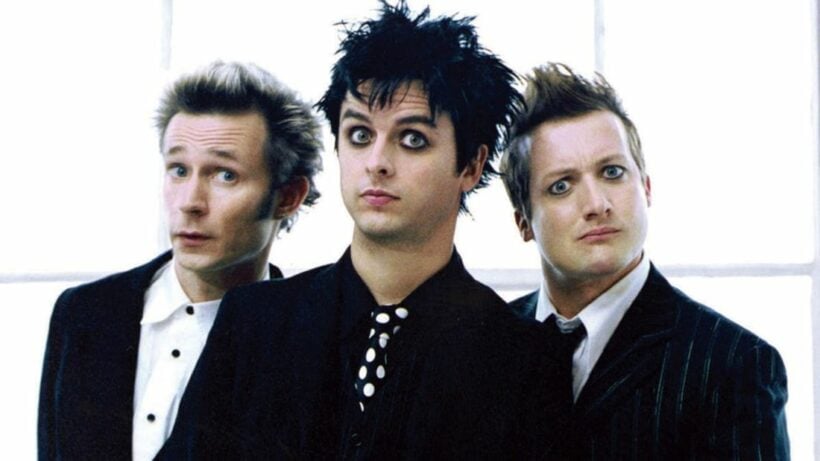 Green Day, five-time Grammy Award winners, are embarking on a global tour in 2020, including a stop-over in Bangkok during March. The rock 'n' roll Hall of Fame inductees will perform a series of concerts throughout Europe, UK, North America and Asia.
"Green Day Live in Bangkok" takes place on March 11, 2020 at Impact Arena, Muang Thong Thani. But it's not their first time. Green Day sold out concerts in their last Thai live gigs in 1996 and 2010.
Formed in 1986 in Berkeley, California, Green Day is one of the world's best-selling bands of all time, with more than 70 million records sold worldwide and 10 billion cumulative online streams of their music and performances. Their 1994 breakout album "Dookie" is widely credited with popularising and reviving mainstream interest in punk rock, catapulting a career-long run of No 1 hit singles.
In 2004, Green Day released the rock opera "American Idiot", selling more than 7 million copies in the US alone and taking home the Grammy Award for Best Rock Album. In 2010, a stage adaptation of "American Idiot" debuted on Broadway to critical and commercial acclaim. Entertainment Weekly called Green Day, "The most influential band of their generation," while Rolling Stone said, "Green Day have inspired more young bands to start than any act this side of KISS, and that doesn't seem to be changing."
Green Day Live in Bangkok 2020 is on March 11, 2020 at Impact Arena, Muang Thong Thani.
Ticket prices start at 2,000 baht and tickets go on sale on November 2 at all ThaiTicketMajor outlets via www.livenation.co.th or www.thaiticketmajor.com or call: 02 262 3838 for more information.
SOURCE: The Nation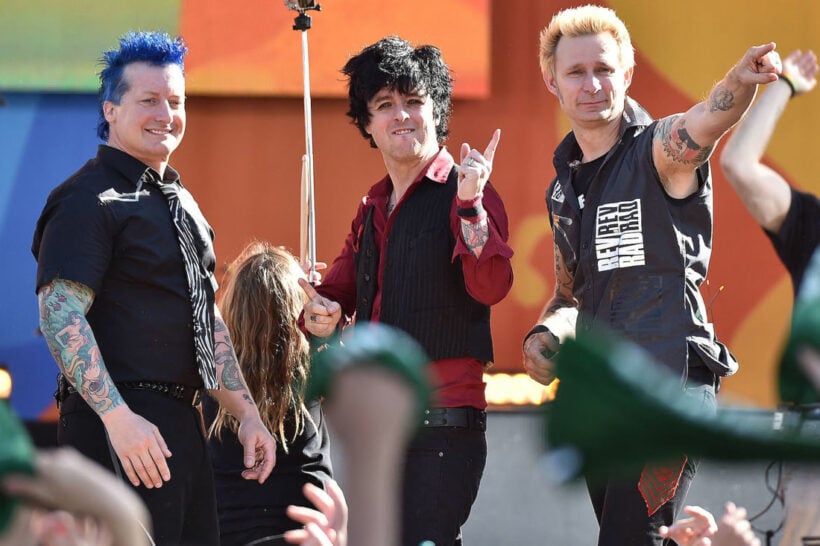 Keep in contact with The Thaiger by following our
Facebook page
.