Phuket Diving: PADI centers clean up Phuket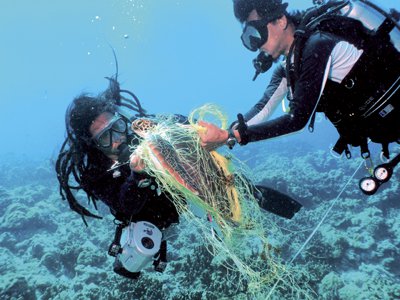 PHUKET: After coming face to face with shattered coral reef systems all over the world and confronting messes of plastic bags and tangled fishing nets, which are not-so-slowly strangling one of the world's most important ecosystems, divers understand the importance of reef cleanups. There is of course that feeling of only delaying the inevitable, but isn't that why we try to stop smoking and start exercising at some-point?
On Phuket, PADI, the world's largest scuba diver training agency, and Project AWARE Foundation, a nonprofit environmental organization, is launching a collaborative "Dive for Debris" event, with around 25 PADI Dive Centers putting aside their profits, digging into their own pockets and attempting to make a difference with Phuket's biggest reef cleanup.
Project AWARE Foundation is a nonprofit group established to organize divers and make a positive impact on the world's oceans. The foundation established its first International Cleanup Day in 1993, with divers participating in thousands of cleanups.
According to Project AWARE's website, "Cleanup dives from the past 18 years have been a true inspiration, placing scuba divers in the spotlight, key to addressing debris issues on a global scale."
The Phuket Gazette sat down with Thailand's West coast PADI Regional Manager and Project AWARE Ambassador, Tony Andrews to get a better grasp of the event and the impact it will have on Phuket's reef systems.

Phuket Gazette: There are dozens of cleanup projects every year on Phuket, what makes the project you are working on special?
Tony Andrews: Okay, what I think you've got to realize is that every PADI dive center here does underwater cleanups and they do beach cleanups, reef cleanups and reef checks independently. What makes this one special is that we've got about 25 official PADI centers on Phuket and we're bringing them all together to do one massive reef cleanup. But more importantly we're going to document and report exactly what we find under the ocean.
We're hoping to get about 200 divers in the water on two islands [Koh Racha Yai and Noi].
To collect all that information about what debris is down there and lift it up in this quantity has never been done on Phuket.
Getting every dive center, especially the PADI centers to work together is fantastic.
What's going to be the goal? How will you measure your success with this event?
The level of success will be based on how much rubbish lifted off the reefs we can document. At the moment we have 10 dive boats.
Each dive boat is going to be assigned part of the reef to be cleaned. Now, what we're going to do is submit the data that is collected on the day [to Project AWARE's database]… So if we're talking about 10 vessels and 200 divers [then] we're talking a minimum of 10 documented marine debris data cards that we'll present to the rest of the world and of course… the local authorities here in Thailand.

So, the information that is being collected is being added to Project AWARE's larger marine debris database. Now, what's the goal of that database?
To make the world aware that we need clean, healthy reefs… We've got to educate locals, Westerners, businesses, divers, everybody, and say, 'Look we've got to look after the reefs we've got, because without them everything is just going to shut down.'
Our combined work in collecting, using and sharing data is fed into data that is submitted from divers all around the world.
Conservation cannot be done in isolation. That's why all our divers here in Phuket together with Project AWARE can play a critical, deciding role in marine debris abatement efforts. Our data will support the development of coordinated policies and strategies to tackle marine debris at every point.
What dive boat operators and shops are part of this cleanup?
Okay, it pleases me to say that all of the big PADI five star IDC centers, PADI five centers and PADI dive centers have donated their boats.
We've got two live-aboards going out. One vessel is from Khao Lak Scuba Adventures. They've donated their boat, which is doing an overnight trip on Koh Racha Noi for professionals [divers] only. Their target will be to lift some of the big stuff, such as car tires and so on.
All the other boats going out are day boats… so anyone can feel free to join. As I said before, we're talking roughly 200 divers that can be taken out there, though I'm hoping that if people want to donate more boats they will feel free to contact us.

What's your function in the project? What role are you playing?
My main goal is to unite these dive centers, because the importance of looking after these reefs is in everybody's interest.
From a business perspective, if your reefs go, obviously you're going to lose your business. People are going to be out of their jobs, and that has big consequences, not just for the diving industry but for tourism too.
So, my main goal is to be a mediator in the project.
I don't own a business here. I work for PADI. So, as a neutral person I can bring people together and drive the project forward as a PADI Regional Manager.
Now, PADI is a main corporate sponsors of the event. We're going to support these efforts and assist the dive businesses so their out of pocket expenses are reduced.
I think you've really got to emphasis the fact that these PADI centers are closing their business for one day. They are losing money to donate their boats; they're putting their hands in their pockets for fuel and food costs. That loss of business for one day is quite substantial for Phuket. So, if you're talking about ten of the biggest dive boats on the island going, wow, that's pretty impressive.
But they are doing this because they understand and believe in the difference divers can make.
We're all honored and proud to be part of this event and fly the conservation flag for Phuket.
What are some of the difficulties you've run into when coordinating the efforts of all these dive centers? Everyone is PADI, but at the same time they are direct competitors…
You've got the main centers that have jumped at the chance, because they want to help Phuket; they want to help the dive industry, but what I would like to see is some of the smaller dive centers come on board.
You don't necessarily need to have a boat to do this. A lot of people think that you have to have your own boat to be on board with the project. If you want to get involved just email us or contact the Gazette [isaac@phuketgazette.net] and come on board.
There are still some companies out there that could attend the meetings and say, 'Yeah we're going to help.' They've been in business here for many years. It's time to give something back to Phuket, and especially give something back to the diving community.
Everyone is trying to determine what price they can send their dive boat out for and still turn a profit. Now they came together for a meeting and leveled with each other to make this work. How did that meeting go?
The meeting was great.
They all came, and if the owner wasn't there, they sent a representative that
— Isaac Stone Simonelli

Join the conversation and have your say on Thailand news published on The Thaiger.
Thaiger Talk is our new Thaiger Community where you can join the discussion on everything happening in Thailand right now.
Please note that articles are not posted to the forum instantly and can take up to 20 min before being visible. Click for more information and the Thaiger Talk Guidelines.