Profile: The man who met the King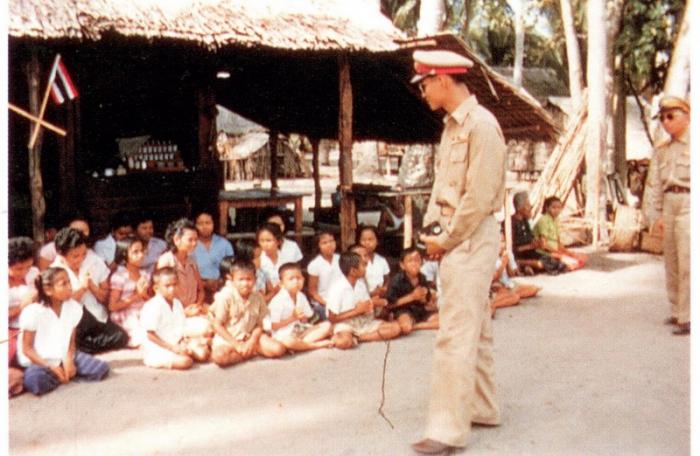 PHUKET: Ngeem Damrongkaset is a member of Rawai sea gypsy community. Now in his 70s, he had a chance to meet His Majesty King Bhumibol Adulyadej when he first visited Phuket in 1959.
"I was about 12 years old at the time," says Mr Ngeem. "I can still picture it clearly. Every person in our community had gathered together and was anxiously waiting to meet him. I remember feeling so blessed on that day – it was the most important day of our lives. He was the Father of the Nation, and he came to see us – poor people, who did not even have a place to call home."
Mr Ngeem recalls the excitement of that day with a feeling of gratitude.
"Some adults presented His Majesty with marine creatures they had caught. It was the best we could do, as we could not afford anything else. He accepted all the gifts with his own hands. He even drank water which the community members gave him. I do not think this is something any other King would do," he says.
"His Majesty and Her Royal Highness Queen Sirikit were graceful and respectful in all the things they did. It really was the best day of my life and I have never felt such joy and veneration in my life," he adds.
Mr Ngeem says he has been shocked and grieved ever since he heard the news of His Majesty's passing.
"His Majesty worked tirelessly for the country his whole life. He never stopped or took a day off from his duties. His presence and guidance were a huge blessing for the whole nation," he says.
Mr Ngeem was born and raised in the Rawai sea gypsy community. He has never been anywhere but the sea, which is the only means of living for his family and community.
He attended a local school called Wat Sawang Arom School, which is located inside a temple close to where he grew up.
"All the kids in my community went to the same school, as they could not afford to enroll anywhere else and were certain to grow up to be fishermen anyway," he says.
Mr Ngeem says he and his fellow community members try to follow the example His Majesty set for everyone.
"His Majesty worked hard and never complained about it. He helped poor people and enabled them to be self-sufficient. I will strive to keep on doing good things to honor him and his legacy," he says.
Although Mr Ngeem is no longer in a leadership position in his community, he says he does what he can to help his community members.
"In my role as an elder of the community, I sometimes see some inappropriate things, and do whatever I can to set things right when it is in my power. The best I can do is give advice and let people know what is right and what is wrong. The rest is up to them," he says.
Mr Ngeem feels that a lot has changed since others from outside the community have settled in the area.
"Earlier, we used to be just fishermen, but now the trend of other types of employment has taken hold. We are who we are, but there is nothing I can do if our younger generation doesn't want to follow in the same footsteps. It is their future, so they must be the ones to decide," he says.
"Ultimately, we must follow His Majesty's advice of doing our duty to the best of our abilities. He will always be in our hearts – our great King, the King of Kings."
— Chutharat Plerin


Have something to say? Scroll down to leave a comment, or visit our Thaiger Thailand Q&A Forum to discuss people, events, to-do and more with the local community.

Happy Birthday to Her Majesty Queen Sirikit, the Queen Mother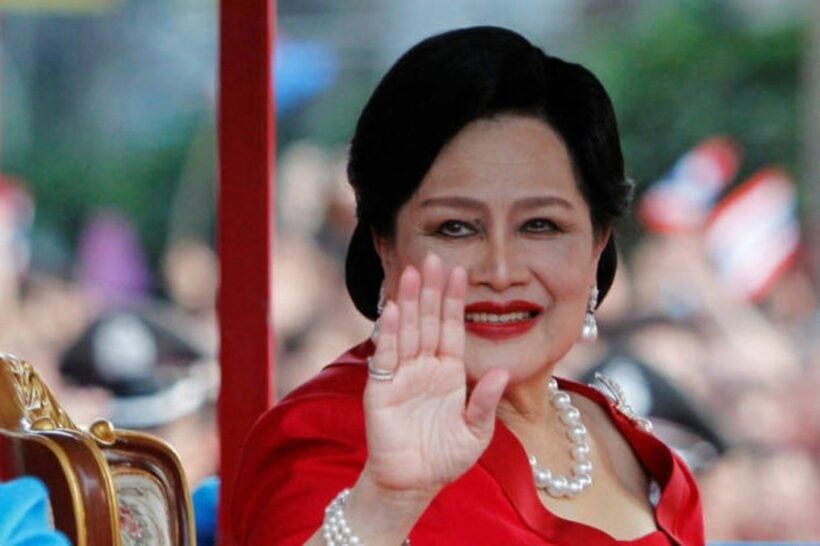 Today is the birthday of Her Majesty Queen Sirikit who was married to King Bhumibol Adulyadej. Following the Coronation of His Majesty King Maha Vajiralongkorn, her son, and his marriage to the new Queen Suthida, Queen Sirikit has now been bestowed the title of Queen Mother.
Her Majesty Queen Sirikit is the daughter of His Highness Prince Chandaburi Suranath (Mom Chao Nakkhatra Mangkala Kitiyakara) and Mom Luang Bua Kitiyakara (nee Mom Luang Bua Snidwongse).
She was born on August 12, 1932.  She attended kindergarten class at Rajini School, but subsequently went to St. Francis Xavier convent school at Samsen District in Bangkok.  Her father later on became Thai Minister to France, then to Denmark and, ultimately, Ambassador to the Court of St. James in England.  Her Majesty accompanied him and continued her general education in the three countries and lastly in Switzerland.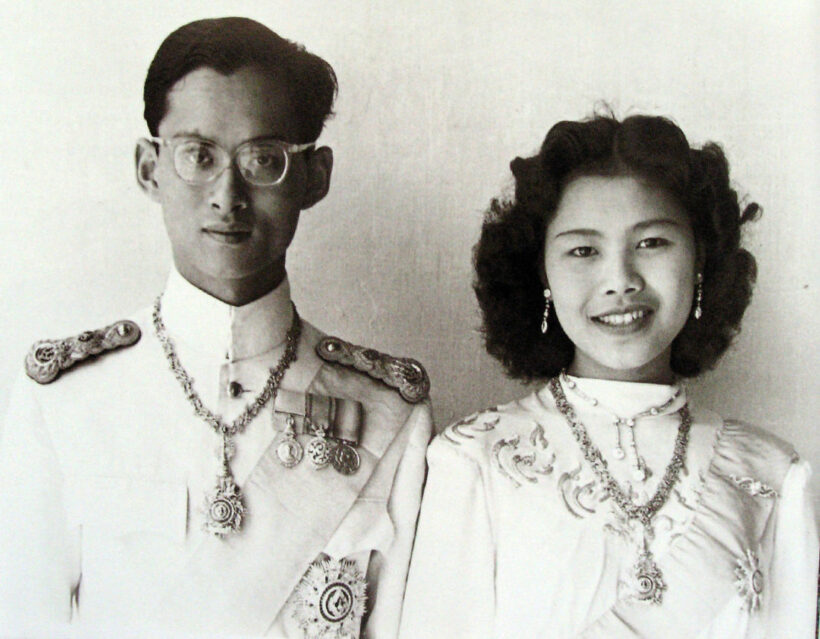 It was while her father was stationed in Paris that she first met His Majesty King Bhumibol Adulyadej, who was then studying in Switzerland but went now and then to Paris.  The chance meeting in Paris ripened into friendship and understanding.  When His Majesty met with a very serious motor accident in Geneva, Switzerland, and had to stay in a hospital at Lausanne, Her Majesty was a frequent visitor.
When His Majesty was well again and left the hospital, he was graciously pleased to arrange for Her Majesty to continue her studies at Riante Rive, a boarding school in Lausanne.  On July 19, 1949, Their Majesties were quietly engaged in Lausanne.  On March 24, 1950, Their Majesties landed in Bangkok by ship after a long absence.  On April 28 of the same year, the royal wedding took place at Pathumwan Palace.
The couple had three daughters and one son:
Princess Ubolratana Rajakanya (born 1951), married and divorced American businessman Peter Jensen, had two daughters and one son, their son was killed in the 2004 tsunami.
King Maha Vajiralongkorn (born 1952), married Suthida Tidjai just days before his Coronation this year. He has seven children from previous marriages.
Princess Maha Chakri Sirindhorn (born 1955), unmarried.
Princess Chulabhorn Walailak (born 1957), married Virayudh Tishyasarin, an Air Vice Marshal in the Royal Thai Air Force, had two daughters, divorced.
In 1956, King Bhumibol became a Buddhist monk for a period of time as is customary for Thai Buddhist males and Queen Sirikit served as Regent. Because of the excellent way she served as Regent, King Bhumibol gave her the style "Somdet Phra Nang Chao Sirikit Phra Borommarachininat" which would translate to Queen Regent.
Queen Sirikit is well known for her charitable work. She has been President of the Thai Red Cross Society since 1956. Through the Thai Red Cross, the Queen has been active in relief work for the many refugees from Cambodia and Burma in Thailand. The Queen took an active role in the aftermath of the tsunami disaster in southern Thailand in December of 2004. Tragically, the tsunami took the life of her grandson Bhumi Jensen, the son of her eldest daughter.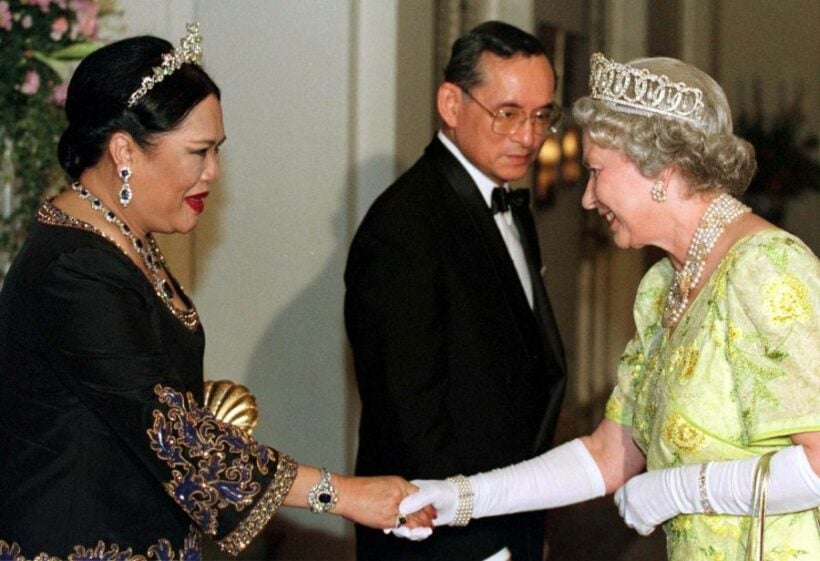 The health of King Bhumibol Adulyadej declined in his later years. The king resided at Siriraj Hospital in Bangkok for several years and Queen Sirikit also moved to the hospital to be with him.
On July 21, 2012, Queen Sirikit felt unsteady and staggered while exercising at Siriraj Hospital where King Bhumibol Adulyadej resided. Doctors determined that she has suffered a stroke. The Queen was not seen in public until August of 2013 when the King was discharged from the hospital. Since then, Queen Sirikit has refrained from making public appearances.
King Bhumibol Adulyadej died on October 13, 2016, at Siriraj Hospital in Bangkok, at the age of 88, following several years of illness.
Mothers Day in Thailand has been traditionally held on Queen Sirikit's birthday, and now with her new role as Queen Mother, the tradition continues.
Long live Queen Sirikit, the Queen Mother.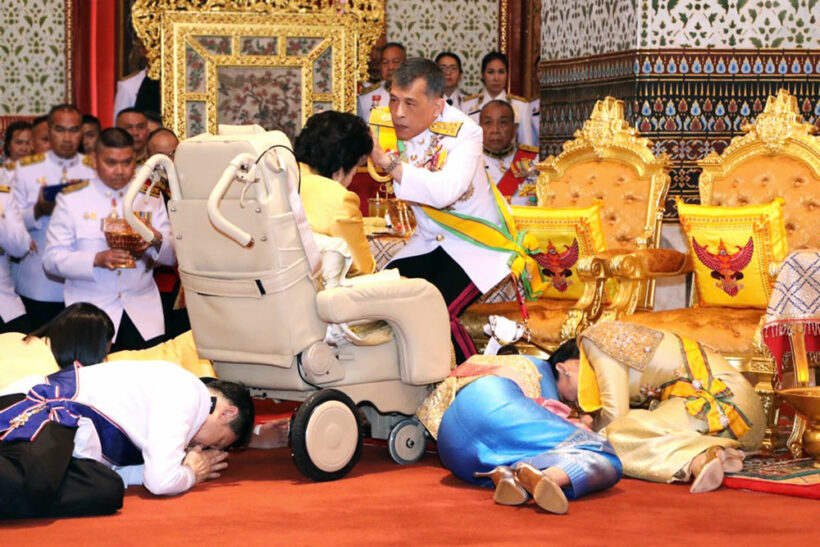 HM the King bestows the new role on his mother, Queen Sirikit, the Queen Mother, on the day after his coronation
The Royal Thai Army is fighting a hybrid war – Gen Apirat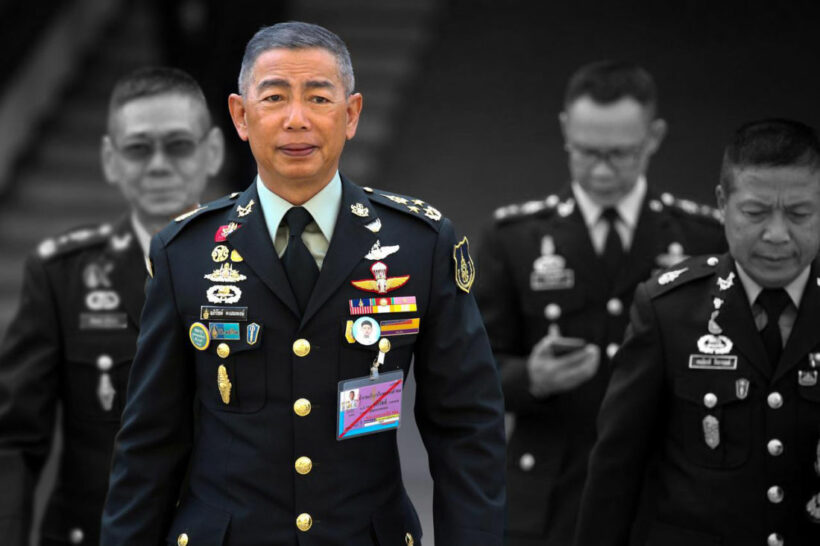 ORIGINAL PHOTO: Reuters
"The threat now is fake news."
The Thai army chief General Apirat Kongsompong says that the army is now fighting a new hybrid war against enemies who are trying to turn young Thais against the military and the monarchy.
He was speaking to Reuters in a follow up to the bomb attacks around Bangkok seven days before (August 2). The General believed that the attacks had been timed to coincide with ASEAN meetings in the capital to "embarrass and undermine" the new Government.
General Apirat believes the army was now fighting a struggle that he compared to the war against the communist insurgency in the 1970s and '80s, but he said the challenges now are propaganda disseminated on the internet. The General's father was also an army chief who led a coup in 1991.
"It's like cyber warfare. And when it combines with the (bombing) incident that happened last week, it's like hybrid warfare.
"Now it is not just an open enemy like the old time. So we have to reorganise and improve our knowledge, and reorganise our units and many things to maintain peace and national security."
He used his interview with Reuters to disparage the opposition parties in the new parliament.
"Some political parties, just born a couple of years ago, had the platform of their propaganda directed to people when they were 16 and 17. They try to educate them with fake news."
He was clearly directing his comments towards the Future Forward party, formed in March 2018. The party emerged from nowhere with strong performances in the March 2019 election (getting the third highest numbers of primary votes). The leader of Future Forward, Thanathorn Juangroongruangkit, ran against the existing PM Prayut Chan-o-cha in the two-way contest for the position of prime minister in the new government. He lost the vote narrowly.
General Apirat say the new party specifically targeted young voters and is now allied with Pheu Thai, which was leading the government before being tossed out of the office in in the 2014 coup.
Whilst noting that none of the opposition parties had advocated violent against the army or government, he noted that police believed last week's bombings were "linked to political issues".
Despite his politically charged comments in the Reuters interview, General Apirat vowed that the military would stay out of politics and said there would "be no coups under his watch".
"As long as I am in this position I will never let the army cross the line. After the election, the army has to step back."
KL's Petronas Tower architect Cesar Pelli dies at 92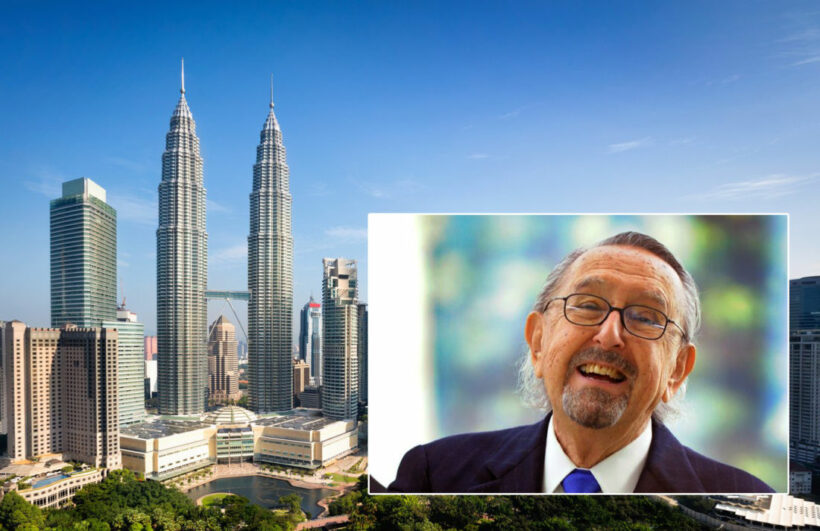 "It is with great sadness that we announce the loss of our founder, mentor, and great friend, César." – business partner Fred W. Clarke.
From Malaysia to the US, famed architect Cesar Pelli, known for his innovative skyscrapers and use of coloured glass, has died at the age of 92.
"He was a gifted architect and teacher, two callings he effortlessly combined as one. I am profoundly grateful to my great friend and partner," said Fred W. Clarke.
Among 300 other awards, Argentine-born architect Cesar Pelli won the Aga Khan Award for Architecture for designing the Petronas Towers in Kuala Lumpur. The Pacific Design Centre in California opened in 1975, but is still viewed as an example of cutting-edge architecture. Pelli also designed New York's World Financial Centre, now called Brookfield Place.
But much of Pelli's legacy endures not in his buildings, but in his teachings. He served as dean of Yale University's School of Architecture in 1977 to 1984 and wrote several books on his approach to architecture.
"He was a warm and gracious man, a civilizing presence in his life and his work, an architect of great dignity and lively creativity who did as much as anyone in the last generation to evolve the form of the skyscraper" – Architecture critics like Paul Goldberger.