Profile: Yoga for peace of mind, body and soul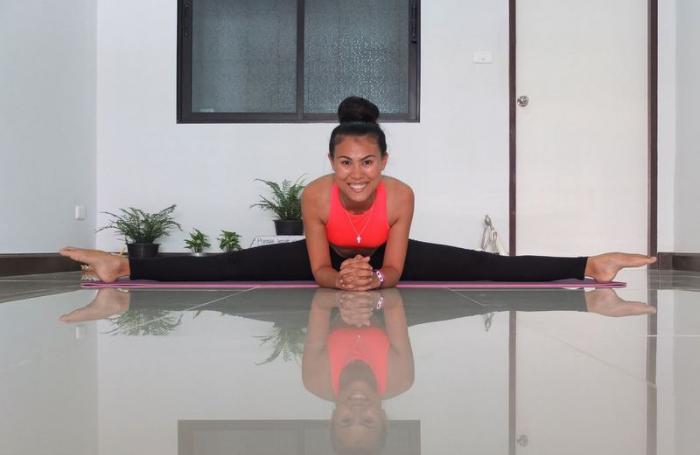 PHUKET: Kanokwan Borunphan, 26, is a yoga instructor in Phuket. Although she started out in the field just two years ago, she already has her hands full with classes and students of various ages.
"I love yoga and practice it every chance I get. When I first started out, I took classes in Phuket Town for two months, but it was very inconvenient to travel there so I took it up on my own. I watched videos and tutorials to perfect my craft and pretty much taught myself to do it," says Ms Kanokwan.
"I used to have a lot of health problems before, including allergies to dust, trouble breathing because of lung issues, back pain and shoulder pain. Once I started practicing deep breathing with yoga, all my health issues just disappeared."
Originally from Chiang Mai, Ms Kanokwan first moved to Patumthani to study Management Sciences at Valaya Alongkorn Rajabhat University, where she received a full scholarship and trained for the Thailand National Athletic Team as well. She then moved to Phuket to work as a stewardess on a private yacht.
Although she says she enjoyed both aspects of her professional life, yoga was her true passion and she did what was needed to make a full-time move as an instructor. She now teaches yoga at gyms, private hotels and villas, and also at her own studio.
"In order to provide a quality service, I teach a maximum of five people in one class. I want to accommodate everyone, but if the classes are too big I won't be able to give everyone individual attention," says Ms Kanokwan.
"I'm there to guide people as best as I can and help them find the style that suits them best. There are a lot of instructors and everyone has their own style, so it's never about right or wrong. It depends on what style suits you."
Ms Kanokwan says that one of the best aspects of her job is helping people manage pain.
"The most common problem with my students is lower back and shoulder pain. It takes two to three months to see a real improvement, but when my students come and tell me how good they feel, it's the best feeling in the world for me," she says.
Her students vary widely in age, with the youngest being six and the oldest being 52.
"People always find excuses not to do something. They say they want to do yoga, but they're not flexible. If you're flexible to begin with, why join a class? Other times they say 'I really want to do it, but I don't have the time. I feel that if they substitute an hour of television with something like yoga, it will be much more beneficial for their mind and body," says Ms Kanokwan.
Despite her busy schedule, Ms Kanokwan finds time to travel, which is one of her passions.
Her advice to anyone who wishes to try yoga, or anything new in life, is to stop giving yourself reasons not to do it.
"People love taking pills for every little problem. Pills might temporarily stop the pain by making you sleepy, but they don't fix what's really wrong with you," says Ms Kanokwan.
"As you practice yoga, you learn a lot of things about your body. For example, what muscles you utilize when practicing a particular posture. As you learn more about your body, you can use it for your benefit."

— Zohaib Sikander
Keep in contact with The Thaiger by following our Facebook page.
Never miss out on future posts by following The Thaiger.
The man who broke the sound barrier – the man with The Right Stuff – dies at 97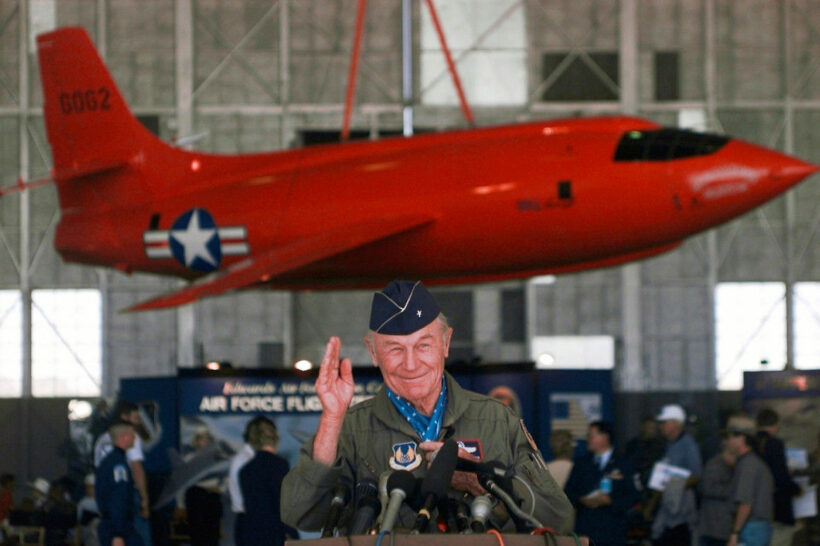 For a time he was the fastest man on earth. He was the first man to travel faster than the speed of sound – about 1,235 kilometres per hour. And he did that in 1947. But Chuck Yeager, the man with "The Right Stuff", has died at the age of 97. Chuck became one of the world's most-renowned test pilots after WW2. Yeager tested rockets, experimental crafts and rocket-powered machines.
He was a US Air Force officer and test pilot who broke the sound barrier when he tested the X-1 in October 1947. His second wife, Victoria, announced on Twitter that the World War II flying ace had died on Monday night, US time.
"An incredible life well lived, America's greatest pilot."
Yeager had been living in Northern California but died in a Los Angeles hospital. His legacy captured later generations as well, being featured in the book and 1983 film, "The Right Stuff."
John Nicoletti, Chuck Yeager's friend and ground crew chief said that "It is a sad day for America. After he broke the sound barrier, we all now have permission to break barriers."
Yeager had been through some physical challenges in recent years and had a fall that led to complications and other issues.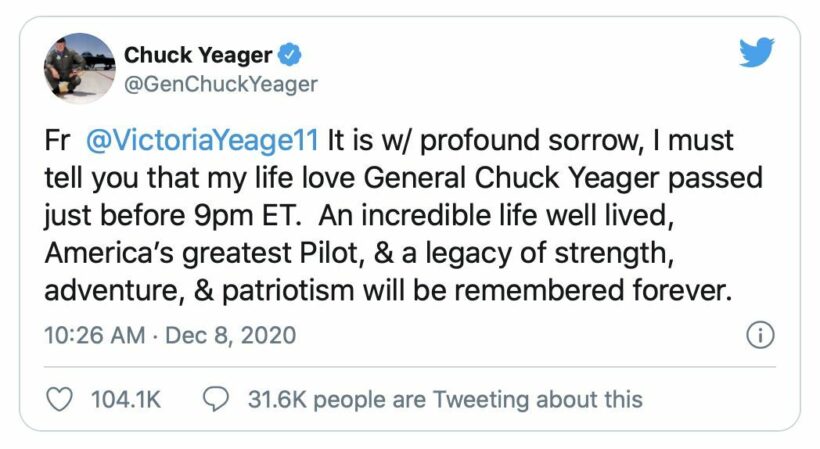 He was born in 1923 and raised in West Virginia. He enlisted in the Army Air Corps at age 18 in 1941. In 1943, Yeager was commissioned a reserve flight officer before becoming a pilot in the fighter command of the Eight Air Force stationed in England.
During World War II, he flew 64 missions and shot down 13 German planes.
His friend Nicoletti explained that many didn't make it through World War II. "Most didn't make it through the early days of test piloting, The odds of survival for Chuck were as narrow as the odds of America gaining its own freedom."
Yeager was shot down over France in March of 1944 on his eighth combat mission but was able to evade capture with the help of the French underground. He returned to the US in 1945 and married his wife Glennis, for whom he had named several of his fighting aircraft.
Following the war, Yeager became a flight instructor and a test pilot, working as an assistant maintenance officer in the Fighter Section of the Flight Test Division at Wright Field in Ohio. He was also asked to perform in airshows as well as service trials for new planes. In 1946, Yeager was hand selected to be a student at the new test pilot school at Wright Field.
Here he would be the first to fly the highly experimental, rocket-powered Bell X-1. After months of flights with the X-1, Yeager broke the sound barrier with his aircraft, which he named the Glamorous Glennis on October 14, 1947, over Rogers Dry Lake in Southern California.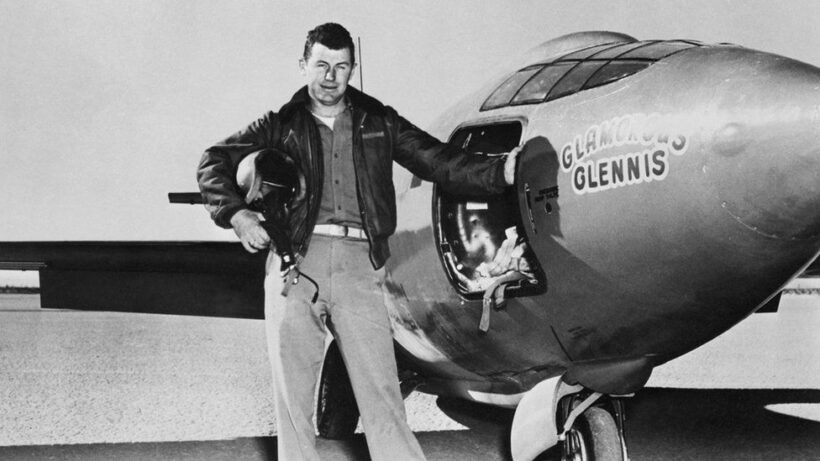 The X-1 reached Mach 1.06 (1.06 x the speed of sound), making Yeager the first man to travel faster than the speed of sound and earning him the title of "Fastest Man Alive." He would continue to test planes, push barriers and help to plant the seeds of the supersonic age which would come about a decade later.
He then returned to operational flying in 1954, taking over command of the 417th Fighter Bomber Squadron and being stationed at Hahn Air Base in Germany, and then at Toul-Rosières Air Base in France. In 1957, Yeager returned to California and took over command of the 1st Fighter Day Squadron at George AFB.
He became commandant of the Aerospace Research Pilot School where he presided over the development of a first of its kind institution designed to prepare US military test pilots for spaceflight. The program trained the astronaut who would go on to fly in the Gemini, Apollo and Space Shuttle programs.
Throughout the 1960's, his position in the Air Force took him to the Philippines, Vietnam, Thailand and Korea.
Yeager retired from the Air Force with the rank of Brigadier General in 1975, having flown 10,131.6 hours in some 361 different types and models of military aircraft over the course of his career.
While his official service was over, Yeager continued to be a valued adviser for government and aerospace industry. In 1997, at age 74, Yeager commemorated the 50th anniversary of his milestone flight in the X-1, by flying in an F-15 Eagle.
What an extraordinary career! Chuck Yeager straddled one of the most exciting times in world history when powered flight revolutionised the way we live. Whilst we now take a flight in a plane as an almost ho-hum experience, the planes and rocket-powered machines that were flown by Yeager and his contemporaries were clunky, experimental and dangerous. His skills and grit helped the designers and engineers break through the barriers of aviation to path the way for the aviation industry we have today.
Vale Chuck Yeager, the man with The Right Stuff.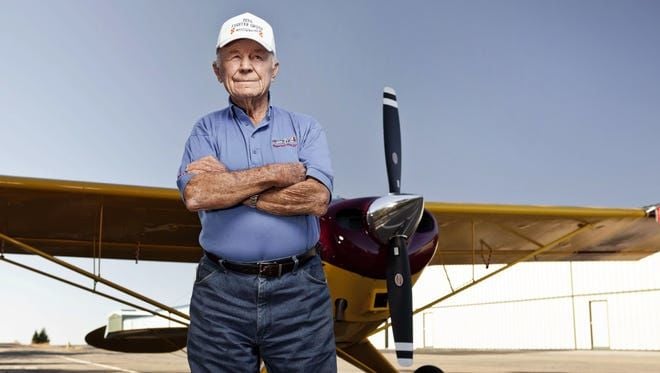 SOURCE: chuckyaeger.com
Keep in contact with The Thaiger by following our Facebook page.
Never miss out on future posts by following The Thaiger.
Tracking down "The Beach" – the inspiration for the 2000 Hollywood movie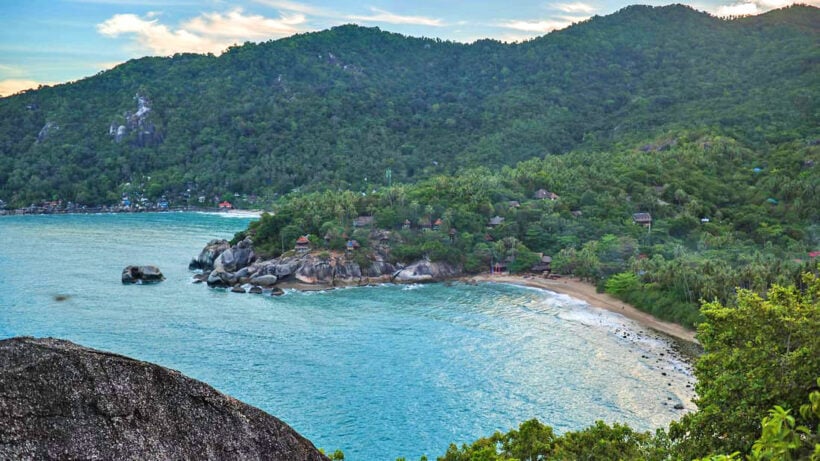 Tourists flocked to Maya Bay, you know 'The Beach' featured in the 2000 movie starring Leonardo de Caprio and directed by Danny Boyle. Since 2000, the tourist magnet on Koh Phi Phi Ley became a Mecca for the back-packer crowd followed by a mass tourist flock, bringing some 5,000+ tourists to the small bay every day at its peak.
In June 2018 Thai marine officials and the management of the national park controlling the Phi Phi islands banned visits to Maya Bay. The pilgrimage to The Beach was over and the environmentally abused bay got a chance to recover.
But Maya Bay, used in the film, wasn't even the inspiration for the original novel that spawned the film. The 'actual' beach was, probably, a secluded little stretch of sand on Koh Pha Ngan, on the other side of the Malay Peninsula from Koh Phi Phi Ley, in the Gulf of Thailand near Koh Samui.
Michael Doyle started visiting Koh Pha Ngan in the mid 1980s, chilling in rustic beach bungalows as a break from being a psychiatric nurse in Australia.
Speaking to CNN, he said that he moved to Haad Rin at the southern tip of the island, at the time nurturing an international hippie scene fusing raves with tai chi, yoga with mind-opening drugs. By the end of the decade Haad Rin had started attracting a regular, well monthly, visit to the Full Moon Party. The spiritual awakening of the Full Moon Party eventual became mind-expanding for a host of other reasons and then became commercialised into one of the world's best-know beach raves.
It was time for Michael to find another spot on the island.
Further up the coast he was invited to "The Sanctuary". It could only be reached by boat or a hike through the rocky headlands of the Koh Pha Ngan coastline.
"As we came over the first hill, the sight of a crystal-white beach below, without anyone on it, was pure magic."
But they hadn't even reached The Beach at that stage. They had to hike further.
"We glimpsed the second bay just before sunset. Walking down from there, I felt as if I were passing through some kind of invisible membrane and I realised, well, my life has changed.'"
The Sanctuary was just a dormitory, a few bungalows and an open-air cafe. Michael stayed on for 3 months along with a handful others who helped build more beach bungalows.
Two other 'locals', Gill Beddows and Steve Sanders, decided to establish The Sanctuary after becoming disillusioned with the commercialisation at Haad Rin.
Their tropical beach paradise is actually Haad Thian (Mangrove Beach). The bay was under the control of a single Thai family, making it easier to negotiate a lease of the land to build The Sanctuary. They started building it in 1990.
"From the very beginning, we were focused on wellness and spirituality, offering an alternative to the party scenes on other beaches. We wanted it to be a centre for like-minded people to practice yoga and detox."
Mostly mainstream now, Steve recalled that their practices were seen as 'witch craft' 30 years ago.
When the book 'The Beach', by Alex Garland, came out in 1996, Gill and Steve knew it was based around their hidden Koh Pha Ngan commune. The novel traces the fate of a small, loose-knit international commune who establish their own utopian community on a remote Thai beach… sort of 'Lord of the Flies' for Gen X. 'The Beach' would be reprinted 25 times in less than a year. in 2000 the novel was transformed into a $40 million film.
But director Danny Boyle, probably unaware of The Sanctuary, picked Maya Bay as the picturesque 'Beach' for the film.
In the book, Richard, a British traveller, encounters a deranged Scottish backpacker at a guesthouse on Bangkok's Khao San Road (was actually filmed in Phuket at the On On Hotel). He tapes a hand-drawn map to Richard's hotel door before killing himself.
Richard and a French couple trace the map to a hidden lagoon on a beautiful island. They find a utopian colony of hedonistic idealists struggling to keep their idyll a secret. The shots of the 'beautiful hidden lagoon' were filmed at Maya Bay, little known at the time, on Koh Phi Phi Ley. It became a popular day trip out of Phuket or Krabi until it was closed to tourists for rehabilitation in 2018.
In the novel, the building of the hidden beach retreat is supervised by Sal, an American woman with a carpenter boyfriend.
"Of course, this is more than a beach resort. But at the same time, it is just a beach resort. We come here to relax by a beautiful beach, but it isn't a beach resort because we're trying to get away from beach resorts. Or we're trying to make a place that won't turn into a beach resort."
Richard, the fictional character played by de Caprio in the film, says…
"I still believe in paradise. But now at least I know it's not some place you can look for. Because it's not where you go. It's how you feel for a moment in your life when you're a part of something. And if you find that moment, it lasts forever."
When asked if The Sanctuary was the inspiration for 'The Beach' Michael Doyle said he had"fuzzy memories of a guy hanging out in a hammock and just watching the flow of life for a couple of weeks in the mid-'90s".
"And I can put names to a few of the characters in the story, so there's that. It didn't click so much with the book as with the film."
But Gill Beddows said the comparisons were quite obvious.
"As soon as the book came out, I knew. There were just too many coincidences."
And the same problems that beset the community in the film were also happening at The Sanctuary.
"We were living in the hippie belief that everyone could live together, and we didn't need to let the outside world in and let money spoil everything. Gradually reality came in, knowing this wasn't sustainable without income."
Michael Doyle started to manage The Sanctuary in 1998 so that Gill and Steve could look after their other business interests. It already had an excellent reputation as a wellness retreat.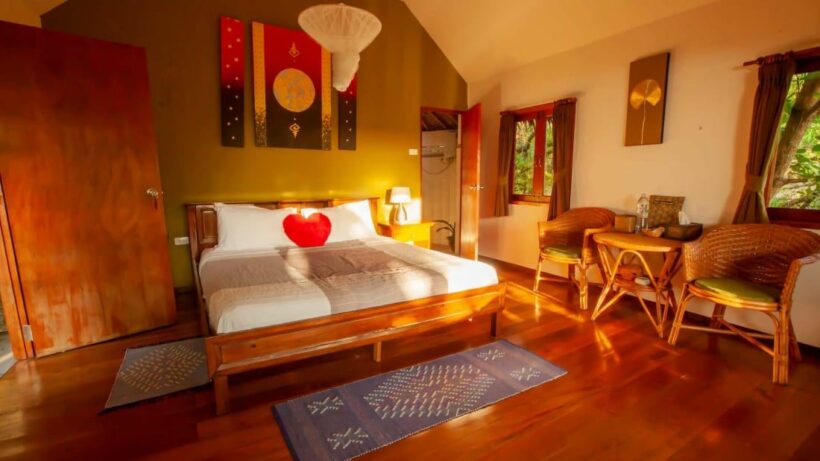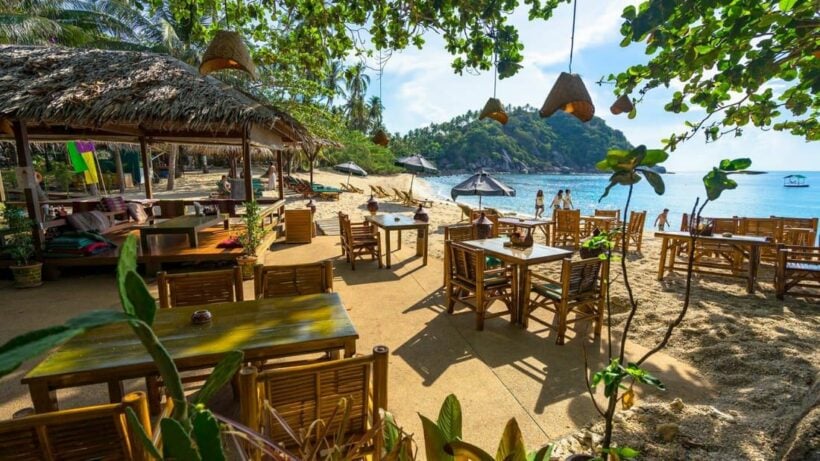 By 2013, The Sanctuary was booked out most of the time and the staff were turning away hundreds of requests for stays over the Christmas and New Year holidays. It's success continued as Koh Pha Ngan grew in popularity as tourists discovered there was more to the little Gulf island beyond the Full Moon Party.
Once Thailand's borders were closed in March this year, The Sanctuary was wrapping up another successful high season. Some gusts promptly left whilst they could. Future bookings were cancelled but others stayed on.
Michael says they had to make a lot of decisions quickly, with the threat of borders closing and people still in-house. They got all the remaining guests and staff in to the main restaurant for a chat.
"We let them know that during the island lockdown, they might not even be allowed on the beach, and that food supplies might get thin. In the end, everyone left except for a couple to whom we gave favourable rates for as long as they stuck it out."
Although many employees headed back to their homes from mid-March the resort continued to operate. The Sanctuary successfully maintained its record of never closing down since its original opening, even in the midst of Thailand's tourist drought.
The Sanctuary now has its own TV channel, streaming both live and taped events and a web page, Sanctuary Wellness Live.
As for the actual 'Beach', the secluded resort maintains aa steady stream of Thais and expatriates living in Thailand. There are still yoga classes, spa services, meditation, healthy dining and detox programs, plus the beautiful bay, and The Beach.
You can find out more about The Sanctuary Thailand HERE.
The last words are from the protagonist Richard from the novel The Beach…
"This is where the hungry come to feed. For mine is a generation that circles the globe and searches for something we haven't tried before. So never refuse an invitation, never resist the unfamiliar, never fail to be polite and never outstay the welcome. Just keep your mind open and suck in the experience. And if it hurts, you know what? It's probably worth it."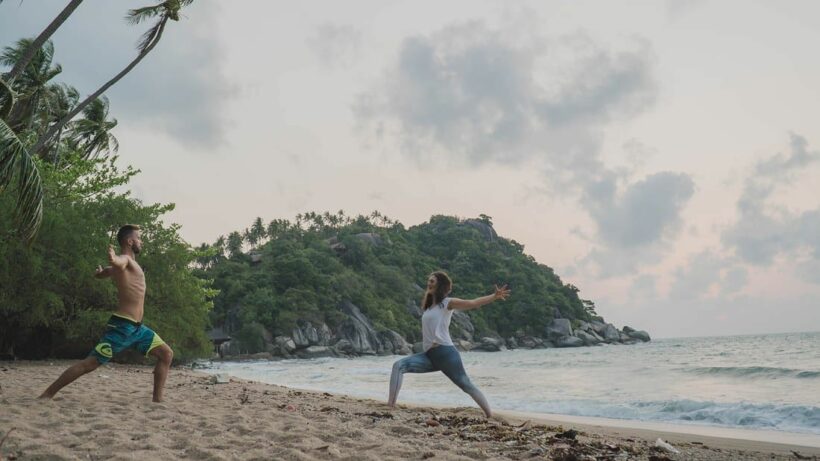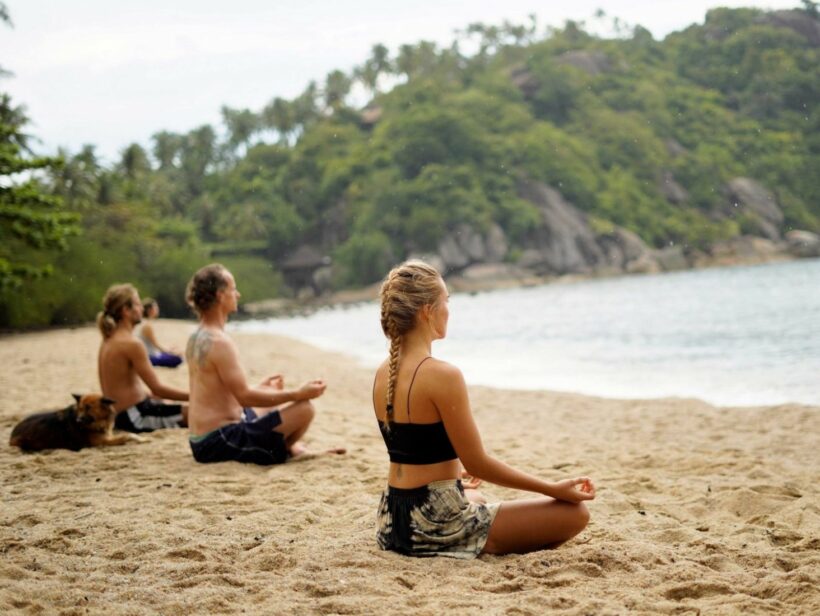 The story originally reported on CNN.
Keep in contact with The Thaiger by following our Facebook page.
Never miss out on future posts by following The Thaiger.
The Isan Project honours a hero of Tham Luang cave rescue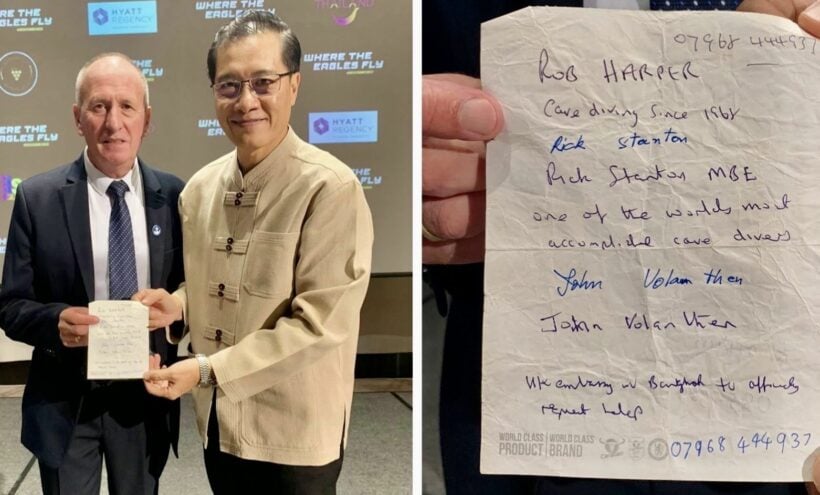 The Isan Project has collaborated with the TAT on new marketing campaign featuring music commemorating the Tham Luang cave rescue.
The story of how 13 young men, members of the Mu Pa (Wild Boar) football team, were saved in the caves of Chiang Rai continues to ignites interest in the miraculous internationally-followed rescue in July 2018 from the flooded Tham Luang cave
To honour the safe rescue music video company The Isan Projectrecently launched "Where the Eagles Fly", video to pay tribute to the British hero of the dramatic saga, Vern Unsworth MBE.
The release of a movie and Netflix mini series shortly will also boost interest globally in Thailand. The series includes the first individual interviews with the boys and they coach.
The launch, in collaboration with the Tourism Authority of Thailand, and supported by the Hyatt Regency Bangkok Sukhumvit and Serenity Wines, was attended by several key persons involved in the rescue mission two years ago, including former Tourism & Sports Minister, Weerasak Kowsurat, who played a major role in flying in special cave divers from the UK as requested by Vernon Unsworth, a recognised cave explorer, who knows virtually every inch of the Tham Luang cave.
"It is absolutely true that without Vernon's persistence in obtaining the help from the UK cave diving experts to initially spearhead the rescue mission, the boys and their coach would not be alive today."
"Needless to say, assistance from experienced and skilled cave divers from around the world, who later volunteered to join as well as our own Navy Seals, all contributed to the mission's ultimate success."
Vernon Unsworth MBE, his partner Woranan Ratrawiphakkun, and his caving buddy Kamon Kunngamkwamdee, all starred in the "Where the Eagles Fly" fantasy music video, which was set in deep jungle and caves in the mountain of Doi Nang Non in Chiang Rai, Thailand.
"I'm truly honoured to have this song written about me. It was very moving to relive parts of the rescue while making the music video, especially when I think back on how Kamon and I covered over 16 km. on the first day after we knew the boys were missing. We virtually lived in the cave for the first 4 days prior to the arrival of my cave diving colleagues from the UK".
The story of how the football team were saved in the caves is a heart warming one. For many attending the event it was a privilege and an honour to meet 63 year old Vernon Unsworth in person. An event filled with stories of bravery, emotion and moving music.
Vernon, who has mapped the cave system for 8 years, was the first professional cave diver at the site and realising the enormous danger the boys were in, played a significant rôle in the rescue and earned him the UK's high honour, an MBE medal.
As the rescue became a race against time ahead of impending monsoon rains, Vernon undertook reconnaissance dives upstream through flooded passages against strong currents.
Weerasak Kowsurat, the former Minister of Tourism and Sports, recalled how a message written on a piece of paper by Vernon and handed to his colleague for safe keeping with instructions that it was to be handed over in case Vernon, fearing the worst, didn't make it out on an exploratory dive. It was very dangerous work and one Thai diver died during the course of the rescue.
Although Vernon was safe, the message was handed to the Minister who was at the cave site. The message was to contact the British Dive Caving Association and gave names of expert divers and telephone numbers. Within 24 hours the Tourism Minister had managed to get the UK divers on a hastily arranged flight to Thailand to assist in the rescue effort.
The team of UK divers, working under appalling conditions and with time running out, in poor visibility located the team marooned on a ledge above the water about 4 kilometres inside the cave complex.
Writer and executive producer of The Isan Project, Will Robinson says… "Although I had penned and produced "Heroes of Thailand" honouring all those involved in the Tham Luang cave rescue, I felt it was time to pay a special tribute directly to the mastermind of the extremely complex mission."
"Vernon is such a humble man, I wanted to create a song not only to honour him, but also to establish Tham Luang and what is now known as the 'Wild Boar Cave', where the boys were found, as a new tourist attraction for those who love to explore caves."
At the beginning of the video it reads…
"On June 23, 2018, 12 boys from the Wild Boar football team went exploring the Tham Luang cave with their coach in Chiang Rai. They never returned home that night, next day locals contacted cave explorer Vern Unsworth in nearby Mae Fah Luang. Over the course of the next two weeks Vern put his life on the line for the young football team with a daring rescue engineered by Vern and Elite British cave divers. This song was written in honour of Vern Unsworth M.B.E. and inspired by the above events."
You can watch the video HERE.
Commenting on the Isan Project Tanes Petsuwan, TAT's Deputy Governor of Marketing Communications said, "TAT appreciates Will's love of Thailand, and we are delighted to be supporting this launch. We also believe that this song combined with the newly-published children's book, "All Thirteen" and the soon-to-be released Hollywood movie, "Thirteen Lives", will help to dramatically boost tourism in and around Chiang Rai even though we will need to rely mainly on domestic tourists until the end of the year while international travel is still restricted."
"Where the Eagles Fly", co-written by Will Robinson and Daniel Ryan, and performed by Daniel himself, is tipped to top the charts when the MGM blockbuster movie, "Thirteen Lives" and the Netflix mini-series about the epic story of the Tham Luang cave rescue are released. The song is now available from all digital music stores including iTunes, Spotify, Apple and Amazon.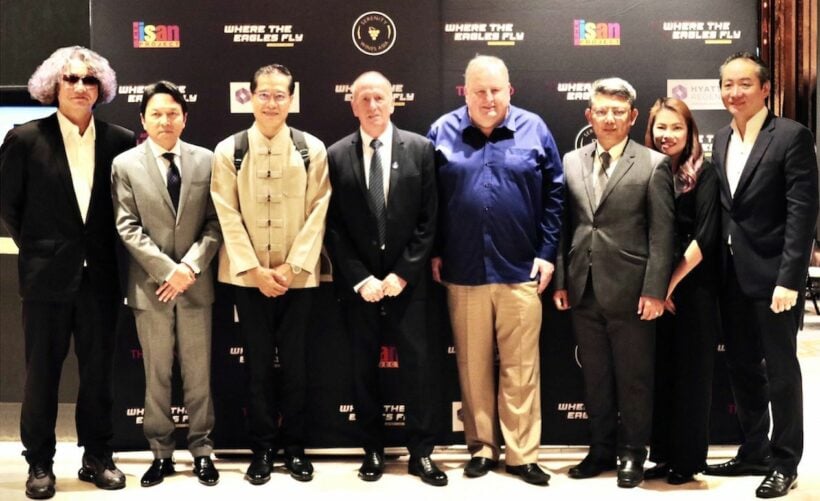 From left: Mr. Sobchai (Ford) Kraiyoonsen Singer/composer, Mr. Tanes Petsuwan TAT's Deputy Governor of Marketing Communications, Senator Weerasak Kowsurat former Minister of Tourism and Sports, Mr. Vern Unsworth British cave explorer, Mr. Will Robinson Writer and Executive Producer of The Isan Project, Mr. Nithee Seeprae TAT's Executive Director of Advertising & PR Department, Ms. Woranan Ratrawiphakkun Vern's partner, Mr. Sammy Carolus GM of the Hyatt Regency Bangkok Sukhumvit
Keep in contact with The Thaiger by following our Facebook page.
Never miss out on future posts by following The Thaiger.