Para-normal Phuket skies: Part II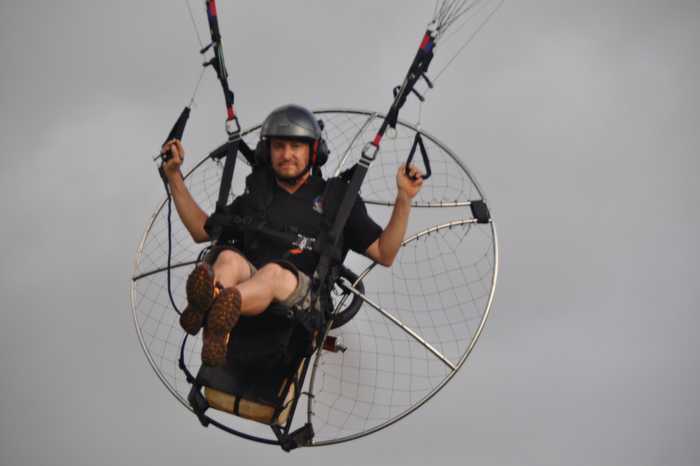 PHUKET: Picking up from where we left off last with "Up in the Air" (story here), let's jump into the effect the southwesterly monsoon-season weather has on paramotoring…
"The weather isn't perfect every day, but when the skies clear the visibility is amazing," explained Sky Club Asia co-owner Paul Derstoff, adding that safety was of paramount importance and that weather conditions had to be monitored closely at all times of the year.
Paul sees a great deal of growth opportunity for the sport here on the island.
"The sport is new to Phuket, and a community will form with our help. We see big potential for Phuket residents taking up this sport as a way of experiencing something new and fun," he said.
To many casual observers, paramotoring appears dangerous, but Paul and co-owner Mark Silverberg insisted that it is much safer than it looks.
"Most people are just not aware how low and slow a paramotor can truly fly. This type of flight is more like surfing is to sailing. Pilots can enjoy the air just one meter above the ground. If you are coming to visit us at the AirPark by motor scooter, I would say that drive is hugely more dangerous than the flight," Paul said with a laugh.
"The only major safety variable is the weather. We fly only in the best conditions, usually early morning and late afternoon. All of our equipment meets and exceeds all EU safety norms and our pilots have years of experience flying in different countries.
Essentially, what we are flying is a big parachute that is designed to glide, even without the motor. Sometimes we turn off the motor in flight just to enjoy the sensation of gliding like a bird through the air," Paul said.
Because of their configurations, paramotors are sometimes referred to as "butt fans" by some enthusiasts.
"We fly 'low and slow', so we feel the winds more than a conventional airplane. In order to get the best out of the day for flying, our time windows are usually from sunrise to about 10am, and from 4pm to sunset. We don't fly unless the wind conditions are absolutely safe," Paul said.
So far, so good for Paul and Mark, who have more than 700 and 3,500 hours of incident-free flying time, respectively.
The team is now preparing for the coming high season, when flight conditions are normally fine and there is more potential to find new pilots on the island.
"We have eight training paramotors. These are fully registered and insured aircraft in Thailand. We currently operate with two instructors in Phuket and two in Hua Hin, but will have more as the high season starts," he said.
One of the biggest misconceptions about paramotoring among the general public is that there are no rules and regulations, and you can go up and do whatever you want, explained the Sky Club owners.
"Actually, there are rules and regulations to follow. You don't need to file a flight plan, but you do need a pilot's licence and airworthiness certificate for your equipment. There are also rules about the airspace and where you can fly," Paul said.
The licensing process can be completed in under two-week's time, and foreigners are allowed to own paramotor assemblies in Thailand.
However, there is still a great deal of room to maneuver and one can fly to a maximum altitude of 1,000 feet anywhere in Phuket, apart from the 10 nautical mile restriction zone around Phuket Airport.
For those who take a test flight and want to get more involved, Sky Club Asia has instructors ready to teach foreigners in English as well as Spanish, French and German.
The company is also a dealer for a full range of equipment, including the aptly named "Xcitor trike" developed by the German-based firm Fresh Breeze.
"Paramotor has evolved from its roots in paragliding and is now actually more of a powered paraglider. Many years of further development has made it one of the safest forms of flying and is great fun for everyone," Paul said.
Adding to the safety is a ballistic rescue parachute that can lower the paramotor to a safe landing in case of an emergency above 100 feet.
For people who want to experience their first feel of paramotoring and have no experience, Sky Club Asia now offers 20-minute introduction training flights with certified instructors for 4,600 baht. Full courses are available for 30,000 baht.
— Somchai Huasaikul
Keep in contact with The Thaiger by following our
Facebook page
.
Out of 37 countries, Thailand has the worst pension system, says Bloomberg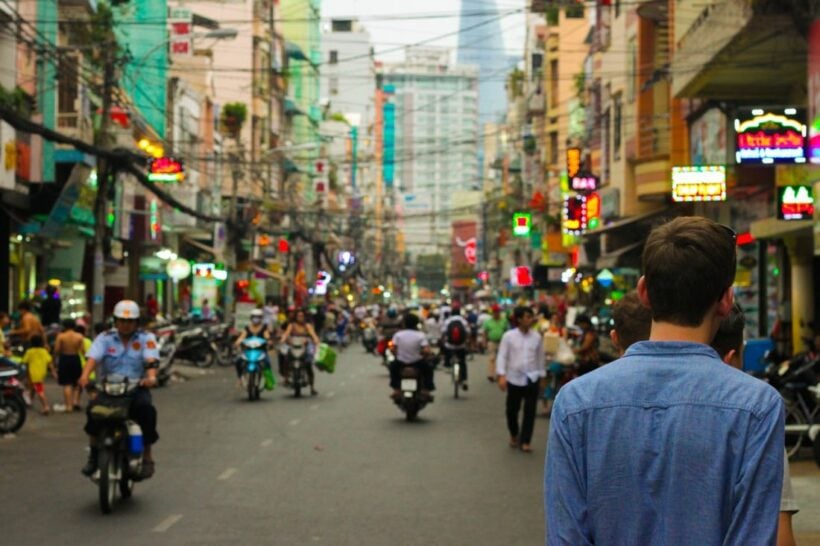 Thai Residents reports that on Sunday, Bloomberg published an article on the world's best pension systems, using information gathered from the 2019 Melbourne Mercer Global Pensions Index.
The survey looked at the pension systems of 37 countries with metrics including employee rights, savings, the number of homeowners, growth of assets, and growth of the economy. The purpose of the analysis was to determine what was needed to improve state pension systems and to gauge the level of confidence citizens had in their state pension system.
The Netherlands and Denmark were found to have the world's best state pensions, with Australia, Finland, Sweden, Norway, Singapore, New Zealand, Canada, and Chile next. Out of all 37 countries, Thailand finished last, with what the report described as an extremely ineffective and ambiguous system.
"Thailand was in the bottom slot and should introduce a minimum level of mandatory retirement savings and increase support for the poorest."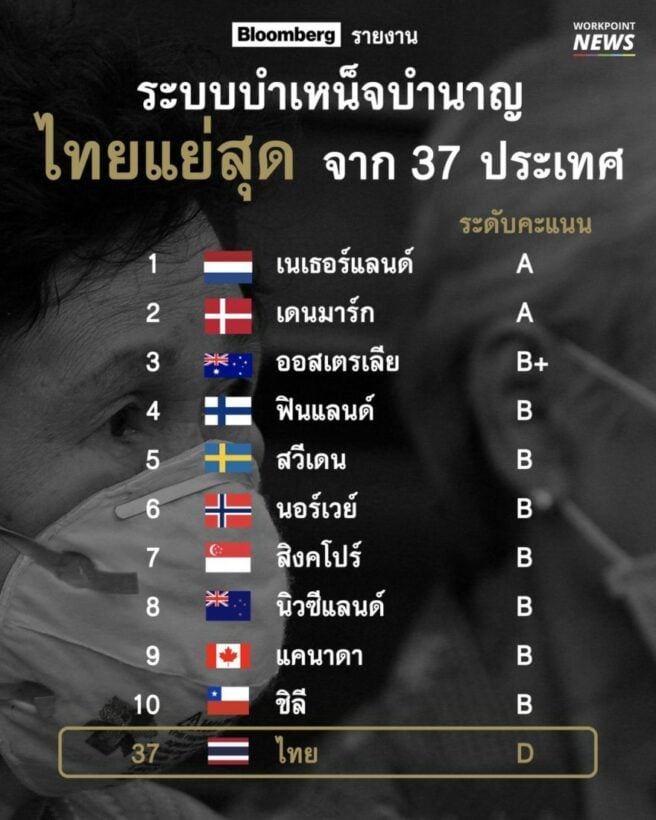 Photo: WorkpointNews
Thai Residents states that only those employed within the government system in Thailand are eligible for a pension based on salary. For most Thai citizens, pension amounts vary from 600 baht to 1,000 baht a month, depending on the recipient's age.
A report carried out by The Securities and Exchange Commission (SEC) advises Thai citizens to have at least 4 million baht saved by the time they retire, but Thai Residents reports that 60% of Thai retirees have less than 1 million baht in savings, with one in three citizens who have reached retirement age are forced to continue working in order to survive.
SOURCE: thairesidents.com
Keep in contact with The Thaiger by following our
Facebook page
.
Tax on salt content being considered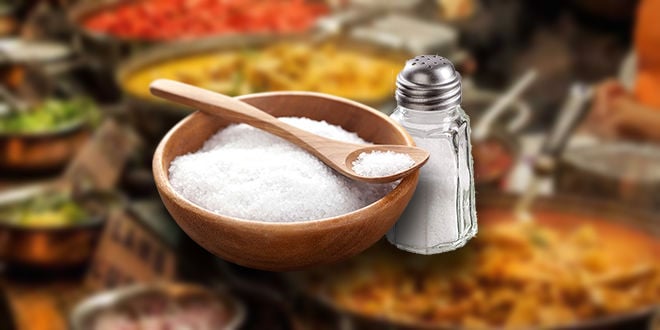 The Excise Department is considering imposing a tax on the salt content of food to encourage food producers to reduce the sodium content of snacks, instant noodles and seasoning cubes.
The director of the Office of Tax Planning said that the department is discussing a limit on the amount of sodium food can contain, in line with the standard set by the World Health Organization (WHO), which is 2,000 milligrams of salt per day.
In reality, Thai people consume an average of 1,000 milligrams per meal, making their daily intake well above WHO guidelines, according to the director.
He said any tax imposed would be at a level which would encourage food producers to reduce the sodium in their processed food without being punitive, adding that the proposal isn't intended to generate more tax revenue, but to help protect the health of consumers. Excessive sodium in the diet can lead to high blood pressure and kidney disease.
Fish sauce, soy sauce and salt would not be taxed.
SOURCE: thaipbsworld.com
Keep in contact with The Thaiger by following our
Facebook page
.
Water shortage warnings in 22 provinces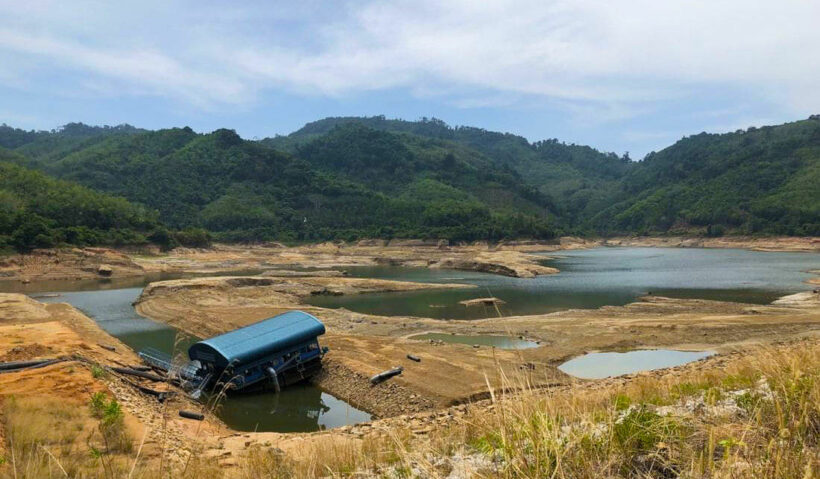 People living in 22 Thai provinces are being warned to prepare for shortages of drinking water during the upcoming dry season, due to start on November 1st.
The warning was issued by the National Water Resources Office, citing low levels in reservoirs, which are the main sources for tap water production waterworks in 22 provinces.
Areas at risk identified by the office are in northern, north-eastern, eastern and southern provinces.
Measures have been adopted by agencies charged with dealing with water shortages. including dredging water channels to allow greater volumes of water to flow into reservoirs, drilling underground wells, enlarging storage ponds and the purchase of water to supply to those in urgent need.
The Royal Irrigation Department has announced that people should use water sparingly.
There are currently about 6 billion cubic metres of usable water in reservoirs in the affected provinces, with 5 billion cubic metres reserved for consumption and ecological preservation, leaving only 1 billion cubic metres for use in agriculture.
This means farmers in the Chao Phraya river basin may not be able to grow a second crop of rice this year.
SOURCE: thaipbsworld.com
Keep in contact with The Thaiger by following our
Facebook page
.