Chulalongkorn University defends shrine demolition for new condos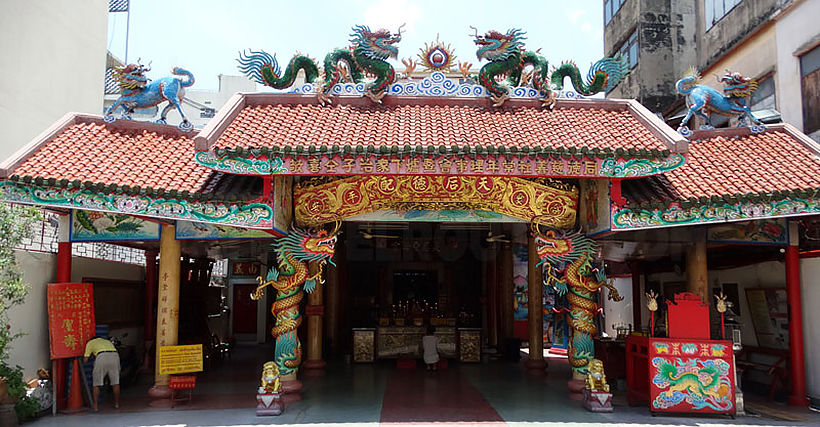 Bangkok's Chulalongkorn University is defending its plan to demolish a historic Thai-Chinese shrine on its grounds to clear the land for high-rise buildings with condominiums and dormitories. A statement from the university's estate office says the Chao Mae Tabtim Saphan Luang Shrine will be rebuilt at a new location close to the original site within 6 months, with a re-opening date in December. The schools says the reconstruction "will respect the shrine's traditional architecture and spiritual connection with the community".
"The project being looked after by preservation-minded architects and engineers with a proven track record. It takes into consideration both contemporary designs and its original structure, as well as proper feng shui decisions made by an expert."
The new shrine, meant to be built close to the university's park, will be environmentally friendly, with incense sticks replaced by electric replicas to reduce air pollution. A new incinerator will reduce smoke when burning gold and silver papers for ancestral worship.
The shrine will be replaced by 3 new buildings including apartments for rent, condominiums and dormitory rooms totaling 1,803 units, according to the university. The decision to demolish the shrine, whose history goes back at least a century, was met with protests from the local community and activists, who accuse the university of prioritising profits over heritage.
The current shrine caretaker Penprapah "Nok" Suansom, pledges to confront the demolition process, which is planned for Monday. The new shrine will not have a living space for her and her family, but university officials say she's been offered discounted accommodation nearby, which she refused.
Student activist Netiwit Chotiphatphaisal is leading a protest against the relocation plan, saying old buildings in Chulalongkorn's neighbourhood and new high-rises can coexist side by side, citing examples in Singapore and Hong Kong.
The university counters that the shrines original artwork will be preserved for future generations in the relocation. For instance, major plaster facades that contain bas relief from the old shrine which are around 60 years old will be extracted, restored and installed at the new shrine. Chinese scripts will be translated into Thai and placed on display.
A feng shui master was also consulted in choosing the new location, which will face the auspicious eastern direction, the statement claims.
"This is a creation for the society, community and for a better and more sustainable way of life."
SOURCES: Khaosod English | Bangkok Post
Keep in contact with The Thaiger by following our Facebook page.
Never miss out on future posts by following The Thaiger.
Thailand classified as a "not free" country in Freedom House report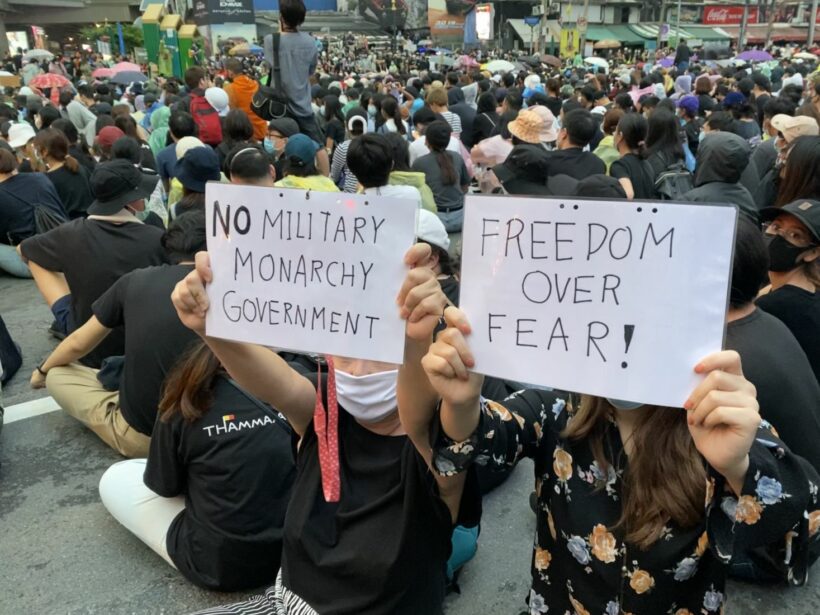 On a scale of 0 to 100, with 100 being absolute freedom, Thailand scores at 30, a "not free" country, according to the nonprofit Freedom House. Each year, the organisation reviews the political rights and civil liberties of countries around the world. According to their recent assessment, Thailand has declined in terms of rights and liberties, dropping on the scale from "partly free" to "not free."
The main reason for the drop on the freedom scale, the organisation says, is "due to the dissolution of a popular opposition party that performed well in the 2019 elections, and the military-dominated government's crackdown on youth-led protests calling for democratic reforms."
The Future Forward Party was dissolved in February 2020 after the court found that the founder, Thanathorn Juangroongruangkit, had made a large donation to the party that exceeded the legal limit. The party's leaders were then banned from politics for the next decade.
Youth-led protests started in February, but the demonstrations were put on pause due to Covid-19 restrictions banning large public gatherings. Protesters gathered in July as restrictions lifted, but some leaders then faced charges for holding a public gathering, which was still banned under emergency orders.
In October, the prime minister imposed what Freedom House calls a "severe" State of Emergency order in Bangkok that banned gatherings of more than 5 people. Some protesters were arrested for violating the order nearly immediately after it was imposed.
With activists pushing for monarchy reform and an end to the military's involvement in government, raising subjects considered taboo and unprecedented in Thai society, the Thai government has increased its use of the draconian lèse majesté law. Since November, dozens of activists have faced charges for insulting or defaming the Thai Monarchy.
Freedom House scores countries on topics like the electoral process, questioning if politicians and leaders were elected in free and fair elections, as well as freedom of expression and individual rights.
Thailand's military seized power in 2014 in a bloodless coup. The 2017 constitution was drafted by a committee appointed by the military's National Council for Peace and Order. In 2019, the country transitioned to what Freedom House calls a "military-dominated, semi-elected" government.
The 2019 elections were overseen by the Election Commission of Thailand, whose members were appointed by the military. All 250 senators were appointed by the military in 2019 to serve 5 year terms.
In 2020, the combination of democratic deterioration and frustrations over the role of the monarchy provoked the country's largest anti-government demonstrations in a decade. In response to these youth-led protests, the regime resorted to familiar authoritarian tactics, including arbitrary arrests, intimidation, lèse majesté charges, and harassment of activists. Freedom of the press is constrained, due process is not guaranteed, and there is impunity for crimes committed against activists.
SOURCE: Freedom House
Keep in contact with The Thaiger by following our Facebook page.
Never miss out on future posts by following The Thaiger.
Riot police officer in Bangkok tests positive for Covid-19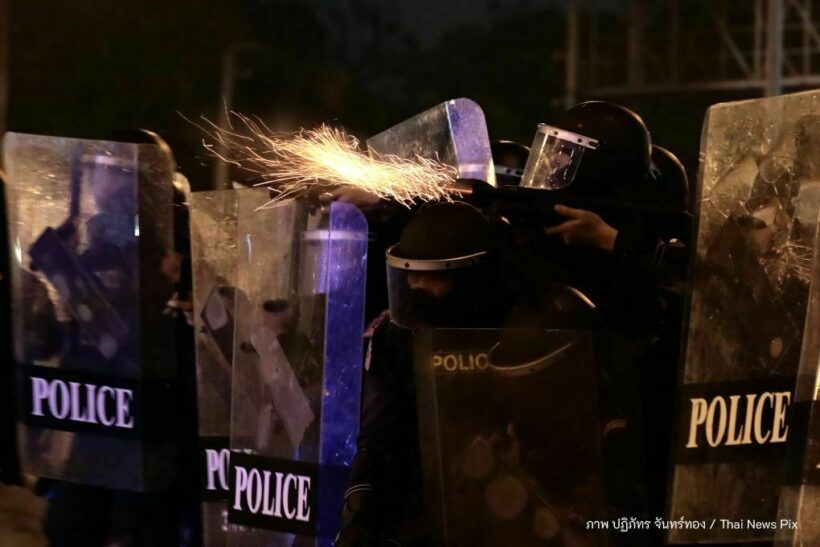 A riot police officer, who was deployed at the recent pro-democracy protests in Bangkok, has tested positive for Covid-19. His supervisor, chief of Wang Thonglang station Ekapop Tanprayoon, says the officer had visited Samut Sakhon, a coronavirus hotspot.
Riot police who worked closely with the infected officer, Somyot Nuamcharoen, are ordered to quarantine. The Wang Thonglang police station and any items the police officer handled are being disinfected, the chief says.
The officer had met up with friends during a visit to Samut Sakhon, just southwest of Bangkok. He travelled to the coastal province on February 18 and returned to Bangkok the next day.
On the 20th, he was deployed to a protest outside of parliament, just after returning from his trip to the "red zone" province. On Sunday, he deployed the protest outside the military barracks in Bangkok. The demonstration turned violent and numerous people were injured.
On Tuesday, his friend from Samut Sakhon tested positive for the virus. The infected officer was tested for Covid-19 that day and his result came back positive yesterday.
SOURCE: Bangkok Post
Keep in contact with The Thaiger by following our Facebook page.
Never miss out on future posts by following The Thaiger.
"Sealed route" set at Bangkok airport for international transfers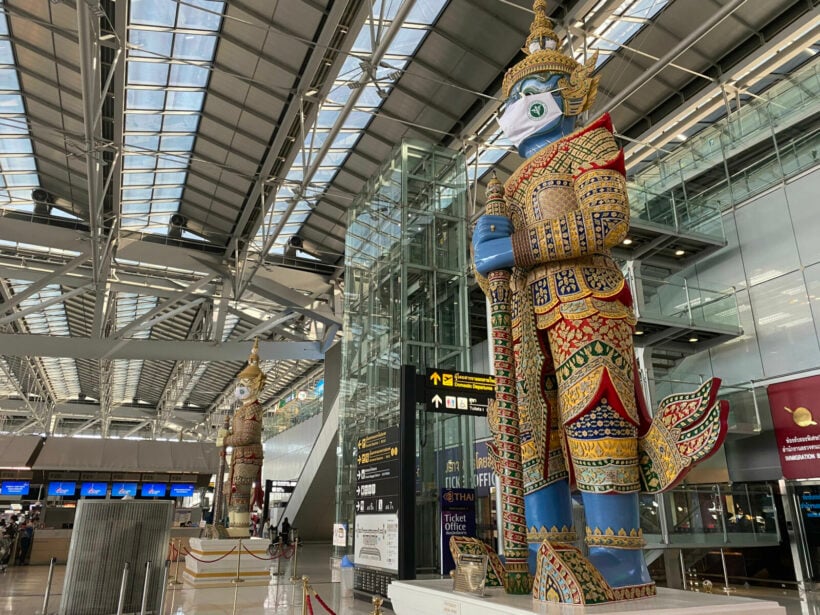 Thailand is now allowing international transits and transfers at Bangkok's Suvarnabhumi Airport by using a so-called "sealed route" arranged at the airport to prevent the spread of Covid-19. The Civil Aviation Authority of Thailand has now set guidelines for passengers who have a layover at the Bangkok airport.
Passengers will not be allowed to leave Concourse E. A "sealed route" for the passengers will be set up at Gate E10 and E9, allowing passengers to enter the airport at Gate E10, go through security screening and then either board the transit aircraft at Gate E9 or go on a designated shuttle bus directly to an aircraft.
Social distancing is required for all passengers in waiting areas and a face mask must be worn at all times. The CAAT says food and beverage services will be available at the airport's "sealed route" waiting area, but there will be "active oversight" on the services. Areas will also be cleaned and disinfected regularly.
Passengers must present required documents…
A fit-to-fly health certificate
Medical certificate declaring a negative Covid-19 result issued no more than 72 hours before departure
Travel health insurance that covers Covid-19 treatment expenses up to $100,000 USD
If demand increases, the airport will add Gates E5, E7 and E8 to the sealed route. If Concourse E is under maintenance, then Concourse F will be used under the same plan.
SOURCE: Nation Thailand
Keep in contact with The Thaiger by following our Facebook page.
Never miss out on future posts by following The Thaiger.