Booming business of silicone mermaid tails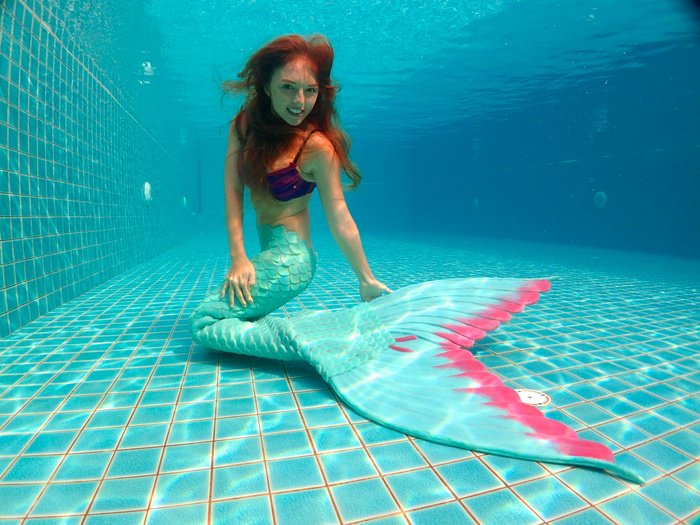 PHUKET: She might have been Melanie Long's role model growing up, but the one thing the Little Mermaid got wrong was that a woman can't get too far by flipping her fins.
Melanie, also known as Mermaid Melanie, recently completed an enormous one-year undertaking – designing and constructing her own silicone mermaid tail.
In the mer-world, tails are a big deal, and there are just as many designs as there are imaginations bringing them to life. However, they can be divided into two categories: fabric tails, which cost about 8,000 baht at the introduction level, and silicone tails, which start at about 80,000 baht.
"The silicone-tail market seems to be booming right now; people are on waiting lists for up to six months. Some people are even waiting up to a year for a silicone tail, because the demand is so high," explains Mermaid Melanie from the edge of the Chalong Country Home Pool in Phuket.
Given the costs and time necessary to design custom silicone tails, it's no surprise that artists are struggling to keep up with the jump in demand seen in the last five years.
Mermaid Melanie invested more than 50,000 baht in raw materials for her tail – and even after having learned a thing or two in the one-year process of creating it, Melanie estimates that it will still take her nearly three months to create another.
The difference between silicone tails and fabric ones makes the money and effort worth it, says Melanie. The texture, three-dimensional nature of the scales, the fit on a mermaids waist and the way the end of the tail whips in the water inspire even the most rigid of imaginations. But, that doesn't mean the creation is an easy undertaking.
"You come back from work, and you're tired and you have this silicone-tail project staring you in the face, just begging you to work on it – you have to have some real motivation to get through it," Melanie says.
Support from the mer-community was most needed during the trial-and-error portions of the project.
"The whole process was really challenging. A lot of the time when you make mistakes you get disheartened," Melanie says.
"The biggest problem that I had was in the early stages. When I was making the molds for the tail, I got some products stuck in the mold and I had to spend about a week and a half sanding all this foam scale sheet out of the product board. That was certainly a mistake I learned from, and my fingers did too."
In times of trouble, Mermaid Melanie turned to her fellow fantasy creatures in the mer-network.
"It's a fantastic resource for any would-be mermaids or people interested in mermaids," Melanie says.
"The support of the community there really helped, because everyday when I posted an update, people would reply with encouraging words. It was just really nice to get some feedback from a community of people who understand what you're trying to do and what you're going through trying to do it."
In addition to motivation, the mer-network has nearly everything an up-and-coming mermaid – doing a reverse-Ariel maneuver – needs, from swim tests to tail-making advice.
"First, you have to make a sculpture of the fin, which we call a fluke, and would also have to make a scale sculpture, like a sheet of three-dimensional scales," explains Melanie.
But before you even get that far, you need to create a design. Melanie's inspiration came from a bikini from Phuket clothing designer Katarina Boner and the elegant, dazzling fins of the Siamese fighting fish.
"I guess I wanted the fin to flow nice in the water. I wanted it to look like how I imagine a mermaid to look: feminine and beautiful. I really like the flow on my tail and the shapes that it has. It's very aesthetic; it's not just functional," says Melanie giving her tail a flip.
However, function is also important to Melanie, who is an avid freediver and runner-up in the We Freedive Suunto Series last year. In fact, the core to the fluke of her tail is a custom-made, fiber-glass monofin from Special Fins.
"I got some awesome feedback [from the mer-community]. Some people were even saying the tail was of a professional quality, but I know myself; I wouldn't be happy to sell it yet," Melanie says. "I'd like to iron out a few kinks and fix a few mistakes I made last time for the next tail, and see how that one goes. Maybe if I'm comfortable and happy after the next tail, I might consider selling them after that."
When Melanie moved out to Thailand in 2010, she thought that being a dive instructor was as close as she could get to being a mermaid. Then she met Mermaid Kat and took a mermaiding course, and that was the first step into her new life as a professional mermaid and, now, mermaid tail artist.
"So that was me, absolutely hooked. I just discovered this amazing world; there is this whole community out there, you know. There's actually thousands of mermaids, so that's just what spurred me on. The idea that being this mermaid performer is a possibility," she says, eyes shinning in the same way they probably did when she was a child staring at the Little Mermaid murals on her bedroom walls.
"Sometimes I have to pinch myself, I can't believe it. I'm here and I get to do this sort of stuff."
— Isaac Stone Simonelli
Thai Life

Join the conversation and have your say on Thailand news published on The Thaiger.
Thaiger Talk is our new Thaiger Community where you can join the discussion on everything happening in Thailand right now.
Please note that articles are not posted to the forum instantly and can take up to 20 min before being visible. Click for more information and the Thaiger Talk Guidelines.