Asia's 50 Best Restaurants list – "Biased, commercialised and a big publicity stunt."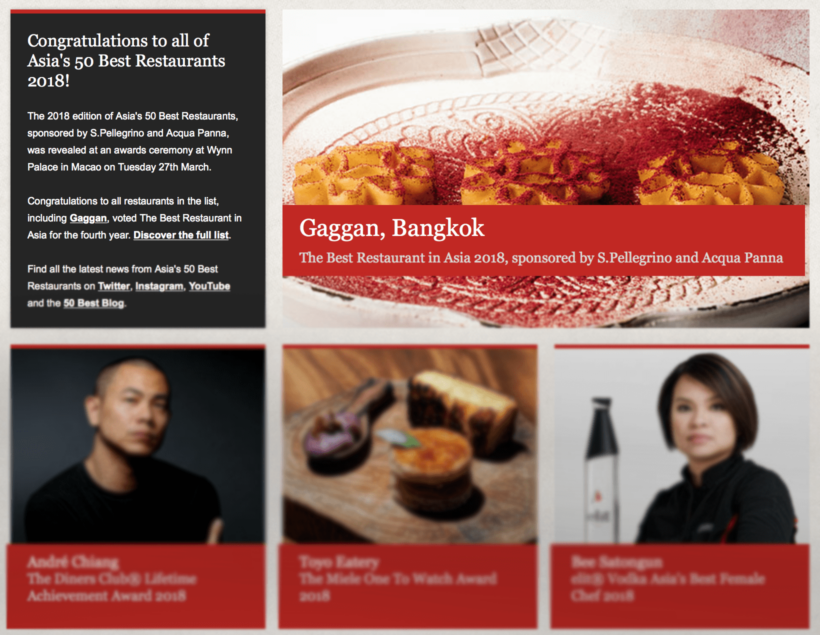 By Clinton Palanca
The winners of Asia's 50 Best Restaurants has been announced, the list released.
There will be the usual accusations that the list is biased, commercialised, a big publicity stunt and, most important, that it is of very little value to the vast majority of the population.
Food tourism has become a big deal. I remember when I started writing about travel, back in the days I was traveling more often than not, and writing that this mad-rush visit to the cathedrals, temples or ruins, was overrated, and that one could learn much more about a city by sitting down in a restaurant, eating the local cuisine and watching the locals go about their business.
These days I find myself in the awkward position of having to reverse my stance and insist that people make an effort to go to museums, the Colosseum, the palace—even if doing so means you'll miss the lunch booking in the two-Michelin-star restaurant you made four months in advance.
Culinary tourists who fly in and go from one celebrity restaurant to the other make me nervous. They insist that the cuisine must be local, the ingredient locally sourced, the menu reflective of the culture of the country or city.
It sounds, really, as though they are looking for the knowledge of a civilisation or of a people to be served up to them on a plate – or maybe 10 plates, as part of a degustation menu. This is not the role food should play, this is not a burden that restaurants should assume.
Restaurants are great bastions of civilisation, but they should not take the place of the civilization itself.
The list, while controversial, ephemeral or flawed like any human endeavour, is a continuing statement that food matters, that it's something more than what we eat to feed ourselves.
Well-heeled "completists" will manage about half of the list. Most of us would be lucky to get to go to more than a handful of the restaurants on the Asia's Top 50 list, more so the World's 50 Best list.
For every naysayer who says that all this hype is out of proportion and it's only food, it isn't. Because it's about people. It's about the farmer who grows specialty mushrooms, about people like myself who sit by a keyboard and type out opinions about what we just ate.
Here's the full list HERE.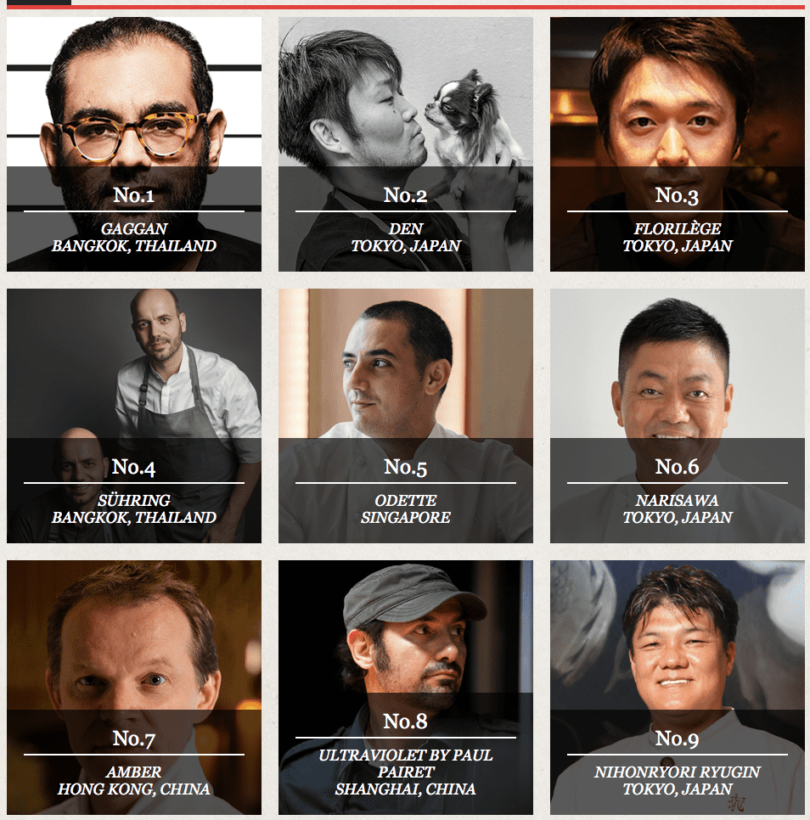 But most of all, it's about the cooks who peel, scrape, boil and reduce, broil, bake and torch and ferment and plate and serve and clear, and who think, night after night, how to make people eat better.
All of us, including the much-feared judges of the list, are there to celebrate the act of creation that they and so many others do—often to so little reward.
Want more from the Thaiger family?
📱 Download our app on Android or iOS for instant updates on your mobile
📧 Subscribe to our daily email newsletter
👍 Like/Follow us on Facebook
🔔 Subscribe to or Join our YouTube channel for daily video updates
Cooking food at home more? Most Thais are during Covid-19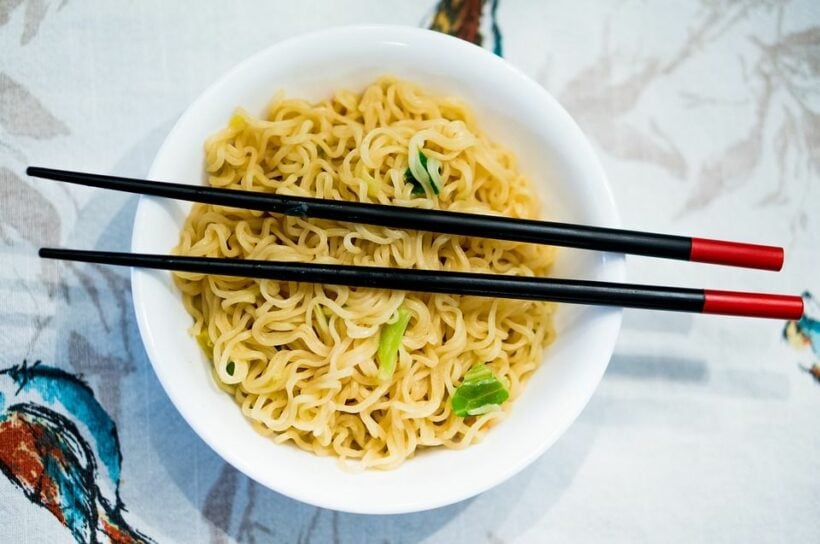 Are you an excellent chef? Did Covid-19 force you to learn how to cook food? Or maybe it caused you to pay closer attention to how healthy, how clean, and how well packaged your food is? A new Suan Dusit Poll found that Thai people are eating healthier and eating at home as a result of the Covid-19 pandemic. The poll, conducted last week by Suan Dusit Rakabhat University, asked 1,192 people about their eating habits.
The poll found that nearly 76% of people were cooking at home more often and 71% responded that since Covid-19 they have paid more attention to the importance of food. Only 3% said they pay less attention to their eating since the Coronavirus outbreak.
Most of the poll answers aren't too surprising, with lockdowns forcing more home meals, and fear of a contagious virus creating more awareness of hygiene practices. Nearly 48% of those polled believed that healthy eating helped against the Coronavirus while 38% were unsure. Nearly 50% were interested in knowing about foods that could build a Covid-19 resistance.
55% though herbs helped strengthen Coronavirus resistance, while Pad Ka Phrao, ginger, tom yam soup and kaeng som maroom (a sour moringa soup) were also mentioned favourably (51%, 49%, 43% and 32% respectively).
60% of those surveyed said they were choosing more healthy food, and 56% paid closer attention to the importance of food packaging. Somewhat surprisingly, 39% of respondents said they were spending more on food during the pandemic, about 37% said the amount was unchanged, and nearly 24% spent less money.
Food spending in Bangkok averaged 268 baht a day, while other provinces averaged 207 baht, creating a national daily food spending average of about 227 baht.
So how do Thaiger readers compare? What are you spending on food – more or less? Are you eating healthier? Are you dining out less? Perhaps some have become experts at cooking the #1 food in the world? Any recommendations for superfoods that ward off Covid-19?
The Thaiger looks forward to your responses in the comments on this story.
SOURCE:Bangkok Post
Want more from the Thaiger family?
📱 Download our app on Android or iOS for instant updates on your mobile
📧 Subscribe to our daily email newsletter
👍 Like/Follow us on Facebook
🔔 Subscribe to or Join our YouTube channel for daily video updates
Massaman curry named world's #1 food by CNN Travel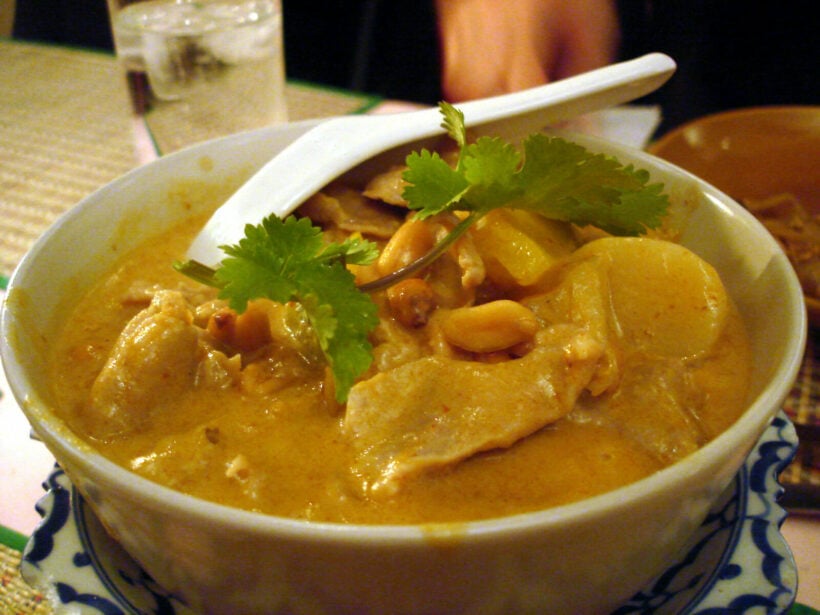 Massaman curry has once again topped CNN Travel's list of the World's 50 Best Foods, with 2 more Thai dishes gracing the list. CNN Travel first published its list of the best meals and snacks from around the world in 2011 and just updated it this month. Massaman curry – which the list described as spicy, coconutty, sweet, and savoury – once again ranked number 1, a distinction that the Tourism Authority of Thailand was quick to pounce on and tout to the world.
"TAT would like to remind all of you to stay safe until the COVID-19 situation improves, and prepare for the time when travel and tourism returns, and we can all embark on a culinary journey and explore Thainess through Thai dishes in unique destinations across Thailand."
Thailand's reputation as a foodie destination is only growing with this list being evidence that Thai cuisine competes not just as delicious street food, but up to and including 5-star dining experiences.
Thailand's culinary pride is justified though, as massaman curry is joined by tom yum kung ranked 8th on the list and som tam squeezes in at number 46 on the top 50 list. Tom Yum Kung, was lauded for the variety of flavours, encompassing spicy, sour, sweet and salty, and for how a dish filled with shrimp, tomatoes, mushrooms, galangal, kaffir lime leaves, and lemongrass could be found inexpensively.
Som tam, Thailand's famous papaya salad was praised while CNN listed off ingredients of grated green papaya, garlic, chillies, tamarind juice, lime juice, sugar cane paste, dried shrimp, tomatoes, peanuts, string beans and fish sauce.
Massaman curry beat out pizza for number 1 and managed to finish ahead of such global staples as hamburgers (#6), doughnuts (#14), lasagna (#23), Vietnamese pho (#28), fish 'n' chips (#33), and taco (somehow ranked at a lowly 43rd?!) for the top spot. CNN Travel called it the "king of curries" and said even home packets of massaman powder can turn anyone into a gourmet chef.
The top 10 was rounded out by (from number 2 to number 10) pizza, chocolate, sushi, Peking duck, hamburger, Penang assam laksa, tom yum kung, ice cream, and the African nation of Gabon's chicken Muamba. Other notable entries include corn on the cob at #13, lobster at #17, shish kebab at #18, croissants at #21, Indian butter garlic crab at #23, Filipino Lechon pig at #27, Canadian maple syrup at #34, hummus at #36, and poutine at #44.
Snacks popcorn and potato crisps a bit surprisingly made the list (or chips as CNN called them) at number 50 and 48 respectively. But perhaps in a move to remind readers to take the list with a pinch of salt, no pun intended, ketchup sauce was somehow listed as the 39th most popular food in the world.
Full list can be found here. What do The Thaiger readers think?
SOURCE: TAT News
Want more from the Thaiger family?
📱 Download our app on Android or iOS for instant updates on your mobile
📧 Subscribe to our daily email newsletter
👍 Like/Follow us on Facebook
🔔 Subscribe to or Join our YouTube channel for daily video updates
Thai Airways food landing in 7-Eleven next month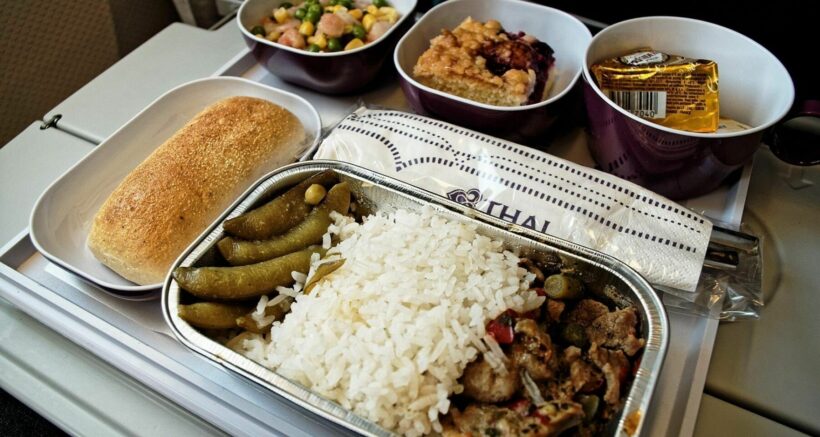 Warning. Some low-altitude turbulence is coming to a 7-Eleven near you. Thai Airways has cooked up a new money-making scheme during Covid-19 to sell its airline food in 7-Eleven. Set to take off on April 15, the mostly grounded and indebted airline will attempt to offset its losses during the pandemic by selling food in the ubiquitous convenience store and other supermarkets throughout Thailand.
It's a clever strategy for a struggling company, but will customers take the bite? Surely a few crispy pork and rice dishes will knock the edge of that 300 billion baht debt!
Claiming that their busy flight schedule has always previously stood in the way of the airline's foray into the fast food market, Thai Airways now has the supply (and time) with most flights grounded by the pandemic's decimation of the travel industry and less hungry mouths to feed in the sky.
The first meals schedule to arrive on the shelves of 7-Eleven just after the Songkran holiday are Thai Airways' halal chicken biryani dish, and the traditional Thai dish nam phrik long ruea, crispy and fluffy fish and sweet pork served in a fermented shrimp chilli paste. The primary push into the food industry will be more unusual meals to stand out in 7-Eleven's selection.
The question remains whether the food selection will fly off the shelves, but the airline's hopes are high after their airline launched pop-up restaurants in September and the public ate it up. It seems that, contrary to a million stand-up comedy jokes about how terrible airline food is, people have really missed it with so much cancelled travel due to border closures and restrictions.
Thai Airways hopes this creative departure from their main business will help bolster the struggling airline, who were previously denied a government bailout after declaring bankruptcy last year. They have tried everything from the pop-up restaurants to jumbo yard sales to renting out flight simulators. Even with the sharp reduction of flights due to the pandemic, flying will still be the company's main mealticket, but they hope meal sales will make up for low ticket sales until the travel industry recovers.
So stow your tray table and fasten your seat belt as we see if the 7-Eleven offerings of Thai Airways' food takes off.
(The Thaiger has a better solution. Let 7-Eleven lease Thai Airway's grounded planes and run the whole business instead)
SOURCE: Coconuts Bangkok
Want more from the Thaiger family?
📱 Download our app on Android or iOS for instant updates on your mobile
📧 Subscribe to our daily email newsletter
👍 Like/Follow us on Facebook
🔔 Subscribe to or Join our YouTube channel for daily video updates