Asia's 50 Best Restaurants list – "Biased, commercialised and a big publicity stunt."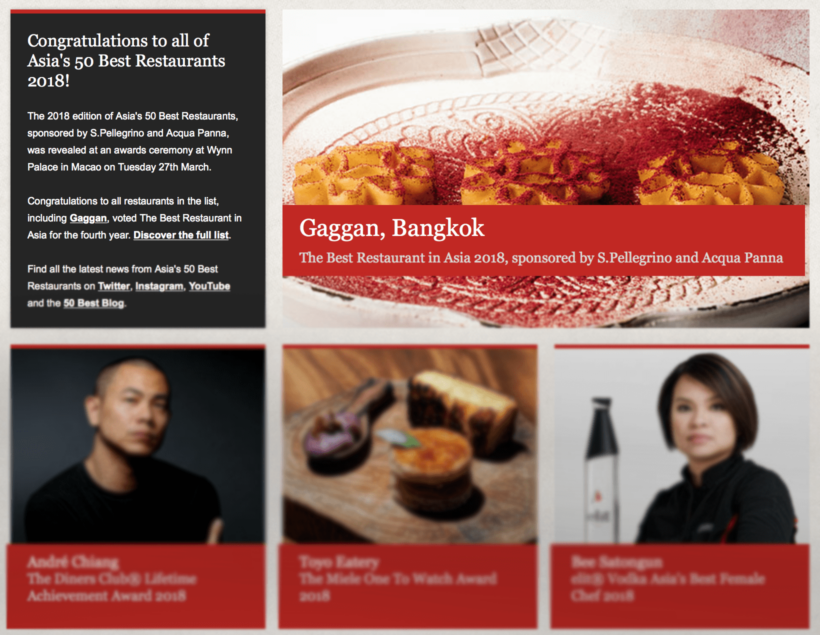 By Clinton Palanca
The winners of Asia's 50 Best Restaurants has been announced, the list released.
There will be the usual accusations that the list is biased, commercialised, a big publicity stunt and, most important, that it is of very little value to the vast majority of the population.
Food tourism has become a big deal. I remember when I started writing about travel, back in the days I was traveling more often than not, and writing that this mad-rush visit to the cathedrals, temples or ruins, was overrated, and that one could learn much more about a city by sitting down in a restaurant, eating the local cuisine and watching the locals go about their business.
These days I find myself in the awkward position of having to reverse my stance and insist that people make an effort to go to museums, the Colosseum, the palace—even if doing so means you'll miss the lunch booking in the two-Michelin-star restaurant you made four months in advance.
Culinary tourists who fly in and go from one celebrity restaurant to the other make me nervous. They insist that the cuisine must be local, the ingredient locally sourced, the menu reflective of the culture of the country or city.
It sounds, really, as though they are looking for the knowledge of a civilisation or of a people to be served up to them on a plate – or maybe 10 plates, as part of a degustation menu. This is not the role food should play, this is not a burden that restaurants should assume.
Restaurants are great bastions of civilisation, but they should not take the place of the civilization itself.
The list, while controversial, ephemeral or flawed like any human endeavour, is a continuing statement that food matters, that it's something more than what we eat to feed ourselves.
Well-heeled "completists" will manage about half of the list. Most of us would be lucky to get to go to more than a handful of the restaurants on the Asia's Top 50 list, more so the World's 50 Best list.
For every naysayer who says that all this hype is out of proportion and it's only food, it isn't. Because it's about people. It's about the farmer who grows specialty mushrooms, about people like myself who sit by a keyboard and type out opinions about what we just ate.
Here's the full list HERE.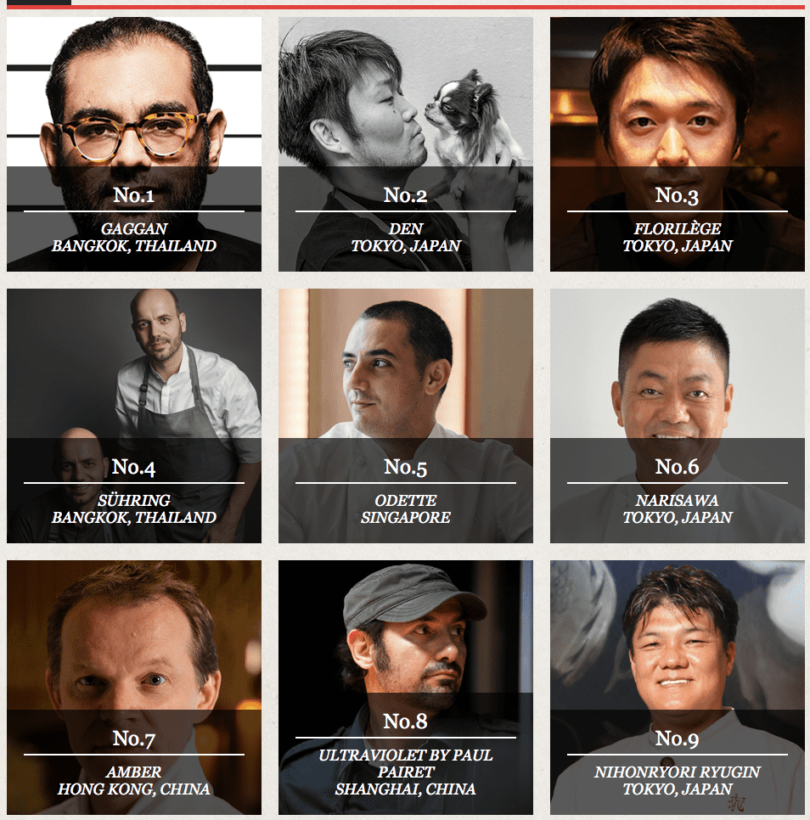 But most of all, it's about the cooks who peel, scrape, boil and reduce, broil, bake and torch and ferment and plate and serve and clear, and who think, night after night, how to make people eat better.
All of us, including the much-feared judges of the list, are there to celebrate the act of creation that they and so many others do—often to so little reward.
Keep in contact with The Thaiger by following our
Facebook page
.
Pattaya police chief battles Thailand's Iron Chef in cook-off for the needy – VIDEO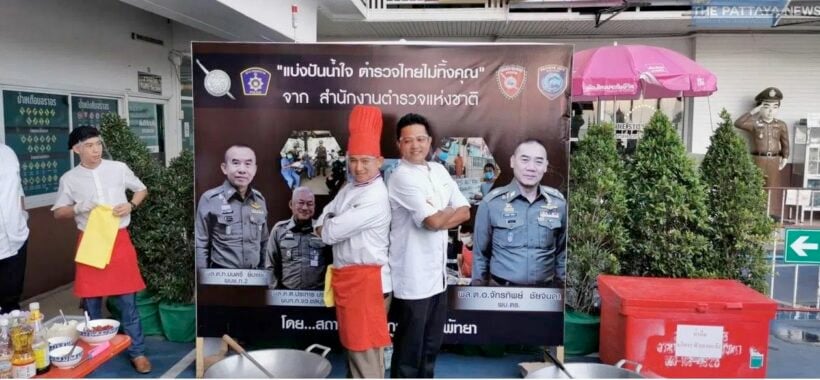 Police in Pattaya are doing more than continue their project to cook food for the needy and unemployed: yesterday they had an upbeat cook-off between the police chief and a famous Thai TV chef. The project is designed for locals who are unemployed or furloughed due to the current Covid-19 crisis. Read more about that HERE.
The Pattaya City police chief took on Thai celebrity chef Kengraratwat Wichianrat, from the show Iron Chef Thailand. The chief is wearing the red hat in the video below:
They cooked around a hundred meals for some of the locals deeply affected by the lockdowns ad closure measures, while officers provided proper physical distancing, hygiene standards and a queue system for diners, all of whom ate for free.
SOURCE: The Pattaya News
Keep in contact with The Thaiger by following our
Facebook page
.
Social distancing pandas fill empty seats at Bangkok restaurant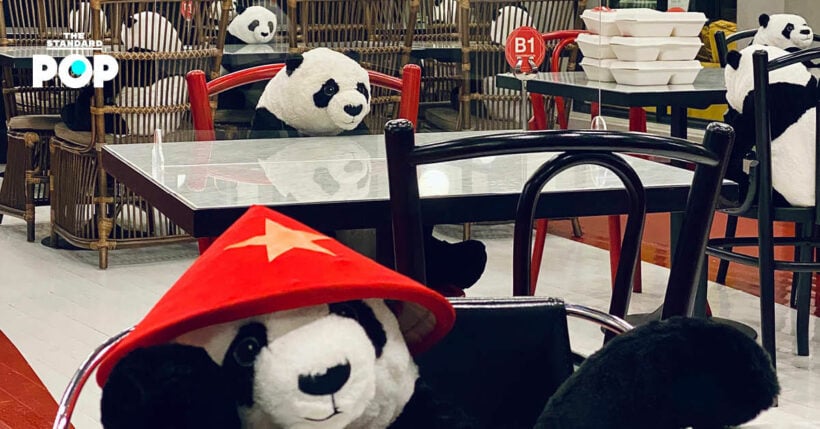 An "X" usually marks the seats in restaurants and other establishments to make sure people are social distancing to prevent spread of the coronavirus. Sometimes the "X" on the empty is marked with red tape, unintentionally sending a negative message. Now one Vietnamese restaurant in Bangkok has found a more fun way to make sure people are sitting apart but still marking the seat spacing.
Big, stuffed panda bear toys are placed in the vacant seats instead. (So far publishers have resisted to use the term 'food panda' in the headline).
Natthwut Rodchanapanthkul, owner of Maison Saigon, near Lumphini Park, told Reuters that he thought the red crosses looked a bit strange.
"Earlier we had only one chair for the tables where the customers would sit alone. But for me, it felt strange, so I thought I'd give them some company."
Thailand has recently lifted restrictions, on restaurants and for some it might be the first time eating at a restaurant since the lockdown. With strict rules and various seats marked with "Xs," going out for a meal has been a bit daunting.
Photos of people eating next to and across from the pandas look a lot happier. One customer told Reuters the pandas made her feel less lonely while she ate a meal by herself.
The next step in easing restrictions around Thailand is set for this Sunday.
Shopping centres and retail shops plan to reopen but a full confirmation on precisely what will open is yet to emerge from the CSSA… hopefully today.
SOURCE:Reuters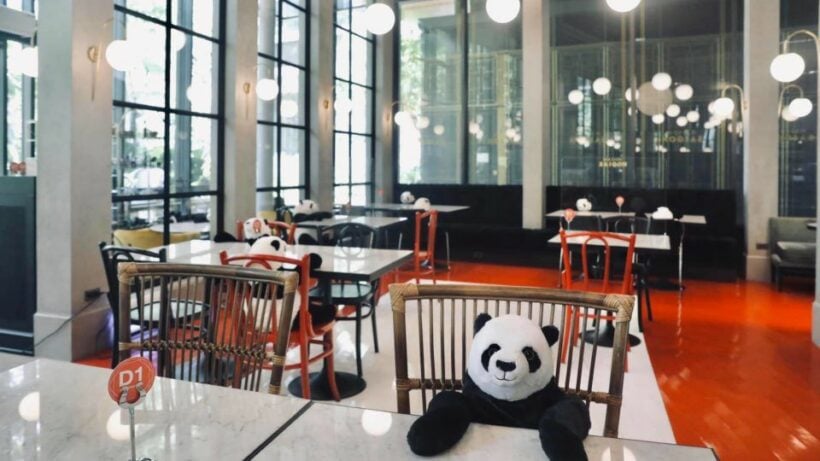 Keep in contact with The Thaiger by following our
Facebook page
.
Cooking with Bibi – let's make papaya salad (somtam)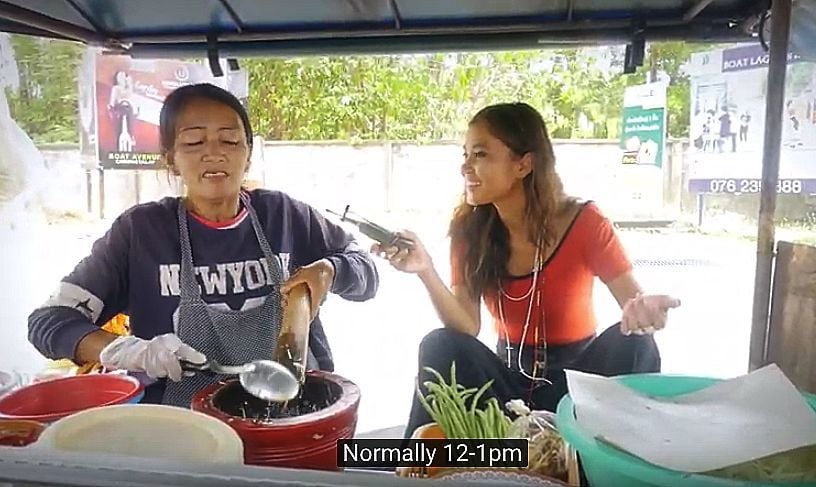 Bibi heads out onto the streets to try some home-made Somtam, that spicy Papaya Salad that makes the eyes water of even the most chilli-loving farang. Then she puts on the chef hat and tries for herself. Let's go cooking on Thailand's streets with Bibi.
Keep in contact with The Thaiger by following our
Facebook page
.