Phuket Gazette World News: US bombers enter China-disputed airspace; Ukraine riots; No Syria rebel ceasefire for Geneva; Mexico deports cartel teen beheader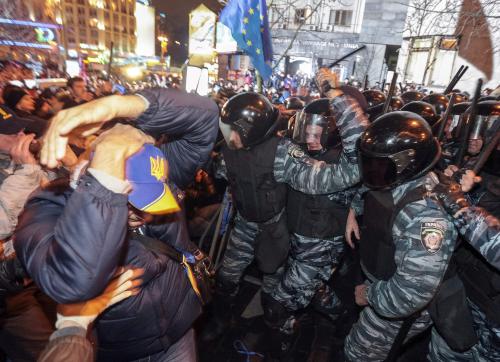 PHUKET MEDIA WATCH
– World news compiled by Gazette editors for Phuket's international community
Defying China, U.S. bombers fly into East China Sea zone
Reuters / Phuket Gazette
PHUKET: Two unarmed U.S. B-52 bombers on a training mission flew over disputed islands in the East China Sea without informing Beijing, Pentagon officials said yesterday, defying China's declaration of a new airspace defense zone in the region.
The Pentagon said the flight on Monday night did not prompt a response from China, and the White House urged Beijing to resolve its dispute with Japan over the islands diplomatically, without resorting to "threats or inflammatory language."
China published coordinates for an East China Sea Air Defense Identification Zone over the weekend and warned it would take "defensive emergency measures" against aircraft that failed to identify themselves properly in the airspace.
The zone covers most of that sea and includes the skies over islands at the heart of a territorial dispute with Japan.
"The policy announced by the Chinese over the weekend is unnecessarily inflammatory," White House spokesman Josh Earnest told reporters in California, where President Barack Obama is travelling.
"These are the kinds of differences that should not be addressed with threats or inflammatory language, but rather can and should be resolved diplomatically," he said.
Two U.S. B-52 bombers carried out the flight, part of a long-planned exercise, on Monday night EST, a U.S. military official said.
The lumbering bombers appeared to send a message that the United States was not trying to hide its intentions and showed that China, so far at least, was unable or unwilling to defend the zone.
The B-52s, which have been part of the Air Force fleet for more than half a century, are relatively slow compared with today's more advanced fighter jets and far easier to spot than stealth aircraft.
The dispute flared before a trip to the region by Vice President Joe Biden, who is scheduled to travel to Japan early next week and also has stops in China and South Korea. The White House announced the trip in early November.
The East China Sea territorial dispute will figure prominently on Biden's agenda.
"We have conducted operations in the area of the Senkakus. We have continued to follow our normal procedures, which include not filing flight plans, not radioing ahead and not registering our frequencies," spokesman Colonel Steve Warren said, using the Japanese name for the islands.
Destabilizing
The United States and close ally Japan have sharply criticized China's airspace declaration, with U.S. Defense Secretary Chuck Hagel calling it a "destabilizing attempt to alter the status quo in the region." He said on Saturday the United States would not change how it operated there.
Experts said the Chinese move was aimed at chipping away at Tokyo's claim to administrative control over the area, including the tiny uninhabited islands known as the Senkaku in Japan and the Diaoyu in China.
Japan's two biggest airlines – Japan Airlines and ANA Holdings – bowed to a Japanese government request to stop complying with the Chinese demands for flight plans and other information. They will stop providing the information on Wednesday, spokesmen for the carriers said.
By demanding airlines file flight plans or risk being intercepted by military jets, China is forcing them to effectively acknowledge Beijing's authority over the Air Defense Identification Zone, which is about two-thirds the size of Britain.
But in persuading ANA, JAL and other carriers to ignore the zone, Japan's Primes Minister Shinzo Abe may be calling China's bluff.
Some airlines in the region did agree to begin complying with the Chinese identification measures.
While Washington does not take a position on the sovereignty of the islands, it recognizes that Japan has administrative control over them and is therefore bound by treaty to defend Japan in the event of an armed conflict.
The Pentagon said the training exercise "involved two aircraft flying from Guam and returning to Guam." Warren said the U.S. military aircraft were neither observed nor contacted by Chinese aircraft.
China's Defense Ministry said on Monday it had lodged protests with the U.S. and Japanese embassies in Beijing over the criticism from Washington and Tokyo of the zone.
China also summoned Japan's ambassador, warning Tokyo to "stop words and actions which create friction and harm regional stability," China's Foreign Ministry said. Tokyo and Seoul summoned Chinese diplomats to protest.
In addition, China sent its sole aircraft carrier on a training mission into the South China Sea on Tuesday amid maritime disputes with the Philippines and other neighbors and tension over its airspace defense zone.
It was the first time the carrier was sent to the South China Sea.
Australia summoned China's ambassador to express concern over its imposition of the Air Defense Identification Zone over the East China Sea, the foreign minister said on Tuesday, decrying the move as unhelpful in a region beset by tension.
Ukraine leader to go to EU summit, but not ready to sign pact
Reuters / Phuket Gazette
PHUKET: Ukrainian President Viktor Yanukovich said he would attend an EU summit this week, but, criticizing the bloc for a 'humiliating' financial aid offer, declared he would sign a free trade pact only when it suited Ukraine's interests.
Shifting Ukraine's economy onto European standards would require not less than $20 billion (12.3 billion pounds) per year, he said in a television interview.
Yanukovich's government announced last week it had shelved plans to sign a landmark pact with the European Union at the summit in Lithuania's capital, stunning EU leaders and igniting pro-Europe rallies in the former Soviet republic.
Ukraine's decision to renew instead closer economic cooperation with Moscow revived Western fears of a swing back into Russia's sphere of influence.
Yanukovich on Tuesday confirmed he would go to Vilnius all the same. Then, a short while later, in a television interview, he sharply attacked the EU, accusing it of offering just 610 million euros ($827.19 million) and making this conditional on agreeing a new loan deal with the International Monetary Fund.
"For three years in succession they have shown this candy in pretty wrapping to us … We don't have to be humiliated like this. We are a serious country, a European one," he said.
"When it corresponds to our interests, when we have agreed (with the EU) on normal conditions, (only) then can we consider signing. "When will we sign? Soon or not soon? I would like the time to be as soon as possible … but the question is one of principle for us," Yanukovich said.
The presidential website quoted him separately as saying that bringing Ukraine's economy up to European standards would cost $20 billion a year.
The Vilnius agreement would have marked a definitive turn towards the West for Kiev and away from Moscow, which sees Ukraine as a sphere of its economic and political influence.
His strong words after Ukraine's U-turn following years of negotiations with the EU set the scene for a possibly testy encounter – in all likelihood at a dinner in Vilnius on Thursday night – between Yanukovich and the club of 28 EU leaders.
Earlier, his prime minister, Mykola Aza
— Phuket Gazette Editors

Join the conversation and have your say on Thailand news published on The Thaiger.
Thaiger Talk is our new Thaiger Community where you can join the discussion on everything happening in Thailand right now.
Please note that articles are not posted to the forum instantly and can take up to 20 min before being visible. Click for more information and the Thaiger Talk Guidelines.