Phuket Gazette Thailand News: PM slapped by censure; Tourism may lose B25bn; Bullion bonanza; More rain for South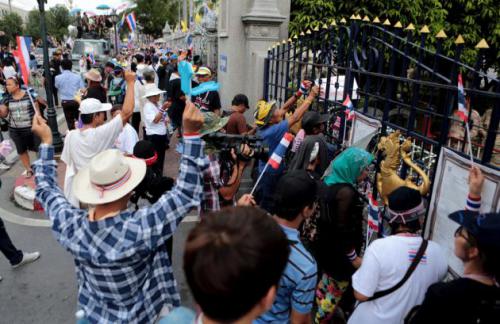 PHUKET MEDIA WATCH
– Thailand news compiled by Gazette editors for Phuket's international community
Govt fights censure, protests
The Nation / Phuket Gazette
PHUKET: A political battle took place on two fronts yesterday, with anti-government protesters besieging more government ministries and the opposition beginning its no-confidence onslaught against Prime Minister Yingluck Shinawatra in the House.
Thousands of demonstrators, protesting against a government-backed bill for blanket amnesty in political cases and vowing to "root out the Thaksin regime", yesterday surrounded the ministries of Interior, Agriculture, Transport, and Sports and Tourism.
On Monday, the protesters began their occupation of the ministries of Finance and Foreign Affairs, and the Public Relations Department.
Yesterday's siege forced officials at the centres to leave work early. Protesters locked the gates of the ministries of Agriculture, Transport, and Sports and Tourism with chains before moving to besiege the Interior Ministry, according to Metropolitan Police spokesman Maj-General Adul Narongsak.
The protesters surrounding the Interior Ministry left the area at around 6pm.
The Criminal Court yesterday approved an arrest warrant for the key protest leader, Suthep Thaugsuban, in connection with the occupation of government buildings. Suthep recently resigned as an opposition Democrat Party MP to head the rallies.
Police charged him with involvement in an illegal gathering and trespass on a government agency.
In the House, opposition and Democrat leader Abhisit Vejjajiva launched a no-confidence motion against Yingluck with an attack on her government's rice-pledging scheme. He also questioned her integrity following failures to keep promises on policy platforms.
Opposition MPs accused the government of undermining economic stability though its populist policies.
Yingluck yesterday reiterated that authorities would not use violence against the protesters. "Everybody must obey the law and not use mob rule to subvert the rule of law," she told reporters.
Adding to tensions in the capital yesterday, an unexploded hand grenade was discovered outside a Democrat Party office in Phra Khanong district.
The Finance Ministry yesterday planned to use the civil service centre on Chaeng Wattana Road as its temporary office in the face of the ongoing occupation of the ministry compound by the anti-government protesters.
The permanent secretary for Finance, Rangsan Sriworasart, said yesterday the ministry and related offices had contingency plans to deal with crises such as this, to ensure that normal work routines would not be affected. Computer/data backup centres are scattered in several locations to diversify potential risks that could affect the ministry's daily operations.
The ministry has a risk-management system similar to those of commercial banks, Rangsan said. Such systems allow information/computer systems at various sites to fill in for those that cannot perform normal operations due to external factors, Rangsan said.
The ministry has several information systems and data-backup centres in various locations to ensure there is no disruption of work, including payment of salaries to ministry staff. However, instalment payments for services performed by state projects' contractors, as well as hiring, and procurements by state agencies, could be affected as they are not part of the routine automatic-payments system of the ministry, the official said.
Tourism and Sports Minister Somsak Pureesrisak yesterday ordered the movement of its two offices – the Office of the Minister and Office of the Permanent Secretary – to the Department of Physical Education to maintain its workflow after the ministry building was seized by political demonstrators.
Officials were allowed to go home and work anywhere they could be reached by telephone and online communication. Somsak acknowledged they could not remove some documents from their offices.
Suwat Sitthilor, permanent secretary of the Tourism and Sports Ministry, said officials were asked to leave the ministry before its entrance was closed. They were not let back in again due to safety concerns.
Somsak acknowledged the political demonstrations had impacted on the country's image as a tourism destination and could lead foreign tourists to postpone plans to come here.
Political observers yesterday saw it as a good sign that Abhisit and the Democrats had attended Parliament for the censure debate, instead of resorting to street politics.
"I think by attending the debate, Abhisit is sending a signal to Yingluck that there is room for political dialogue to end the street protests," said Panitan Wattanayagorn, a political scientist at Chulalongkorn University. "Abhisit and Yingluck must come together and calm down the protests," he said.
Mahidol University peace expert Eakpant Pindavanija said he feared there was a high chance of bloody confrontation in the days ahead.
"The solution is hard [to find]," he admits, adding that peace groups are working behind the scenes to convince both sides not to resort to the use of force. Eakpant deplored the seizure of state offices, calling it a mistake for the anti-government protests.
Thammasat University rector Somkid Lertpaitoon yesterday suggested the government should consider a House dissolution and a fresh election as a way to restore peace in the country.
He said there had been no signs of peace in sight as the government insisted on employing legal measures to deal with the crisis.
Travel warnings may cost tourism B25bn
The Nation / Phuket Gazette
PHUKET: he tourism industry could lose Bt25 billion in revenue next month if countries issue their highest warnings against travelling to the Kingdom, said Sugree Sithivanich, deputy governor for marketing communications of the Tourism Authority of Thailand (TAT).
If that were to happen, the number of foreign arrivals in December would drop by 8-10 per cent year on year. That would mean that for the whole of 2013, the number of arrivals would be only 25.75 million, down from 26.1 million as projected previously.
If such a situation lasted into the first quarter of 2014, the number of foreign tourists could be expected to grow by just 7 per cent year on year. Previously, the TAT expected arrivals to increase by 13 per cent to 28.01 million next year. However, tourism revenue would be about the same as projected previously, with an increase of almost 13 per cent to about Bt1.326 trillion.
Still, Sugree said that if this scenario transpired, only one to three months would be needed for a recovery, thanks to the quick rebound of short-haul foreign tourists.
If the scenario got even worse, like in 2008 when Suvarnabhumi Airport was shut down by protesters, the tourism outlook would be hit even harder. According to the TAT's projection, the number of foreign tourists would plunge to 650,000 in December, a decline of 18-20 per cent year on year, with a corresponding revenue loss of Bt27.9 billion. As a result, the total number of foreign tourists in 2013 would be just 25.55 million.
Sugree said it was hard for the TAT to analyse the situation because the political landscape is still cloudy, as is the probable impact with tourism. The degree of its impact would depend on the situation. For example, if there are casualties or the use of tear gas to disperse demonstrator
— Phuket Gazette Editors
Keep in contact with The Thaiger by following our
Facebook page
.
Never miss out on future posts by
following The Thaiger
.
News of American sued over bad Koh Chang hotel review has everyone talking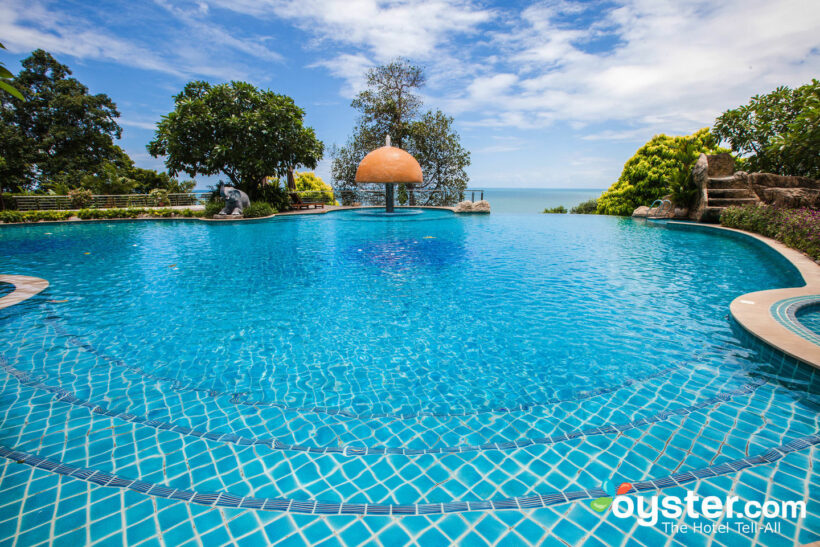 After news hit of an American being arrested and sued for defamation over leaving a bad review about a Koh Chang hotel on TripAdvisor, many are taking to the internet to voice their opinions on the issue. The Sea View Resort owners say it tried in vain to negotiated with Wesley Barnes after he posted the reviews, but he continued to post completely untrue comments.
The owners released a five-page statement after the news of it suing the American gained widespread attention. You can read their response HERE. Then, Barnes submitted his own response detailing the situation which was also published online.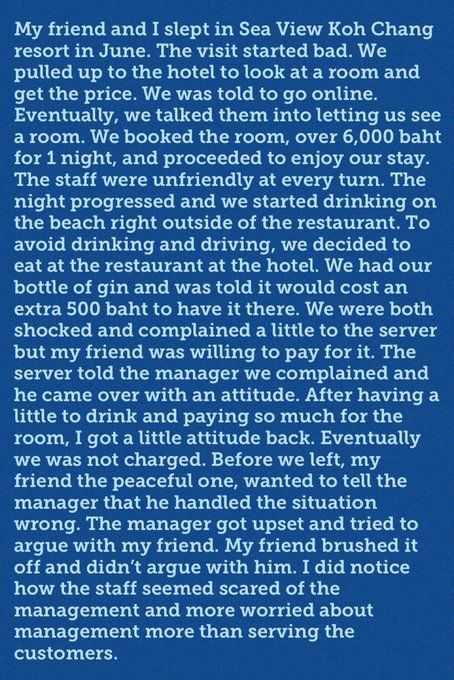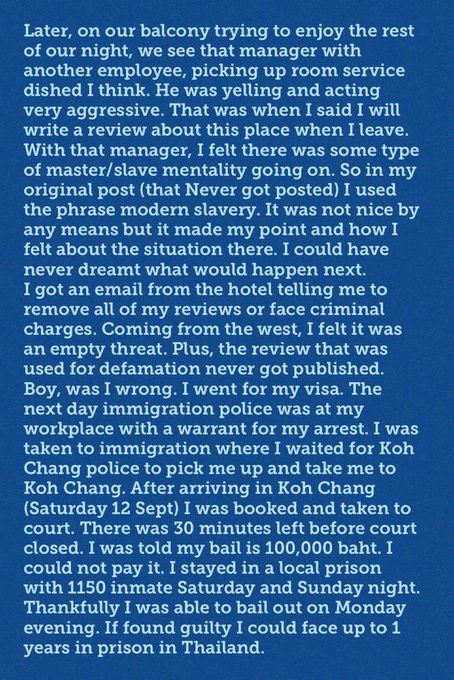 Now, the story has gained even more attention as netizens have begun posting their opinions on the controversial issue of Thailand's defamation laws. Below, are some of those posts on The Thaiger's Facebook page.
"Can someone clarify for me Thailand's position on people leaving honest bad reviews as my girlfriend says it's fine to leave a bad review of a business and it's not defamation if honest of course? I have heard people say that you simply can't leave bad honest reviews at all here but that sounds ridiculous. The thing about many Thais is that they think they're beyond reproach. They can't accept criticism because it's not aligned with their grandiose self-image. Many also have a torrid time when it comes to ownership of their own actions and decision making."
"OMG! He is arrested for a review.?! I know of an expat in Malaysia that wrote a bad review about a Thai-owned resort in Penang and he was sued as well. Be careful with what you share in that neck of the woods."
"It's one thing to leave a bad review but to throw in "modern slavery" remarks escalates to thai defamation law. He shouldn't be arrested for his comments but you need to respect the country laws no matter how crazy they seem compared to your own country. This press is going to negatively affect the business way more than that review would have done though."
"The owner should have settled with the review platforms privately and move on. I would hardly hold up Trip Advisor as a beacon of truth, however some people write extremely personal and vindictive comments that go beyond a review, in an attempt to gain product or refunds in return, this is an absolute fact, and hopefully this might make people think before they start writing reviews that are not exactly honest, I have read stories critical of the General Managers because they didn't contact the guests, some really petty reviews by rather petty people."
If Barnes is indeed found to be guilty of defamation, he could spend up to 2 years in prison and pay up to a 200,000 baht fine.
SOURCE: Chiang Rai Times
Keep in contact with The Thaiger by following our
Facebook page
.
Never miss out on future posts by
following The Thaiger
.
Phuket police arrest 6 after finding large amounts of methamphetamine in raid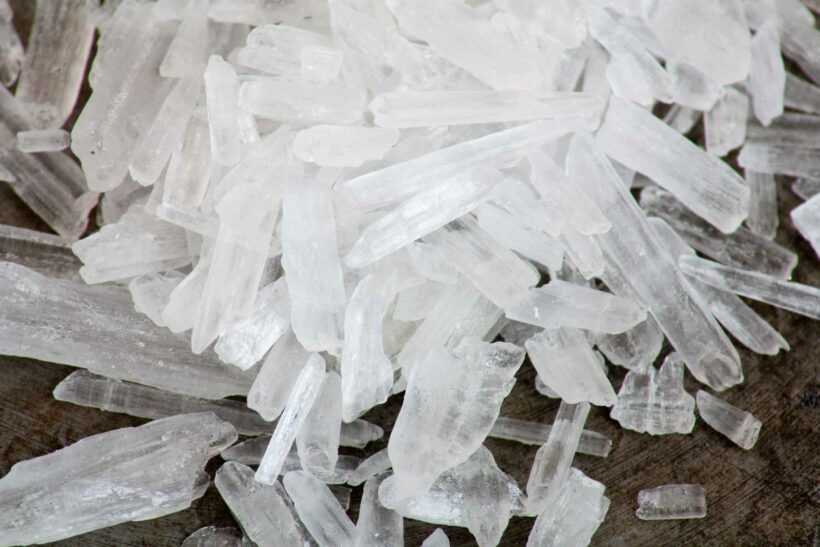 Phuket Provincial Police have arrested 6 people after finding large amounts of methamphetamine and other drugs during a raid. One suspect alone allegedly had 7.6 kilograms of crystal meth (ya ice) and over 12,500 methamphetamine pills (ya bah). 29 year old Surasak 'Bank' Wijit and 27 year old Panida 'Mei' Saeyang were arrested at an apartment car park in Soi Lookkaew, Moo 6, Rassada, in eastern Phuket, after they were found in possession of the drugs.
Police also found 2 mobile phones and a red Honda PCX, registered in Phuket, as evidence. Both suspects have been charged with posessing a Category 1 drug with the intent to sell.
Other suspects arrested at the same time include 36 year old from Chiang Rai, 42 year old Sarawut 'An' Srichanon, from Ranong and 31 year old Pornthep 'Iew' Thepchampa, who were charged with the same crimes in Chalong after police found more drugs in their possession. 33 year old Kamon 'Kung' Sae-ngow, was arrested as well after police found kratom juice and leaves at a house in Rassada. He was taken to Phuket City Police station and was charged with a Category 5 drug possession.
SOURCE:The Phuket News
Keep in contact with The Thaiger by following our
Facebook page
.
Never miss out on future posts by
following The Thaiger
.
Phuket Muay Thai fighter is the first Thai national to compete in UFC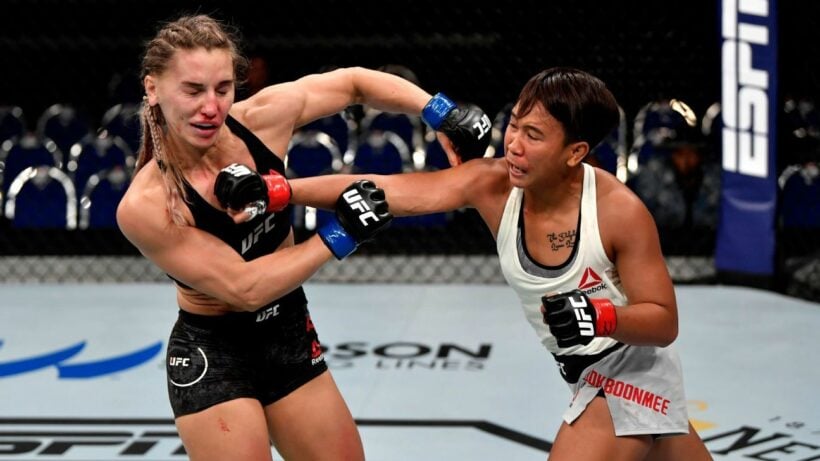 The upcoming Ultimate Fighting Championship Fight Night event in Abu Dhabi will feature Thailand's only national marking her third fight with the UFC, the world's largest mixed martial arts competition. 24 year old Loma Lookboonme, from Burirram in northeastern Thailand, will fight in the event on October 3, 2020.
Loma is a Muay Thai fighter who has adapted her MMA skills to fight in the UFC where she currently trains at the Tiger Muay Thai gym in Phuket. Loma qualified for the national team at the age of 19 and has fought in over 12 nations worldwide. She currently trains 6 days a week starting daily at 6:30am with a 3 kilometre run. In the UFC, she will be competing against China's Angela Lee who is the undisputed champion of the 52 kilogram fist weight category.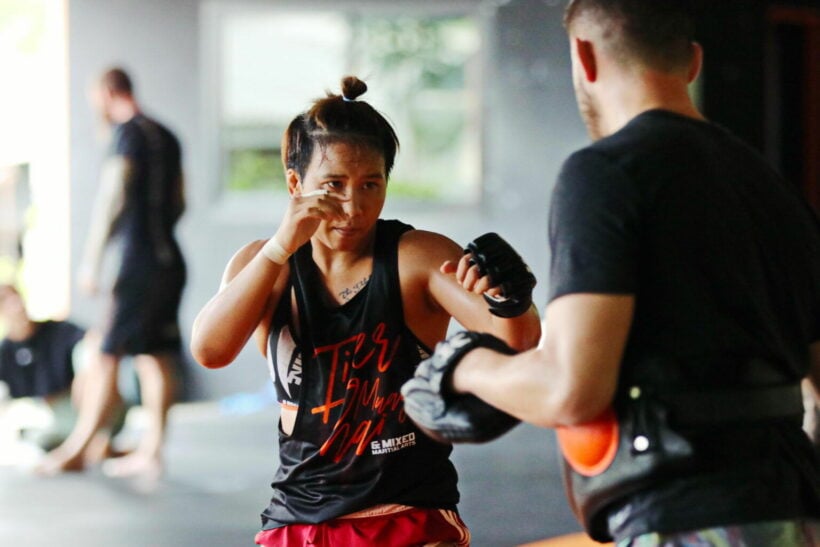 Loma's parents are former Muay Thai fighters and her 2 sisters currently compete as well. She reportedly started training at 8 years old after being inspired by her father, whom she describes as her "hero."
Like most Thais in such fighting sports, Muay Thai offers a way to rise out of poverty-and fighting for the UFC can be financially lucrative. But Loma says her only Thai sponsor is the gym where she trains, with the rest of her sponsors being from foreign brands. She says she is trying to get more Thai sponsors but feels that maybe she needs to win the UFC first before Thai brands notice her.
Loma lost her last fight and says her new opponent gives her nothing to lose. She says her goal is to get into the Top 10, but is not sure when it will happen. Loma says for now, it would be good to fight against someone in the Top 10 to help her prepare for her future.
FULL INTERVIEW: Thisrupt.co
Keep in contact with The Thaiger by following our
Facebook page
.
Never miss out on future posts by
following The Thaiger
.