Good things that happened in 2020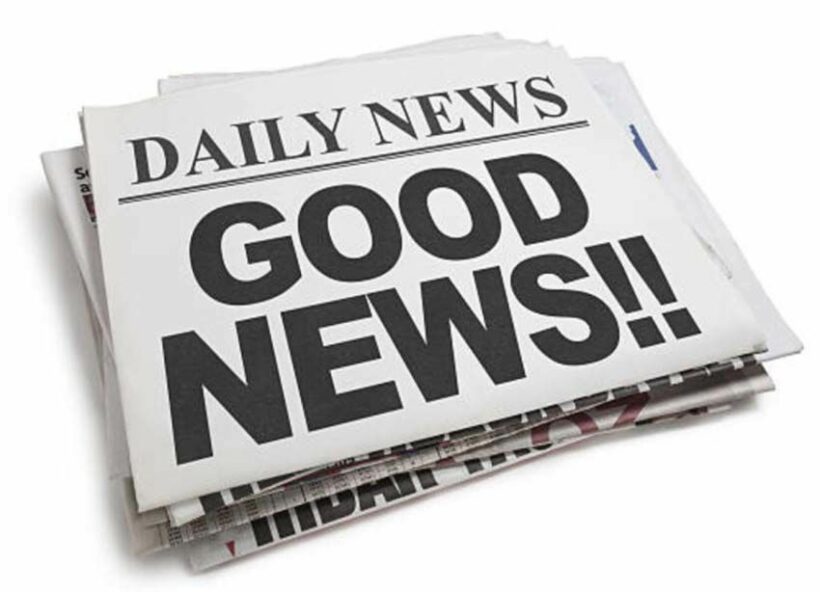 There's no disputing the fact that none of us are going to remember 2020 with great fondness. With a global pandemic wreaking havoc around the world, and no end in sight in the immediate future, it's hard to see any positives in the year just gone. However, buried in the midst of all the doom and gloom, there were some good news stories. Here's a small selection.
Net-zero commitments double
The United Nations Framework Convention on Climate Change has confirmed that, by September, net-zero pledges were more than double what they were last year. More regions and organisations are joining the UN Race to Zero campaign, bolstering efforts to increase net-zero commitments prior to this year's COP26 UN Climate Change Conference in Scotland.
Drop in hepatitis B cases in under fives
The World Health Organisation has reported that hepatitis B cases in children under the age of five have dropped below 1%. Hepatitis B can cause liver cancer and kills around 900,000 people every year. The latest development means a significant drop in liver damage or liver cancer in future generations.
The world's first 3D eye
In June, a team of scientists developed the world's first 3D eye at the Hong Kong University of Science and Technology. The capabilities of the eye surpass those of existing bionic eyes and in some cases, even human eyes. It is the world's first spherical artificial eye with a 3D retina and is a significant medical advance for those suffering with visual impairment.
Progress in the fight against cancer
In July, Australian scientists reported a breakthrough in the discovery of a potential cancer vaccine, with lab studies showing promising signs. In September, a number of other cancer breakthroughs were discussed at a virtual get-together of the European Society for Medical Oncology, including improvements to ovarian cancer treatments, new research findings for high-risk breast cancer patients, and a successful treatment for prostate cancer, already in use in breast and ovarian cancers.
Progress in environmental conservation
In September, researchers confirmed that up to 48 species of birds and mammals have been saved from extinction since 1993. These include the pygmy hog, black-footed ferret, the Asian crested Ibis, yellow-eared parrot, Hawaiian crow, spoon-billed sandpiper, and red wolf. Researchers add that, although 15 species have become extinct since serious conservation efforts began in 1993, the numbers would have been 3 to 4 times higher if no action had been taken.
A Nobel Peace Prize for the World Food Programme
In October, the WFP was awarded the Nobel Peace Prize in recognition of its work to combat hunger around the world. It's estimated that during 2019, the organisation helped nearly 100 million people in 88 countries, an effort that has only intensified since the arrival of the Covid-19 pandemic.
Progress in gender equality
Although the world is a long way off, with no country yet achieving gender equality, 2020 did bring some progress. In October, a UN report revealed that women's representation in parliaments around the world has more than doubled, accounting for 25% of seats in 2020. There are 20 countries who have a woman as head of state or government, 8 more than in 1995.
Water on the moon
In October, NASA discovered that there is far more water on the moon than previously thought, which could potentially be used in future missions. The weight of water means it is expensive to launch from the surface of the earth, so the discovery could lead to moon water being used as a drinking supply, turned into oxygen for astronauts, or even potentially used as fuel.
Progress in the war on plastic
More countries are declaring war on plastic, with Vietnam, Indonesia, and Ghana the latest to act. Ghana has pledged to create a 100% circular economy for plastic, Vietnam has committed to a 75% reduction in marine plastic by 2030, while Indonesia has pledge to reduce marine plastic by 70% by 2025. The 3 nations are part of the World Economic Forum's Global Plastic Action Partnership, which is aims to wipe out plastic pollution.
Covid-19 vaccines
We couldn't end without mentioning what is arguably the most promising development to come out of 2020. The arrival in November of a number of different vaccines that have proved highly effective in phase 3 trials could be the light at the end of the long, dark, Covid-19 tunnel.
SOURCE: World Economic Forum
Keep in contact with The Thaiger by following our Facebook page.
Never miss out on future posts by following The Thaiger.


Find more SE Asian News courtesy of The Thaiger.

Broke? Find employment in Southeast Asia with JobCute Thailand. Rich? Invest in real estate across Asia with FazWaz Property Group. Even book medical procedures worldwide with MyMediTravel, all powered by DB Ventures.

Chinese state-backed film released praising Wuhan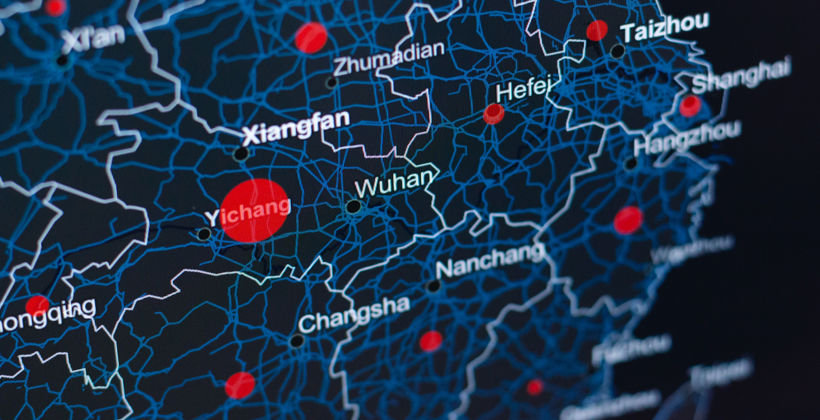 A new, state-backed film marking the anniversary of the Covid-19 Wuhan lockdown, is using propaganda to praise the central Chinese city. The documentary "Days and Nights in Wuhan" chronicles the suffering that the city's 11 million residents endured during the 76 day lockdown. 30 filmmakers contributed to the film which included footage of medical staff and front-line workers.
The film joins other documentaries centered on the Wuhan lockdown, including one that was produced by an activist artist that led to him fleeing the country after being harrassed by China's Communist Party. "Coronation" was rejected by festivals, theatres, and streaming services in which the creator attributes to fears over the offending government which tightly controls what films can be shown inside the nation and abroad.
The new film was directed by Cao Jinling and has already debuted in Wuhan but the audience was thin. The film is set to be released to other cities today. But it is not clear if the government will allow it to be shown overseas.
"We wanted to record the journey of battling against the COVID-19 epidemic via motion picture. Some of the details, including the intense care, anxious waiting, heartbreaking farewells and hopeful rebirths, might strike a chord with viewers."
The lockdown imposed on January 23 of last year, was eventually extended to surrounding areas in Hubei province, seeing some 56 million people unable to leave their homes. Hospitals and morgues became overwhelmed at the height of the crisis as Wuhan accounted for most of China's 4,635 death toll.
Meanwhile, China has finally gave permission for the World Health Organisation to send a team of international experts to begin investigating the virus' origins. Experts mostly agree that the coronavirus emerged from a Wuhan food market where live wild animals that carry the virus were sold. But China's government has all but refuted the claim by insinuating that the virus was possibly brought into the country by US soldiers.
Other conspiracy theories are abound, but the notion that the virus was not from Wuhan has done well with many residents, who maintain the virus came from somewhere else. Such beliefs by those residents have also propelled them to view themselves as victims.
SOURCE: Khaosod English
Keep in contact with The Thaiger by following our Facebook page.
Never miss out on future posts by following The Thaiger.
US President Biden jump starting Covid-19 strategy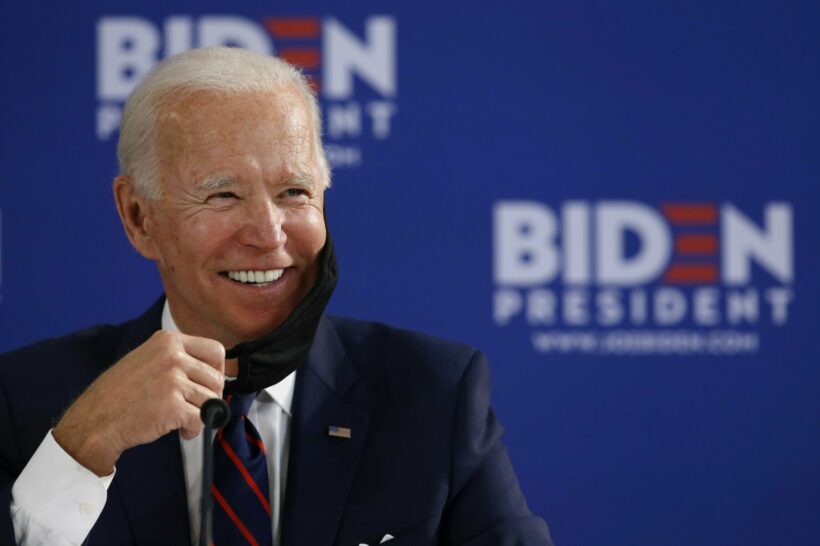 Newly inaugurated US President Joe Biden is jump starting his Covid-19strategy by signing more executive orders on his 2nd day in office. The orders include requiring Americans to wear masks for travelling in planes, ships, intercity buses and public transportation. The orders have fallen short of mandating the wearing of masks for everyone whilst in public spaces.
Such mask-wearing requirements have been applauded by the country's airline unions. Travellers from abroad must also now produce a negative Covid-19 test before departing for the US and must quarantine upon arrival.
"We didn't get into this mess overnight, and it will take months to turn this around. To a nation waiting for action, let me be clear on this point: Help is on the way."
The promised help comes as deaths from Covid in the US have surpassed the 400,000 level, with Biden saying projections point to that number increasing to 500,000 in a month. But his efforts may be hampered if Republicans members of the government don't help him pass a US $1.9 trillion economic relief and Covid response package.
Biden officials also say they've been hampered by a lack of cooperation from the Trump administration during the transition. They admitted they were confused about the former president's actions on vaccine distribution which has attracted complaints from states saying that they are not getting enough vaccines on top of being asked to vaccinate more groups of people.
The new President says he is seeking to expand testing and vaccine availability, announcing a plan of 100 million shots in the first 100 days of him being in office. Some independent experts, however, are criticising the new president by saying his goal is disappointingly low. But the President responded…
"When I announced it, you all said it's not possible. Come on, give me a break, man."
Biden has directed the Federal Emergency Management Agency to begin setting up vaccination centres, aiming to have 100 running in a month. He's also trying to make vaccines available through local pharmacies starting next month, building on a plan devised by the Trump administration.
President Biden has also set a goal of having most K-8 schools reopen in his first 100 days, with states receiving aid from FEMA's Disaster Relief Fund to help get schools back open. But administration officials say reopening schools safely depends on increased testing.
The national vaccination strategy plan put forth by the new administration, requires $160 billion, and Biden says he wants an additional $170 billion to aid the reopening of schools and universities.
SOURCE: Thai PBS World
Keep in contact with The Thaiger by following our Facebook page.
Never miss out on future posts by following The Thaiger.
US Ambassador to Thailand quits after Biden inaugurated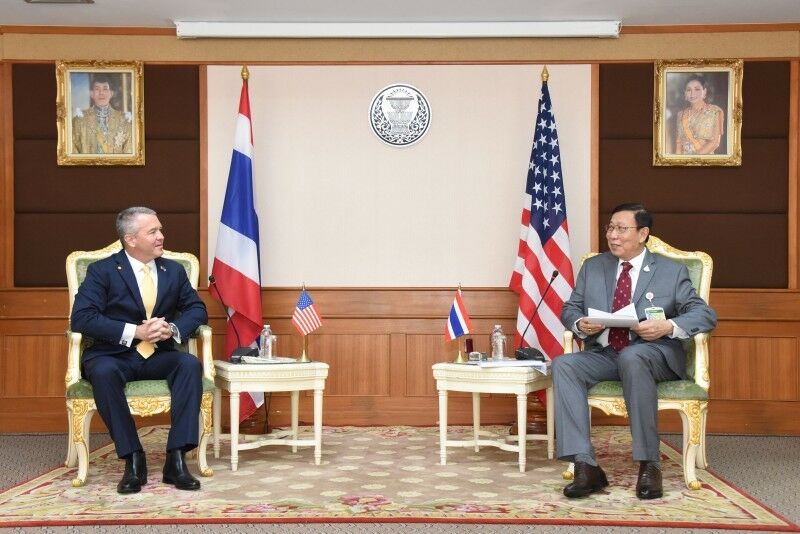 The US Ambassador to Thailand seems to have quit after only serving less than 1 year in office and moments after President Biden's inauguration. Michael George DeSombre, who was appointed by President Trump in early 2020, made the announcement of his departure on the embassy's official social media platform yesterday. A day before, he met with PM Prayut to "thank the Royal Thai Government" as is customary with departing ambassadors. DeSombre succeeded career diplomat Glyn T. Davies.
"It has been a privilege serving as the United States Ambassador to the Kingdom of Thailand. I am exceedingly proud of all we have done to strengthen the US-Thai relationship. I am signing off now from this account and leaving it in the good hands of our Embassy staff."
Now, as the US Embassy official website names Chargé d'Affaires Michael Heath as its diplomatic mission leader, it is not known when a new ambassador will be chosen by the Biden administration.
Just last year in October, DeSombre wrote, on the same day that President Trump tested positive for the virus, that he was less than supportive of a full-blown shutdown.
"The evidence over the last six months shows that the costs of a really extreme shutdown are generally worse than the benefits and it is better to keep the economy running."
According to Wikipedia, DeSombre co-founded Republicans Overseas for Americans abroad in 2013 in which the organisation focuses on tax reform. Upon his appointment as Ambassador, DeSombre stated that his office would primarily encourage the economic partnership between the two countries, with a focus on American investments and Thailand's infrastructure projects and supply chains.
He has also said that US firms were interested in increasing investments in Thailand, including in areas under the 1966 Amity treaty. Thailand and the US established relations in 1818 and later formalised the ties in 1833.
SOURCE: Khaosod English
Keep in contact with The Thaiger by following our Facebook page.
Never miss out on future posts by following The Thaiger.