Phuket Media Watch – Herman Cain denies; Bankruptcy for American Airlines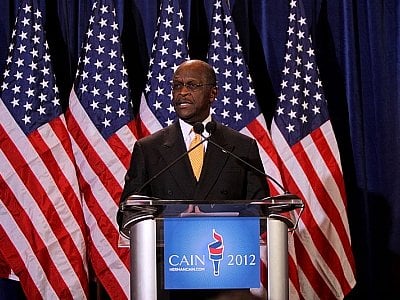 PHUKET MEDIA WATCH
– World news selected by Gazette editors for Phuket's international community
Woman claims long affair with U.S. presidential hopeful Herman Cain
Phuket Gazette
PHUKET: An Atlanta woman came forward on Monday evening to claim she had a 13-year-long affair with Republican presidential hopeful Herman Cain, just weeks after a series of claims regarding sexual harassment. Cain has denied the latest allegations.
The woman, 46-year-old Ginger White, made her allegations in an exclusive interview with WAGA-TV in Atlanta. She said her off-and-on affair with the presidential candidate ended about eight months ago, just before Cain announced he was to run for the White House.
"I'm not proud," she said, adding that she did not want to come out but felt she had no other choice after an unidentified person contacted several media outlets. "It was pretty simple. It wasn't complicated. I was aware that he was married. And I was also aware that I was involved in a very inappropriate relationship."
White said she met Cain during a presentation in the late 90s in Kentucky when he was the head of the National Restaurant Association (NRA). She claims they shared drinks afterwards and Cain invited her back to his hotel room. "[He said], 'I would like to, definitely, see you again. You are very beautiful to me and I would, you know, love for us to continue this friendship," White told WAGA-TV.
During the next 13 years, Cain allegedly flew her to cities where he was speaking and 'lavished her with gifts'. She said Cain never harassed her, never treated her poorly and was 'the same man' you see on the campaign trail.
White said she had planned to keep the relationship a secret until she watched reports of different women who accused Cain of sexual harassment. She told the television channel that she was not surprised by the allegations, but that she was bothered by the way Cain fought back.
"It bothered me that they were being demonized, sort of; they were treated as if they were automatically lying, and the burden of proof was on them. I felt bad for them," White said. When someone contacted the media about herself, she felt she had no other choice but to come forward.
"I wanted to give my side, before it was thrown out there and made out to be something filthy," she said. "Some people will look at this and say that is exactly what it is. I'm sorry for that."
Overall, the woman described the alleged affair as 'fun' and 'exciting', but provided no evidence to substantiate her claims. WAGA-TV said White had provided cell phone records which showed calls and text messages between her and Cain's number, but the woman provided no copies of the actual text messages.
An investigation by WAGA-TV revealed that White filed a sexual harassment claim against an employer in 2001, but the case was settled. White's former business partner also once sought a "stalking temporary protective order" against her for "repeated e-mails / texts threatening lawsuit and defamation of character."
The case was dismissed; but was followed by a libel lawsuit against White. A judge entered an order in favor of the business partner because White failed to respond to the lawsuit. The woman also filed for bankruptcy 23 years ago and has a history of eviction notices, the most recent one earlier this month.
Responding to the latest allegations, Cain confirmed he knows White and thought she was a friend. "But I did not have an affair, okay?" he said during an interview on CNN, which aired before White's interview on WAGA-TV. "I acknowledge that I knew the woman. I acknowledge that I have known her for about that period of time but the accusation that I had a 13-year affair with her? No."
After the interview aired on WAGA-TV, Cain released a statement in which he said the American public is tired of dirty politics and smear tactics. "I am running for President of the United States of America and the reality is that there are individuals out there that favor the status quo of higher taxes, more government and political cronyism and they are afraid of a Cain Presidency," he said.
Cain added: "I have spoken directly to the American people and have been 100 percent honest with them. My plan is to continue to spread my vision on how I would renew America and keep her safe. I will not fight false claims as it is not what America needs or wants."
Cain spokesman J.D. Gordon said the campaign is not surprised by the new allegations. "Detractors are trying once again to derail the Cain Train with more accusations of past events that never happened," Gordon said. "The Cain Campaign is not surprised that another female accuser has come forward due to the fact that earlier allegations were unable to force Herman Cain to drop his presidential bid to renew America."
Earlier this month, a Chicago woman called Sharon Bialek came forward to allege she was sexually assaulted by Cain when she sought his help in 1997. Bialek was previously employed at the Educational Foundation of the National Restaurant Association (NRA) as manager of industry relations and was fired before the alleged incident happened.
Bialek said she first met Cain at a convention in Chicago about a month before she was terminated. "Mr. Cain sat next to me at that luncheon and spoke to me extensively," she said. "Mr. Cain was the keynote speaker at the luncheon. He was incredibly inspirational. When he sat down I said to him, 'when are you running for President?'"
During the final night of the conference, Bialek claims, Cain sat at a table with her and her boyfriend. "He was warm and attentive to both of us and invited us to join him at the after party in a suite at the hotel, which we did," she said. "I felt very honored to be included in this select gathering."
But several weeks later, Bialek was suddenly let go by the Foundation because she had not raised enough money. "I was devastated. I loved the job and the industry and in the short time that I had been there I felt we were doing well in terms of fundraising," she said.
According to the woman's accounts, her boyfriend suggested to reach out to Cain to see if he was able to help her find another job with the Foundation or in some other capacity. "I told [Cain] I had been let go. He said that he was unaware of it," she said. "I asked if he could meet me for coffee. He said that he would and that I should call once I had firmed up the dates and the arrangements."
Bialek's boyfriend then proceeded to book a room for her at the Capital Hilton Hotel in Washington, D.C. where the two met. "When I went to check into the room I was shocked to be taken to a palatial suite," she said. "I told the bellman that there must be some mistake, but he insisted that there was no mistake. I later found out that Mr. Cain had arranged for the suite, though at the time I thought that perhaps my boyfriend had decided to surprise me."
During the evening, at about 6.30 p.m. local time, Bialek said she met Cain in the hotel lobby where they had drinks. "He asked me how I liked my room and I explained that I was surprised. I said that I could not believe that I was given this gorgeous Senator's suite. Mr. Cain smirked and then said, 'I upgraded you.'"
Bialek said Cain then took her to an Italian restaurant where they had dinner, during which she explained that she needed a job after being let go. "He said that he would look into it," she said.
After the dinner, Cain allegedly told Bialek that he would show her where the National Restaurant Association offices in D.C. were. "He parked the car down the block," she said. "Instead of going in he sudden
— Phuket Gazette Editors
World News

Join the conversation and have your say on Thailand news published on The Thaiger.
Thaiger Talk is our new Thaiger Community where you can join the discussion on everything happening in Thailand right now.
Please note that articles are not posted to the forum instantly and can take up to 20 min before being visible. Click for more information and the Thaiger Talk Guidelines.