Phuket Gazette World News: Syria gas kills hundreds; Bo Xilai trial begins; Pink Panther arrested; Manning gets 35 years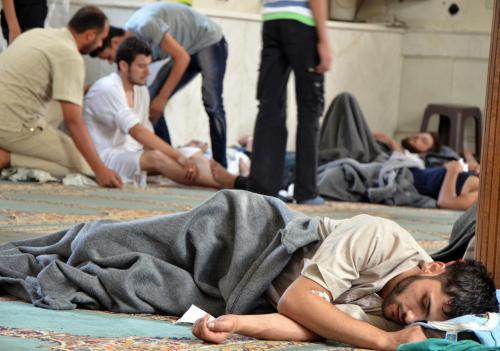 PHUKET MEDIA WATCH
– World news compiled by Gazette editors for Phuket's international community
Trial of Bo Xilai opens in China
Reuters / Phuket Gazette
PHUKET:
Police
blocked entry to a courthouse in the eastern Chinese city of Jinan on Thursday where the trial of ousted politician Bo Xilai is to open, the final, dramatic chapter of the country's most politically charged case in more than three decades.
A convoy of police cars and a minivan entered the courthouse around 7.10 a.m. (6.10 p.m. EDT), possibly carrying Bo. Police lined roads leading to the courthouse and blocked its two gates.
Dozens of journalists stood in a box that was cordoned off for the media across the street.
Bo, 64, will appear in public for the first time in 17 months when the court opens at 8:30 a.m., where he will face charges of bribery, corruption and abuse of power. He will almost certainly be found guilty.
His trial marks the culmination of China's biggest
political
scandal since the 1976 downfall of the Gang of Four at the end of the Cultural Revolution.
Bo's fall has been highly divisive, pitting supporters of his Maoist-themed egalitarian social programs against the capitalist-leaning economic road taken by the leadership.
President Xi Jinping, who is embarking on an ambitious plan to rebalance the world's second-biggest economy, will be keen to quickly put the trial behind him and ensure he has the unstinting support of the ruling Communist Party.
How Bo pleads to the charges will be keenly watched.
A guilty plea would almost certainly signal he has worked out a deal for leniency, but he's likely to plead not guilty to the abuse of power charge in an apparent bid to show that he is a victim of a power struggle, according to a source with ties to the leadership.
Bo, the party chief in the southwestern metropolis of Chongqing, was a fast-rising star in China's leadership circles when his career was stopped short last year by a murder scandal involving his wife, Gu Kailai. Gu was accused, and later convicted, of the November 2011 murder of British businessman Neil Heywood, a
business
partner and family friend.
Bo's former police chief in Chongqing, Wang Lijun, has also been jailed for trying to cover up the case. Bo was furious with Wang when he was told that his wife was a murder suspect, and sacked him despite not having party authority to do so, sources with knowledge of the case have said.
Neither did he report the matter to his bosses in Beijing, all of which helped lead to the abuse of power charge, they said.
Bo has also been charged with corruption and bribery, which state media says relates to his time in northeastern China, including a period as mayor of the city of Dalian.
Nevertheless he has been seen by his backers as the victim of a power struggle. Bo's downfall has triggered heated debate between his leftist followers, who are nostalgic for the revolutionary ideals of the Mao Zedong era, and reformers, who advocate faster political and economic change.
"I think it is very clear for Chinese people so far that Bo Xilai is the loser of a power struggle but he did something right at least for the people of Chongqing and Dalian, so he still enjoys quite high popularity among certain sectors of the Chinese populace," said Bo Zhiyue, a professor of Chinese politics at the
National
University of Singapore.
"That makes the whole trial very, very difficult."
Illegal trial
On Wednesday, a handful of his supporters protested outside the courthouse in Jinan to denounce what they said was politically motivated persecution.
"When comrade Bo Xilai was put under house arrest, it was a violation of the party charter and when he was handed over to the justice system it was a violation of the constitution," said a protester from Chongqing surnamed Li.
"This trial is illegal. We don't believe in any outcome of this trial."
Bo could face a death sentence for his charges, though it is more likely he could be given a suspended death sentence, which effectively means life imprisonment, or a 20-year term.
The trial, likely to last only a single day, will be closely watched as a test case of China's commitment to the rule of law, especially whether Bo will be given a chance to defend himself.
Yet his guilt is an almost foregone conclusion given that China's prosecutors and courts come under Communist Party control and courts have a 98 percent conviction rate.
Analysts say Bo's trial could have started only after he cooperated with the authorities, but how he will behave in court will be a question mark.
"Bo Xilai may not be as cooperative as his wife and you can't have a completely secret trial," said Cheng Li, a senior fellow at the Brookings Institution in Washington. "I don't know how the leadership will handle that dilemma."
The new administration of President Xi, who formally took the reins of state power in March, will likely trumpet Bo's case as a success in its fight against deep-rooted corruption.
Xi has vowed to fight both "tigers" and "flies" – in other words people at every level of the party – as he combats graft so serious that he has warned it threatens the Communist Party's very survival.
Bo has not been able to respond to the accusations against him. In March 2012, at a news conference days before his dismissal, Bo scorned as nonsense unspecified accusations of misdeeds by his wife and said people were pouring "filth on my family".
Syria gas kills hundreds, Security Council meets
Reuters / Phuket Gazette
PHUKET: Syria's opposition accused government forces of gassing hundreds of people on Wednesday by firing rockets that released deadly fumes over rebel-held Damascus suburbs, killing men, women and children as they slept.
With the death toll estimated between 500 and 1,300, what would be the world's most lethal chemical weapons attack since the 1980s prompted an emergency meeting of the U.N. Security Council in New York.
The council did not explicitly demand a U.N. investigation of the incident, although it said "clarity" was needed and welcomed U.N. chief Ban Ki-moon's calls for a prompt investigation by the U.N. inspection team in Syria, led by Ake Sellstrom.
An earlier Western-drafted statement submitted to the council, seen by Reuters, was not approved. The final version of the statement was watered down to accommodate objections from Russia and China, diplomats said. Moscow and Beijing have vetoed previous Western efforts to impose U.N. penalties on Assad.
Syrian Information Minister Omran Zoabi said the allegations were "illogical and fabricated". President Bashar al-Assad's officials have said they would never use poison gas against Syrians. The United States and European allies believe Assad's forces have used small amounts of sarin before, hence the current U.N. visit.
Immediate international action is likely to be limited, with the divisions among major powers that have crippled efforts to quell 2 1/2 years of civil war still much in evidence.
Russia backed up Syrian government denials by saying it looked like a rebel "provocation" to discredit Assad.
Britain voiced the opposite view: "I hope this will wake up some who have supported the Assad regime to realise its murderous and barbaric nature," Foreign Secretary William Hague said on a visit to Paris.
France, Britain, the United States and others cal
— Phuket Gazette Editors
World News

Join the conversation and have your say on Thailand news published on The Thaiger.
Thaiger Talk is our new Thaiger Community where you can join the discussion on everything happening in Thailand right now.
Please note that articles are not posted to the forum instantly and can take up to 20 min before being visible. Click for more information and the Thaiger Talk Guidelines.