Phuket Gazette World News: Syria gas kills hundreds; Bo Xilai trial begins; Pink Panther arrested; Manning gets 35 years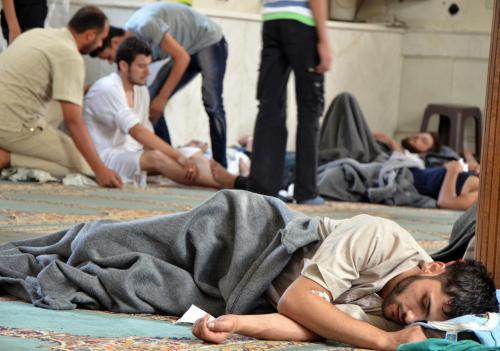 PHUKET MEDIA WATCH
– World news compiled by Gazette editors for Phuket's international community
Trial of Bo Xilai opens in China
Reuters / Phuket Gazette
PHUKET: Police blocked entry to a courthouse in the eastern Chinese city of Jinan on Thursday where the trial of ousted politician Bo Xilai is to open, the final, dramatic chapter of the country's most politically charged case in more than three decades.
A convoy of police cars and a minivan entered the courthouse around 7.10 a.m. (6.10 p.m. EDT), possibly carrying Bo. Police lined roads leading to the courthouse and blocked its two gates.
Dozens of journalists stood in a box that was cordoned off for the media across the street.
Bo, 64, will appear in public for the first time in 17 months when the court opens at 8:30 a.m., where he will face charges of bribery, corruption and abuse of power. He will almost certainly be found guilty.
His trial marks the culmination of China's biggest political scandal since the 1976 downfall of the Gang of Four at the end of the Cultural Revolution.
Bo's fall has been highly divisive, pitting supporters of his Maoist-themed egalitarian social programs against the capitalist-leaning economic road taken by the leadership.
President Xi Jinping, who is embarking on an ambitious plan to rebalance the world's second-biggest economy, will be keen to quickly put the trial behind him and ensure he has the unstinting support of the ruling Communist Party.
How Bo pleads to the charges will be keenly watched.
A guilty plea would almost certainly signal he has worked out a deal for leniency, but he's likely to plead not guilty to the abuse of power charge in an apparent bid to show that he is a victim of a power struggle, according to a source with ties to the leadership.
Bo, the party chief in the southwestern metropolis of Chongqing, was a fast-rising star in China's leadership circles when his career was stopped short last year by a murder scandal involving his wife, Gu Kailai. Gu was accused, and later convicted, of the November 2011 murder of British businessman Neil Heywood, a business partner and family friend.
Bo's former police chief in Chongqing, Wang Lijun, has also been jailed for trying to cover up the case. Bo was furious with Wang when he was told that his wife was a murder suspect, and sacked him despite not having party authority to do so, sources with knowledge of the case have said.
Neither did he report the matter to his bosses in Beijing, all of which helped lead to the abuse of power charge, they said.
Bo has also been charged with corruption and bribery, which state media says relates to his time in northeastern China, including a period as mayor of the city of Dalian.
Nevertheless he has been seen by his backers as the victim of a power struggle. Bo's downfall has triggered heated debate between his leftist followers, who are nostalgic for the revolutionary ideals of the Mao Zedong era, and reformers, who advocate faster political and economic change.
"I think it is very clear for Chinese people so far that Bo Xilai is the loser of a power struggle but he did something right at least for the people of Chongqing and Dalian, so he still enjoys quite high popularity among certain sectors of the Chinese populace," said Bo Zhiyue, a professor of Chinese politics at the National University of Singapore.
"That makes the whole trial very, very difficult."
Illegal trial
On Wednesday, a handful of his supporters protested outside the courthouse in Jinan to denounce what they said was politically motivated persecution.
"When comrade Bo Xilai was put under house arrest, it was a violation of the party charter and when he was handed over to the justice system it was a violation of the constitution," said a protester from Chongqing surnamed Li.
"This trial is illegal. We don't believe in any outcome of this trial."
Bo could face a death sentence for his charges, though it is more likely he could be given a suspended death sentence, which effectively means life imprisonment, or a 20-year term.
The trial, likely to last only a single day, will be closely watched as a test case of China's commitment to the rule of law, especially whether Bo will be given a chance to defend himself.
Yet his guilt is an almost foregone conclusion given that China's prosecutors and courts come under Communist Party control and courts have a 98 percent conviction rate.
Analysts say Bo's trial could have started only after he cooperated with the authorities, but how he will behave in court will be a question mark.
"Bo Xilai may not be as cooperative as his wife and you can't have a completely secret trial," said Cheng Li, a senior fellow at the Brookings Institution in Washington. "I don't know how the leadership will handle that dilemma."
The new administration of President Xi, who formally took the reins of state power in March, will likely trumpet Bo's case as a success in its fight against deep-rooted corruption.
Xi has vowed to fight both "tigers" and "flies" – in other words people at every level of the party – as he combats graft so serious that he has warned it threatens the Communist Party's very survival.
Bo has not been able to respond to the accusations against him. In March 2012, at a news conference days before his dismissal, Bo scorned as nonsense unspecified accusations of misdeeds by his wife and said people were pouring "filth on my family".
Syria gas kills hundreds, Security Council meets
Reuters / Phuket Gazette
PHUKET: Syria's opposition accused government forces of gassing hundreds of people on Wednesday by firing rockets that released deadly fumes over rebel-held Damascus suburbs, killing men, women and children as they slept.
With the death toll estimated between 500 and 1,300, what would be the world's most lethal chemical weapons attack since the 1980s prompted an emergency meeting of the U.N. Security Council in New York.
The council did not explicitly demand a U.N. investigation of the incident, although it said "clarity" was needed and welcomed U.N. chief Ban Ki-moon's calls for a prompt investigation by the U.N. inspection team in Syria, led by Ake Sellstrom.
An earlier Western-drafted statement submitted to the council, seen by Reuters, was not approved. The final version of the statement was watered down to accommodate objections from Russia and China, diplomats said. Moscow and Beijing have vetoed previous Western efforts to impose U.N. penalties on Assad.
Syrian Information Minister Omran Zoabi said the allegations were "illogical and fabricated". President Bashar al-Assad's officials have said they would never use poison gas against Syrians. The United States and European allies believe Assad's forces have used small amounts of sarin before, hence the current U.N. visit.
Immediate international action is likely to be limited, with the divisions among major powers that have crippled efforts to quell 2 1/2 years of civil war still much in evidence.
Russia backed up Syrian government denials by saying it looked like a rebel "provocation" to discredit Assad.
Britain voiced the opposite view: "I hope this will wake up some who have supported the Assad regime to realise its murderous and barbaric nature," Foreign Secretary William Hague said on a visit to Paris.
France, Britain, the United States and others cal
— Phuket Gazette Editors
Keep in contact with The Thaiger by following our
Facebook page
.
Never miss out on future posts by
following The Thaiger
.


Find more SE Asian News courtesy of The Thaiger.

Broke? Find employment in Southeast Asia with JobCute Thailand. Rich? Invest in real estate across Asia with FazWaz Property Group. Even book medical procedures worldwide with MyMediTravel, all powered by DB Ventures.

International travel slow to take off, Covid-19 restrictions evolving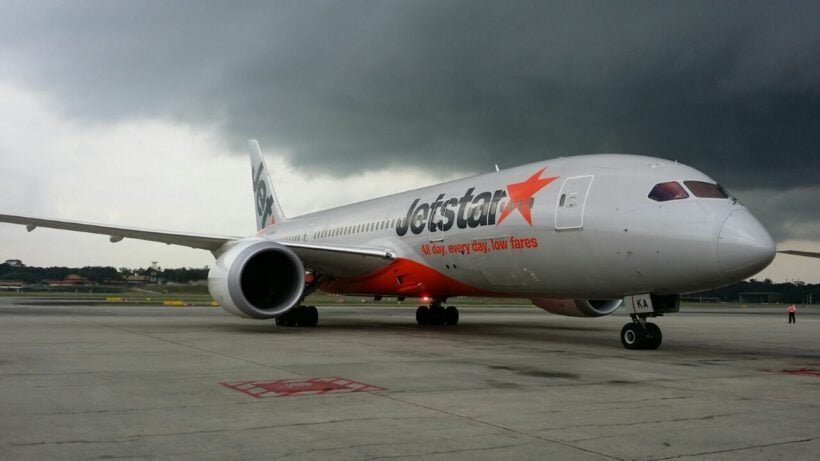 While Thailand is working on safely, and slowly, reopening its borders to foreign tourists after a 7 month border closure, other countries are also adapting to new, pandemic-induced, travel measures and restrictions. Now some are slowly lifting restrictions and resuming flights, while some remain grounded. What's happening in your part of the world?
In all cases, check your local travel restrictions and quarantine requirements, if any. And if you leave a country, what paperwork or restrictions will await you when you return? Don't book any flights until you've done your homework.
Australia
Qantas Airlines flights from Australia to the US will continue to be grounded until at least January 31, 2021 which includes the destinations New York, Los Angeles, San Francisco and Honolulu. The airline will also continue to ground flights to Japan, including Tokyo, Osaka and Sapporo.
Singapore
Jetstar Asia, based in Singapore, will resume flights to major destinations in Southeast Asia with flights to Bangkok starting next month. Since flights are always changing due to uncertainties and travel restrictions, flights to select Southeast Asia cities are only being offered from October 25 to November 15. JetStar will then review flights again. Destinations include Clark in the Philippines, Jakarta in Indonesia as well as Kuala Lumpur and Penang in Malaysia.
Hong Kong
Hong Kong and Singapore have agreed on a travel bubble schemed that will allow Hong Kong nationals and Singapore nationals to travel between the 2 countries without going through Covid-19 tests or quarantine periods. But the countries have not announced when the scheme will begin.
Maldives
All incoming tourists and short-term visitors must have a certificate declaring negative Covid-19 test result issued 96 hours before arrival, extending the window from the previous 72 hours.
SOURCE: TTR Weekly
Catch up with the latest daily "Thailand News Today" here on The Thaiger.
Keep in contact with The Thaiger by following our
Facebook page
.
Never miss out on future posts by
following The Thaiger
.
Covid19 – US infections "balloon", world case total surpasses 40 million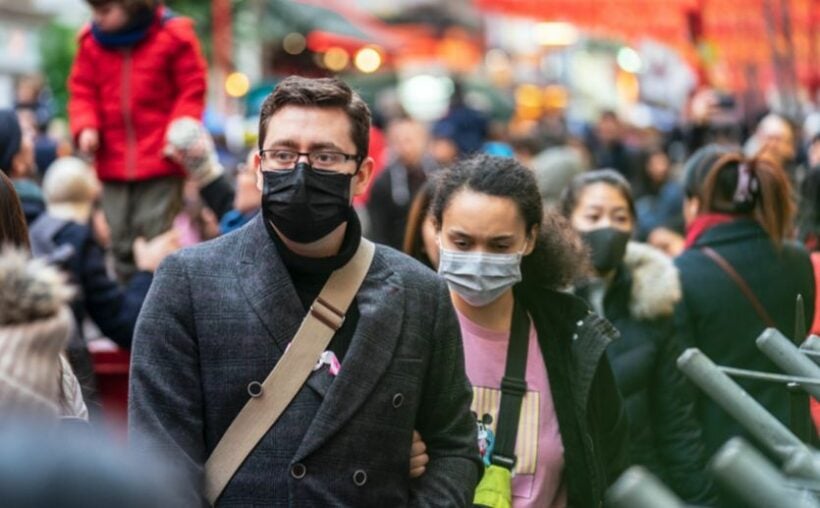 "We were really hoping to crater the cases in preparation for a bad winter. We've done basically the opposite."
New Covid-19 cases are again surging in many countries. Globally, the number of infected people exceeded 40 million as of last night with new infections starting to accelerate again. Today the total number of confirmed cases around the world is 40,323,461. The number of total deaths remains at 1,118,826 and recovered patients at 30,135,040 (as of 4pm Thai time).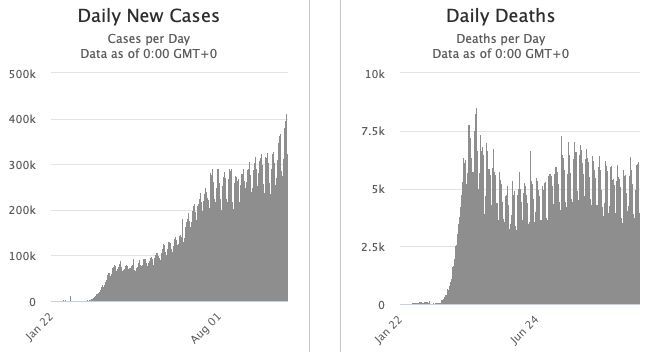 Notably, the death rate from Covid-19 is not rising as treatment for complicated cases continues to rapidly improve. The US, India, Russia, Brazil, the rest of South America, and parts of Europe and the UK, are the current 'hot spots' (below).
Regionally, the surge of cases in Myanmar is causing headaches for Thai border officials in the north west of the country. The Governor of Tak decided to close the border checkpoints this morning. But the 2,000 kilometre long land border between Thailand and Myanmar has many unofficial "Natural" crossing points.
In the US, the nation's top infectious disease doctor, Dr. Anthony Fauci, director of the National Institute of Allergy and Infectious Diseases, says following public health measures is the way out of the crisis that has hobbled the economy, claimed thousands of lives and sickened millions.
"The predicted fall surge is here, and rising cases across the US appear to bear that out."
The US is averaging more than 55,000 new cases a day, and 10 states reported their highest single-day cases counts last Friday. As of this morning, US time, there were more than 8.5 million cases and 219,674 coronavirus deaths, according to Worldometers.info
"The Covid-19 crisis would have to be 'really, really bad' to implement a national lockdown. Despite the climbing totals, a nationwide lockdown is not the way forward unless the pandemic gets "really, really bad."
Tara Smith, a professor of epidemiology at Kent State University says the worst fears of rising cases, leading into winter, are being realised.
"We were really hoping to crater the cases in preparation for a bad winter. We've done basically the opposite."
After hitting an all-time high in July, cases did drop significantly, but the US never reached a level where the public health system could truly get a handle on the outbreak or describe it as 'contained'.
Now infections are on the rise again, driven by ballooning outbreaks across the country's interior, especially in the Midwest, the Great Plains and the West.
Contributing to the rise is the return of students to schools and campuses across the country, puzzling resistance to social distancing and mask wearing recommendations, and more people spending time in restaurants and other indoor settings as the weather starts to cool down.
SOURCE: worldometers.info | nor.org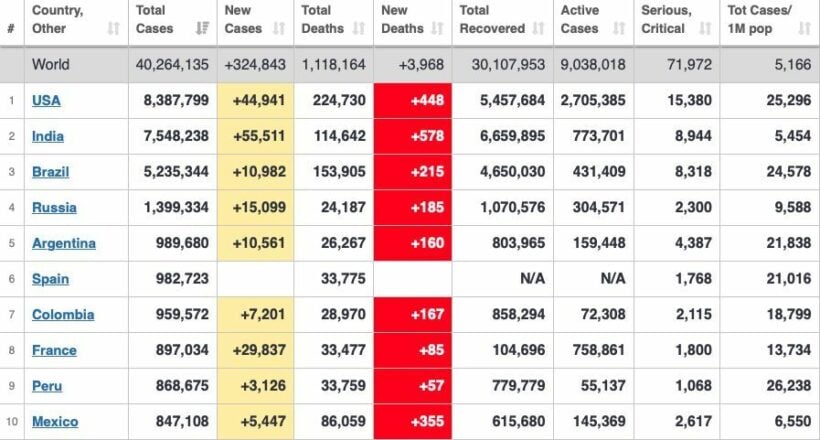 TABLE: worldometers.com
Keep in contact with The Thaiger by following our
Facebook page
.
Never miss out on future posts by
following The Thaiger
.
2 Covid vaccine trials halted in phase 3 over safety concerns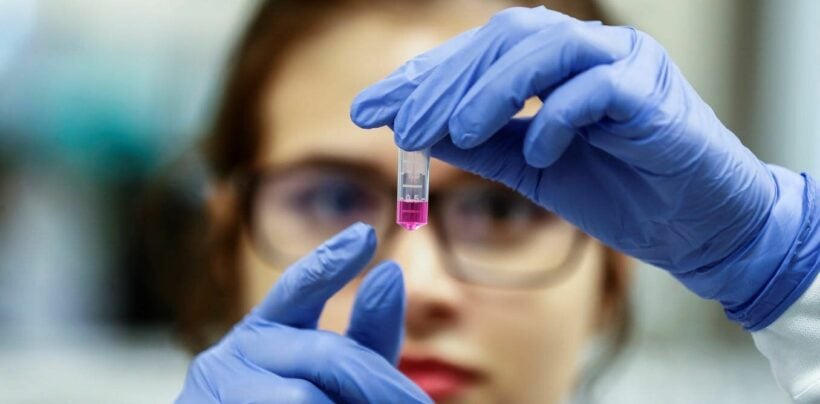 After Johnson & Johnson paused phase 3 of its Covid vaccine trials due to safety concerns, a second pharmaceutical company has followed suit. Eli Lilly has halted phase 3 trials of a lab-produced antibody treatment, 24 hours after the Johnson & Johnson decision. The Bangkok Post reports that an unspecified incident led Eli Lilly to call a temporary halt to the trials. The day before, Johnson & Johnson paused its phase 3 trials after a participant fell ill. A spokesperson for J&J says the hiatus is temporary.
The 2 delays follow a similar incident with phase 3 trials of a vaccine being jointly worked on by Oxford University and Astra Zeneca, which was briefly delayed last month due to an unexplained illness in one participant. Trials of that vaccine have now resumed globally, with the exception of the US, for reasons unknown. Such snags are par for the course in the final phase testing of vaccine development, particularly as the number of participants is increased significantly to see if very rare side-effects are presented.
A spokesperson for Eli Lilly says the company backs the Data Safety and Monitoring Board in calling a temporary halt to phase 3 trials.
"Lilly is supportive of the decision by the independent DSMB to cautiously ensure the safety of the patients participating in this study."
Eli Lilly's trial began in August, aimed at recruiting 10,000 participants, across 50 sites, including the US, Denmark and Singapore, using a lab-produced antibody treatment, similar to that developed by Regeneron and used to treat US President Donald Trump recently. Eli Lilly has not given any further information about the safety concern which has paused phase 3.
Meanwhile, a J&J spokesman says such breaks are to be expected in large-scale trials and that reported illnesses or side-effects may be unrelated to the vaccine.
"It's not at all unusual for unexpected illnesses in large studies over their duration. In some cases, serious adverse events may have something or nothing to do with the drug or vaccine being investigated."
SOURCE: Bangkok Post
Keep in contact with The Thaiger by following our
Facebook page
.
Never miss out on future posts by
following The Thaiger
.