World
Phuket Gazette World News: Second bomb blast in Russia; Volcano in El Salvador; Aussie cyclone heads inland; Four journalists held in Egypt; China says Japan PM 'shut door'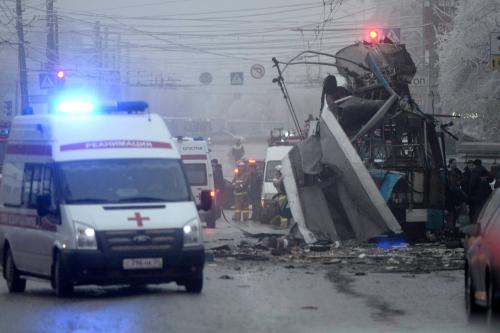 PHUKET MEDIA WATCH
– World news compiled by Gazette editors for Phuket's international community
Second blast in Russia's Volgograd kills 10 on trolleybus
Reuters / Phuket Gazette
At least 10 people were killed when a bomb blast ripped through a trolleybus on Monday in the second deadly attack in the Russian city of Volgograd in two days, law enforcement authorities said.
The explosion came a day after a suicide bomber killed at least 17 people in the main railway station of the southern city 40 days before Russia is to hold the Winter Olympics in the Black Sea resort of Sochi.
State TV footage showed the twisted, gutted remains of the blue-and-white trolleybus, its roof blown off and debris strewn around the street. Federal investigators said the blast was believed to have been a terrorist act.
The consecutive attacks underscored Russia's vulnerability to militants and will raise fears of a concerted campaign of violence before the Olympics, which start on February 7 in Sochi, about 690 km southwest of Volgograd.
The Sochi Games are a major prestige project for President Vladimir Putin. Insurgents who want to carve an Islamic state out of southern Russia urged militants in a Web-posted video in July to use "maximum force" to prevent them from being held.
There was no immediate claim of responsibility for either of the attacks, which left dozens wounded in addition to the deaths. Authorities said 37 people were hospitalised after Sunday's attack and 23 were reported wounded on Monday.
El Salvador volcano erupts, evacuations ordered
Reuters / Phuket Gazette
PHUKET: The Chaparrastique volcano in eastern El Salvador belched a column of hot ash high into the air on Sunday, frightening nearby residents and prompting authorities to order evacuations in the area.
There were no immediate reports of injuries in the San Miguel region, where the volcano is located and that is known for its coffee plantations.
Civil protection authorities said they would evacuate people from within three kilometres (1.9 miles) of the volcano and set up emergency shelters.
"The evacuations began almost right after the explosion," said civil protection official Armando Vividor. He said some 5,000 people lived around the volcano.
The volcano, which is about 140 kilometres (86 miles) to the east of the capital, spewed ash over a wide area and the smell of sulphur hung over surrounding towns, according to reports on social media. Authorities recommended breathing through moist handkerchiefs.
Santos Osorio, a member of a local coffee growers union, said heavy ash was falling in the area and local coffee plantations would be checked for damage.
El Salvador's crop has already been blighted by an outbreak of leaf rust that has reduced output in all five of Central America's coffee producers.
El Salvador has 23 active volcanoes and the Chaparrastique volcano is considered one of the most active, with 26 eruptions in the last 500 years, the environment ministry said. In a 1976 eruption, lava gushed from the volcano and it shook violently in another event in 2010.
(Additional reporting by Hugo Sanchez; Editing by Eric Beech and Christopher Wilson)
Cyclone Christine heads into Australia after battering iron ore ports
Reuters / Phuket Gazette
PHUKET: Australia's Pilbara iron ore shipping and mining region, the world's largest, faced cyclonic winds and torrential rains on Tuesday after a cyclone made landfall after intensifying over the last few days in the Indian Ocean.
The key shipping ports of Dampier, Cape Lambert and Port Hedland bore the brunt of the storm after clearing dozens of iron ore freighters and evacuating staff over the weekend. Reports of damage were not immediately available.
Cyclone Christine, the second to batter Western Australia in the November 1-April 30 cyclone season, forced mining companies Rio Tinto, BHP Billiton and Fortescue Metals to suspend loading until emergency authorities sound the all-clear, expected over the next day or two.
Winds with gusts exceeding 160 kilometres per hour (100 mph) are possible near the center of the cyclone over the next few hours, easing only slightly as Christine moves inland during the day Tuesday, according to the Australian Bureau of Meteorology.
A red alert – meaning residents must seek shelter – has been issued for the mining hubs of Tom Price and Paraburdoo, the weather bureau said. The area is home to some of Australia's biggest iron ore mines, including ones owned by Rio Tinto and Fortescue.
"There is a threat to lives and homes," the Department of Fire and Emergency Services said in a statement. "You are in danger and need to act immediately."
About 56,000 people live in the Pilbara, which is about the size of Peru.
Cyclones typically cause disruptions to mining operations of between two and five days.
Top Australian supplier Rio Tinto, which is relying on Cape Lambert and Dampier to ship 290 million tonnes of ore next year, halted port activities on Sunday.
Exports from Port Hedland, The world's largest iron ore export terminal and used by BHP and Fortescue, reached 28.1 million tonnes in November alone. The majority of the ore is shipped under contract to steel mills in China.
Al Jazeera says four journalists held in Egypt after hotel broadcast
Reuters / Phuket Gazette
PHUKET: Four Al Jazeera journalists have been arrested in Egypt, the station said on Monday, after the Interior Ministry accused the Qatar-based channel of broadcasting illegally from a hotel suite with a member of the Muslim Brotherhood.
Al Jazeera's offices in Cairo have been closed since July 3 when they were raided by security forces hours after the army ousted the Brotherhood's Mohamed Mursi from the presidency.
Qatar was a strong financial backer of the Brotherhood's rule and its relationship with Cairo has deteriorated in recent months as it vehemently opposes the army's overthrow of Mursi and the crackdown on his movement that has followed.
"State security received information that a member of the (Brotherhood) used two suites in a Cairo hotel to hold meetings with other members of the organisation and turned the suites into a press centre," the ministry said.
"(They) made live broadcasts of news that harms homeland security, spreading rumours and false news to Qatar's Al Jazeera channel without permits."
The Interior Ministry said a member of the Brotherhood and an Australian journalist who works for Al Jazeera were arrested and equipment was seized, including broadcast transmitters.
Al Jazeera said four journalists from its English news channel had been arrested, a correspondent, two producers and a cameraman.
Since Mursi was ousted, Egypt has faced some of its worst violence in decades, which the government has blamed on Islamic militants. It declared the Brotherhood a terrorist group last week and has arrested thousands of its members, including Mursi.
U.S. Defence Secretary Chuck Hagel expressed concern about developments in Egypt in a call on Sunday to Egyp
— Phuket Gazette Editors