Phuket Gazette World News: Second bomb blast in Russia; Volcano in El Salvador; Aussie cyclone heads inland; Four journalists held in Egypt; China says Japan PM 'shut door'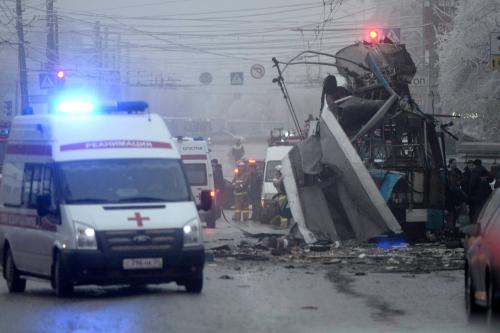 PHUKET MEDIA WATCH
– World news compiled by Gazette editors for Phuket's international community
Second blast in Russia's Volgograd kills 10 on trolleybus
Reuters / Phuket Gazette
At least 10 people were killed when a bomb blast ripped through a trolleybus on Monday in the second deadly attack in the Russian city of Volgograd in two days, law enforcement authorities said.
The explosion came a day after a suicide bomber killed at least 17 people in the main railway station of the southern city 40 days before Russia is to hold the Winter Olympics in the Black Sea resort of Sochi.
State TV footage showed the twisted, gutted remains of the blue-and-white trolleybus, its roof blown off and debris strewn around the street. Federal investigators said the blast was believed to have been a terrorist act.
The consecutive attacks underscored Russia's vulnerability to militants and will raise fears of a concerted campaign of violence before the Olympics, which start on February 7 in Sochi, about 690 km southwest of Volgograd.
The Sochi Games are a major prestige project for President Vladimir Putin. Insurgents who want to carve an Islamic state out of southern Russia urged militants in a Web-posted video in July to use "maximum force" to prevent them from being held.
There was no immediate claim of responsibility for either of the attacks, which left dozens wounded in addition to the deaths. Authorities said 37 people were hospitalised after Sunday's attack and 23 were reported wounded on Monday.
El Salvador volcano erupts, evacuations ordered
Reuters / Phuket Gazette
PHUKET: The Chaparrastique volcano in eastern El Salvador belched a column of hot ash high into the air on Sunday, frightening nearby residents and prompting authorities to order evacuations in the area.
There were no immediate reports of injuries in the San Miguel region, where the volcano is located and that is known for its coffee plantations.
Civil protection authorities said they would evacuate people from within three kilometres (1.9 miles) of the volcano and set up emergency shelters.
"The evacuations began almost right after the explosion," said civil protection official Armando Vividor. He said some 5,000 people lived around the volcano.
The volcano, which is about 140 kilometres (86 miles) to the east of the capital, spewed ash over a wide area and the smell of sulphur hung over surrounding towns, according to reports on social media. Authorities recommended breathing through moist handkerchiefs.
Santos Osorio, a member of a local coffee growers union, said heavy ash was falling in the area and local coffee plantations would be checked for damage.
El Salvador's crop has already been blighted by an outbreak of leaf rust that has reduced output in all five of Central America's coffee producers.
El Salvador has 23 active volcanoes and the Chaparrastique volcano is considered one of the most active, with 26 eruptions in the last 500 years, the environment ministry said. In a 1976 eruption, lava gushed from the volcano and it shook violently in another event in 2010.
(Additional reporting by Hugo Sanchez; Editing by Eric Beech and Christopher Wilson)
Cyclone Christine heads into Australia after battering iron ore ports
Reuters / Phuket Gazette
PHUKET: Australia's Pilbara iron ore shipping and mining region, the world's largest, faced cyclonic winds and torrential rains on Tuesday after a cyclone made landfall after intensifying over the last few days in the Indian Ocean.
The key shipping ports of Dampier, Cape Lambert and Port Hedland bore the brunt of the storm after clearing dozens of iron ore freighters and evacuating staff over the weekend. Reports of damage were not immediately available.
Cyclone Christine, the second to batter Western Australia in the November 1-April 30 cyclone season, forced mining companies Rio Tinto, BHP Billiton and Fortescue Metals to suspend loading until emergency authorities sound the all-clear, expected over the next day or two.
Winds with gusts exceeding 160 kilometres per hour (100 mph) are possible near the center of the cyclone over the next few hours, easing only slightly as Christine moves inland during the day Tuesday, according to the Australian Bureau of Meteorology.
A red alert – meaning residents must seek shelter – has been issued for the mining hubs of Tom Price and Paraburdoo, the weather bureau said. The area is home to some of Australia's biggest iron ore mines, including ones owned by Rio Tinto and Fortescue.
"There is a threat to lives and homes," the Department of Fire and Emergency Services said in a statement. "You are in danger and need to act immediately."
About 56,000 people live in the Pilbara, which is about the size of Peru.
Cyclones typically cause disruptions to mining operations of between two and five days.
Top Australian supplier Rio Tinto, which is relying on Cape Lambert and Dampier to ship 290 million tonnes of ore next year, halted port activities on Sunday.
Exports from Port Hedland, The world's largest iron ore export terminal and used by BHP and Fortescue, reached 28.1 million tonnes in November alone. The majority of the ore is shipped under contract to steel mills in China.
Al Jazeera says four journalists held in Egypt after hotel broadcast
Reuters / Phuket Gazette
PHUKET: Four Al Jazeera journalists have been arrested in Egypt, the station said on Monday, after the Interior Ministry accused the Qatar-based channel of broadcasting illegally from a hotel suite with a member of the Muslim Brotherhood.
Al Jazeera's offices in Cairo have been closed since July 3 when they were raided by security forces hours after the army ousted the Brotherhood's Mohamed Mursi from the presidency.
Qatar was a strong financial backer of the Brotherhood's rule and its relationship with Cairo has deteriorated in recent months as it vehemently opposes the army's overthrow of Mursi and the crackdown on his movement that has followed.
"State security received information that a member of the (Brotherhood) used two suites in a Cairo hotel to hold meetings with other members of the organisation and turned the suites into a press centre," the ministry said.
"(They) made live broadcasts of news that harms homeland security, spreading rumours and false news to Qatar's Al Jazeera channel without permits."
The Interior Ministry said a member of the Brotherhood and an Australian journalist who works for Al Jazeera were arrested and equipment was seized, including broadcast transmitters.
Al Jazeera said four journalists from its English news channel had been arrested, a correspondent, two producers and a cameraman.
Since Mursi was ousted, Egypt has faced some of its worst violence in decades, which the government has blamed on Islamic militants. It declared the Brotherhood a terrorist group last week and has arrested thousands of its members, including Mursi.
U.S. Defence Secretary Chuck Hagel expressed concern about developments in Egypt in a call on Sunday to Egyp
— Phuket Gazette Editors
Keep in contact with The Thaiger by following our
Facebook page
.


Find more SE Asian News courtesy of The Thaiger.

Broke? Find employment in Southeast Asia with JobCute Thailand. Rich? Invest in real estate across Asia with FazWaz Property Group. Even book medical procedures worldwide with MyMediTravel, all powered by DB Ventures.

Mayor of Seoul dead in apparent suicide after harassment allegations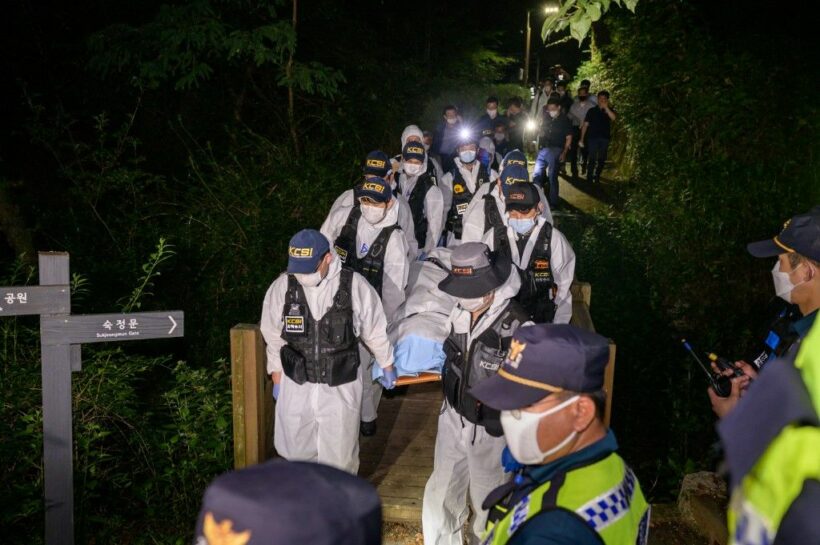 Seoul's mayor has died in an apparent suicide the day after a former assistant made allegations of sexual harassment against him. Park Won-soon, a former human rights lawyer and potential presidential candidate, was found dead earlier yesterday on a mountain in the South Korean capital.
The death is by far the most dramatic end to a #MeToo case in the nation, a male-dominated culture where the women's movement has brought down dozens of prominent men in various fields. If Park's death does prove to be a suicide, he will be the highest-profile politician to do so since former president Roh Moo-hyun jumped off a cliff in 2009, after corruption allegations swirled involving family members.
Police say there were no signs of foul play, and according to Yonhap news agency, Park is presumed to have taken his own life. His daughter reported him missing yesterday, saying he had been unreachable after leaving a message that "sounded like last words".
A heavyweight in the ruling Democratic party, Park ran South Korea's vast capital – home to nearly 20% of the nation's population – for nearly a decade. He won 3 elections while promoting gender and social equality, and wasn't shy about his ambition to replace incumbent President Moon Jae-in in 2022. His death comes a day after his former secretary filed a police complaint, reportedly involving sexual harassment, against him.
South Korea remains extremely patriarchal despite recent economic and technological advances, but in the last 2 years has also seen a widespread #MeToo movement, sparked by a prosecutor who publicly accused a superior of groping her at a funeral. Perpetrators have included a former provincial governor and presidential candidate who was jailed last year after his female assistant accused him of repeatedly raping her.
According to a document purporting to be the statement by Park's victim, his personal secretary from 2015, he committed "sexual harassment and inappropriate gestures during work hours". After work, she reports, he sent her "selfies of himself in his underwear and lewd comments" on a messenger app.
"I brainwashed myself, bearing tremendous fear and humiliation, that all of this was in the interest of Seoul City, myself, and mayor Park."
The police confirmed a complaint had been filed but declined to confirm the details. Park's death means the investigation will automatically be closed.
Park was a student activist in the days of South Korea's military dictatorship – he was jailed for his part in a rally against then-president Park Chung-hee – and later became a human rights lawyer. He defended many political activists and ironically, in the 1990s won South Korea's first sexual harassment conviction, in a landmark judgment.
The Seoul city government said a memorial altar will be set up in front of the city hall for citizens to pay respects.
SOURCE: Bangkok Post
Keep in contact with The Thaiger by following our
Facebook page
.
US ambassador vows to help Thailand combat human trafficking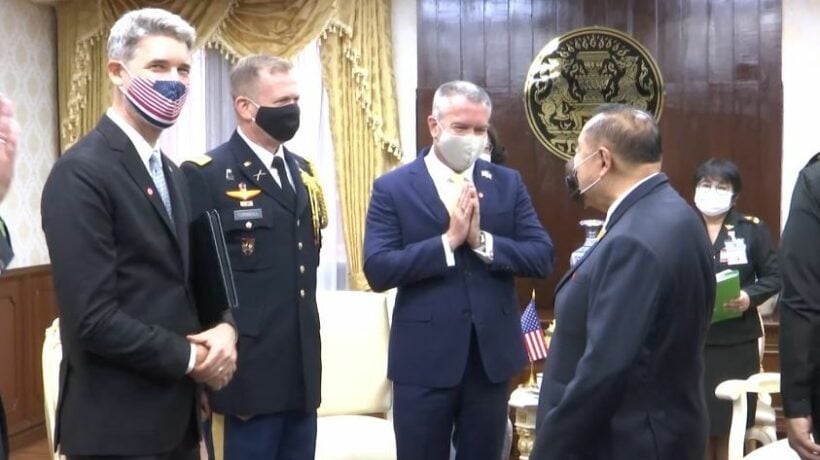 The US ambassador to Thailand is pledging to help Thailand achieve its goal to be upgraded from Tier 2 to Tier 1 in the annual US Trafficking in Persons Report. The report divides countries into tiers based on their compliance with standards outlined in the US Trafficking Victims Protection Act of 2000. Tier 1 comprises countries whose governments fully comply with TVPA minimum standards.
Tier 2 is for countries whose governments do not fully comply with TVPA minimum standards but are making significant efforts. Speaking after a meeting with Deputy PM Prawit Wongsuwon, Ambassador Michael George DeSombre said yesterday that Washington stands ready to support Thailand in the ranking elevation, as Prawit requested. Prawit said he has already seen the TIP Report 2020, in which Thailand remains at Tier 2.
Prawit says Thailand is determined to continue working hard to tackle the human trafficking problem, and the issue is high on the country's priorities but involves cooperation from all sides to tackle.
"All parties involved in this work are ready to fully cooperate with the US in the continued fight against human trafficking."
"Thailand does not fully meet the minimum standards for the elimination of trafficking but is making significant efforts. The government has generally demonstrated increasing efforts compared to the previous reporting period although the country remains on Tier 2." – US Trafficking in Persons Report
The efforts include anti-trafficking training for judges and working with non-governmental organisations to arrange trauma care training for police, prosecutors, and shelter staff, according to the report. The government investigated more cases of labour trafficking compared to the previous reporting period, and convicted traffickers faced stiffer penalties.
It also increased the amount of compensation provided to victims through the anti-trafficking fund and handed out restitution to victims of trafficking for the first time during the reporting period.
SOURCE: Bangkok Post
Keep in contact with The Thaiger by following our
Facebook page
.
Covid-19 UPDATE: Friday, July 10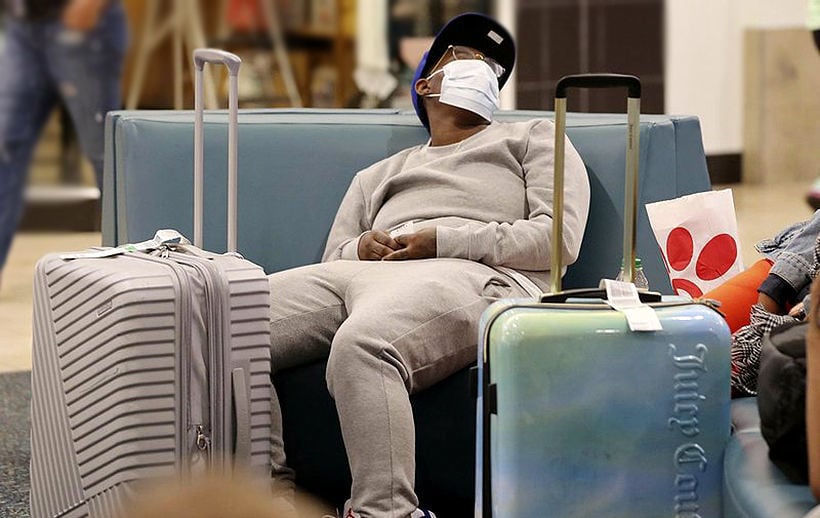 Today the total number of Covid-19 patients in the world has nearly reached 12.4 million with over 557,000 people succumbing to the effects of the disease. Nearly 7.2 million people are registered as 'recovered' from their bout of Covid-19. The numbers of new cases, worldwide, is accelerating. The current hotspots are the US, Brazil, India, South Africa and Mexico – presenting with the highest numbers of new cases in the past 24 hours.
On the positive side, the death rate from Covid-19 cases has flattened out a lot over the past 2 months although there are now signs it is starting to rise again.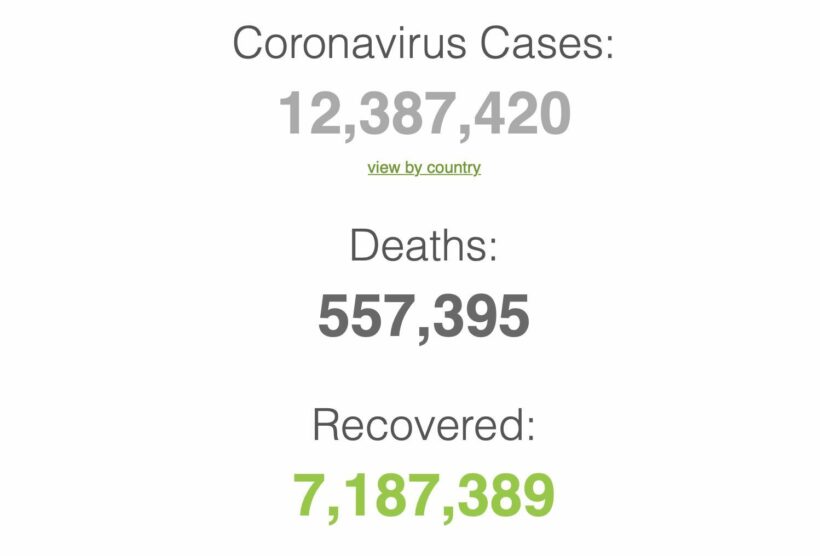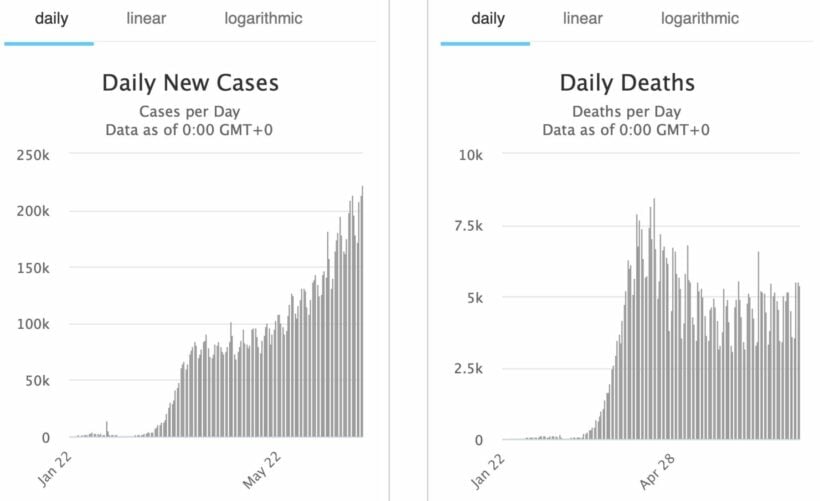 Here's some latest news from around the world relating to Covid-19…
• Italy is banning entry to people arriving from 13 countries that it says "presents an excessive rate of Covid-19 infections. The list compiled by the health ministry comprises Armenia, Bahrain, Bangladesh, Brazil, Bosnia and Herzegovina, Chile, Kuwait, North Macedonia, Moldova, Oman, Panama, Peru and Dominican Republic.
The ban affects anyone who has stayed in or travelled through these countries in the last 14 days.
• The first coronavirus case has been confirmed in northwest Syria, according to aid workers in the region. The area is where hospitals lie in ruins and camps overflow with people after nearly a decade of war.
• Greek authorities say they are ready to re-impose public and travel restrictions next week, warning that safety guidance for the coronavirus is being frequently ignored.
• Dr. Robert Redfield, the director of the US Centres for Disease Control and Prevention, is calling for millennials and members of Generation X to "social distance and wear face coverings" to help mitigate the spread of Covid-19 in the US.
"We have not been able to reach effectively the millennials and the Generation X. We're seeing the outbreak increase in number of states across this nation, in a number of metropolitan ares. The most important powerful weapon we have, please social distance. Please wear a mask in public. Please wash your hands. And please, basically, let's not be going to bars right now. It's just not the time for us to do that."
• Brazil is approaching nearly 70,000 fatalities from Covid-19 after its health ministry reported at least 1,220 new deaths in the last 24 hours. The ministry also reported at least 42,619 new Covid-19 cases in the past 24 hours, bringing the Brazilian total to approximately 1,755,779.
Brazil maintains the second highest number of coronavirus cases and deaths worldwide behind the US. On Tuesday, Brazil's President, Jair Bolsonaro, announced he had tested positive for the virus. His doctors announced yesterday that the president was "well" and "without complications".
• Starbucks Corp says its customers will have to wear face coverings at all company-owned US stores starting from July 15. The international coffee chain says certain locations where there was no local government mandate to wear face masks, customers would have other options including drive-through and roadside pickups.
• The US Centres for Disease Control and Prevention has announced it is not issuing new guidelines on reopening schools, despite comments to the contrary made by US VP Mike Pence. Students are scheduled to return to school in late August, early September.
• An Italian study suggests that coronavirus can cross the placenta from a pregnant woman to her fetus. Two babies born to women infected with Covid-19 were born infected themselves.
They studied 31 women infected with coronavirus who were in late pregnancy during the height of the coronavirus pandemic in Italy. They thoroughly tested the women, their babies once they were born, the placenta, the umbilical cord, the mother's vaginal fluids and breast milk. Two of the newborns had positive tests at birth.
• The World Health Organisation announced yesterday that it's possible Covid-19 spreads through the air in health care settings. But Dr. Anthony Fauci director of the US National Institute of Allergy and Infectious Diseases, says it's a confusing question because of differing definitions of airborne droplets and aerosols.
"It's known the virus spreads on larger droplets that fly out of a person's nose and mouth. More worrying is the idea that particles containing virus might remain suspended in the air for longer than a few minutes."
"There's no proof that the new coronavirus spreads via an airborne route, but it's better to assume it does, just to be safe."
• There is new evidence that people can develop a long-term fatigue syndrome from Covid-19 infections. Speaking at the International AIDS Society conference, Dr. Anthony Fauci says that the symptoms resemble those seen in patients with myalgic encephalomyelitis, or ME, once known as "chronic fatigue syndrome".
"If you look anecdotally, there is no question that there are a considerable number of individuals who have a post-viral syndrome that in many respects incapacitates them for weeks and weeks following so-called recovery."
• Bolivian Interim President Jeanine Añez has announced on Twitter that she tested positive for Covid-19. Añez mentioned that many of her cabinet members had also tested positive recently.
"Given that over the last week many of my team members have tested positive for coronavirus, I also did the test and also was positive. I will be quarantined for 14 days until I do a new test to see how I am. I feel good, I feel strong, I am going to continue working virtually from my isolation and I want to thank all the Bolivian men and women who are working to help in this health crisis we are having."
Añez is the third Latin American head of state to test positive for the virus, following Brazil's President Jair Bolsonaro and Honduran President Juan Orlando Hernandez.
• A 2-drug cocktail used to treat hepatitis C may also help patients recover more quickly from coronavirus. 3 small studies involving 176 patients show the combination of the two drugs, "sofosbuvir" and "daclatasvir", may have hastened the recovery of patients hospitalised with coronavirus. The report was presented by Andrew Hill of Liverpool University at the International AIDS Society's Covid-19 Conference.
After two weeks of treatment, 94% of the patients given the two-drug combination were significantly better on a 7-point scale, compared to 70% of those not given the drugs. The studies were conducted in Iran, where the drug combination is widely used to treat hepatitis C patients.
• Brazil's famous tourist beaches in Rio de Janeiro "will only reopen officially for sun bathers and swimmers once there is a vaccine for Covid-19". This declaration from Mayor Marcelo Crivella yesterday.
Rio's beaches are currently only open for exercise and water sports, but casual beachgoers are regularly breaking the rules on recent weekends, with many not using masks.
"Where you can't use masks, the inclination is to only return when there is a vaccine, which is being tested, or when contamination is close to zero."
SOURCES: Al Jazeera | CNN | BBC | USA Today | Worldometers
Keep in contact with The Thaiger by following our
Facebook page
.