Phuket Gazette Thailand News: Thailand's army moves to allay coup fears; Violence at protests continues; Protesters examine voting options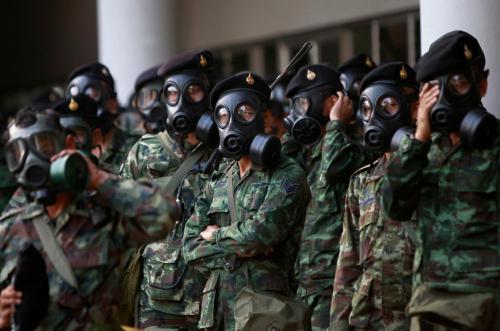 PHUKET MEDIA WATCH
– Thailand news compiled by Gazette editors for Phuket's international community
Thailand's army moves to allay coup fears
Reuters / Phuket Gazette
PHUKET: Thailand's powerful but politicised army sought to ease fears on Monday that it might step in to resolve a festering political crisis, while anti-government protesters entrenched positions around Bangkok as they seek to disrupt a February election.
The latest round of an all-too-familiar political conflict in Thailand has dragged on for weeks. It flared last week into deadly clashes between police and protesters outside a stadium where registration for the February 2 poll was under way and at other rally sites around the Thai capital.
The head of the military added to the growing sense of unease on Thursday when he refused to rule out a coup after those clashes. A policeman and a protester were killed when an unidentified gunman opened fire, and scores were wounded in the clashes.
The demonstrators are determined to topple Prime Minister Yingluck Shinawatra, who they accuse of being a puppet of her self-exiled brother and former premier, Thaksin Shinawatra.
Thai army chief General Prayuth Chan-Ocha said after Thursday's clashes that "the door was neither open nor closed" on a coup, and social media across Thailand has buzzed with rumours of a coup ever since.
Army spokesman Winthai Suwaree sought to play down those fears, telling reporters on Monday that the rumours were causing "confusion and speculation".
"The army would like to insist there's no secret meetings or any operations by the military as speculated," Winthai said.
Until last week, the military had sought to remain aloof from the conflict, which represents years of rivalry between Bangkok's middle and the mostly poor, rural supporters of Ms Yingluck and Mr Thaksin in the populous north and northeast.
The violence flared again in the early hours of Saturday when a protester was killed by an unidentified gunman who opened fire on a small group of tents set up by protesters outside Yingluck's offices at Government House.
The rest of the capital remained relatively quiet. Tension flared again on Sunday when a large firecracker was thrown at another protest site, at a bridge over a canal near Government House, wounding five demonstrators.
That prompted the protesters to build sandbag walls across a street leading to their rally site at the bridge.
Isolated
Most of the protests have been centred in Bangkok, although demonstrators have also blocked registration for the polls in seven provinces in the south (story
here
). The protesters, led by fiery former lawmaker Suthep Thaugsuban, and the main opposition Democrat Party have many supporters in the south.
The Democrats have declared they would boycott the election which Ms Yingluck called, and would likely win, in a bid to end the stalemate. The pro-establishment Democrats have not won polls since 1992.
Mr Suthep and his followers want an appointed "people's council" to take over and begin a reform programme before another election is held, at some point in the future.
Ms Yingluck is looking increasingly isolated. More chaos on the streets could invite intervention by the military, while the judiciary could also step in if the deadlock persists.
Thailand's army has staged or attempted 18 coups in 81 years of democracy, including the removal of former telecoms tycoon Mr Thaksin in 2006.
The protesters draw strength from Bangkok's conservative middle class and elite, who resent the rise of what they see as the venal, billionaire Shinawatra family and their political juggernaut which has won every election since 2001.
They say Thaksin has effectively manipulated a fragile democracy by buying the support of the rural poor with populist policies such as cheap healthcare, easy credit and subsidies for rice farmers. Many poor voters say Mr Thaksin was the first leader to actually keep election promises to help them.
Mr Thaksin fled into exile in 2008 before being sentenced to jail on graft charges he said were politically motivated.
New attack on guards at Makkhawan rally site injures six
The Nation / Phuket Gazette
PHUKET: Bloody incidents have continued at the rally sites of anti-government demonstrators in Bangkok, with six more civilians being injured yesterday afternoon.
One of the victims suffered an injured right eye while protesting in the Makkhawan-Rangsan Bridge area.
Following the latest incident, Metropolitan Police Commissioner Lt Gen Camronwit Toopgrajank said he seriously wanted to catch the culprits to clear any distrust and rumors that police officers may be behind these attacks.
"The police work for the Thai people and the demonstrators are also Thai people," he said.
He added that one policeman was also killed during confrontations between police and demonstrators at the Thai-Japan Stadium on Thursday, and suggested that a third party might be instigating violence.
"If you have still photos or video recordings of violent incidents, please forward them to the police. We have cash rewards for useful tip-offs," Lt Gen Camronwit said.
He added that up to 2 million baht in donations had been given to the police to use as rewards in order to facilitate investigations.
A guard for the anti-government protesters was also killed in the gun attack at 3am on Friday.
Assoc Prof Dr Surasak Leelaudomlipi, director of the Ramathibodhi Hospital, said four protesters had been rushed to the hospital with injuries yesterday afternoon.
"They are between 18 and 26 years old. We have already allowed three of them to return home," Mr Surasak said.
The patients had been hit by unknown objects, he said.
According to Bangkok Metropolitan Administration's Erawan Emergency Medical Services Centre, the first person injured was a 24-year-old man. He had injuries to his face, right eye and right arm.
The second patient brought in was a 26-year-old man, who had sustained wounds to his left hand.
The third victim was a 20-year-old man who suffered injuries to the left side of his face and his left knee. The last victim was an 18-year-old man with wounds on the right side of his forehead.
The Makkhawan-Rangsan Bridge area has been a protest site for demonstrators under the leadership of the People's Army to Overthrow the Thaksin Regime and the Dharma Army.
Samdin Lertbut, a coordinator for the Dharma Army, said that the people were injured after two men on a motorcycle hurled giant firecrackers into a tent of volunteer guards at about 1:30pm yesterday.
"Six people were injured. We rushed four to Ramathibodi Hospital," he said.
'No-vote is one of 3 options if poll goes ahead'
The Nation / Phuket Gazette
PHUKET: According to many protesters led by the People's Democratic Reform Committee (PDRC), there will be only three options left for them if there is an election on February 2: register a "no vote", spoil the ballot or just don't turn up at the election at all.
Those who favour the "no vote" option reason that they must use their
— Phuket Gazette Editors
Keep in contact with Thaiger by following our Facebook page.
Never miss out on future posts by following Thaiger.
Thailand News Today | 1,335 new infections, provinces adding travel restrictions | April 14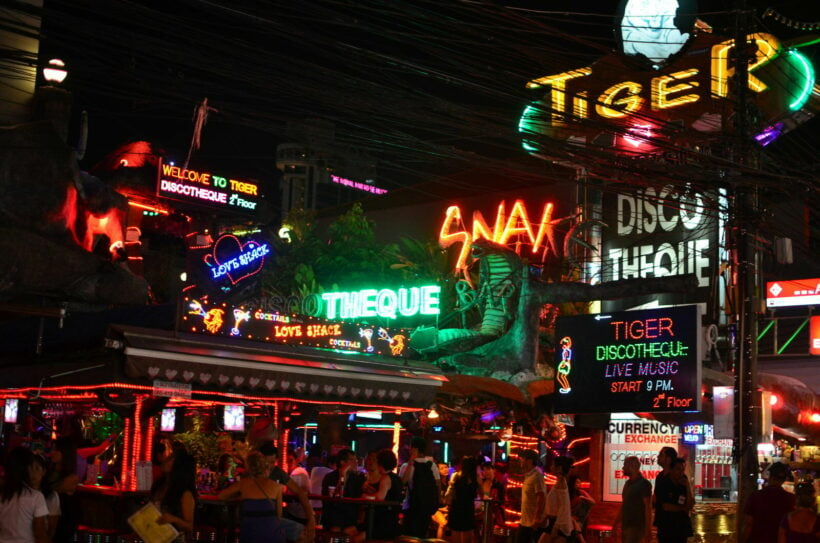 Thailand's CCSA has announced 1,335 new infections today, after a slight dip in the 13 day surge yesterday. 1,326 of those new infections are local, not imported, and mostly from Bangkok. Today's tally takes the national total to 35,910 since January 2020 when the first case outside China was detected in Thailand on January 13.
The new infections have mostly emerged in Bangkok with 351 cases. Surrounding provinces report an additional 115 infections today. In other provinces, 877 people.
It's also been reported today that 36 people are currently in a serious condition and 9 people are on ventilators.
Meanwhile, Prachuap Khiri Khan officials have ordered the closure of "high risk venues" such as pubs, bars, water parks, children's playgrounds, gyms, cinemas, game shops. The Governor says restaurants can open "but no alcohol can be served". This includes the seaside town of Hua Hin.
In Krabi there is now a total of 11 infections, 6 new ones yesterday. In Chon Buri, which includes Pattaya, there were 99 new confirmed infections of Covid today … a similar number to the past few days.
Meanwhile 42 out of Thailand's 77 provinces are now imposing restrictions on entry… either self-quarantine, Covid tests or other requirements. Phichit, Lampang and Ubon Ratchathani are the latest to join the growing list.
At this stage, the various provinces are coming up with their own measures, adding to the general confusion as people travel around the country for Songkran.
Many of the provinces currently require quarantine for people who travelled from the 3 hot zone districts in Bangkok at the centre of the current cluster.
The latest information is being added to this website… moicovid.com but it's in Thai.
Here's a list of provinces current imposing restrictions on entry as you travel. You can scroll through if you're not interested.
NORTH
Chiang Mai
Kamphaeng Phet
Lampang
Lamphun
Nan
Phayao
Phetchabun
Phichit
Phitsanulok
Phrae
Tak
Uttaradit
NORTHEAST
Amnat Charoen
Bung Kan
Buri Ram
Chaiyaphum
Khon Kaen
Maha Sarakham
Mukdahan
Nakhon Phanom
Nakhon Ratchasima
Nong Bua Lam Phu
Nong Khai
Sakon Nakhon
Ubon Ratchathani
Udon Thani
Yasothon
CENTAL AND EAST
Chai Nat
Lop Buri
Nakhon Sawan
Sa Kaeo
Saraburi
Sing Buri
Uthai Thani
SOUTH
Chumphon
Narathiwat
Pattani
Phangnga
Ranong
Satun
Songkhla
Trang
Thailand rang in another Lunar New Year, or Songkran, without its normal noise and celebration yesterday, highlighting the impact that the current Covid outbreak is having. For the 2nd year, the biggest Thai holiday was subdued without water-splashing, parties, and concerts.
There were few official events, compared to the pre-Covid days… Thailand's Culture Minister led officials in what was called a "New Normal, Preserving Thai Culture" event at Wat Arun in Bangkok.
The temple was open while others were partially closed because of the pandemic. Other normally bustling areas of Bangkok were also silent, as Songkran was cancelled due to what's being described as a 3rd wave of Covid hitting the country in some media.
Police in Bangkok are on the hunt for the owners of 2 nightclubs considered ground zero for the current clusters currently spreading around the country. The Krystal Club and Emerald Thonglor 13, in the capital's fashionable Thonglor district, are currently closed. However, officials are now attempting to track down the real owners of both establishments.
Authorities are examining ownership and shareholding documentation related to the 2 venues, after the Bangkok police chief confirmed a cluster of Covid-19 infections is believed to have spread from these clubs. The managers of both venues have been charged with violating the emergency decree and disease prevention regulations.
3 nightlife venues in Phuket, thought to be behind a resurgence of Covid-19 in the southern province have been closed as part of a wider temporary shutdown of nightlife on the island. It is not yet known if the owners will face prosecution.
The Illuzion and Shelter nightclubs in Patong, along with the Café del Mar beach club in Kamala all held big parties during the weekend of April 2- 4, with invited guests travelling from as far as Bangkok.
A top UN official is warning that Myanmar could follow the path of Syria in terms of descending into a bloody civil war, unless the violence subsides. The UN high commissioner for human rights is calling on all countries with influence to apply concerted pressure on the ruling military junta to end its campaign of repression and the slaughtering of its people. She says neighbouring countries are especially being called upon… obviously that includes Thailand.
She says the military has committed, what amounts to, crimes against humanity, and the human rights violations must be stopped.
The country's armed forces, known as the Tatmadaw, attacked civilians last weekend with rocket-propelled grenades and mortar fire, killing at least 82 people. Credible reports also indicate that people are fighting back by using makeshift or primitive weapons with clashes between the military and ethnic armed groups in Kayn, Shan, and Kachin states are picking up steam.
At least 3,080 people currently detained, there are reports that 23 people have been sentenced to death following secret trials
Aung San Suu Kyi has not been seen since her arrest, and is now facing even more trumped up charges that could see her barred from political office or worse. The junta military has been killing innocent civilians and peaceful protesters since the coup began, censoring the media, and shutting down the internet.
Keep in contact with Thaiger by following our Facebook page.
Never miss out on future posts by following Thaiger.
Tokyo Olympics still threatened by Covid-19 100 days out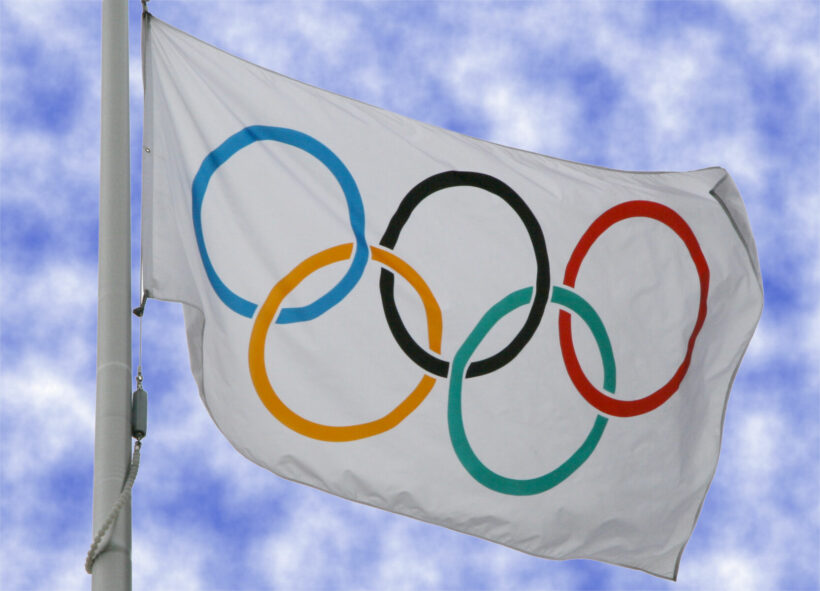 The Tokyo 2020 Olympics are 100 days away, but with Covid-19 surges, there are still many hurdles to jump. With Coronavirus infections on the rise in many places around the world, and even in Japan, there are debates on if the Olympics can carry on – or even if they should. Japan has seen outbreaks forcing them to retighten recently loosened Covid-19 restrictions. Olympic officials are still optimistic, focusing not on whether or not to have the games, but instead on how to effectively and safely manage a Covid-19 version of the Olympic Games. Procedures have already changed, with foreign spectators being disallowed from attending and increased infections in Tokyo and around Japan may lead to issues with even domestic travellers in the stands for events. A minimalized version of the Olympic torch relay is underway, setting off with a ceremony in Fukushima that did not allow spectators. When the flame passes through Osaka, it will be routed through a park and kept off public roads.
Vaccination may be a helpful path in ensuring the Tokyo Olympics safety. Some national teams have already received jabs and more are expected to in advance of the Games. Vaccination won't be required for athletes, but the International Olympic Committee will have one of the Chinese Covid-19 vaccines available and encouraged for anyone unvaccinated, especially athletes from countries that may not have access to jabs. Athletes for the most part seem more eager to get back to the spotlight of global competition than they are scared of the Coronavirus.
The IOC may be encouraged by the ongoing Japanese sporting events being held despite Covid-19 in recent months. At these events, fans have become accustomed to following virus safety procedures, even adhering to a ban on cheering. Athletes will be regularly tested with movement limited to Olympic Villiage, but tens of thousands of participants will be allowed to bypass quarantine when entering Japan internationally.
Tokyo 2020 organisers have created a playbook of restrictions and safety measures to quell fears of a public that is still mostly not in favour of the risks of holding the Olympics this summer. In polls, Japanese prefer a postponement of cancellation of the Olympic Games – though an offer from Florida to host didn't garner much interest – but 27% did say they would like to see the event take place this summer, up from 11% in January. Some wonder, with the subdued atmosphere under strict regulation, if there will even be high demand for tickets to Olympic events. But organisers, citing a history of pre-Olympics criticism for past Games, believe that once the opening ceremony is underway July 23rd, public sentiment will come around and people will be inspired as they always are, despite the Covid-19 pandemic.
SOURCE: Bangkok Post
Keep in contact with Thaiger by following our Facebook page.
Never miss out on future posts by following Thaiger.
New Yaba pill laced with crystal meth to increase potency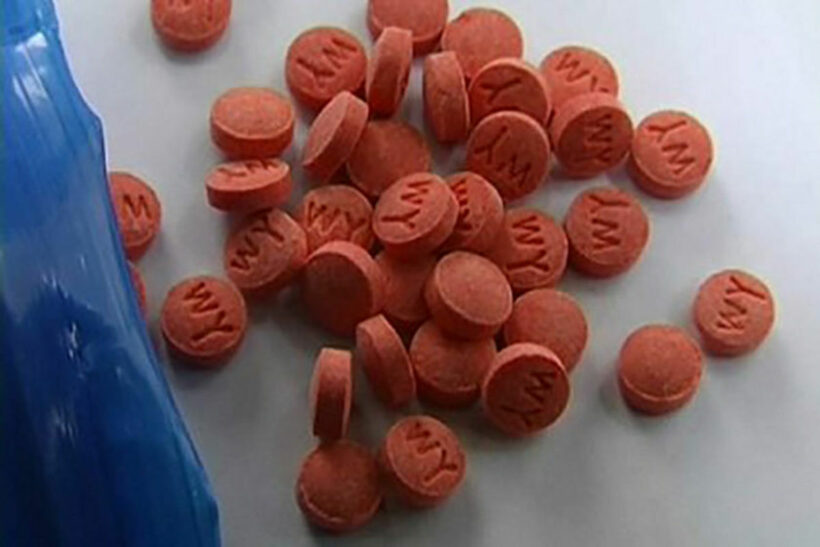 A new type of yaba (methamphetamine) pill in Thailand is being laced with a crystal meth coating to boost its potency. The news comes after Border Patrol Police say they seized 40,950 Yaba pills in Thailand's northeastern Nakhon Phanom province. Police say the pills are not the regular yaba pills that have existed in the country for years, but are a new and more potent type.
They say a drug syndicate is responsible for smuggling the new type of pills into Thailand through the Thai-Laos border. The pills were supposed to be distributed nationwide during the Songkran holiday before police seized them. Police say the smugglers escaped before they could arrest them.
Investigators told the Chiang Rai Times that a drug delivery was set to take place on the Thailand-Laos border. Police went to the suspected location and seized the drugs after finding them in a duffel bag, wrapped in blue plastic.
Border police have stepped up surveillance of the area in recent months, seizing more than 10 million yaba pills along the border. They say this new group of seized pills is worth an estimated 7 million baht as the laced with meth drugs sell for about 150-200 baht each.
Yaba, nicknamed the "madness drug", was outlawed in Thailand during the early 1970's. It has many nicknames but is made of a combination of stimulants such as caffeine and methamphetamine, or even crystal methamphetamine (ice). The drug usually comes in a red pill form with the letter WY imprinted on it.
Those who take the pills, usually smoke them off of tin foil, but it can be taken orally or snorted. Most of the pills are laced with a flavor such as vanilla. As with all unregulated street drugs, the ratio between caffeine and methamphetamine varies, with some pills featuring 20% of yaba ingredients.
Thailand is considered to be one of the largest distributors of yaba, with the neighbouring country of Myanmar being one of the largest producers.
SOURCE: Chiang Rai Times
Keep in contact with Thaiger by following our Facebook page.
Never miss out on future posts by following Thaiger.