Phuket Gazette World News: Obama calls for end to Myanmar Muslim violence; Oklahoma flattened by tornado; Libya war weapons killing elephants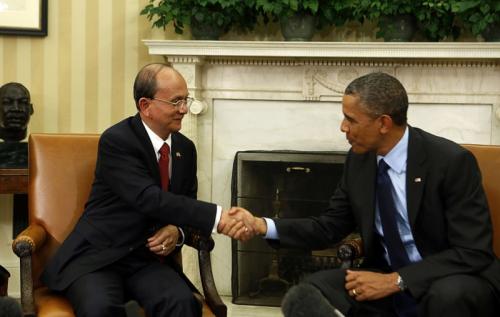 PHUKET MEDIA WATCH
– World news compiled by Gazette editors for Phuket's international community
Obama urges Myanmar to stop violence against Muslims
Reuters / Phuket Gazette
PHUKET: President Barack Obama urged the president of Myanmar on Monday to take steps to halt violence against Muslims in his country and move ahead with economic and political reforms.
Thein Sein became the first head of Myanmar to visit the White House in 47 years, and he and Obama sat down for talks in the Oval Office.
Obama said the Myanmar leader had assured him that he intends to move forward on releasing more political prisoners and institutionalizing political reforms that have already taken place. Thein Sein also vowed to resolve ethnic conflicts by incorporating all communities into the political process, Obama said.
"I also shared with President Sein our deep concern about communal violence that has been directed at Muslim communities inside Myanmar. The displacement of people, the violence directed towards them needs to stop," Obama said.
Sein, speaking through a translator, said his country faces a "daunting task" in carrying out reforms but said for democracy to flourish in Myanmar the reforms must be carried out in the years ahead.
Myanmar will need the "assistance and understanding" of the international community, including the United States, as it goes through the process, he said.
Rights groups and some U.S. lawmakers fear Obama has moved too quickly since forging a dramatic breakthrough in relations in 2011 after half a century of military rule in Myanmar, also known as Burma.
U.S. officials argue that reforms by Myanmar's quasi-military government – freeing democracy activist Aung San Suu Kyi and hundreds of political prisoners, scrapping censorship, legalizing trade unions and protests – are transformative and deserve support from Obama, who confirmed the end of Myanmar's pariah status with the West with a landmark visit last November.
However, ethnic or sectarian violence, particularly in the western state of Rakhine, has worsened since Washington started easing sanctions, and a Reuters special report published last week found apartheid-like policies segregating minority Muslims in prison-like ghettos there.
At least 192 people died last year in violence between Buddhists in Rakhine and Rohingya Muslims, who are denied citizenship by Myanmar. Most of the victims, and the 140,000 people made homeless in the attacks, were Muslims.
Monster tornado flattens suburb of Oklahoma City
Reuters / Phuket Gazette
PHUKET: A huge tornado with winds of up to 200 miles per hour (320 kph) devastated the Oklahoma City suburb of Moore on Monday, ripping up at least two elementary schools and a hospital and leaving a wake of tangled wreckage.
At least 51 people were killed, and rescue workers were looking for two dozen children unaccounted for at one of the schools. KFOR television, citing a reporter's eyewitness account, and hospitals said dozens of people were injured as the dangerous storm system threatened as many as 10 U.S. states with more twisters.
Television video showed tracts of homes destroyed, cars tossed about and piled atop one another, and at least one building on fire.
Rescue workers pulled third-graders from the devastated Plaza Towers Elementary school in Moore, a KFOR television reporter said from the scene, and aerial video showed first responders sifting through the rubble left behind.
"I have never seen anything like this in my 18 years covering tornadoes here in Oklahoma City. This is without question the most horrific," said Lance West, a reporter for KFOR.
Briarwood Elementary School, which also stood in the storm's path, was all but destroyed. On the first floor, sections of walls had been peeled away, affording clear views into the building, while in other areas, cars hurled by the storm winds were lodged in the walls.
While the school was a wreck, nearby playground equipment stood undamaged, though littered with rubble.
Across the street, people picked through the remains of their homes, looking for any possessions they might salvage.
The National Weather Service assigned the twister a preliminary ranking of EF4 on the Enhanced Fujita Scale, meaning the second most powerful category of tornado with winds up to 200 mph (320 kph).
At least 45 people were injured, according to officials of four hospitals.
"They (injured) are coming in minute by minute," said Integris Southwest Medical Center spokeswoman Brooke Cayot. Of the 19 injured there, seven were in critical condition, seven serious and five listed as fair or good, Cayot said.
The University of Oklahoma Medical Center had received at least 20 injured. St. Anthony Healthplex South in Oklahoma City said it received four patients and Midwest Regional received four.
Moore Medical Center sustained significant damage.
"The whole city looks like a debris field," Glenn Lewis, the mayor of Moore, told NBC.
"It looks like we have lost our hospital. I drove by there a while ago and it's pretty much destroyed," Lewis said.
The massive twister struck at the height of tornado season, and more were forecast. On Sunday, tornadoes killed two people and injured 39 in Oklahoma.
Witnesses said Monday's tornado appeared more fierce than the giant twister that was among the dozens that tore up the region on May 3, 1999, killing more than 40 people and destroying thousands of homes. That tornado ranked as an EF5, meaning it had winds over 200 mph (320 kph).
The 1999 event ranks as the third-costliest tornado in U.S. history, having caused more than $1 billion in damage at the time, or more than $1.3 billion in today's dollars. Only the devastating Joplin and Tuscaloosa tornadoes in 2011 were more costly.
The National Weather Service predicted a 10 percent chance of tornadoes in parts of Texas, Oklahoma, Arkansas, Kansas, Missouri and Illinois. It said parts of four other states – Wisconsin, Indiana, Michigan and Iowa – have a 5 percent risk of tornadoes.
The area at greatest risk includes Joplin, Missouri, which on Wednesday will mark two years since a massive tornado killed 161 people.
The latest tornado in Oklahoma came as the state was still recovering from a strong storm on Sunday with fist-sized hail and blinding rain.
Two men in their 70s died in the storm, including one at a mobile home park on the edge of the community of Bethel Acres near Oklahoma City, said Keli Cain, a spokeswoman for the Oklahoma Office of Emergency Management. Thirty-nine people were injured around the state as storms toppled trees and tore up rooftops, she said.
Several hundred homes and buildings were thought to have been damaged or destroyed and approximately 7,000 customers were left without power in Oklahoma. "There is definitely quite a bit of damage," Cain said.
Oklahoma Governor Mary Fallin declared 16 counties disaster areas.
More than two dozen tornadoes were spotted in Iowa, Oklahoma, Kansas and Illinois, according to the National Oceanic and Atmospheric Administration and local news reports. Hail stones, some as large as baseballs, were reported from Georgia to Minnesota, NOAA said.
The tornado season in the United States had been unusually quiet until last week, when a tornado struck the town of Granbury, Texas, killing six people.


Find more SE Asian News courtesy of The Thaiger.

Broke? Find employment in Southeast Asia with JobCute Thailand. Rich? Invest in real estate across Asia with FazWaz Property Group. Even book medical procedures worldwide with MyMediTravel, all powered by DB Ventures.

Companies pull out from Trump brand after storming of Capitol incident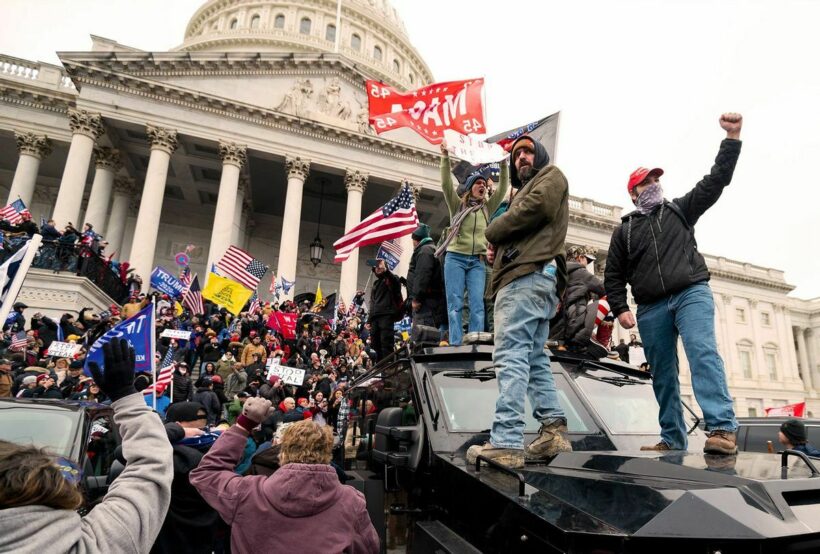 Corporate America is adding its weight in response to the insurgency at the Capitol building on January 6, and are pulling out from any association with the Trump brand after the storming of the capitol incidentwhich economists say will have a profound medium and long-term effect on his business interests. Recently, Signature Bank closed Trump's personal accounts and the PGA of America stopped plans to hold its 2022 championship at Mr. Trump's New Jersey golf course.
Such a parting of ways signals the business community's weariness in being associated with a political figure that has attracted worldwide attention and is indicative of what may happen to the Trump brand. The president's role in the incident, confirmed by his impeachment by the House this week, has gained criticism from the Business Roundtable to the AFL-CIO labour federation.
Michael D'Antonio, the author of a Trump biography, says the capitol incident has been a game-changer for the support of extreme politics.
"Trump's name is really an albatross. He is the most disgraced president in history. This is a person who's synonymous with a mob attacking the US Capitol. I just think this went a step too far."
Other experts like Tim Calkins, a marketing professor at Northwestern University's Kellogg School of Management, say Trump's brand will inevitably suffer long-term.
"Before his term, Trump stood for wealth, success and over-the-top luxury. Now the brand has associations with anti-government views, racism and extremism. This makes the brand fairly toxic."
Deutsche Bank, to which Trump reportedly owes around $400 million, is also planning to stop engaging in business with him. But the president dismissed any business challenges in an October 15 televised event by saying that the $400 million he owed was "a tiny percentage of my net worth."
It appears true that some of Trump's properties have benefitted from his presidency as taxpayer revenue has continuously flowed into his golf courses and clubs where he stays with his family, the secret service and the White House staff.
In fact, CREW estimates that Trump's properties took in over $100 million from more than 500 visits by the president, according to a report in September 2020. But even that business transaction has received widespread criticism as many say Trump should not have mixed politics with his personal businesses.
D'Antonio predicts that Trump may sell current assets to pay off his Deutsche Bank debt, which means there could be fewer to none Trump hotels, golf courses or towers in the next 10 years.
SOURCE: Bangkok Post
Keep in contact with The Thaiger by following our Facebook page.
Never miss out on future posts by following The Thaiger.
Norway adjusts advice after 28 possible vaccine-related deaths of elderly people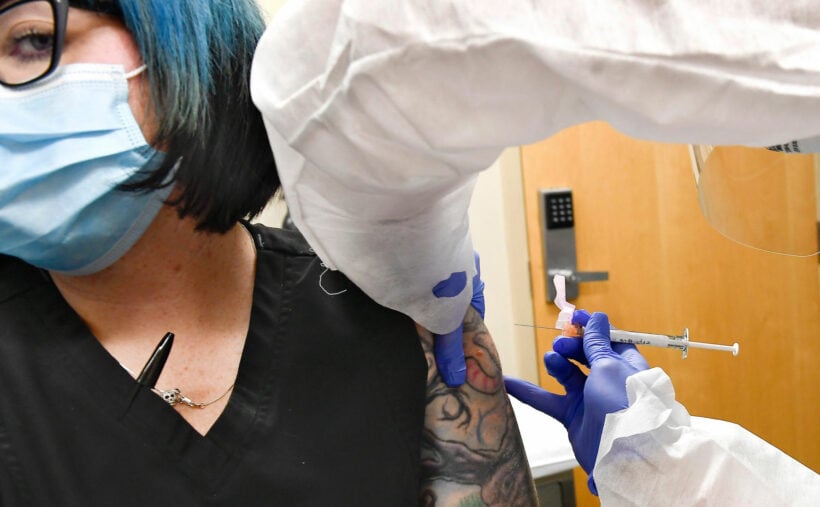 The deaths of 23 elderly people are being investigated after dying a short time of receiving their first Covid-19 vaccine in Norway. Apart from the 23 deaths, medical officials are also reporting several people falling ill after receiving their first dose of the Pfizer-BioNTech Covid-19 vaccine.
At this stage there has been no direct correlation between the people's deaths and inoculation wit the Pfizer vaccine, but medical officials report that 13 out of 23 people who died showed "common side effects of mRNA vaccines" such as "diarrhea, nausea and fever".
mRNA vaccines are a new type of vaccine to protect against infectious diseases. To trigger an immune response, many vaccines put a weakened or inactivated germ into our bodies. Not mRNA vaccines. Instead, they teach our cells how to make a protein—or even just a piece of a protein—that triggers an immune response inside our bodies. That immune response, which produces antibodies, is what protects us from getting infected if the real virus enters our bodies – cdc.gov
The Norwegian Institute of Public Health has taken the action of cautioning against vaccinating elderly people above 80 years of age saying "those with a short life span may not benefit much from the jab".
"For those with the most severe frailty, even relatively mild vaccine side effects can have serious consequences."
"The agency listed fever and nausea as side effects which may have led to the deaths of some frail patients."
Earlier this week, the Public Health authority noted that "any side effects of the vaccine will be outweighed by a reduced risk of becoming seriously ill with Covid-19 for elderly, frail people."
Steinar Madsen, the medical director of the Norwegian Medicines Agency, says that it may be a coincidence, "but we aren't sure".
Pfizer and BioNTech are actively working with the Norwegian authorities to investigate the death.
"The regulator discovered the number of incidents so far is not alarming and in line with expectations."
But experts are of "the strong opinion" that doctors need to exercise caution in vaccinating people in the wake of the deaths of the 23 elderly people. The Norwegian Medicines Agency also reported that 21 women and 8 men reported side effects. Apart from the 23 deaths, 9 people have reported "serious side effects" without fatal outcomes such as "allergic reactions, strong discomfort and severe fever. Seven people reported less serious side effects such as severe pain at the injection site".
Norwegian medical staff had administered at least the first dose of the Pfizer or Moderna coronavirus vaccines to approximately 33,000 people as of the end of December.
Keep in contact with The Thaiger by following our Facebook page.
Never miss out on future posts by following The Thaiger.
Covid-19 projected to reduce Americans' life expectancy – USC/Princeton study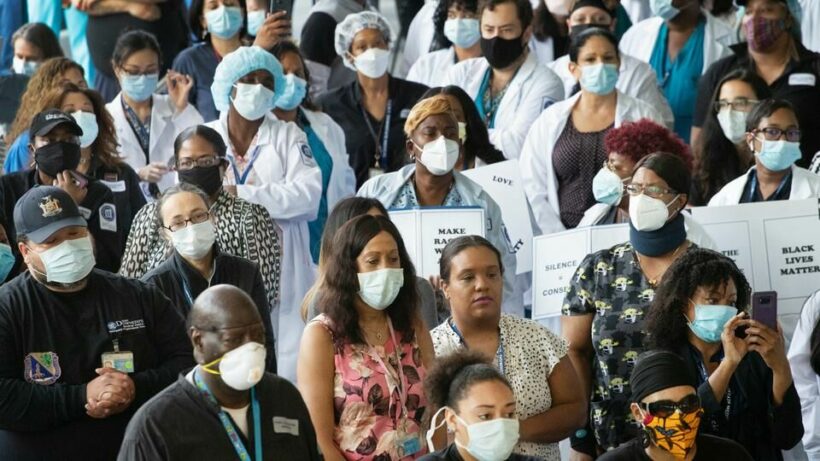 With Covid-19 linked to more than 336,000 deaths in the United States, American's life expectancy will decline, especially among black and latino people, according to researchers from the University of Southern California and Princeton University.
The study published in Proceedings of the National Academy of Sciences shows that life expectancy at birth for Americans will shorten by 1.13 years to 77.48 years, while blacks and latinos life expectancy is expected to shorten by more.
For blacks, their life expectancy would shorten by 2.10 years to 72.78 years, and for Latinos, by 3.05 years to 78.77 years. This is said to be the lowest life expectancy estimated since 2003. The disproportionate impact on the 3 groups of populations is believed to relate to social and economic advantages.
The study author Theresa Andrasfay, a postdoctoral fellow at the USC Leonard Davis School of Gerontology, says that why the study analyses the number of deaths and how it affects the life expectancy at birth, it also shows the consequences for marginalized groups.
"The Covid-19 pandemic's disproportionate effect on the life expectancy of Black and Latino Americans likely has to do with their greater exposure through their workplace or extended family contacts, in addition to receiving poorer health care, leading to more infections and worse outcomes."
The researchers say life expectancy is an important indicator of a population's health and a tool for examining the impact of COVID-19 on survival.
SOURCE: USA Today | University of South California
Keep in contact with The Thaiger by following our Facebook page.
Never miss out on future posts by following The Thaiger.