Phuket Gazette World News: North Korea tests nuclear bomb; Iran could be next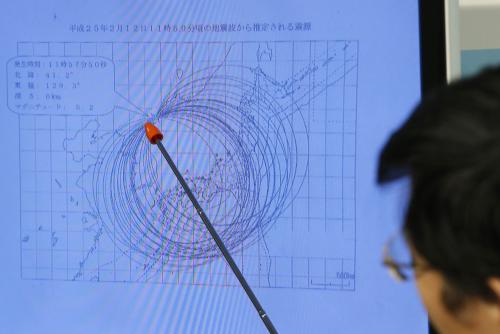 PHUKET MEDIA WATCH
– World news compiled by Gazette editors for Phuket's international community
North Korea confirms third atomic test
Phuket Gazette / The Nation / DPA
PHUKET: North Korea said Tuesday it had carried out its third atomic test, the official Korean Central News Agency reported.
Earlier UN's Comprehensive Nuclear-Test-Ban Treaty Organization said North Korea was suspected to have carried out its third atomic test after a seismic shock was registered.
An earthquake in North Korea that appeared to be an explosion happened in the same area as two previous nuclear tests, said Tibor Toth, the organisation's executive secretary said.
"The event shows clear explosion-like characteristics and its location is roughly congruent with the 2006 and 2009 DPRK nuclear tests," he said in Vienna, using the official acronym of the Democratic People's Republic of Korea.
The United States Geological Survey reported a magnitude-4.9 quake in north-east North Korea. South Korean sources put the figures lightly higher.
South Korea's Defence Ministry estimated the yield of the weapon to be 6-7 kilotons, Yonhap News Agency reported.
The UN Security Council was to meet Tuesday following a request from Seoul, a South Korean diplomat told Yonhap. President Lee Myung Bak ordered a meeting of South Korea's security council in response to the apparent test.
Japan was also expecting a stern response from the Security Council, chief cabinet secretary Yoshihide Suga said.
The United States told Japan on Monday that Pyongyang would conduct a nuclear test in the near term, he added.
North Korea tested atomic weapons in 2006 and 2009. A third test had been expected. The secretive state in January said that it planned a further atomic and rocket tests in protest at expanded United Nations sanctions. It did not specify when any tests would take place.
The UN sanctions were imposed following the test launch of arocket by the North in December.
U.N. Security Council to meet today on North Korea's nuclear test
Reuters / Phuket Gazette
PHUKET: The U.N. Security Council will hold an emergency meeting on North Korea's apparent nuclear test at 9am EST (9pm Thailand) today, council diplomats said.
One Western diplomat said he hoped the council would approve an initial statement condemning the nuclear test and begin work on a more comprehensive council reaction.
Diplomats had said previously that the United States, South Korea and European members would want the Security Council to adopt a resolution that would impose new sanctions on Pyongyang in the event of a third nuclear test in defiance of earlier council resolutions. North Korea carried out nuclear tests in 2006 and 2009.
Getting approval on a council resolution, however, could take weeks. While China had made clear its opposition to a new North Korean nuclear test, council diplomats say Pyongyang's ally Beijing could be expected to put up some resistance to tough new sanctions to avoid angering North Korea.
Last month the 15-nation council adopted a resolution that tightened existing sanctions against Pyongyang in response to its December rocket launch. That resolution took a month to agree.
South Korea is the president of the Security Council this month.
New Iran centrifuges could shorten path to atomic bomb – Netanyahu
Reuters / Phuket Gazette
PHUKET: Israeli Prime Minister Benjamin Netanyahu yesterday said that new centrifuges Iran was installing for its uranium enrichment programme could cut by a third the time needed to create a nuclear bomb.
As Iran and world powers prepare to resume talks aimed at easing a dispute that has raised fears of a new Middle East war, Tehran announced late last month it planned to install the new machines at its main enrichment plant.
The move underlined Iran's defiance of international demands to scale back the uranium enrichment which Tehran says is for civilian purposes but which could also potentially be used to make material for atomic bombs.
Netanyahu touched on the subject in an address to American Jewish leaders and his words came ahead of a planned visit to Israel next month by President Barack Obama.
"Iran's … nuclear weapons programme continues unabated … I drew a line at the U.N. last time I was there," Netanyahu said. "They haven't crossed that line but what they are doing is to shorten the time that it will take them to cross that line and the way they are (doing it) is by putting in new, faster centrifuges that cut the time by one third."
In a speech to the U.N. General Assembly in September, Netanyahu gave a rough deadline of summer 2013 as the date by which Iran could have enough highly enriched material to produce a single nuclear bomb.
— Phuket Gazette Editors
📱 Download our app on Android or iOS for instant updates on your mobile
📧 Subscribe to our daily email newsletter
👍 Like/Follow us on Facebook
🔔 Subscribe to or Join our YouTube channel for daily video updates


Find more SE Asian News courtesy of Thaiger.

Broke? Find employment in Southeast Asia with JobCute Thailand. Rich? Invest in real estate across Asia with FazWaz Property Group. Even book medical procedures worldwide with MyMediTravel, all powered by DB Ventures.

Australia and New Zealand welcome the first passengers in the southern travel bubble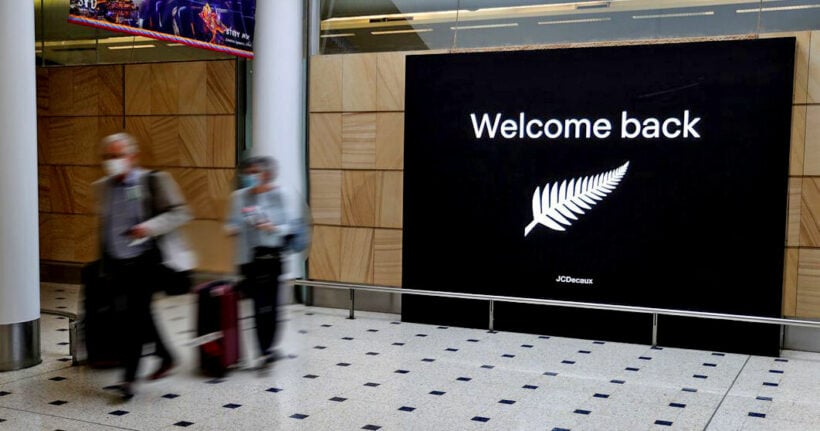 Whilst travel bubbles remain a bureaucratic nightmare for most SE Asian countries, Australia and New Zealand have opened their first green lanes since April last year, nearly 400 days. For the two countries it allows family and friends to re-unite. For New Zealand it opens the gates for its largest chunk of tourists. In 2019 some 1.5 million tourists visited New Zealand from Australia.
The first flights landed this morning taking advantage of the quarantine-free travel bubble between the 2 countries.
The arrangement means that passengers can fly across the Tasman Sea without going through the mandatory Covid quarantine when they arrive at either end of their journey.
The New Zealand PM Jacinda Ardern hailed the success of the 2 countries in coming to grips with Covid-19 and somewhat containing the spread of the virus, allowing the travel corridor to open today.
Australia is home to hundreds of thousands of New Zealand expats who regularly shuffled across the Tasman Sea on the 3 hour flights. Both Air New Zealand and Qantas were scheduling flights for the tentative re-opening to travel.
Meanwhile, Australia's Deputy PM Michael McCormack says the Oz government remains in active discussions with Singapore as it looks to create another quarantine-free travel bubble.
📱 Download our app on Android or iOS for instant updates on your mobile
📧 Subscribe to our daily email newsletter
👍 Like/Follow us on Facebook
🔔 Subscribe to or Join our YouTube channel for daily video updates
Doctors in India see alarming rise in severe Covid symptoms in younger patients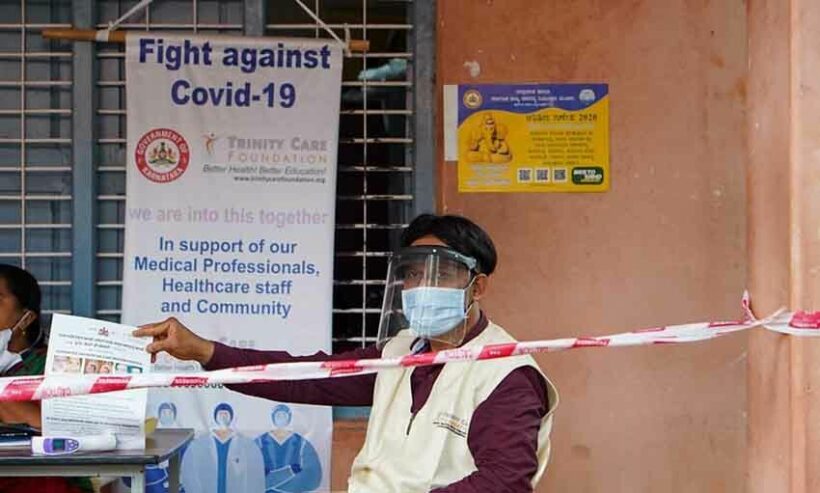 Doctors in India are reporting a worrying rise in the number of young patients being hospitalised with severe Covid-19 symptoms. One medical practitioner in the western state of Gujarat says more young people are developing serious symptoms affecting their lungs, hearts and kidneys, with one hospital opening the state's first paediatric Covid-19 ward. Other states are reporting a similar increase in severe symptoms among the younger population.
A new wave of infections has struck India, just as the country thought the worst was over and had begun to roll out vaccines. It has now recorded 1 million positive cases in a nation of 1.3 billion people. Despite this, hundreds of thousands of people gathered for the recent Kumbh Mela religious festival, with social distancing and face masks dispensed with. There were similar scenes at election rallies.
According to an AFP report in Thai PBS World, doctors in India are warning of a steep rise in infections among the younger generation. Around 35% of India's population is under the age of 65 and Arvind Kejriwal, chief minister of New Delhi says around 65% of new Covid cases are in patients under the age of 45. Khusrav Bajan, a hospital consultant in Mumbai, has also expressed concern at the number of children being admitted
"We are also seeing children under the ages of 12 and 15 being admitted with symptoms in the second wave. Last year there were practically no children."
Meanwhile, in India's own "Silicon Valley", Bangalore, 58% of Covid-19 infections in early April were in people under the age of 40, a 46% increase compared to last year. Tanu Dogra, a 28 year old book publicist in New Delhi, spent a week in bed after testing positive for the virus last month.
"I haven't seen such a rise in cases in the last 1 year as I've seen in the last 1 week. Everybody on my timeline, on my WhatsApp, is frantically messaging each other because they've all tested positive."
Medical professionals are critical of the slow vaccination rollout in India, with jabs currently limited for those over the age of 45. They are calling for inoculation to be extended to everyone, with many young people saying they feel exposed in the workplace, but have no choice, as the sole earners for their families.
Venkat Ramesh, a specialist in infectious diseases in the southern city of Hyderabad, feels the worst is yet to come.
"When I speak to my colleagues in major metropolitan cities across India, they have numerous calls from patients trying to find a bed. I'm quite afraid for the next month. Given the rapidity of the rise in cases, it is certainly worrying."
SOURCE: Thai PBS World
📱 Download our app on Android or iOS for instant updates on your mobile
📧 Subscribe to our daily email newsletter
👍 Like/Follow us on Facebook
🔔 Subscribe to or Join our YouTube channel for daily video updates
Bitcoin sheds nearly 15% of its 'value' in one day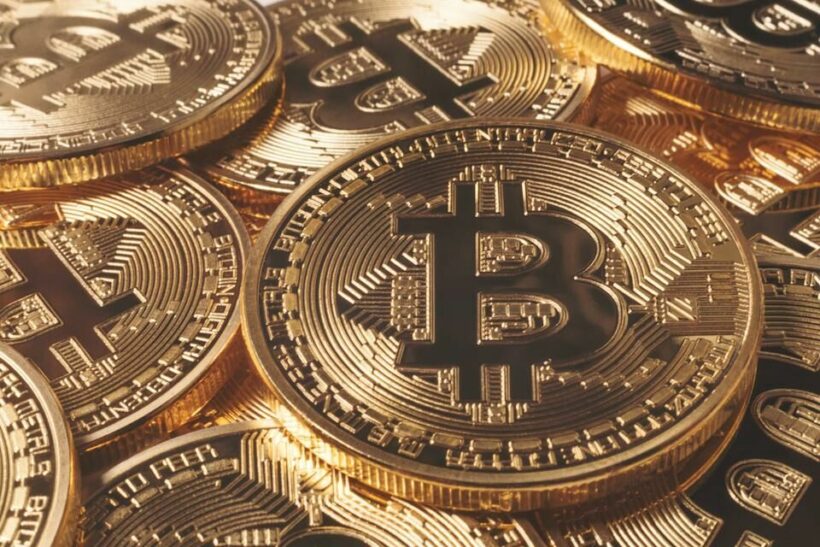 After a meteoric, and probably unsustainable rise and rise over the past 12 months, Bitcoin has suffered a short and sharp mini-crash over the weekend, dropping nearly 15% of its value in less than an hour – a stark warning of the cryptocurrency's unpredictable volatility.
Bitcoin dropped in 'value' from about US$59,000 to US$51,000 before rebounding. Ethereum and Dogecoin also suffered dramatic and sudden losses, before clawing back some of their losses.
This time last year Bitcoin was simmering around US$7,725 after bumping up and down on the spot since 2018. But last year, fuelled by fears of an over-heated US stock market, Covid volatility (whatever that is), government handouts and people-with-too-much-time-on-their-hands, Bitcoin went on a spectacular climb to peak at US$63,588 last Tuesday. But Newton's first law (the scientist, not me) kicked into action, and with venom.
The price of a single Bitcoin hit a low of US$52,810.06 Saturday after tumbling more than US$7,000 in just one hour, before stabilising.
The drop on Saturday appears to have been triggered by a Twitter rumour that the US Treasury would crack down on money laundering schemes involving cryptocurrencies. Separately, Reuters reported a power blackout in China's Xinjiang region, where a lot of Bitcoin 'mining' happens, was blamed for the steep dive.
That information came from data website CoinMarketCap.
The sudden rise of the cryptocurrencies over the past 12 months has drawn a lot of attention from governments and investors, and RobinHood-esque day trade brigade. Coinbass went public, and therefore 'mainstream', last Wednesday.
"All eyes are on Coinbase… as the cryptocurrency exchange prepares for its first day of trading as a public company on Nasdaq under the ticker symbol 'COIN'.
Coinbase's market debut is a special event for several reasons. First, it will be Nasdaq's first major direct listing, an unusual route for companies to go public without the underwriting of an investment bank." – USA Today
Then Dogecoin had a 500% rally – an 'asset' that was created as a joke 8 years ago – on April 16. 500%!!!
The fervent supports of cryptocurrencies, almost a cult, are having their moment and proving, for now, that they can have their day in the financial sun as well. With Coinbase's successful debut on Wall Street last week, they've gone all suit and tie.
Last year's sharp, and very tempting, rise in Bitcoin values has the wider financial market talking about the bubble in the cryptocurrency market – Bitcoin has more than doubled in value since the start of this year. The market will decide whether that bubble will continue to grow or do what bubbles eventually do.
At the end of 2017 the Bitcoin digital token rose in value to nearly US$20,000 before crashing to almost US$3,000 the following year.
For now, it's all eyes on the cryptos to see which way they move. The only thing that can be guaranteed is that their valuations will remain volatile and that there will be winners and losers.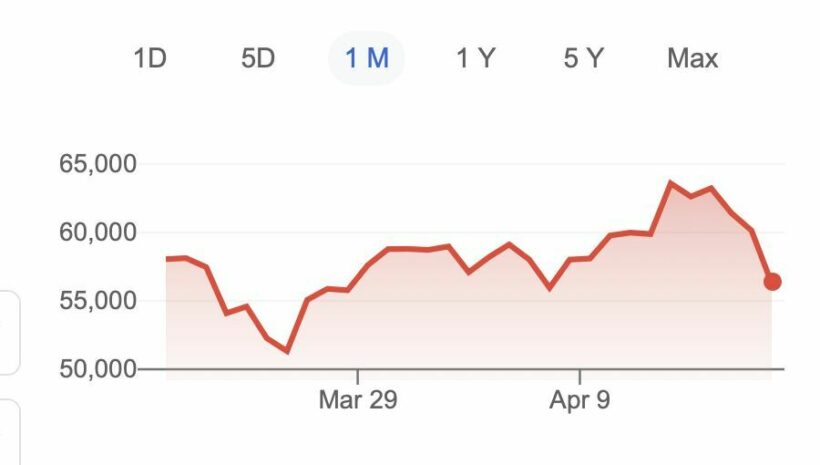 📱 Download our app on Android or iOS for instant updates on your mobile
📧 Subscribe to our daily email newsletter
👍 Like/Follow us on Facebook
🔔 Subscribe to or Join our YouTube channel for daily video updates