Phuket Gazette World News: Muslims vanish as Buddhist attacks approach Myanmar's biggest city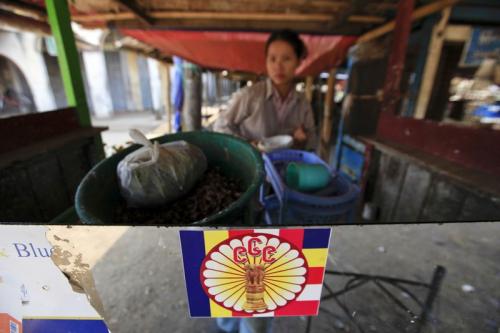 PHUKET MEDIA WATCH
– World news selected by Gazette editors for Phuket's international community
Muslims vanish as Buddhist attacks approach Myanmar's biggest city
Reuters / Phuket Gazette
PHUKET: The Muslims of Sit Kwin were always a small group who numbered no more than 100 of the village's 2,000 people. But as sectarian violence led by Buddhist mobs spreads across central Myanmar, they and many other Muslims are disappearing.
Their homes, shops and mosques destroyed, some end up in refugee camps or hide in the homes of friends or relatives. Dozens have been killed.
"We don't know where they are," says Aung Ko Myint, 24, a taxi-driver in Sit Kwin, where Buddhists yesterday ransacked a store owned by one of the town's last remaining Muslims. "He escaped this morning just before the mob got here."
Since 42 people were killed in violence that erupted in Meikhtila town on March 20, unrest led by hardline Buddhists has spread to at least 10 other towns and villages in central Myanmar, with the latest incidents only a two-hour drive from the commercial capital, Yangon.
The crowds are fired up by anti-Muslim rhetoric, spread by telephone and social media networks such as Facebook, from monks preaching about a so-called "969 movement".
The number is derived from Buddhism – the three numbers refer to various attributes of the Buddha, his teachings and the monkhood – but it has come to represent a radical form of anti-Islamic nationalism which urges Buddhists to boycott Muslim-run shops and services.
Myanmar is a predominantly Buddhist country, but about 5 percent of its 60 million people are Muslims. There are large Muslim communities in Yangon, Mandalay and towns across Myanmar's heartland.
The unrest poses the biggest challenge to a reformist government that took office in 2011 after nearly half a century of military rule.
In a nationally televised speech on Thursday, President Thein Sein warned "political opportunists and religious extremists" against instigating further violence.
"I will not hesitate to use force as a last resort to protect the lives and safeguard the property of the general public," he said.
Dusk-to-dawn curfews are in effect in many areas of Bago, the region where Sit Kwin lies, while four townships in central Myanmar are under a state of emergency imposed last week.
But the security forces are still battling against pockets of unrest, while state-run media reports 68 people have been arrested for unrest which made almost 13,000 people homeless.
Rumours
The trouble in Sit Kwin began four days ago, when people riding 30 motorbikes drove through town urging villagers to expel Muslim residents, said witnesses. They then trashed a mosque and a row of Muslim shops and houses.
"They came with anger that was born from rumours," said one man who declined to be identified.
Further south, police in Letpadan have stepped up patrols in the farming village of 22,000 people about 160km from Yangon.
Three monks led a 30-strong group towards a mosque yesterday. Police dispersed the crowd, many of whom carried knives and staves, and briefly detained two people. They were later released at the request of township officials, police said.
"I won't let it happen again," said police commander Phone Myint. "The president yesterday gave the police authority to control the situation."
The abbot who led the protest, Khamainda, said he took to the streets after hearing rumours passed by other monks by telephone, about violence between Buddhists and Muslims in other towns. He said he wanted revenge against Muslims for the destruction by the Taliban of Buddhist statues in Bamiyan province in Afghanistan in 2001.
"There is no problem with the way they live. But they are the minority and we are the majority. And when the minority insults our religion we get concerned," he told Reuters. "We will come out again if we get a chance."
Letpadan villagers fear the tension will explode. "I'm sure they will come back and destroy the mosque," says Aung San Kyaw, 35, a Muslim. "We've never experienced anything like this."
Across the street, Hla Tan, a 67-year-old Buddhist, shares the fear. "We have lived peacefully for years. Nothing can happen between us unless outsiders come. But if they come, I know we can't stop them," he said.
North of Sit Kwin is the farming town of Minhla, which endured about three hours of violence on both Wednesday and Thursday.
About 300 people, most from the nearby village of Ye Kyaw, gathered in the early afternoon on Wednesday. The crowd swelled to about 800 as townsfolk joined, a Minhla policeman told Reuters. They then destroyed three mosques and 17 shops and houses, he said.
No Buddhist monks were involved, said witnesses.
Very Nervous
The mob carried sticks, metal pipes and hammers, said Hla Soe, 60, a Buddhist who runs an electrical repair shop in Minhla. "No one could stop them," he said.
About 200 soldiers and police eventually intervened to restore a fragile peace. "I'm very nervous that it will happen again," said Hla Soe.
About 500 of Minhla's township's 100,000 people are Muslims, said the police officer, who estimated two-thirds of those Muslim had fled.
However, Tun Tun is staying. "I have no choice," says the 26-year-old, whose tea shop was looted by Buddhists, one armed with a chainsaw.
He plans to rebuild his shop, whose daily revenue of 10,000 kyat (about 330 baht) supports an extended family of 12. On the wall of his ransacked kitchen is a portrait of democracy leader Aung San Suu Kyi. He did not believe she could do anything to help.
Tun Tun traced the rising communal tension in Minhla to speeches given on February 26 and 27 by a celebrated monk visiting from Mon State, to the east of Yangon.
He spoke to a crowd of 2,000 about the "969 movement", said Win Myint, 59, who runs a Buddhist community centre which hosted the monk.
After the speech, Muslims were jeered and fewer Buddhists frequented his tea shop, said Tun Tun. Stickers bearing the number 969 appeared on non-Muslim street stalls across Minhla.
President Thein Sein's ambitious reform programme has won praise, but his government has also been criticised for failing to stem violence last year in Rakhine State in western Myanmar, where officials say 110 people were killed and 120,000 were left homeless, most of them Rohingya Muslims.
The U.N. special rapporteur on human rights in Myanmar said on Thursday he had received reports of "state involvement" in the recent violence at Meikhtila.
Soldiers and police sometimes stood by "while atrocities have been committed before their very eyes, including by well-organised ultra-nationalist Buddhist mobs", said the rapporteur, Tomas Ojea Quintana. "This may indicate direct involvement by some sections of the state or implicit collusion and support for such actions."
Late yesterday, three monks were preparing to give another "969" speech in Ok Kan, a town 113km from Yangon.
— Phuket Gazette Editors
Thai-owned Dusit D2 Hotel under fire in Nairobi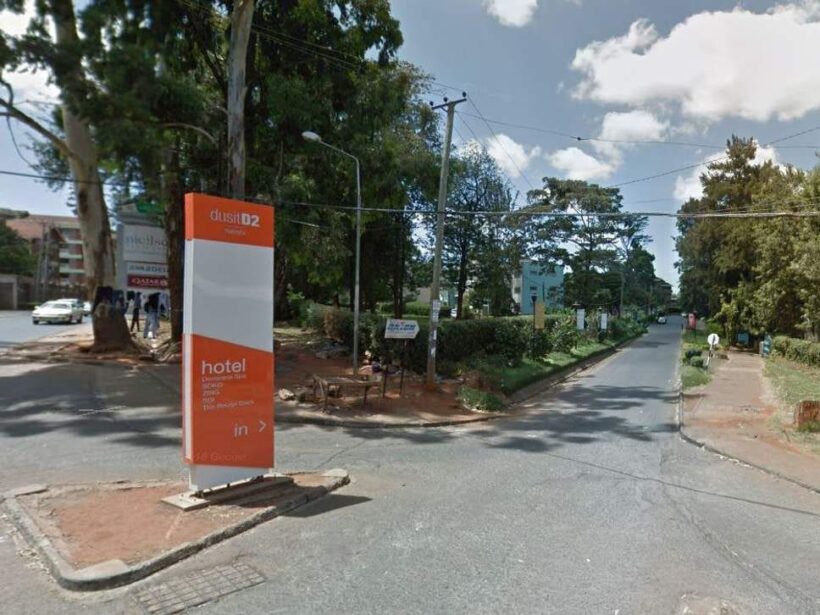 PHOTO: Google Maps
Two explosions and gunfire have been heard amid an apparent attack at an upscale hotel and office complex in Kenyan capital Nairobi. News just in from independent.co.uk
"We are under attack," another person in an office inside a complex in the DusitD2 hotel told Reuters, then hung up. Local television showed smoke rising from the area.
"I just started hearing gunshots, and then started seeing people running away raising their hands up and some were entering the bank to hide for their lives," a woman working in a neighbouring building told the news agency. She also heard two explosions, she said.
Nairobi police commander Philip Ndolo said officers had cordoned off the area around Riverside Drive due to a suspected robbery.
However, police spokesman Charles Owino told local media officials were not ruling out an attack by militants.
Read the rest of the Reuters report HERE.
Paralyzed from rare disease, Caroline returns home from Thailand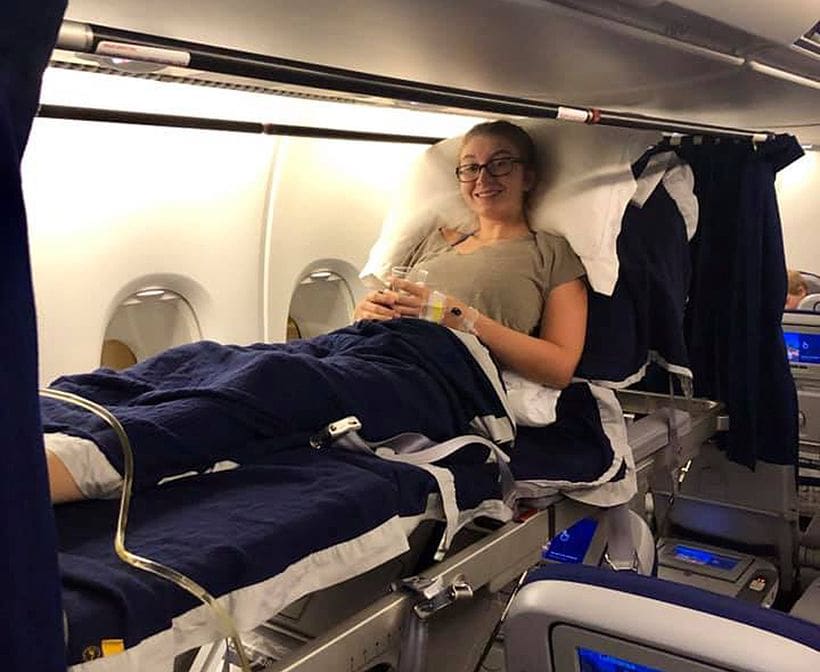 Original report by Karina Bolster and David Hylton. PHOTOS: Facebook/Jim Brader
A 22 year old woman from Virginia, US, who was paralyzed after her diagnosis of a rare auto-immune disease while teaching in Thailand, has arrived back home in the US.
Caroline Bradner was hospitalised in Thailand ever since.
A travel insurance company had agreed earlier this month to help Bradner get home. Caroline had originally travelled to Surat Thani in southern Thailand for a marketing internship but soon fell in love with teaching English to young children.
"She thought that would help broaden herself and also give back to other people," said her father Jim Bradner.
But two months in to her six month stay the unexpected happened.
On December 22 Caroline woke up in her apartment in Thailand unable to move, according to her sister.
"It's a punch in the gut," Bradner said.
Read more about Caroline's condition and the challenge to get her home HERE.

A friend, also from Virginia, took Caroline to the hospital after she started exhibiting symptoms of weakness, abdominal pain and paralysis.
Doctors in Thailand diagnosed her with Guillain Barre Syndrome, a rare auto-immune disease that causes your body's immune system to attack your nerves.
The family found out about Caroline's situation when they were picking her sister up at the airport.
Caroline's mother flew out Christmas Eve to help with her daughter's recovery while the rest of the family focused on finding a way to get her home.
Last night (Saturday), her father posted photos to Facebook as Caroline arrived home.
Friends, family and strangers donated to a GoFundMe page, originally created to help pay for transportation.
"Any additional funds will be donated to GBS/CIDP Foundation International," the fundraising page said.
Original article HERE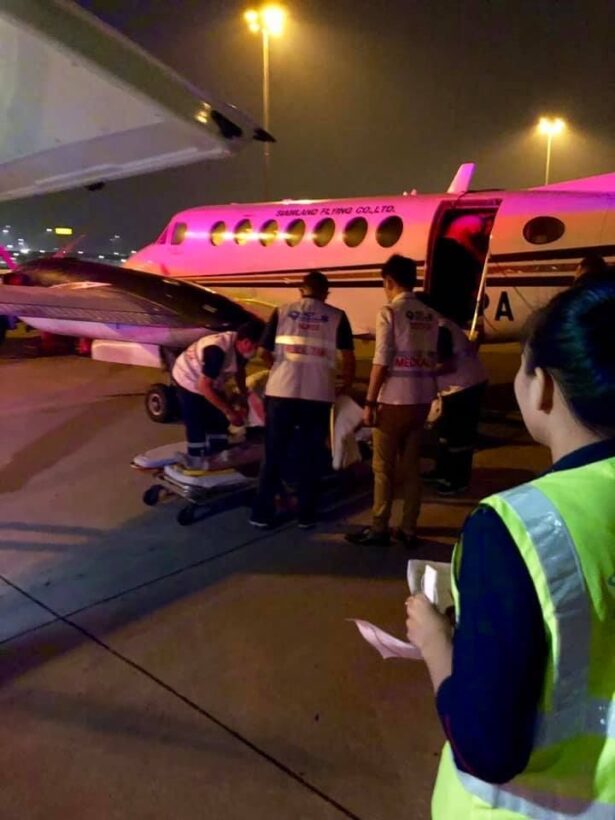 Rahaf al-Qunun arrives in Canada – no mention in Saudi media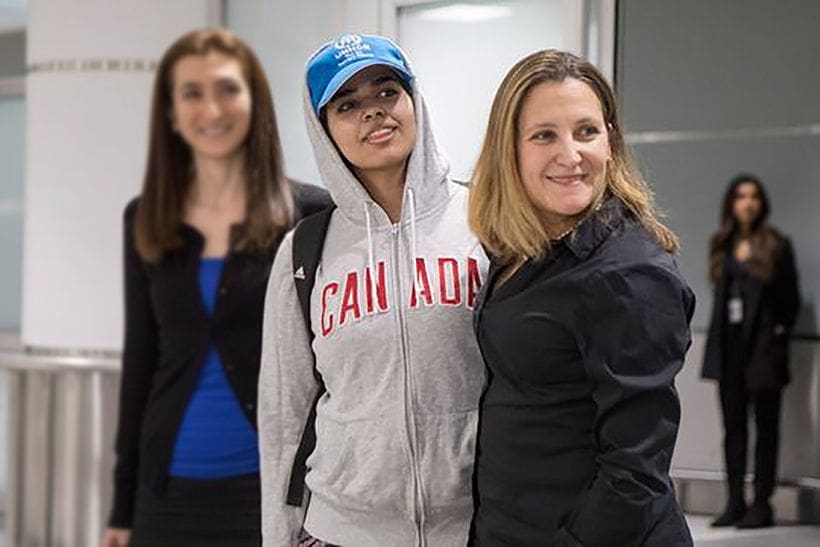 The 18 year old Saudi runaway who says she feared her family and possible death if she was deported back to Saudi Arabia, has arrived in Canada. Canadian officials offered her asylum in a case that became global news after the plucky woman mounted a Twitter storm, barricaded in her airport hotel room last weekend.
The Canadian Foreign Minister Chrystia Freeland met Rahaf Mohammed al-Qunun at Toronto's airport after arriving on a Korean flight from Bangkok, via Seoul.
"This is Rahaf al-Qunun, a very brave new Canadian." 
Al-Qunun smiled as she exited an airport arrival door wearing a Canada zipper hoodie and a UN High Commissioner for Refugees cap.
Her arrival in Canada ended a dramatic seven days that started with her fleeing her family while visiting Kuwait and flying to Bangkok. 
After a week of diplomatic 'push and pull' between the Thai, Saudi, then Australian and Canadian governments, the UN High Commissioner for Refugees was allowed to step in and assess the woman's request for refugee status.
On Friday, Prime Minister Justin Trudeau announced that Canada would accept Al-Qunun as a refugee. The Canadian PM said the situation has highlighted the cause of women's rights in Saudi Arabia.
Upon her arrival yesterday the Canadian FM said Qunun preferred not to take questions.
"It was a pleasure for me this morning to welcome her to her new home."
"She is obviously very tired after a long journey and she preferred to go and get settled. But it was Rahaf's choice to come out and say hello to Canadians. She wanted Canadians to see that she's here, that she's well and that she's very happy to be in her new home."
Freeland said Qunun commented about the cold weather and she responded that it gets warmer in Canada.
Qunun Tweeted two pictures from her flight. One with what appears to be a glass of wine and her passport and another holding her passport while on the plane #I did it and emojis showing plane, hearts and wine glass.
There was no immediate Saudi government reaction, nor any mention of her arrival in state media.