Phuket Gazette World News Exclusive: Lion Air crash pilot felt jet 'dragged' from sky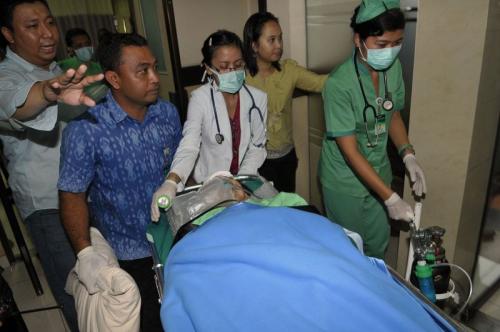 PHUKET MEDIA WATCH
– World news selected by Gazette editors for Phuket's international community
Exclusive: Lion Air crash pilot felt jet 'dragged' from sky
Reuters / Phuket Gazette

PHUKET: The pilot whose Indonesian jet slumped into the sea while trying to land in Bali has described how he felt it "dragged" down by wind while he struggled to regain control, a person familiar with the matter said.
All 108 passengers and crew miraculously survived when the Boeing 737 passenger jet, operated by Indonesian budget carrier Lion Air, undershot the tourist island's main airport runway and belly-flopped in water on Saturday.
Officials stress it is too early to say what caused the incident, which is being investigated by Indonesian authorities with the assistance of U.S. crash investigators and Boeing.
But initial debriefings, witness comments and weather reports have focused attention on the possibility of "wind shear" or a downdraft from storm clouds known as a "microburst".
Although rare, experts say such violent and unpredictable gusts can leave even the most modern jet helpless if they are stronger than the plane's ability to fly out of trouble – with the critical moments before landing among the most vulnerable.
"If you have a downdraft which exceeds the performance of the plane, then even if you put on full thrust you will go downhill and you can't climb out," said Hugh Dibley, a former British Airways captain and expert on loss-of-control events.
The cause of the crash has potential implications for the reputation of one of the world's fastest-growing airlines, which is fighting to be removed from a European Union safety black list even as it buys record volumes of Airbus and Boeing jets.
According to initial pilot debriefings, details of which have been described to Reuters, flight JT-904 was on an eastwards approach to Bali's Ngurah Rai Airport at mid-afternoon on Saturday following a normal flight from Bandung, West Java.
The co-pilot, an Indian
national
with 2,000 hours of relevant flying experience, was in charge for the domestic trip, which was scheduled to last one hour and 40 minutes.
Heavy rain

As the Lion Air plane was coming in to land, with an aircraft of national carrier Garuda following behind and another about to take off on the runway just ahead, the co-pilot lost sight of the runway as heavy rain drove across the windshield.
The captain, an Indonesian citizen with about 15,000 hours experience and an instructor's license, took the controls.
Between 400 and 200 feet, the pilots described flying through a wall of water, according to the source. Bursts of heavy rainfall and lost visibility are not uncommon in the tropics but the aircraft's low height meant the crew had little time to react.
With no sight of the runway lights or markings, the captain decided to abort the landing and perform a "go around", a routine manoeuvre for which all pilots are well trained.
But the captain told officials afterwards that instead of climbing, the brand-new 737 started to sink uncontrollably.
From 200 feet, well-practised routines unravelled quickly.
"The captain says he intended to go around but that he felt the aircraft dragged down by the wind; that is why he hit the sea," said the source, who was briefed on the crew's testimony.
"There was rain coming east to west; very heavy," the source said, asking not to be named because no one is authorized to speak publicly about the investigation while it is under way.
A passenger on board the jet painted a similar picture of an aircraft getting into difficulty only at the last minute.
"There was no sign at all it would fall but then suddenly it dropped into the water," Tantri Widiastuti, 60, told Metro TV.
Lion Air declined to comment on the cause of the crash.
Write-off
According to the Flight Safety Foundation, bulletins for pilots at around that time indicated a few storm clouds at 1,700 feet. A moderate wind blew from the south-southeast but flicked in a wide arc from east-southeast all the way to the west.
The source said there was no immediately obvious evidence of pilot or technical error but investigators will pore over the speed and other settings, as well as interactions between the pilots, to establish whether the crash could have been avoided.
Both pilots were given urine tests by the Indonesian
police
and were cleared for drugs and alcohol, the source said.
Neither pilot has been named.
According to Indonesian media reports, five Lion Air pilots have been arrested for drugs in the past two years, raising questions over whether drug abuse or overwork are widespread.
The airline's co-founder has denied this and told Reuters last year he was working closely with authorities to ensure Indonesia's tough drugs laws are obeyed.
Delivered in February, the aircraft itself had only had one technical problem: a landing light that had to be replaced.
Now lying broken-backed beneath a 15-foot (4.6-metre) sea-wall yards (metres) short of its destination, the $89-million Boeing has been written off. It was on lease from Dublin-based firm Avolon.
Pictures of the stricken jet lying in water and the fact that all on board survived brought back images of the "Miracle on the Hudson," in which an Airbus A320 ditched safely in New York after dramatically losing power due to a bird strike.
But industry experts say the suspected involvement of wind shear draws far more chilling parallels with the crash of a Delta Air Lines Lockheed Tristar while on approach to Dallas airport in 1985 that killed 134 passengers and crew.
Delta Flight 191 led to the creation of new warning systems and better procedures for dealing with low-level wind shear, or sudden changes of wind direction or speed.
According to Boeing, the 737-800, its most popular current model, is equipped with a "Predictive Windshear System". On approach, an aural warning says, "Go around, windshear ahead".
Nowadays, pilots agree the best strategy for dealing with possible wind shear is to avoid it entirely, said Dibley, who is a senior official at the
UK
's Royal Aeronautical Society.
But if the "wind shear" warning blares out, the automatic response is to cancel the landing and go around again, he said.
Delicate Balance
Pilots can sometimes prepare for risks, such as a possible loss of the right sort of wind on landing, by keeping a buffer of extra speed to help them get out of trouble, he said. It is a delicate balance as too much speed could make the jet overrun, which in the case of Bali means hitting a road or yet more sea.
"If your speed is too slow and you hit a downdraft you will just sink. So one question is how much extra air speed the aircraft was carrying," Dibley said.
There was no immediate information on what cockpit signals were available to the crew, how fast the Lion Air jet was flying or what sort of scheduling roster the crew had been flying.
Founded by two brothers and travel entrepreneurs, Lion Air has been growing at a record pace to keep up with one of the region's star economies. Last month, it signed a deal with Europe's Airbus for 234 passenger jets worth $24 billion. Two years ago, it signed a deal with Boeing for 230 planes.
At the same time, however, Indonesia has been struggling to improve its civil air safety after a string of deadly accidents.
In 2007, Lion Air was among a number of Indonesian airlines banned by the EU for lax safety standards.
The ban was
— Phuket Gazette Editors
World News

Join the conversation and have your say on Thailand news published on The Thaiger.
Thaiger Talk is our new Thaiger Community where you can join the discussion on everything happening in Thailand right now.
Please note that articles are not posted to the forum instantly and can take up to 20 min before being visible. Click for more information and the Thaiger Talk Guidelines.