Phuket Gazette World News Exclusive: Lion Air crash pilot felt jet 'dragged' from sky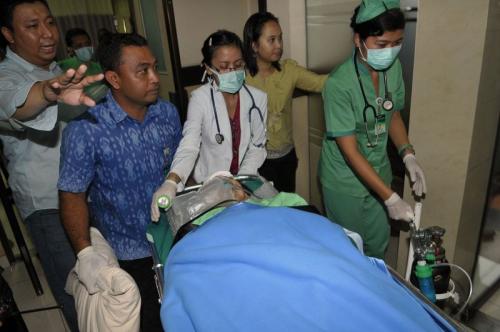 PHUKET MEDIA WATCH
– World news selected by Gazette editors for Phuket's international community
Exclusive: Lion Air crash pilot felt jet 'dragged' from sky
Reuters / Phuket Gazette

PHUKET: The pilot whose Indonesian jet slumped into the sea while trying to land in Bali has described how he felt it "dragged" down by wind while he struggled to regain control, a person familiar with the matter said.
All 108 passengers and crew miraculously survived when the Boeing 737 passenger jet, operated by Indonesian budget carrier Lion Air, undershot the tourist island's main airport runway and belly-flopped in water on Saturday.
Officials stress it is too early to say what caused the incident, which is being investigated by Indonesian authorities with the assistance of U.S. crash investigators and Boeing.
But initial debriefings, witness comments and weather reports have focused attention on the possibility of "wind shear" or a downdraft from storm clouds known as a "microburst".
Although rare, experts say such violent and unpredictable gusts can leave even the most modern jet helpless if they are stronger than the plane's ability to fly out of trouble – with the critical moments before landing among the most vulnerable.
"If you have a downdraft which exceeds the performance of the plane, then even if you put on full thrust you will go downhill and you can't climb out," said Hugh Dibley, a former British Airways captain and expert on loss-of-control events.
The cause of the crash has potential implications for the reputation of one of the world's fastest-growing airlines, which is fighting to be removed from a European Union safety black list even as it buys record volumes of Airbus and Boeing jets.
According to initial pilot debriefings, details of which have been described to Reuters, flight JT-904 was on an eastwards approach to Bali's Ngurah Rai Airport at mid-afternoon on Saturday following a normal flight from Bandung, West Java.
The co-pilot, an Indian national with 2,000 hours of relevant flying experience, was in charge for the domestic trip, which was scheduled to last one hour and 40 minutes.
Heavy rain

As the Lion Air plane was coming in to land, with an aircraft of national carrier Garuda following behind and another about to take off on the runway just ahead, the co-pilot lost sight of the runway as heavy rain drove across the windshield.
The captain, an Indonesian citizen with about 15,000 hours experience and an instructor's license, took the controls.
Between 400 and 200 feet, the pilots described flying through a wall of water, according to the source. Bursts of heavy rainfall and lost visibility are not uncommon in the tropics but the aircraft's low height meant the crew had little time to react.
With no sight of the runway lights or markings, the captain decided to abort the landing and perform a "go around", a routine manoeuvre for which all pilots are well trained.
But the captain told officials afterwards that instead of climbing, the brand-new 737 started to sink uncontrollably.
From 200 feet, well-practised routines unravelled quickly.
"The captain says he intended to go around but that he felt the aircraft dragged down by the wind; that is why he hit the sea," said the source, who was briefed on the crew's testimony.
"There was rain coming east to west; very heavy," the source said, asking not to be named because no one is authorized to speak publicly about the investigation while it is under way.
A passenger on board the jet painted a similar picture of an aircraft getting into difficulty only at the last minute.
"There was no sign at all it would fall but then suddenly it dropped into the water," Tantri Widiastuti, 60, told Metro TV.
Lion Air declined to comment on the cause of the crash.
Write-off
According to the Flight Safety Foundation, bulletins for pilots at around that time indicated a few storm clouds at 1,700 feet. A moderate wind blew from the south-southeast but flicked in a wide arc from east-southeast all the way to the west.
The source said there was no immediately obvious evidence of pilot or technical error but investigators will pore over the speed and other settings, as well as interactions between the pilots, to establish whether the crash could have been avoided.
Both pilots were given urine tests by the Indonesian police and were cleared for drugs and alcohol, the source said.
Neither pilot has been named.
According to Indonesian media reports, five Lion Air pilots have been arrested for drugs in the past two years, raising questions over whether drug abuse or overwork are widespread.
The airline's co-founder has denied this and told Reuters last year he was working closely with authorities to ensure Indonesia's tough drugs laws are obeyed.
Delivered in February, the aircraft itself had only had one technical problem: a landing light that had to be replaced.
Now lying broken-backed beneath a 15-foot (4.6-metre) sea-wall yards (metres) short of its destination, the $89-million Boeing has been written off. It was on lease from Dublin-based firm Avolon.
Pictures of the stricken jet lying in water and the fact that all on board survived brought back images of the "Miracle on the Hudson," in which an Airbus A320 ditched safely in New York after dramatically losing power due to a bird strike.
But industry experts say the suspected involvement of wind shear draws far more chilling parallels with the crash of a Delta Air Lines Lockheed Tristar while on approach to Dallas airport in 1985 that killed 134 passengers and crew.
Delta Flight 191 led to the creation of new warning systems and better procedures for dealing with low-level wind shear, or sudden changes of wind direction or speed.
According to Boeing, the 737-800, its most popular current model, is equipped with a "Predictive Windshear System". On approach, an aural warning says, "Go around, windshear ahead".
Nowadays, pilots agree the best strategy for dealing with possible wind shear is to avoid it entirely, said Dibley, who is a senior official at the UK's Royal Aeronautical Society.
But if the "wind shear" warning blares out, the automatic response is to cancel the landing and go around again, he said.
Delicate Balance
Pilots can sometimes prepare for risks, such as a possible loss of the right sort of wind on landing, by keeping a buffer of extra speed to help them get out of trouble, he said. It is a delicate balance as too much speed could make the jet overrun, which in the case of Bali means hitting a road or yet more sea.
"If your speed is too slow and you hit a downdraft you will just sink. So one question is how much extra air speed the aircraft was carrying," Dibley said.
There was no immediate information on what cockpit signals were available to the crew, how fast the Lion Air jet was flying or what sort of scheduling roster the crew had been flying.
Founded by two brothers and travel entrepreneurs, Lion Air has been growing at a record pace to keep up with one of the region's star economies. Last month, it signed a deal with Europe's Airbus for 234 passenger jets worth $24 billion. Two years ago, it signed a deal with Boeing for 230 planes.
At the same time, however, Indonesia has been struggling to improve its civil air safety after a string of deadly accidents.
In 2007, Lion Air was among a number of Indonesian airlines banned by the EU for lax safety standards.
The ban was
— Phuket Gazette Editors
Keep in contact with The Thaiger by following our Facebook page.
Never miss out on future posts by following The Thaiger.


Find more SE Asian News courtesy of The Thaiger.

Broke? Find employment in Southeast Asia with JobCute Thailand. Rich? Invest in real estate across Asia with FazWaz Property Group. Even book medical procedures worldwide with MyMediTravel, all powered by DB Ventures.

Asia's biggest drug kingpin arrested in Netherlands
Asia's biggest drug kingpin is under arrest in the Netherlands after years of authorities chasing him worldwide. 57 year old Tse Chi Lop, a Chinese-born Canadian citizen, was arrested by Dutch police acting on a request by Australia's federal police.
The UN Office on Drugs and Crime named him as the suspected leader of the Asian mega-cartel known as "Sam Gor", a major producer and supplier of methamphetamines worldwide. Tse is commonly compared to the Mexican drug lord Joaquin "El Chapo" Guzman.
Sam Gor is suspected of laundering billions in drug money through businesses such as casinos, real estate and hotels in Southeast Asia's Mekong region. Australia's federal police said Friday's arrest came after a 2012 operation that arrested 27 people linked to a crime syndicate spanning five countries. The groups was accused of importing large amounts of heroin and methamphetamine into Australia, according to police.
"The syndicate targeted Australia over a number of years, importing and distributing large amounts of illicit narcotics, laundering the profits overseas and living off the wealth obtained from crime."
The arrest of Tse Chi Lop almost 10 years after that operation's launch is a major break for Australian authorities. The country's attorney-general will now begin preparing a formal extradition request for the alleged drug lord to face trial.
Most of Asia's meth comes from "Golden Triangle" border areas between Laos, Myanmar, Thailand and southwest China. The production of methamphetamine, either in tablet form or the highly potent crystalised "ice" version, take place in Myanmar's eastern north Shan state. Ketamine and fentanyl are also produced there as well, mostly in 'portable' labs that hide underneath the thick rainforest canopy.
In 2018 alone, Thailand netted more than 515 million methamphetamine tablets, a number 17 times the amount for the entire Mekong region 10 years ago. Traffickers are constantly finding more creative ways to ship their products as drug busts are featured daily on the news in those regions.
SOURCE: The Bangkok Post
Keep in contact with The Thaiger by following our Facebook page.
Never miss out on future posts by following The Thaiger.
Czech 'Covid' sniffer dogs can detect Covid-19 with a 95% success rate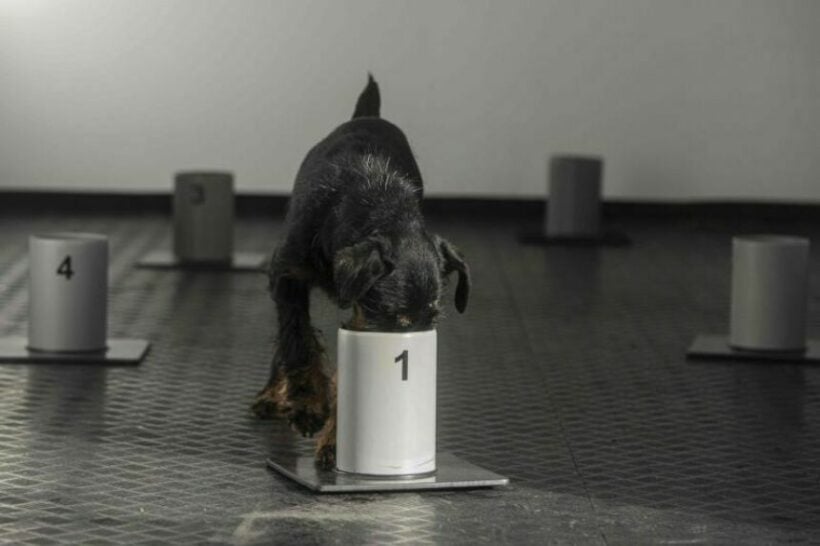 Czech dog trainers say canines can sniff out Covid-19 with an astonishing 95% success rate. The team of trainers in Renda, a Czech mountain village, are working in their own time to teach the dogs to tell the difference between fake samples of Covid and real ones by sniffing pieces of cloth. Lenka Vlachova, a trainer who works at Prague's fire brigade, says the cloths either feature a scent from patients with Covid-19 or from those that tested negative for the virus. They also say they there are cloths with fake samples of the virus that are part of the testing group.
The project head, Gustav Hotovy, says the study is designed to verify dogs' ability to detect the virus and generate a method enabling the use of training dogs in combatting the pandemic.
"The method should also work with other diseases, even more lethal than Covid-19. In the end, we should be able to detect a huge number of people in a very short time with a trained dog."
Hotovy, who is a retired cynologist, whose team started training the dogs last August, says the first study confirming that dogs are able to detect tissue attacked by a virus was conducted in the United States about 10 years ago.
"The virus changes the human tissue, affecting the scent signature of the person."
He says that the signature changes so much that it is immediately picked up on by the dogs. The samples are gathered by rubbing a piece of cotton against the patient's skin and then the team has to make sure the sample is virus-free to keep the dogs from catching the virus.
A Finnish team has also been using dogs to detect the virus at Helsinki airport, reporting its dogs can detect the virus with close to 100% accuracy.
SOURCE: Reuters
Keep in contact with The Thaiger by following our Facebook page.
Never miss out on future posts by following The Thaiger.
Talk show king, Larry King, dies at 87 | VIDEO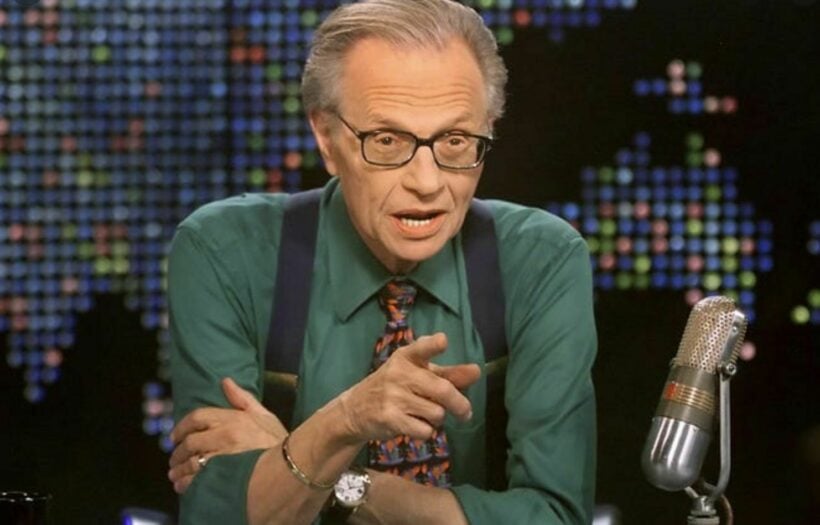 Larry King, the longtime CNN stalwart and talk host has died. He was 87 years of age. He is survived by 3 sons.
"Larry King Live" was a staple on the the young cable TV network for over 25 years, interviewing presidential candidates, celebrities, athletes and high-profile personalities. He retired in 2010 after taping more than 6,000 episodes of the show before moving his voice onto a fledgling streaming service.
His son, Chance, confirmed King's death yesterday morning, US time, on his Facebook page.
"With profound sadness, Ora Media announces the death of our co-founder, host and friend Larry King, who passed away this morning at age 87 at Cedars-Sinai Medical Center in Los Angeles."
"For 63 years and across the platforms of radio, television and digital media, Larry's many thousands of interviews, awards, and global acclaim stand as a testament to his unique and lasting talent as a broadcaster."
King had recently spent time in hospital with Covid-19 at Cedars-Sinai. He had been battling a number of other health problems over the years, suffering several heart attacks. In 1987, he underwent quintuple bypass surgery, inspiring him to establish the Larry King Cardiac Foundation to provide assistance to those without insurance.
With all his health challenges, he continued to forge one of the great talk show careers in US entertainment history.
In 2017 King revealed that he had been diagnosed with lung cancer and successfully underwent surgery to treat it. He also underwent another procedure in 2019 to address angina.
King also suffered personal loss last year when 2 of his adult children died within weeks of each other: Andy King, 65, suffered a heart attack and daughter Chaia King, 52, died after being diagnosed with lung cancer.
With an affable, easygoing demeanor that distinguished him from more intense TV interviewers, King perfected a casual approach to the Q&A format, always leaning forward and listening intently to his guests, rarely interrupting.
Tim Newton from The Thaiger met Larry King in the early 90s whilst working on the 'Australia Overnight' program with the Macquarie Network, using King's 'Larry King Show' radio format as a broad framework for the new radio networked program in Australia, the first of its kind.
"Larry was as affable in personal dealings as he was on air. He was very keen to help a young Aussie at the time who was trying to carve out a similar program to the famous Larry King Show of the 1980s that he hosted. I was happy to get a 30 minute meeting with him after flying to LA to meet him. He took me out to dinner and I walked away with a roadmap for our new radio show and a thousand other tips for the legendary talk show host."
Jeff Zucker, CNN's President, acknowledged King's role in raising the network's profile around the world.
"We mourn the passing of our colleague Larry King. The scrappy young man from Brooklyn had a history-making career spanning radio and television. His curiosity about the world propelled his award-winning career in broadcasting, but it was his generosity of spirit that drew the world to him. We are so proud of the 25 years he spent with CNN, where his newsmaker interviews truly put the network on the international stage. From our CNN family to Larry's, we send our thoughts and prayers, and a promise to carry on his curiosity for the world in our work."
SOURCE: CNN
Keep in contact with The Thaiger by following our Facebook page.
Never miss out on future posts by following The Thaiger.