Phuket seawalkers deny destroying corals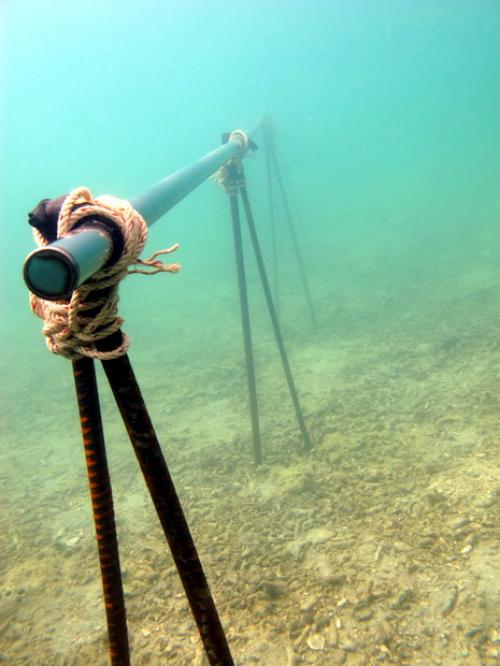 PHUKET: About 200 square meters of coral have been damaged off Khai Nai island in Phang Nga, say local marine officials, in order to create a pathway for tourists to walk on the sea floor.
The manager of the seawalking company at the site, however, has defended his business, telling the Phuket Gazette it is environmentally friendly and had not damaged any coral.
Seawalking – walking on the sea floor while wearing a helmet supplied with oxygen from a boat above – was banned in local areas from 2007 until the law forbidding it lapsed last year.
Phuket marine officials, after learning of the damaged coral from locals, dived at the site on the east side of Khai Nai island on March 22. The group included staff from the Department of Marine and Coastal Resources (DMCR) and the Phuket Marine Biological Center (PMBC).
"We found that over 200 square meters of medium-quality corals had been destroyed," said Dr Nalinee Thongtam, senior marine specialist at the PMBC.
"Coral reef had been cut to create a flat walkway," she said.
Dr Nalinee photographed a metal railing set in the pathway for tourists to hold on to at the now-cleared site.
The cut coral was piled on top of living coral, protected sea clams had been relocated, and the support boat was anchored by rope to coral, said Dr Nalinee, who has detailed illustrations of the site.
"A total area of about 300 square meters of coral was affected, and at least two laws were broken," she said.
It is illegal to destroy coral and the metal bar and roped coral contravene marine regulations that do not allow fishing areas to be altered, she said.
Dr Nalinee and her colleagues reported the damage to police at Koh Yao Noi island, but were told the police could not take action unless they witnessed the destruction in progress.
About 10 days later, on April 3, Dr Nalinee sent one of her staff to check on the coral. He reported back that it was starting to die, and took photographs of seawalking in progress.
"Some of the damaged coral still has the potential to grow back again with the right treatment," Dr Nalinee said.
"It is now very important for all governmental organizations to cooperate and fix the damage," she added.
Dr Nalinee told the Gazette that the case has been reported to her superiors at the PMBC, to the DMCR, to the Phuket Provincial Office of Natural Resources and Environment, and to the governors of both Phuket and Phang Nga.
The Ministry of Natural Resources and Environment Inspector-General has reported the issue to the Chief Executive of that Ministry.
A beleaguered Somporn Teerin, the manager of J&J Marine, the seawalking company at the site, told the Gazette he had received complaints from all sides and asked for the chance to explain himself.
"'Eco-tourism' is what we call our seawalking package," he said.
"No coral was destroyed. The coral that we removed had been dead for three or four years years already. The walkway where we put the metal bars is a natural coral-free water channel," he said.
Mr Somporn took exception to the claim that 200 square meters of coral had been disrupted.
"The metal bar is only one inch thick and six meters long, so it is irrational to claim that we are the reason the 200 square meters of coral has been destroyed," he said.
As for the boat being anchored by rope to coral, Mr Somporn said he was told by "experts" that this was safe for coral.
"Corals around the island are being destroyed by divers and anchors from boats. I consulted with specialists who told me that wrapping ropes underneath coral is safe for them," he said.
Mr Somporn also said he had consulted with local leaders before starting his business.
"This [business] will be beneficial for the locals as well; we will be providing employment for them," he said.
Mr Somporn said that he is expecting to start the first seawalking tour this week after documents filed with the Tourism Authority of Thailand (TAT) and the Ministry of Natural Resources and Environment have been completed.
When asked by the Gazette about the seawalking already in progress witnessed by Dr Nalinee's officer, Mr Somporn said he wasn't sure what was going on. "It must have been a safety drill," he said.
Press were invited to visit the seawalking site on March 29, along with Dr Korn Sirinam, Parliament's Adviser to the Committee of Land, Forest and Law Enforcement.
At that time, Mr Somporn said that sea animals would not be interfered with or harmed because experts would set up environmental safety standards and tourists would have to agree to abide by them.
Dr Korn said, "We went seawalking for 30 minutes, and I saw that no harm had been done to the sea ecosystem because the area is small, approximately 10 square meters. There is also a sand walkway for tourists to walk along and observe corals and sea animals," he said.
"I confirm that seawalking should have no impact on the underwater ecosystem, but I also suggest that the agencies should be strict with the rules and take care of potential long-term consequences. They have to follow legal regulations in every step they take," he concluded.
Additional reporting by Kritsada Mueanhawong.
— Namsai Wongsaeree
Keep in contact with The Thaiger by following our
Facebook page
.
82 year old Frenchman killed in motorbike crash with ATV in Phuket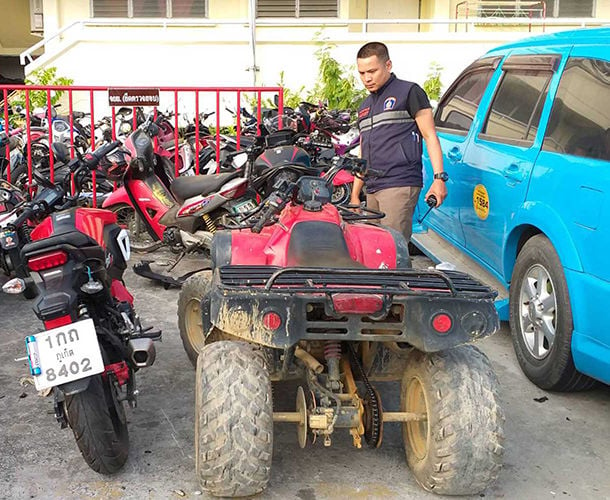 An elderly French man has died after an American woman lost control of her all-terrain vehicle (ATV) and crashed into his motorcycle in Chalong, southern Phuket. The woman was seriously injured. Police say the incident occurred on Soi Klum Yang in Chalong around 4pm on Thursday.
The crash involved a red ATV, and a black motorcycle ridden by the 82 year old Frenchman Robert Geoffray.
The woman, identified as 39 year old American Onome Alero Adeosun, suffered a broken right arm, leg and collarbone. Emergency workers found the elderly Frenchman lying unconscious on the road with serious head injuries. Medics performed CPR before sending both to Chalong Hospital, where the man was later pronounced dead.
His body was taken to Vachira Phuket Hospital for autopsy. The woman was transferred to Siriroj Hospital and is currently helping police with their investigation.
SOURCE: Bangkok Post
Keep in contact with The Thaiger by following our
Facebook page
.
Salty tap water and dirty air – Bangkok's environmental woes continue today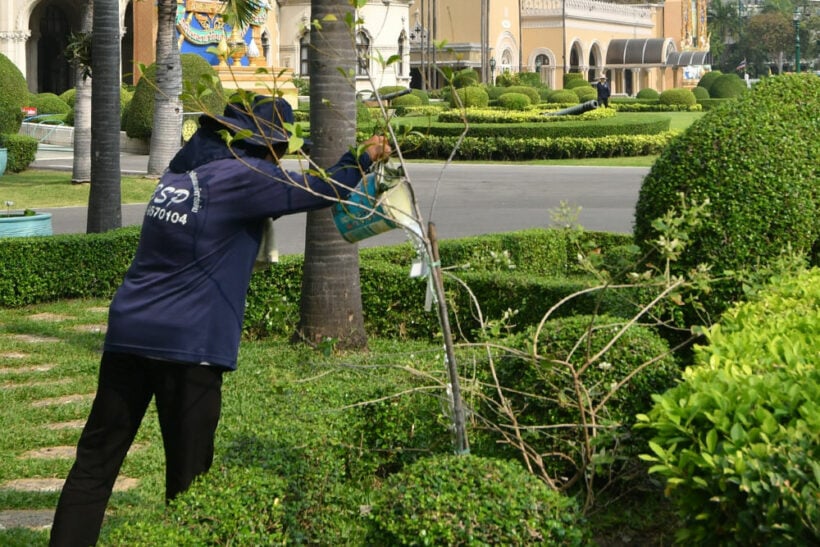 Brackish tap water, with increased salinity caused by seawater back-flowing into the Chao Phraya River, is threatening the gardens in and around the Government House compound. Government House officials are seeking assistance from the Agriculture Department.
Several small tree species – Lamduan, Chor Sumalee, Rachavadi, Nom Maew and Hom Muenlee – are more vulnerable to brackish tap water. The gardens are watered from a supply pumped in from the Chao Phraya.
It's been noted tha the saline level was around 400 milligrams per litre, still within the 1,000 mg/litre standard, but some of the species were already intolerant to the rising salinity.
Officials are seeking advice from the Agriculture Department about long-term measures to replant with species which would be more tolerant to the rising salinity of the water – situation they acknowledge will need to be managed in the short to medium term.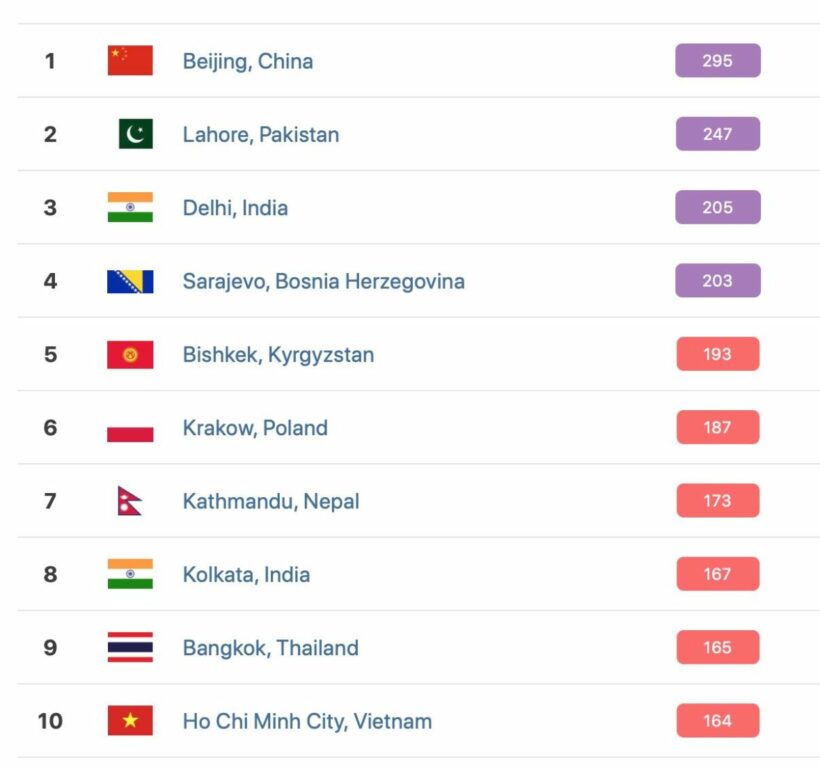 SCREENGRAB: Air Visual
Meanwhile, air around the capital today continues to be universally poor to very poor with readings as high as 187 near Suvarnabhumi Airport. Light airs, dust problems from northern-easter provinces and hot continental air flowing across the capital, continue to haunt Bangkok. Even with many factories closed today, and traffic lighter than weekdays, Bangkok's air has been recorded as the ninth worst city in the world for air pollution.
Right across the city the air quality readings are into the 'unhealthy' zone.
Chiang Mai, Lampang and Central Thailand are fairing no better – all with readings at least 3 times the Thai upper safe limit of 50 microns of 2.5micron particulate per cubic metre. The World Health Organisation sets its limit even lower at 25.
Pattaya has air quality readings today of 162, whilst even Phuket, in the south, is registering readings between 100 and 145 with reduced visibility today.
SOURCE: Thai PBS World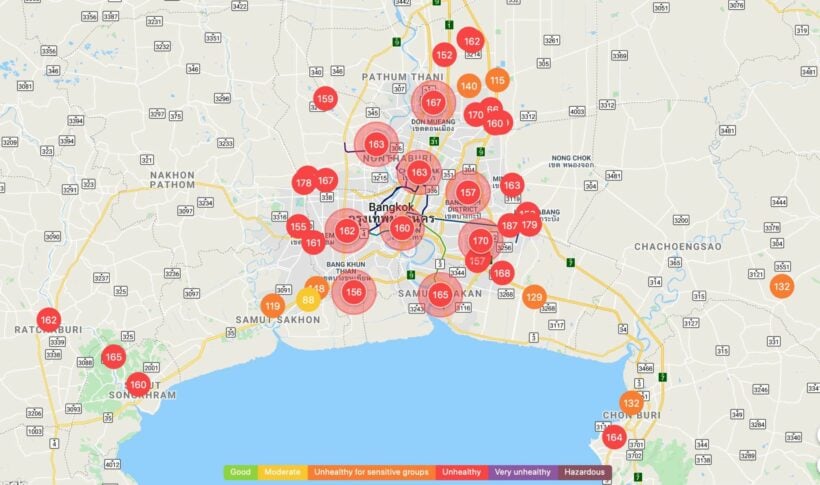 Keep in contact with The Thaiger by following our
Facebook page
.
Three massive condo developments along Phuket's up-market Layan Beach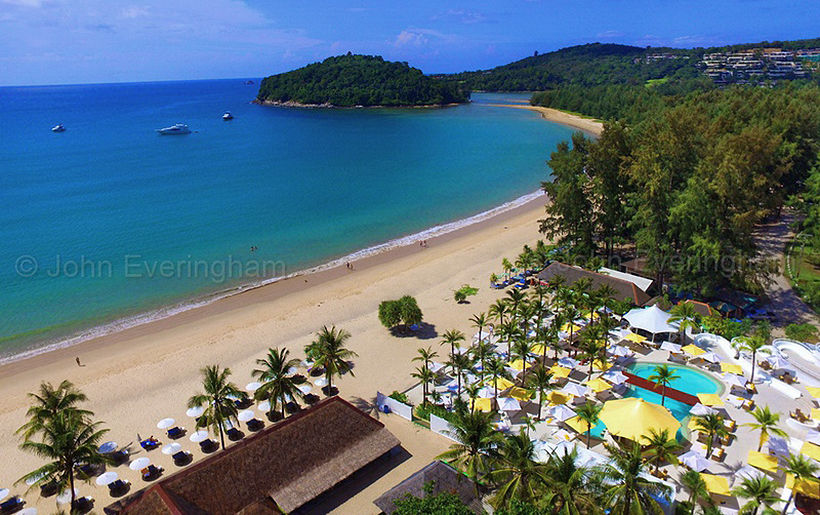 by Bill Barnett – c9hotelworks.com
Two new condo developments are going ahead in the Layan Beach area of Phuket's up-market west-coast beach strip. And there's another one underway next to the Dream Beach Club at the northern end of the Layan beach strip. All in all, another 1,200+ keys added to the available rooms along the Bang Tao/Layan Beach area.
On the northern side of Bangtao Beach, next to Maan Tawan and nearby Banyan Tree Phuket is the upcoming Sunshine Beach development. With a plan for 771 hotel and residences units on 12.6 rai, the high-density project is targeting Mainland Chinese buyers with pricing points reportedly starting from 4 million baht. Construction is expected to start in June of this year and complete in 2022.
From our discussion with sales staff the developer has claimed they have reached an agreement with the government for beach fronting facilities in the National Park strip in front of the project.
While in Layan next to Lotus Gardens is the upcoming 400 unit Layan Green Park. Pricing points run from 2.5 million baht. Unit configurations will range from studio, to one, two and three bedrooms. Guaranteed returns of 10% for a period of 10 years are being promoted.
Phuket's Layan area is seeing a surge in new real estate led projects and rising land values. At the same time as these two projects are underway, next to the Dream Beach is an oceanfront luxury project promoting sales of Grand Beach Villa and Ocean View Suites tagged as 'N5'. The developer of the project is VIP Thailand who have another project in Rawai.
Based on our research the primary source market tragets of these three projects are mainland Chinese and Russian buyers. Local concerns in the Cherngtalay area over mounting traffic, water shortages and strain on municipal infrastructure are becoming issues.
Traffic in and around the central Cherngtalay shopping district is becoming increasingly clogged with little hope for respite other than improved traffic management.
SOURCE: C9Hotelworks.com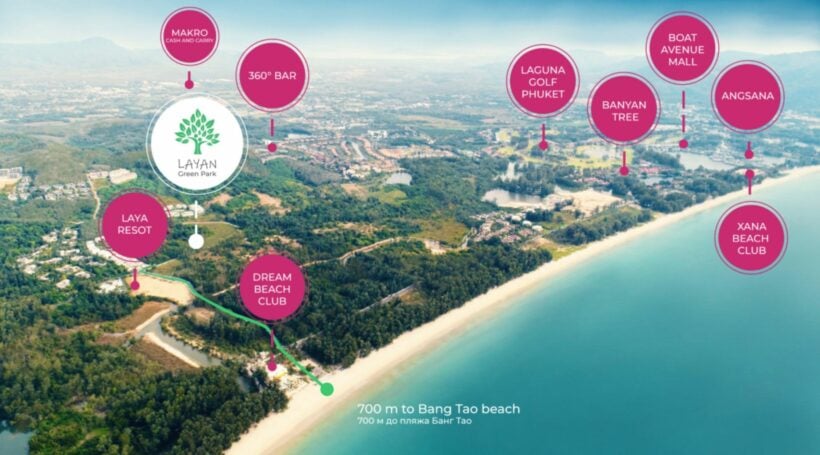 Keep in contact with The Thaiger by following our
Facebook page
.