World
Phuket Gazette World News: Dogged by dissent, Israel frees 26; Politicians talk too much – Britain; NSA defends spying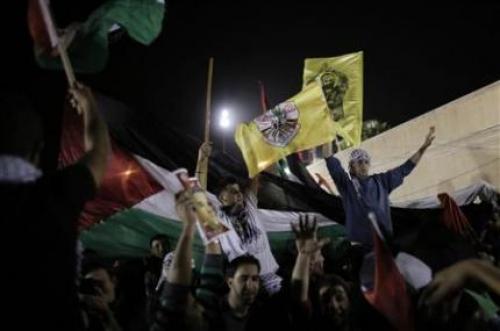 PHUKET MEDIA WATCH
– World news compiled by Gazette editors for Phuket's international community
Dogged by dissent, Israel frees 26 Palestinian prisoners
Reuters / Phuket Gazette
PHUKET: Israel freed 26 Palestinian prisoners on Wednesday, the second stage of a limited amnesty designed to help U.S.-sponsored peace talks that have been dogged by divisions on both sides.
The inmates, convicted of murder in the killing of Israelis before or just after interim accords were signed two decades ago, were bussed from jail at midnight to welcoming parties in the occupied West Bank and the Gaza Strip.
Though thousands of Palestinians remain in Israeli custody, the releases could help the credibility of Palestinian President Mahmoud Abbas's engagement with the Jewish state, which is scorned by armed Islamist Hamas rivals who rule Gaza.
Negotiations between Abbas's administration and Israel resumed in Washington in July after a three-year halt. Held in secret, they have done little to reassure Palestinians who worry about Jewish settlement of the West Bank or Israelis who doubt Abbas could hold Hamas to any future peace agreement.
Yet neither side in the talks wants to disappoint an Obama administration which has ranked reconciling them as a top Middle East policy goal. Another is curbing Iran's disputed nuclear programme, in which Israel sees a mortal menace.
"As one who spent most of his adult life fighting Palestinian terror, in Israel and abroad, this is no easy event for me," Israeli Defence Minister Moshe Yaalon said in a speech, referring to the prisoner release.
He said that Israel "has been confronted with sensitive diplomatic circumstances and weighty strategic considerations in recent months, which require that we take difficult and painful steps. This is not a black-and-white situation."
In all, 104 long-serving inmates will go free. A first group of 26 were let out in August as part of understandings reached during shuttle diplomacy by U.S. Secretary of State John Kerry, who set a 9-month framework for the negotiations.
Celebration, recrimination
Hundreds of prisoners' relatives and well-wishers gathered at Abbas's office in the West Bank city of Ramallah to receive 21 of the released men with predawn celebrations. "Our heroes are coming home, long live the prisoners," they chanted.
The other five ex-prisoners went to Gaza, where similar festivities were prepared just over the border from Israel.
The Palestinian Cabinet issued a statement describing the releases as a beginning to a full eventual prisoner amnesty and statehood in the West Bank, including adjacent East Jerusalem, and Gaza. Palestinians, it said, would reject any attempt by Israel to "trade" prisoners for continued settlement-building.
Yet Abbas peace envoy Saeb Erekat said the Palestinians had shelved applications to U.N. institutions open to them since the international forum implicitly recognised their statehood claim last year. Those institutions include the International Criminal Court, where Palestinians might have sued Israel over the settlements, considered illegal by most world powers.
"A heavy price was paid, but a self-respecting country would go through war to return these symbols of Palestine, some of whom have spent 19, even as many as 30 years in prison," Erekat told Palestine TV.
Wednesday's release opened fissures in Israeli Prime Minister Benjamin Netanyahu's rightist government. A pro-settler coalition partner, the Jewish Home party, openly backed calls by Israelis bereaved or wounded in Palestinian attacks to cancel the amnesty. An appeal against it lodged with Israel's Supreme Court was overruled on yesterday evening, however.
"The release of terrorists in return for (Israeli chief negotiator) Tzipi Livni's dubious right to meet Erekat is very grave," said Jewish Home, which opposes Palestinian statehood.
In an apparent bid to appease Jewish Home and hardliners within Netanyahu's own Likud party, government officials said new housing projects would be announced soon in West Bank settlement blocs that Israel plans to keep in any future peace deal.
U.N. diplomats talking too much? Turn off microphones, says Britain
Reuters / Phuket Gazette
PHUKET: Britain's U.N. Ambassador Mark Lyall Grant suggested a new tactic yesterday to stop diplomats at the United Nations from speaking for too long – turn off their microphones.
During a recent visit with the U.N. Security Council to the African Union Peace and Security Council in Ethiopia's capital Addis Ababa, Lyall Grant was impressed by its procedures.
"I, for one, would support implementing here the African Union Peace and Security Council practice of cutting off speakers who have exceeded their allotted time by turning off their microphones," Lyall Grant told the Security Council.
Speakers at U.N. meetings can be limited by the president using a gavel, but this is rare.
Former Libyan leader Muammar Gaddafi addressed the U.N. General Assembly in 2009 for 1 hour and 35 minutes, while in 1960, Cuba's Fidel Castro took to the U.N. podium to blast U.S. imperialism for about four hours.
The Security Council "encourages" U.N. members to deliver statements at meetings in five minutes or less. During Britain's presidency of the council in June, Lyall Grant cut off several speakers, some of whom officially complained.
"It is entirely possible to keep to short interventions without limiting the ability of member states to fully express their views," Lyall Grant said. "I am sure this would also be the case if we did adopt the African Union practice."
NSA chief defends agency amid U.S. spy rift with Europe
Reuters / Phuket Gazette
PHUKET: The U.S. National Security Agency director yesterday defended the spy agency as acting within legal boundaries, amid a public uproar which has grown from anger over the collection of Americans' phone and email records to outrage over spying on European allies.
General Keith Alexander offered an impassioned defence of the beleaguered intelligence agency, telling the House of Representatives Intelligence Committee that the NSA is focused on preventing attacks on Americans and allies, and operates under strict oversight.
"It is much more important for this country that we defend this nation and take the beatings than it is to give up a program that would result in this nation being attacked," Alexander said, referring to criticism of his agency.
Under sympathetic questioning from the committee chairman, Representative Mike Rogers, Alexander called media reports in France, Spain and Italy that the NSA collected data on tens of millions of phone calls in those countries "completely false."
Some of the data referenced in documents leaked by former NSA contractor Edward Snowden was collected not just by the NSA itself but was also "provided to NSA by foreign partners," he said. "This is not information that we collected on European citizens. It represents information that we and our NATO allies have collected in defence of our countries and in support of military operations."
Rogers warned that collecting foreign intelligence was important to protecting Americans and allies from terrorism.
"Every nation collects foreign intelligence. That is
— Phuket Gazette Editors

Join the conversation and have your say on Thailand news published on The Thaiger.
Thaiger Talk is our new Thaiger Community where you can join the discussion on everything happening in Thailand right now.
Please note that articles are not posted to the forum instantly and can take up to 20 min before being visible. Click for more information and the Thaiger Talk Guidelines.