World
Phuket Gazette World News: Crimeans vote over 90 percent to quit Ukraine for Russia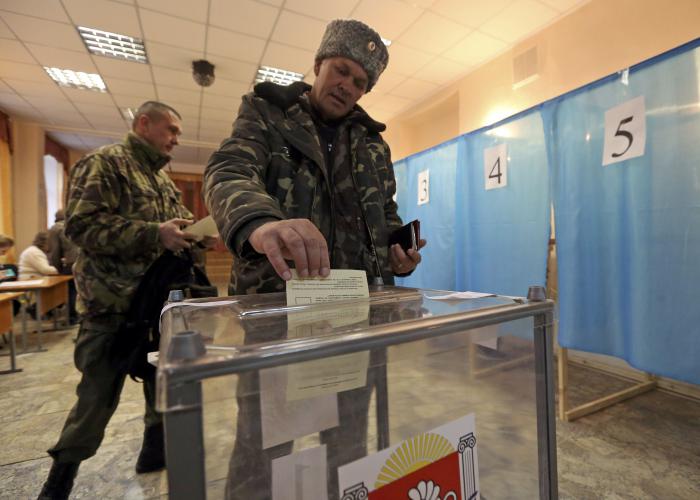 PHUKET: Russian state media said Crimeans voted overwhelmingly to break with Ukraine and join Russia on Sunday, as Kiev accused Moscow of pouring forces into the peninsula and warned separatist leaders "the ground will burn under their feet".
With over half the votes counted, 95.5 percent had chosen the option of annexation by Moscow, the head of the referendum commission, Mikhail Malyshev, said two hours after polls closed. Turnout was 83 percent, he added – a high figure given that many who opposed the move had said they would boycott the vote.
Western powers and leaders in Kiev denounced it as a sham.
Underlining how Moscow's military takeover of the peninsula two weeks ago has driven Russia and the West into a crisis with echoes of the Cold War, Vladimir Putin and Barack Obama spoke by telephone and, according to the Kremlin, the Russian and U.S. presidents agreed on a need to cooperate to stabilise Ukraine.
"This referendum is contrary to Ukraine's constitution," a White House spokesman said. "The international community will not recognise the results of a poll administered under threats of violence and intimidation from a Russian military intervention that violates international law."
The Kremlin said Putin told Obama the referendum was legitimate and he expressed concern about the Ukrainian government's failure to stamp out violence against Russian speakers in the country.
"Vladimir Vladimirovich Putin drew attention to the inability and unwillingness of the present authorities in Kiev to curb rampant violence by ultra-nationalist and radical groups that destabilise the situation and terrorise civilians, including the Russian-speaking population," the Kremlin said.
It said Putin suggested European monitors should be sent to all parts of Ukraine because of the violence.
Kiev said Moscow's build-up of forces in the Black Sea peninsula was in "crude violation" of an international treaty, and announced plans to arm and train 20,000 members of a newly-created National Guard.
U.S. Secretary of State John Kerry told Moscow that Washington would not accept the outcome of the vote in the region, which has an ethnic Russian majority and was transferred to Ukraine by Soviet rulers only 60 years ago.
The White House also warned Moscow to expect sanctions while foreign ministers from the European Union, which has major trade ties with Russia, will decide on possible similar action in Brussels on Monday.
But Putin rejected Western accusations that the referendum was illegal, saying it respected the will of the Crimean people, while his foreign ministry said it had agreed with the United States to seek a solution to the crisis through constitutional reform.
Ukrainian anger
In Kiev, Prime Minister Arseny Yatseniuk threatened dire consequences for the Crimean politicians who had called the vote, saying separatist "ringleaders" wanted to destroy Ukrainian independence "under the cover of Russian troops".
"We will find all of them – if it takes one year, two years – and bring them to justice and try them in Ukrainian and international courts. The ground will burn under their feet," he told a cabinet meeting.
Yatseniuk had just returned from a U.S. trip where he won expressions of moral support but no offers of weapons. Kiev's pro-European rulers, who took power after last month's fall of Moscow-backed President Viktor Yanukovich to popular unrest, have been as powerless as Western governments to prevent the referendum or buildup of Russian forces on Ukrainian territory.
At a polling booth at a school in Simferopol, the Crimean regional capital, dozens of people lined up outside to cast their ballots early.
"I have voted for Russia," said Svetlana Vasilyeva, 27, a veterinary nurse. "This is what we have been waiting for. We are one family and we want to live with our brothers."
Vasilyeva voiced fears common among some of Ukraine's native Russian-speakers about the consequences of Yanukovich's exit after protests in which over 100 people were killed. "We want to leave Ukraine because Ukrainians told us that we are people of a lower kind. How can you stay in such a country?" she said.
But ethnic Tatars – Sunni Muslims who make up 12 percent of Crimea's population – said they would boycott the vote despite promises by the regional authorities to give them financial aid and proper land rights.
"This is my land. This is the land of my ancestors. Who asked me if I want it or not? Who asked me?" said Shevkaye Assanova, a Crimean Tatar in her 40s. "For the rest of my life I will be cursing those who brought these people here. I don't recognise this at all. I curse all of them."
Two options
Crimea's 1.5 million voters had two options: union with Russia or giving their region, which is controlled by pro-Kremlin politicians, the broad right to determine its own path and choose relations with whom it wants – including Moscow.
A local Tatar television channel broadcast the count at one small polling station. It took just a few minutes for officials to stack up the papers, virtually in a single pile. One gave the result as: "166 for, 2 against, 1 spoiled". By "for" she clearly meant the first option on the paper, for union with Russia.
Russia has the right to keep forces on the Black Sea peninsula, including at its naval base in the port of Sevastopol, under a treaty signed after Ukraine gained independence from the wreckage of the Soviet Union in 1991.
But Ukrainian acting defence minister Ihor Tenyukh accused Moscow of going far beyond an agreed limit on servicemen – which he said was 12,500 for 2014.
"Unfortunately, in a very short period of time, this 12,500 has grown to 22,000. This is a crude violation of the bilateral agreements and is proof that Russia has unlawfully brought its troops onto the territory of Crimea," he said.
This figure had risen from 18,400 on Friday. "Let me say once again that this is our land and we will not be leaving it," he told Interfax news agency.
Tenyukh later said that the defence ministries in Kiev and Moscow had declared a truce until March 21 during which Russian forces, who have been arriving by boat and helicopter, would leave Ukrainian military facilities untouched.
Many Crimeans hope union with Russia will bring better pay and make them citizens of a country capable of asserting itself on the world stage. But others saw the referendum as a land grab by the Kremlin from Ukraine, whose new rulers want to move the country towards the European Union and away from Russia's sway.
Putin defended the vote in a phone call on Sunday with German Chancellor Angela Merkel, saying it complied with international law, including Article 1 of the U.N. Charter which states the principle of self-determination of peoples. "It was emphasized that Russia will respect the choice of the Crimean people," a Kremlin statement said.
Putin has said he must protect the Russian-speaking population in Ukraine from "fascists" in Kiev who ousted Yanukovich. Western powers largely dismiss his characterisation of the new authorities as successors of Nazi-allied Ukrainian forces which fought the Red Army in World War Two.
Russian Foreign Minister Sergei Lavrov urged Kerry on Sunday to encourage authorities in Kiev to stop what he called "massive lawlessness" against the Russian-speaking population.
In their second phone conversation in two days, Lavrov and Kerry agreed to seek a solution to the crisis by pushing for constitutional reforms in Ukraine, Russia's foreign ministry said in a statement.
However, Kerry told Lavrov that the United States would not accept the referendum result and said Russia must pull back its forces to their bases, a senior State Department official said.
The White House also warned Putin
— Phuket Gazette Editors

Join the conversation and have your say on Thailand news published on The Thaiger.
Thaiger Talk is our new Thaiger Community where you can join the discussion on everything happening in Thailand right now.
Please note that articles are not posted to the forum instantly and can take up to 20 min before being visible. Click for more information and the Thaiger Talk Guidelines.