19 Year old Thai girl dies from assault in Tokyo hotel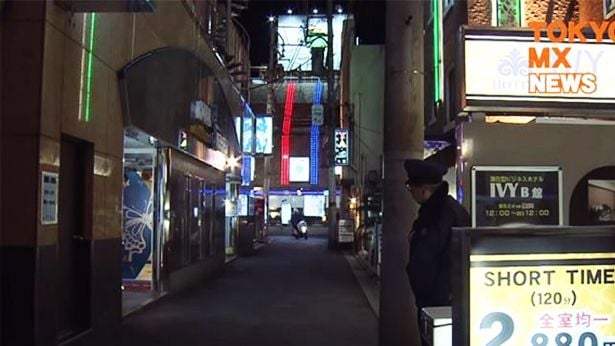 Photo: MX News
Following several news reports by Japanese media outlets The Foreign Affairs Ministry has now confirmed the death of a 19 year old Thai woman in Tokyo, Japan.
Initial reports say police were called by hotel staff when they heard loud screams from a woman after she had been heard arguing with a man in their room.  Police arrived at the fifth floor hotel room in suburban Tokyo and knocked on the door. A man shouted from inside for them to wait.
They decided to move in due to concern for the woman's welfare only to find the victim lying naked and her assailan,t a 20 year old Japanese man, had jumped out the window. He was later found with head injuries in the sidewalk below the room.
The young girl died on Wednesday evening and the man, who survived the fall, will be questioned after he undergoes surgery and recovers.
Thai authorities report that the Thai woman was there as a tourist. A Japanese foreign ministry spokeswoman gave very few details, saying the families had been notified and that full autopsy results were expected soon from Japanese authorities.
SOURCE: Khaosodenglish
Thai-owned Dusit D2 Hotel under fire in Nairobi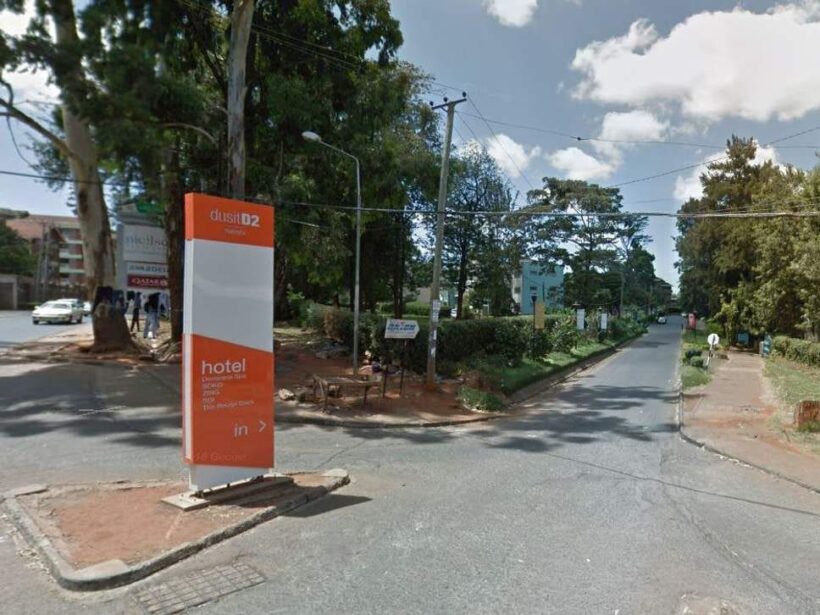 PHOTO: Google Maps
Two explosions and gunfire have been heard amid an apparent attack at an upscale hotel and office complex in Kenyan capital Nairobi. News just in from independent.co.uk
"We are under attack," another person in an office inside a complex in the DusitD2 hotel told Reuters, then hung up. Local television showed smoke rising from the area.
"I just started hearing gunshots, and then started seeing people running away raising their hands up and some were entering the bank to hide for their lives," a woman working in a neighbouring building told the news agency. She also heard two explosions, she said.
Nairobi police commander Philip Ndolo said officers had cordoned off the area around Riverside Drive due to a suspected robbery.
However, police spokesman Charles Owino told local media officials were not ruling out an attack by militants.
Read the rest of the Reuters report HERE.
Paralyzed from rare disease, Caroline returns home from Thailand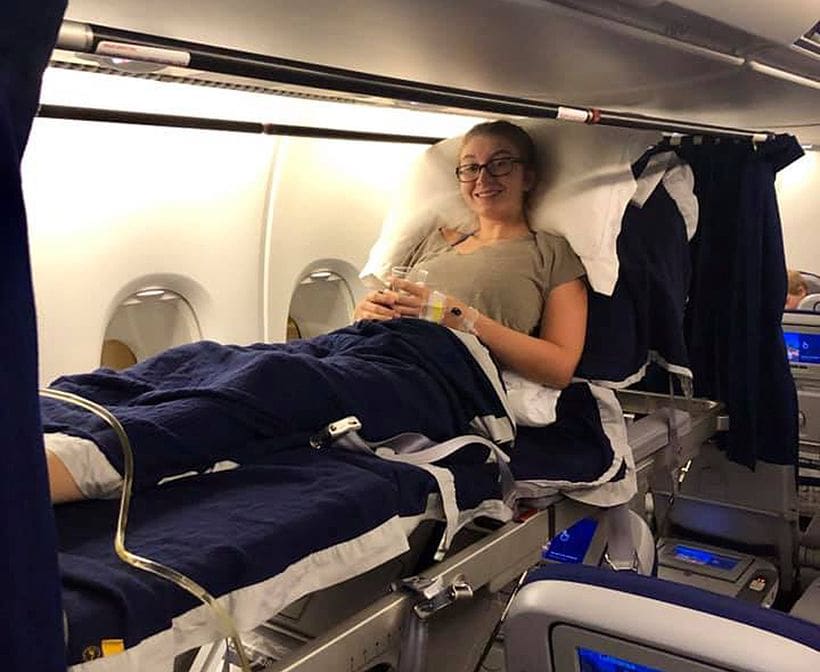 Original report by Karina Bolster and David Hylton. PHOTOS: Facebook/Jim Brader
A 22 year old woman from Virginia, US, who was paralyzed after her diagnosis of a rare auto-immune disease while teaching in Thailand, has arrived back home in the US.
Caroline Bradner was hospitalised in Thailand ever since.
A travel insurance company had agreed earlier this month to help Bradner get home. Caroline had originally travelled to Surat Thani in southern Thailand for a marketing internship but soon fell in love with teaching English to young children.
"She thought that would help broaden herself and also give back to other people," said her father Jim Bradner.
But two months in to her six month stay the unexpected happened.
On December 22 Caroline woke up in her apartment in Thailand unable to move, according to her sister.
"It's a punch in the gut," Bradner said.
Read more about Caroline's condition and the challenge to get her home HERE.

A friend, also from Virginia, took Caroline to the hospital after she started exhibiting symptoms of weakness, abdominal pain and paralysis.
Doctors in Thailand diagnosed her with Guillain Barre Syndrome, a rare auto-immune disease that causes your body's immune system to attack your nerves.
The family found out about Caroline's situation when they were picking her sister up at the airport.
Caroline's mother flew out Christmas Eve to help with her daughter's recovery while the rest of the family focused on finding a way to get her home.
Last night (Saturday), her father posted photos to Facebook as Caroline arrived home.
Friends, family and strangers donated to a GoFundMe page, originally created to help pay for transportation.
"Any additional funds will be donated to GBS/CIDP Foundation International," the fundraising page said.
Original article HERE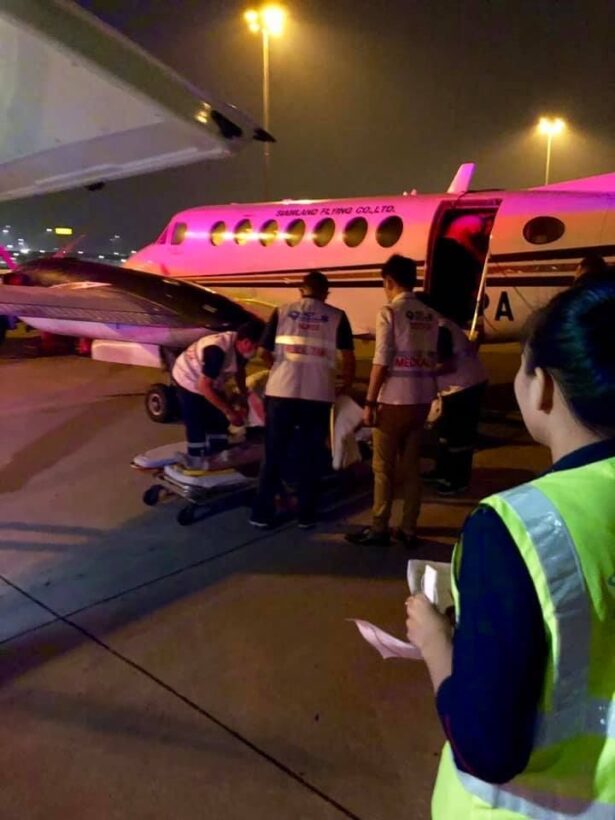 Rahaf al-Qunun arrives in Canada – no mention in Saudi media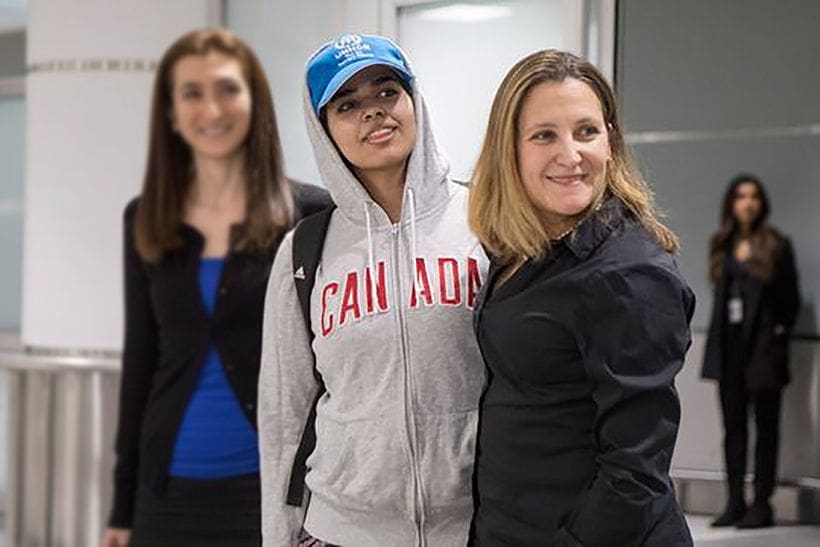 The 18 year old Saudi runaway who says she feared her family and possible death if she was deported back to Saudi Arabia, has arrived in Canada. Canadian officials offered her asylum in a case that became global news after the plucky woman mounted a Twitter storm, barricaded in her airport hotel room last weekend.
The Canadian Foreign Minister Chrystia Freeland met Rahaf Mohammed al-Qunun at Toronto's airport after arriving on a Korean flight from Bangkok, via Seoul.
"This is Rahaf al-Qunun, a very brave new Canadian." 
Al-Qunun smiled as she exited an airport arrival door wearing a Canada zipper hoodie and a UN High Commissioner for Refugees cap.
Her arrival in Canada ended a dramatic seven days that started with her fleeing her family while visiting Kuwait and flying to Bangkok. 
After a week of diplomatic 'push and pull' between the Thai, Saudi, then Australian and Canadian governments, the UN High Commissioner for Refugees was allowed to step in and assess the woman's request for refugee status.
On Friday, Prime Minister Justin Trudeau announced that Canada would accept Al-Qunun as a refugee. The Canadian PM said the situation has highlighted the cause of women's rights in Saudi Arabia.
Upon her arrival yesterday the Canadian FM said Qunun preferred not to take questions.
"It was a pleasure for me this morning to welcome her to her new home."
"She is obviously very tired after a long journey and she preferred to go and get settled. But it was Rahaf's choice to come out and say hello to Canadians. She wanted Canadians to see that she's here, that she's well and that she's very happy to be in her new home."
Freeland said Qunun commented about the cold weather and she responded that it gets warmer in Canada.
Qunun Tweeted two pictures from her flight. One with what appears to be a glass of wine and her passport and another holding her passport while on the plane #I did it and emojis showing plane, hearts and wine glass.
There was no immediate Saudi government reaction, nor any mention of her arrival in state media.