"She wasn't here. It's only rumour." Cambodian officials.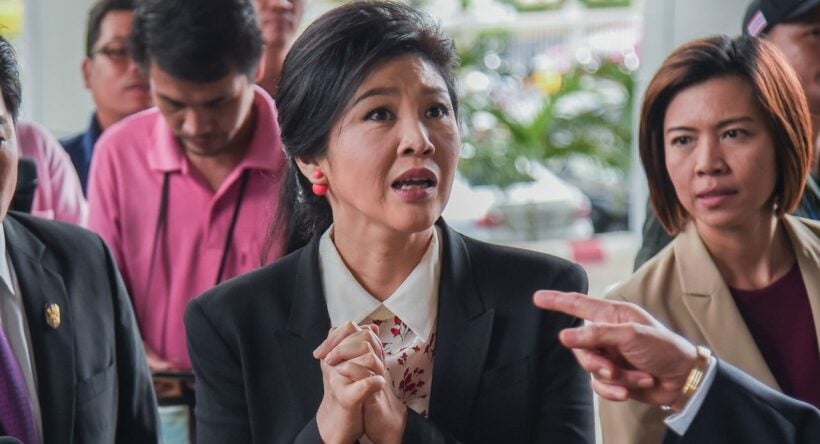 From The Phnom Penh Post
Cambodian officials Sunday dismissed media reports that former Thai Prime Minister Yingluck Shinawatra fled the country to Dubai via Cambodia ahead of a court decision, saying they had "no record" of such activity and calling the reports "rumours".
Yingluck was scheduled to appear at the Thai Supreme Court's Criminal Division for Political Office Holders on Friday but failed to show up. The court was going to announce a decision on her alleged negligence in a rice-pledging scheme that ended up costing the country $8 billion (Bt30 million).
After she didn't appear in court, border officials and sources speculated that Yingluck could have boarded a speedboat from Rayong to an island such as Koh Chang, Koh Kood or Koh Laoya, in Trat province, before travelling on to Cambodia.
Officials in Pursat province in Cambodia Sunday said Thai officials had closed an illegal border crossing in Mueang district in Trat province on August 19, though they claimed it was for an unrelated issue.
Officials in Thailand, Singapore and Dubai didn't respond to requests for comment Sunday.
Reports had it that Yingluck got help to secure a Cambodian passport in order to travel to Singapore in a private jet and later fly to Dubai, where her older brother, Thaksin Shinawatra, ousted as prime minister in 2006, is now believed to be living in self-imposed exile.
However, Cambodian officials denied the claims of Yingluck making her escape through Cambodia. Chhay Buna, who is in charge of border checkpoints, claimed it was just a "rumour, and not true".
"If Yingluck crossed the border, [she] may have been seen by other people around, but no one [saw her]," he said, calling the media "unprofessional" for not asking Cambodian officials to confirm the information.
"[They] only put their own analysis," he added.
Meanwhile, Sok Sophorn, deputy chief of the Passport Department, maintained his department only issues passports for Cambodian citizens. "Ms Yingluck [is] Thai, she is not Cambodian, so I don't issue a passport to the foreigners."
Sophorn said he would only investigate the claim that Yingluck received help obtaining a Cambodian passport if he was assigned to look into the issue by his superiors.
A spokesman for the Ministry of Interior's Immigration Department, Lieutenant General Kerm Sarin, maintained there was no report in the system of Yingluck having departed to Singapore from Cambodia, or of her being issued a Cambodian passport.
"For the time being, we don't have any report. There is no record," he said. "We don't have any record that Yingluck left from Cambodia to Singapore."
Sarin added officials with his department were not in communication with Thai authorities as of Sunday.
Khek Norinda, spokesman for Cambodia Airports, only claimed officials had "no information about this case", without answering specific questions. Interior Ministry spokesman Khieu Sopheak couldn't be reached.
If Yingluck is found guilty, she could face a maximum of 10 years in prison and a lifetime ban from politics.
Hun Sen is reputed to have close ties to Yingluck's brother Thaksin, whom the premier in 2009 referred to as his "eternal friend", offering a residence in Cambodia three years after Thaksin was convicted on corruption charges. That same year, the Cambodian government said it would not extradite Thaksin, with Hun Sen telling reporters that Thaksin could serve as his "economic adviser".
Yingluck's family has other ties to Cambodian politicians too. In 2013, the daughter of Yaowapa Wongsawat, another of Thaksin's younger sisters, married the son of Cambodian lawmaker Seang Nam. Nam couldn't be reached for comment Sunday.
If it were true that Yingluck fled through Cambodia, she wouldn't be the first one to have escaped to the Kingdom. Jakrapob Penkair, a former minister and adviser to Thaksin who helped to found the country's "Red Shirt" movement, fled to Cambodia a few years ago. He didn't respond to a request for comment Sunday, but is still believed to be in exile in Cambodia.
STORY & PHOTO: via The Nation
https://www.nationmultimedia.com/detail/breakingnews/30325067
Keep in contact with The Thaiger by following our
Facebook page
.
Never miss out on future posts by
following The Thaiger
.
Thai PM orders investigation into Samut Prakan gas pipeline explosion, 3 dead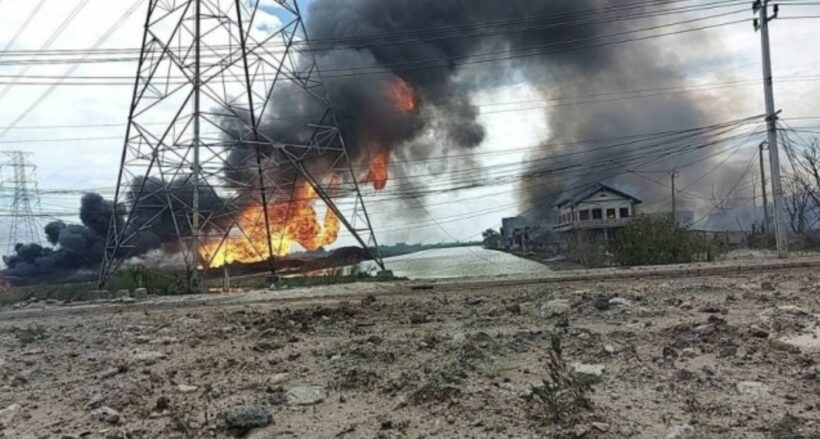 Thai PM Prayut Chan-o-cha is ordering an investigation into yesterday's explosion of a gas pipeline in Samut Prakan, just south east of central Bangkok. At least 3 people were killed. Among the dead, 2 elderly women were killed, plus at least 28 confirmed injuries when the PTT gas pipeline exploded in the coastal Bang Bo district.
The prime minister has also expressed his condolences to the families of the victims stating that authorities would "get to the bottom of the incident". The explosion was near the Soi Preng Wisuthathibdee School. Children were evacuated from the area immediately. The gas pipeline exploded during a gas transfer from Laem Chabang district to an industrial estate in Samut Prakan province.
Samut Prakan-based emergency responders arrived quickly on the scene with firetrucks and extinguishing foam.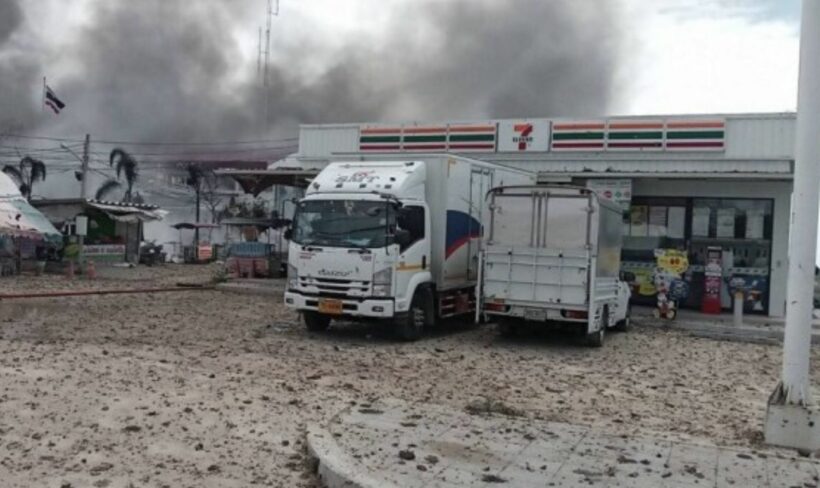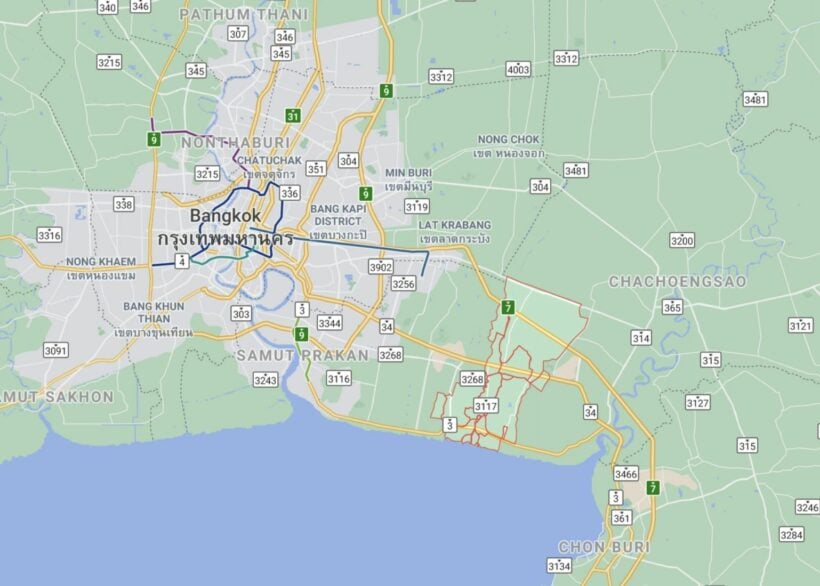 PTT, the Thai petrochemical company announced yesterday around 2.30 pm that the fire was under control and the situation contained.
"It is initially believed that the explosion was caused by the leakage and diffusion of NGV liquefied natural gas in the pipeline."
Officials from the PTT Emergency Control Centre have been assisting the injured and said they will "resolve the situation as quickly as possible".
Authorities speculate that built up pressure in the pipelines were responsible for the blast. Investigators are now on sire to inspect the scene. There hasn't been any announcement about the full extent of the damage caused by the explosion. Video below from INN News.
Keep in contact with The Thaiger by following our
Facebook page
.
Never miss out on future posts by
following The Thaiger
.
Preparations for the emergency session of the Thai Parliament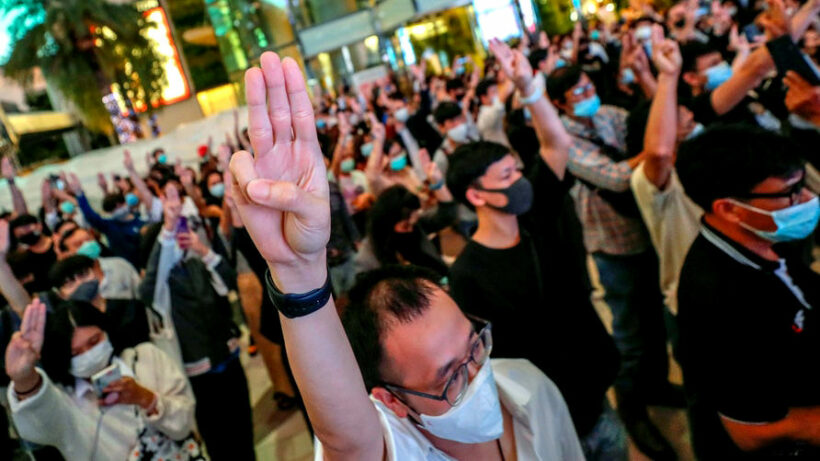 The Thai Parliament is getting ready for an extraordinary session called by the Lower House Speaker to debate the current impasse between the protester's demands and the PM and government. The session will be held on Monday and Tuesday. But even before the emergency session begins, government and opposition parliamentarians cannot decide on the terms of the debate.
Parliament president and lower house speaker, veteran Chuan Leekpai, hosted a meeting yesterday in preparation for the "extraordinary joint session" which will run over 2 days. He says the session will debate "ways to defuse the ongoing political crisis". The debates will involve both houses of parliament, constituting the elected MPs of the lower house and the hand-picked, unelected Senators of the upper house. The preparatory meeting included members of cabinet, government coalition parties, opposition and the upper house.
Outside of the unfinished Thai parliamentary building, police and security officials were preparing for expected return of protests and a large turnout for the next round of political rallies. The protesters have already made this Sunday night the deadline for the Thai PM to resign, having already decided to co-operate with the PM after his Wednesday night request for the protesters to "stand down' pending parliamentary discussions.
It's unlikely the PM will meet this deadline and will participate in the 2 day emergency session.
The 2-day special session is being held under Section 165 of the 2017 Thai constitution which states "the government can request a joint House-Senate sitting for a general debate". The next scheduled session of parliament was November 1.
But even the terms of the motion for the emergency session is causing debate before the doors even open for the emergency session. Opposition parties are demanding that their be the opportunity for a substantive vote following the session so that some concrete progress can be made to diffuse the current political crisis.
"We may refuse to be involved in the debates unless there is an opportunity to vote on the motions."
Sutin Klungsang, opposition whip from the Pheu Thai Party, says unless the topics covered actually address the protesters demands, there is little use in turning up to the sessions.
The Move Forward Party's (including remnants of the disbanded Future Forward party) Chaithawat Tulathon, says there must be a motion which includes the protesters' key demands… that PM Prayut Chan-o-cha resign, a new constitution be written and the role of the Tha monarchy be limited and codified.
"Parliament should serve as an example in discussing sensitive issues in an appropriate and mature manner."
SOURCE: Bangkok Post | Reuters | Nation Thailand
Keep in contact with The Thaiger by following our
Facebook page
.
Never miss out on future posts by
following The Thaiger
.
Bangkok hostels offer free beds to struggling protesters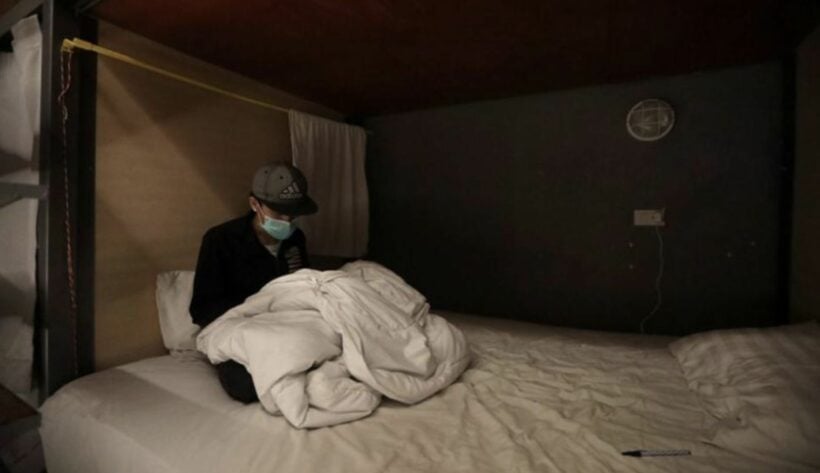 Some Bangkok hostels are opening their doors, and offering beds and accommodation to demonstrators, providing them free refuge, or at very low prices. Young protesters have travelled to Bangkok to be a part of the growing protest movement that is putting pressure on the PM and government to listen to, and accede, to their demands.
More information about their demands and the protest movement HERE.
The protesters have defied crackdowns and even a formal State of Emergency, declared to allow arrests and police intervention, to call for on Thai PM Prayut Chan-o-cha to resign. The protest movement is also demanding reforms to the role of the Thai monarch, and want the revised role to be codified in a new constitution.
Some of the protesters, with no other options, have been sleeping in the city's parks or simply sleeping on the street, determined to stay in the capital and continue the demonstrations with their peers. Many others are being accommodated by friends and families. Now some of the city's empty hostels are offering to take them in to rest in between what has become almost daily protests (over the last 9 days).
One hostel owner said that they had almost no visitors staying with them over the last month and felt it was "their duty" to take in the young Thais and provide a clean, safe place for them to stay. Whilst asking not to be identified, he said that they have plenty of spare beds at the moment.
"This isn't a political thing for us. We are all Thais and should help each other. These young people needed refuge and we are glad to help them".
Now there's a Twitter account, Mobmeeteenon (Translated: protesters have places to sleep), that links protesters to available rooms after the protest schedule ramped up in recent weeks and, for now, looks to continue, despite the Government calling an emergency session of Parliament next Monday and Tuesday.
The Twitter account is now offering more rooms than the number of protesters looking for refuge as Bangkok hospitality owners make space available.
Some protesters, speaking on the condition of anonymity, are saying that they've been living in the same place for more than a week now and call their temporary accommodation "home" whilst visiting Bangkok to take part in the protests.
Despite being "well funded" now, the protest movement doesn't provide any money for the protesters. The protest movement is receiving donations from other Thai people and from overseas. Just last week some 4 million baht flooded in from K-Pop enthusiasts, and more is expected as their 'idols' are speaking out in support of the current Thai protest movement.
"We've had a dribble of real travellers over the past 3 months so it's nice to see our beds being used again. They are all helping each other and want to see this through to the end."
Some 500 people have been hosted in Bangkok hostels since the effort to provide rooms started.
On Wednesday night the Thai PM addressed the nation on TV and promised to revoke the State of Emergency in return for the protesters "standing down". His conciliatory tone was matched by an official rescinding of the emergency decree yesterday morning.
Protesters, for their part, have called off further protest action until Sunday night. They say they expect the resignation of the PM "by Sunday night" or they will continue their protests again. The Thai Parliament has been called for an emergency session to discuss the protester demands and the current impasse next Monday and Tuesday.
SOURCE: Reuters | bookings.com
Keep in contact with The Thaiger by following our
Facebook page
.
Never miss out on future posts by
following The Thaiger
.