Torpedo found in Phuket believed to be pre-WW2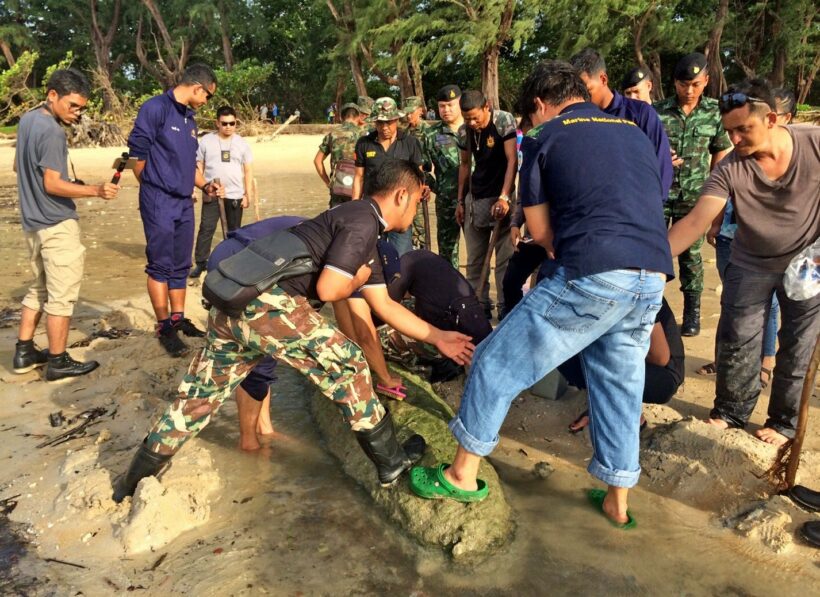 The EOD team from the Royal Thai Army Area 3, Phang Nga base, have confirmed that the item found off Naiyang Beach is an old bomb which they assume has been dumped there before World War II. The team is preparing to move it away before destroying it.
Yesterday afternoon (October 4), the team led by Vice Admiral Thanakrit Jamjit investigated the item that looks like a torpedo about 30 metres off the beach.
The metallic item is 4.5 metres long with a diameter of 150 cm. The team dug the sand around the object to uncover the rest of it and found that there is a small wing at the tip and in the middle of the object there is a button that looks like fuel filling point. Near the button is a loop for a hook.
"We still can't identify if this is a marine torpedo or an aerial bomb as the object is quite old. However, the overall condition is quite complete. This is not a weapon found in Thai army so we assume that it was here before World War II," said Vice Admiral Thanakrit.
"No matter what kind of bomb it is, this is still hazardous and we will remove it from the beach and destroy it. We will discuss the best ways to proceed with Sirinath National Park."
"For now, we have to move it to a safer place. We may destroy it in a deep sea area where it won't disturb anyone."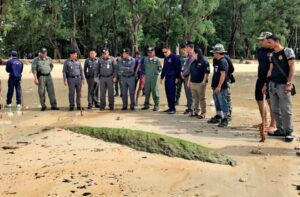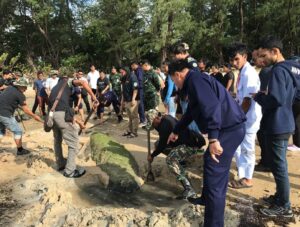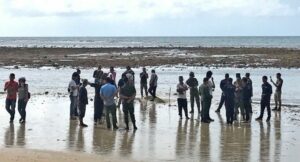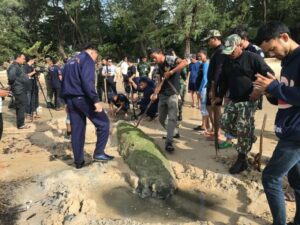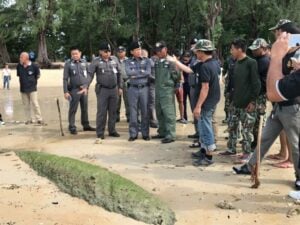 Keep in contact with The Thaiger by following our
Facebook page
.
Never miss out on future posts by
following The Thaiger
.
Protected hornbill dies from gunshot wound, 2 suspects in police custody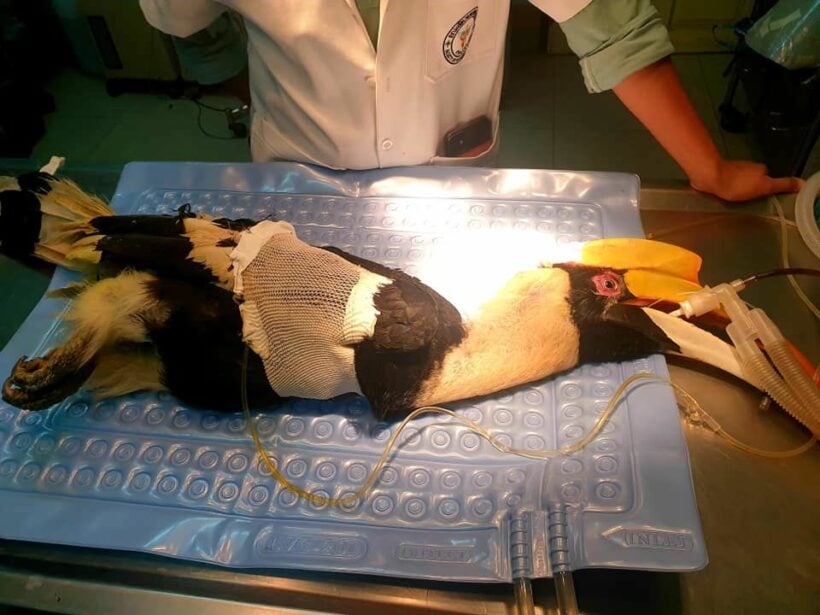 A protected great hornbill died after 5 days of medical treatment for a severe gunshot wound. 2 suspects are now in police custody and officers have seized a .22 calibre rifle, according to Thai PBS.
A tourist found the injured bird near the Khiriphet waterfall on Koh Chang. The hornbill, known in Thai as a nok nguek, was treated at the Nuern Plub Wan animal hospital in Chon Buri. The great hornbill's condition rapidly deteriorated and veterinarian Phadet Siriadmrong says the hornbill suffered brain stem death.
The great hornbill, Buceros Bicornis, is listed as a vulnerable species on the International Union for Conservation of Nature's Red List of Threatened Species. According to IUCN, hunting his substantial threat to the great hornbill.
Hunting poses a substantial threat to the species. Because of its predictable behaviour when regularly visiting the same feeding sites, it is easily targeted by local hunters.
Thailand's Wild Animal Reservation and Protection Act prohibits hunting preserved or protected wild animals. Those found guilty of violating the act could face up to 4 years in prison and a fine up 40,000 baht.
SOURCES: Thai PBS | Bangkok Post | IUCN
Keep in contact with The Thaiger by following our
Facebook page
.
Never miss out on future posts by
following The Thaiger
.
Phuket workshop helps residents cope with high stress brought on by the economic crisis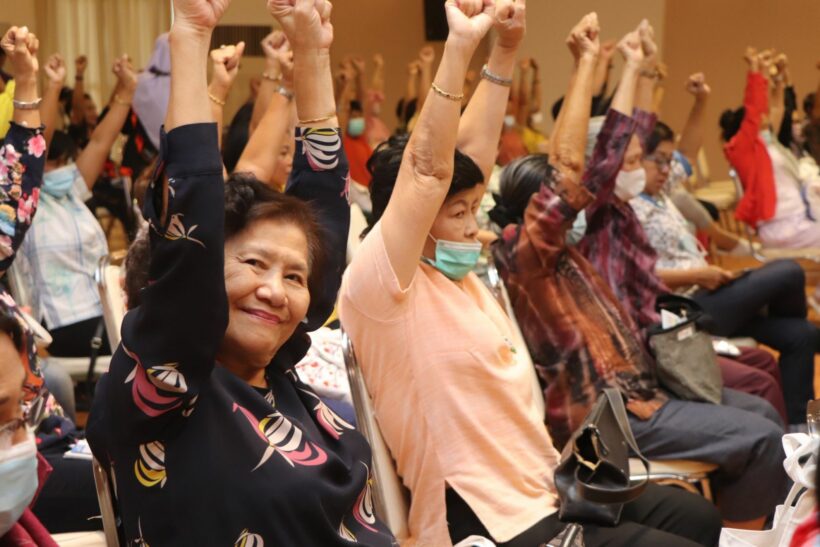 Hundreds of residents in Phuket's Wichit subdistrict attended a workshop focused on reducing stress from to the pandemic-induced economic crisis. A psychologist was even on site to help those who had extreme mental stress and a Buddhist monk taught meditation techniques to reduce physiological effects of stress.
The event was planned in response to an online survey conducted by the municipality asking residents about how much stress they were experiencing from the economic climate. They found that some residents had serious stress issues brought on by the pandemic and financial problems, according to Wichit Mayor Kreetha Chotiwichphiphat.
"The loss of income due to the economic crisis brought on by the Covid-19 situation has resulted in some people in the area suffering serious stress, which can lead to serious mental health issues."
Around 350 people attended the event. The mayor says it was the first step in caring for the residents' mental health. Local officials plan to hold similar workshops in the future.
"It was a good opportunity for people to realise the importance of mental health and to learn techniques of how to deal with stress, which will help people to maintain their physical health and avoid developing mental health problems."
SOURCE: Phuket News
Keep in contact with The Thaiger by following our
Facebook page
.
Never miss out on future posts by
following The Thaiger
.
The Thaiger needs an excellent English-speaking vlogger and TV host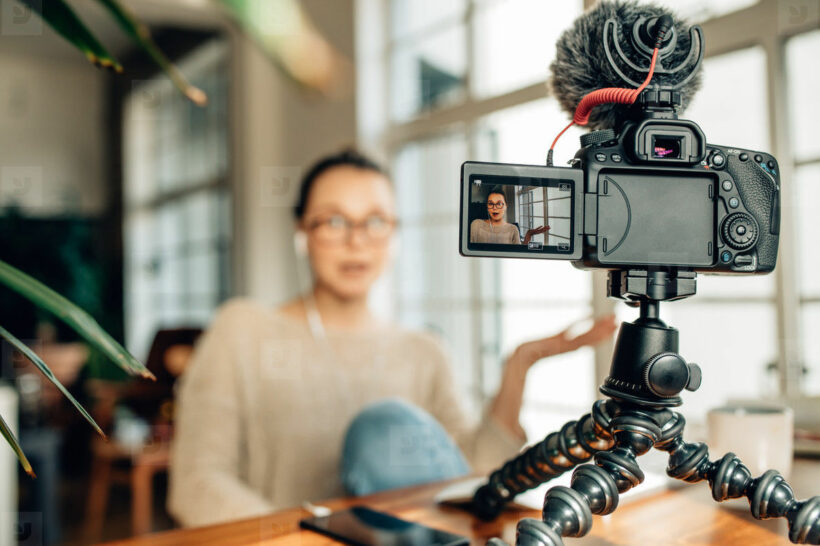 Job Description
The Thaiger needs an amazing Bangkok-based English-language "Video presenter (News Anchor/YouTuber)" for our website and social media platforms. You will have previous presenter, host or journalist experience but be ready to learn the tools of modern digital news and information delivery, in text and video. You can be male or female, preferably one or the other.
You will work directly with the CEO at our Bangkok office in Asoke and have an intuitive understanding of social media, experience with online news and an understanding of the Thai media landscape.
You will understand the urgency of the news cycle and be able to adapt and roll with the changes in media delivery. You'll be motivated and keen to perform at a high level.
You can be Thai or foreigner, but you must be able to communicate as an English native-speaker. If a foreigner, you would have lived in Thailand for long enough to have an intuitive understanding and inside knowledge of the news cycle and culture.
As the Video Presenter you will…
Be the Thaiger's news headline presenter to help produce interesting and exciting original content
Sourcing, writing script and presenting stories for multiple platforms and work as part of The Thaiger video content and publishing team to produce excellent content and high SEO level
Participate in helping to formulate news stories by pitching ideas and providing feedback on content
Quality check each story to ensure grammatical correctness, accuracy and clarity
Assist the Thaiger team continue our pursuit as Thailand and the region's biggest media company
Become a modern day media 'Svengali'
We're also looking for a full time video editor. They will work with our presenters and writers to edit the video material into high-quality finished product. If you are Thai, with good English-language proficiency, and interested in working with the Thaiger team, send a CV to tim@thethaiger.com and mark your application VIDEO EDITOR. We usually edit on the Davinci Resolve platform.
The Thaiger already produces a range of videos, including the daily 'Thailand News Today' and other general information videos.
You can apply through the Jobs DB website HERE.
Keep in contact with The Thaiger by following our
Facebook page
.
Never miss out on future posts by
following The Thaiger
.