Thailand ranks #1 for road deaths on World Atlas website. Dash-cams proposed as solution.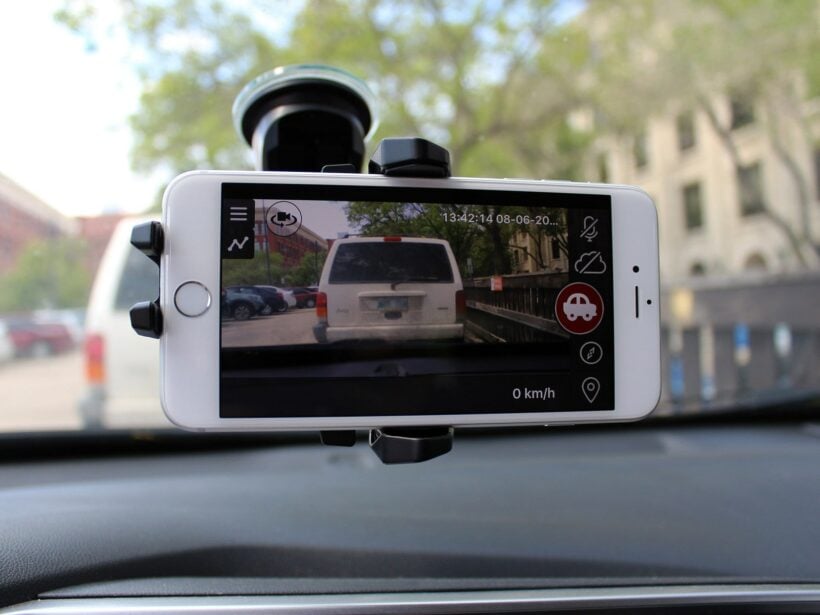 With Thailand unofficially acknowledged as having the highest fatality rate in road accidents worldwide, road safety advocates and police are backing a proposal that would see as many as 80 per cent of cars equipped with dashboard cameras and carrying "Photo in Car" stickers to discourage violations.
Don't Drive Drunk Foundation secretary-general Dr Taejing Siripanich said Thailand last month ranked highest in per capita road fatalities on the World Atlas website.
The previous top-ranked country, Libya, was not even in the top 30 because many deaths blamed on accidents had been re-evaluated to reflect violent deaths in that country's civil war. As a result, Thailand, previously ranked second, unofficially took the top spot with an estimated road accident death rate of 36.2 per 100,000, but the World Health Organisation has not yet announced formal statistics, he said.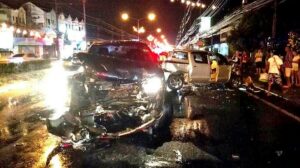 After Thailand on the list are Malawi (35), Liberia (33.7), the Democratic Republic of the Congo (33.2) and Tanzania (32.9). Such finding were in line with his foundation's studies, Taejing said, which showed that Thailand saw 22,000 deaths in road accidents in 2016, or approximately 50 to 60 cases per day, while 1 million people were wounded and sought hospital treatments each year, 60,000 of whom were permanently disabled.
"Various measures have been implemented in the past 20 years to boost road safety but they weren't so successful because Thais know what actions break the law but do them anyway as they have become conceited after not getting caught," Taejing said. The cameras would help to discourage traffic violations as motorists would know that the chances of being caught on video were heightened, while footage could be posted on social media, leading to public condemnation that would be worse than legal punishment, he said.
"If all cars on Thai roads had cameras, traffic law violations would be greatly reduced," he added. Taejing said his foundation had proposed the measure to Prime Minister General Prayut Chan-o-cha, who had agreed and issued instructions in May last year for the Finance Ministry to consider tax incentives for dashboard cameras and for Deputy Prime Minister Wissanu Krea-ngam to implement the plan in the national road safety strategy.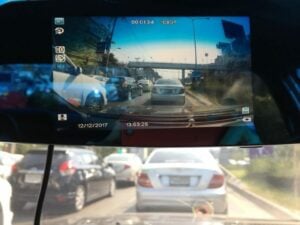 However, there had not been any concrete action to date, he said. Police's Special Branch Bureau 3 commander Pol Maj-General Ekkarak Limsangkat said video and audio from dashboard cameras could also be used as evidence in court, which could incentivise installations so motorists would have a record to protect themselves in case of a conflict.
The application of technology could also help protect innocent people and punish wrongdoers because the culprits in many hit-and-run cases escaped justice after fleeing the scene, he said. People would be dissuaded from breaking the law when all cars are equipped with cameras and carry the "Photo in Car" sticker, he added.
The comments were made during the 13th Thailand Road Safety Seminar held at Bangkok's BITEC Bangna Exhibition Centre last week.
STORY: The Nation
Keep in contact with The Thaiger by following our
Facebook page
.
Immigration checkpoints enhance hygiene measures nationwide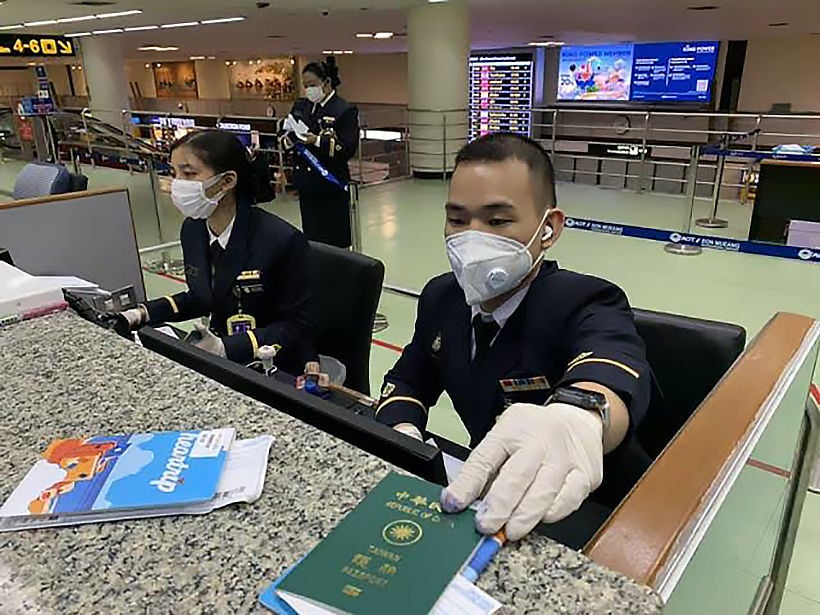 Health screening measures are being boosted today at immigration checkpoints nationwide to prevent the spread of the Wuhan Coronavirus into Thailand. Since cases were confirmed in Malaysia and Singapore, officials at the Betong border crossing in the southernmost province Yala are using handheld thermometers to screen suspected contaminanees.
Meanwhile enhanced hygiene measures are being implemented at immigration checkpoints at all airports across the Kingdom. The improved measures will help protect officials at international airports, who are in contact with tens of thousands of passengers daily, with special screening protocols at Guangzhou, where health experts be assigned specific gates. All flights from Wuhan have been cancelled as the Chinese city which is at the epicentre of the outbreak is in effective lockdown.
The Immigration Bureau said yesterday that the enhanced hygiene measures will bolster passengers' confidence. Immigration checkpoints will be cleaned hourly with disinfectant and alcohol spray, especially in areas where officers and passengers interact. Immigration officials at all airports will wear masks and gloves, as they must handle many passports and frequently converse with passengers.
Hand sanitiser bottles for passengers will be placed on immigration counters for passengers to use, and officials will increase their surveillance of coughing and sneezing passengers, who will be referred to the airport's health control team. Officials' will also be monitored, and those showing symptoms will be sent to doctors immediately.
There are currently no confirmed cases of Wuhan Coronavirus infection in Yala or southern Thailand, but Betong district is considered to be at high risk as it welcomes many Malaysian-Chinese and Singaporean-Chinese tourists.
In Samut Songkhram, southwest of Bangkok, the district chief has delivered sanitary masks to vendors at Amphawa floating market, in an attempt to reduce the chances of infection. Amphawa has ordered hotels and homestays to monitor the health of their guests, and notify authorities should any guest show symptoms.
Amphawa floating market is a tourist attraction popular among Chinese, with about half of all visitors coming from China.
SOURCE: National News Bureau of Thailand
Keep in contact with The Thaiger by following our
Facebook page
.
Tiger and piglet shows discontinued at Sriracha zoo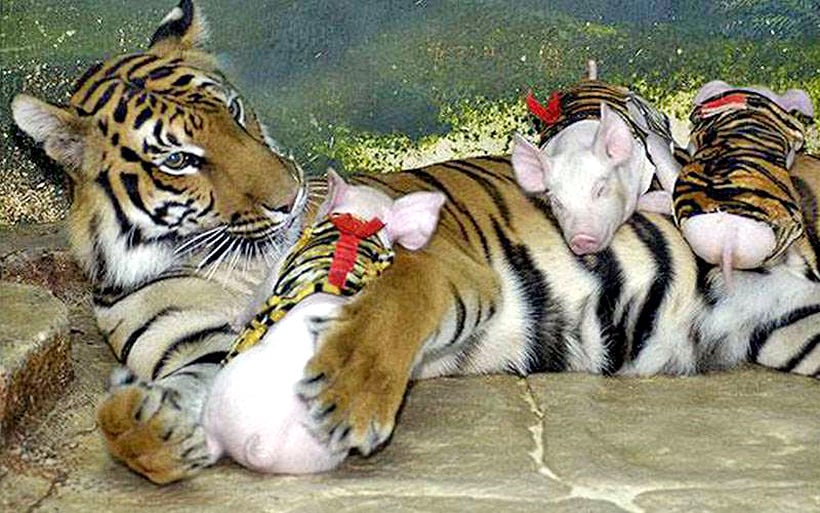 "The show is cruel, affecting those who witness it and it is not appropriate for a zoo to be showing such lack of care for a piglet."
Netizens were horrified when a tourist posted a short video of a screaming piglet being clawed by a tiger at the Sriracha Tiger Zoo in Chonburi province. Many criticised the zoo, complaining that the show was "inappropriate."
Matohay Jeharwae, the zoo's manager, reacted by taking officials from the Sriracha Department of National Parks, Wildlife and Plant Conservation on an inspection tour on Sunday.
The zoo admitted that they put the piglet inside the tiger's cage as part of a show called "Babysitting Tiger." Officials ordered the zoo to separate the piglet from the tiger and discontinue the show immediately. The piglet was returned unharmed to a pig farm inside the zoo. A warning was issued stating that should such shows continue, the zoo's license would be suspended immediately.
"The show is cruel, affecting those who witness it and it is not appropriate for a zoo to be showing such lack of care for a piglet."
The zoo has posted a sign to inform tourists of the discontinuation of the show.
Matohay says he understands the warning and the zoo will no longer offer such shows and hopes that people are comfortable knowing that the piglets are now safe.
SOURCE: Thai Residents
Keep in contact with The Thaiger by following our
Facebook page
.
Severe air pollution forces Nok Air flight back to Bangkok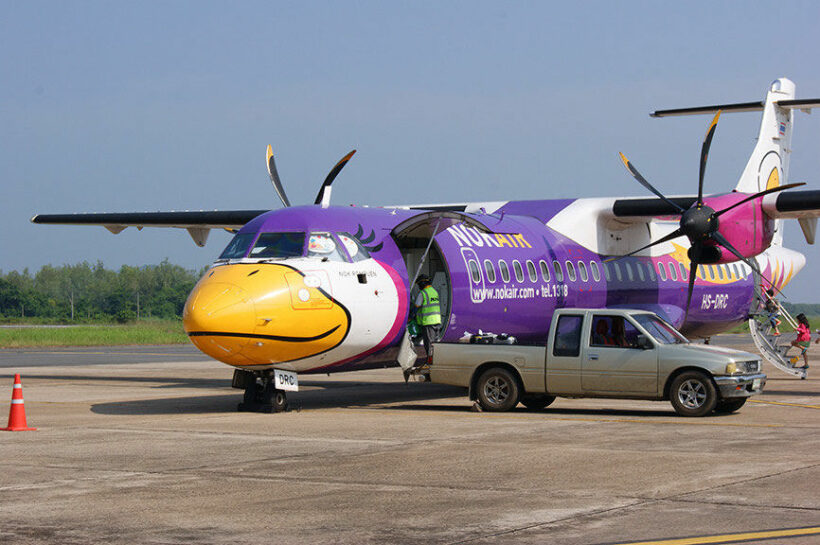 The severe air pollution which has plagued much of Thailand's central and northern regions for weeks is showing signs of subsiding, with many areas reporting "moderate" to "good" air quality levels yesterday. But in the north levels remain high, with the pollution in Phrae province preventing a Nok Air plane from landing and forcing it back to Bangkok.
Meanwhile, Bangkok ordered 437 schools to close last week because of the hazardous pollution levels. The schools have since reopened after the air quality improved slightly.
Back to Phrae, and the PM2.5 dust particles were found to be 564 micrograms per cubic metre in the province yesterday, more than ten times Thailand's "safe" standard of 50. The World Health Organisation rates that level as "hazardous".
The haze was visible in 191 hotspots across the North. Locals were urged to spray water to protect themselves. The smog reduced visibility to such an extent that the Nok Air flight was turned back to Bangkok's Don Mueang Airport.
People on an 11:30am flight from Phrae had to travel to Chiang Mai or Lampang airports to catch a flight to Bangkok.
"However, those passengers did not need to buy new tickets to take a new flight."
Those wanting to travel to Phrae from Bangkok were forced to wait for the 6pm flight.
"The flights tomorrow will operate as usual. However, if we experience the same problem again, we will do as we did today."
PM2.5 dust, particles with a diameter less than 2.5 microgams, is extremely harmful as the particles are small enough to pass through the lungs and enter the bloodstream, with long-term exposure leading to respiratory and cardiovascular diseases such as lung cancer, heart disease or stroke.
UPDATE: Phrae province cited an unsafe level of PM2.5 particulate dust of 305 micrograms per cubic metre of air as of 6am today.
SOURCES: The Nation | The Bangkok Post

AirVisual – Note the fires ablaze around the Phrae area today
Keep in contact with The Thaiger by following our
Facebook page
.