Thai man strikes it rich after finding whale vomit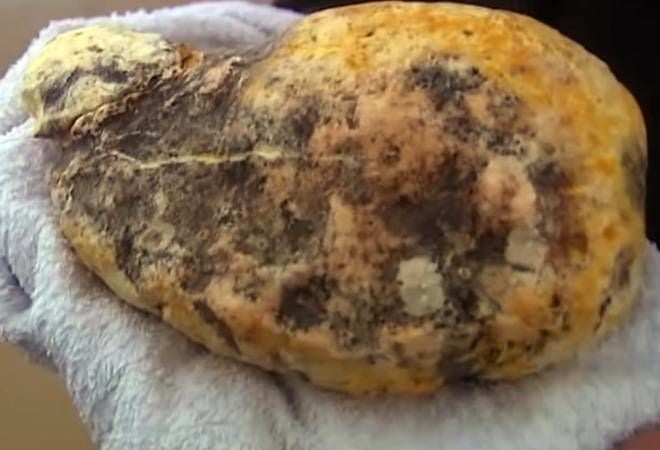 A Thai man in Nakhon Si Thammarat is striking it rich after finding whale vomit on the local beach. Narit Suwansang thought his discovery was just a large rock, but had an inkling that it could be something more. US$4.2 million more, that is!
The whale vomit, also known as ambergris, usually looks like a rock, with yellow-beige colouring. After a sperm whale throws up, the bile floats along the ocean until it washes up beachside as a hardened chunk (sorry if you're in the middle of a meal). But the reason it is like striking gold, is due to the fact that it is used in luxury perfumes as an additive to help the scents last longer.
Considering the obvious difficulties that come with trying to find whale vomit, those who find it, are thought to have struck gold. Suwansang has already received an offer of 960,000 baht (about US$42,600) per kilogram of the 'rock' if it is indeed certified Grade A ambergris. And, Suwansang says his rock weighs 100 kilograms.
The 60 year old man says he only figured out it may be whale vomit after it started melting, unlike a rock, after being put near flame. He told Asia One he wanted to know more.
"I want to know more about this ambergris. Please find out what kind of whale puke I found."
One thing's for sure, he has joined an elite group of Thais who have found such a jackpot as only a couple others have struck it rich off of the vile (or is that 'bile') finding. Just last year, a bar owner in Koh Samui, found a chunk of whale vomit that weighed 6.5 kilograms, worth a total of 10.5 million baht, while yet another found another piece that weighed 16 kilogram and was worth 20 million baht.
One thing's for sure, the happenstance has turned out to be a pot of gold.
SOURCE: Chiang Rai Times
Keep in contact with The Thaiger by following our Facebook page.
Never miss out on future posts by following The Thaiger.
Strong surf hits Prachuap Khiri Khan beach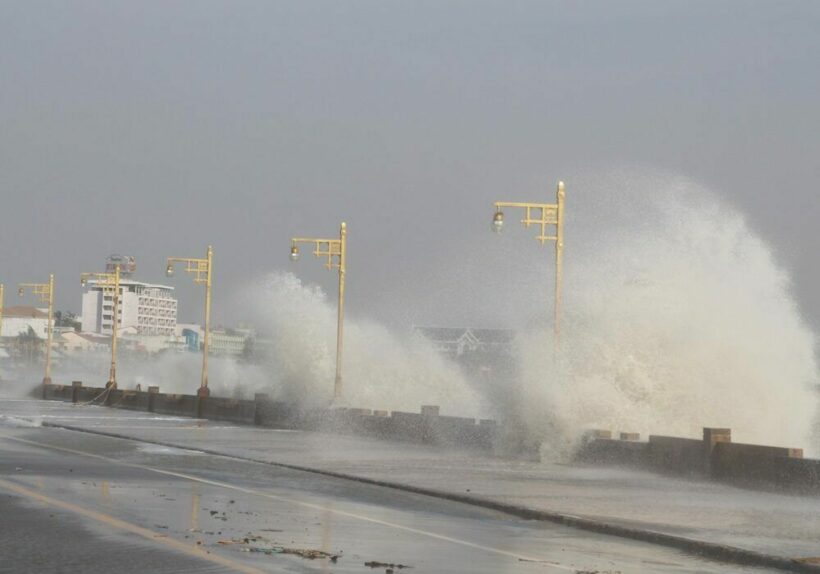 High waves, peaking at 2 to 4 metres, hit Prachuap Khiri Khan's coastal beaches, gushing over the breakwater and flooding some spots of the beachside road.
Beachfront shops and restaurants have been temporarily closed while all on-water activities are prohibited in the affected areas. Over 100 fishing boats and small boats have moored in the areas around the Khao Ta Mong Lai Mountains to shelter from the strong winds.
Swimming and other water activities are prohibited at Bang Saphan district's Ban Krut Beach, one of the province's most popular tourist destinations, due to the dangerous conditions.
The Prachuap Khiri Khan Governor recently warned coastal residents about the potentially dangerous strong winds.
The Thai Meteorological Department issued warnings yesterday that the strong northeast monsoon that prevailed in the Gulf of Thailand and the South might cause strong winds and high waves.
SOURCE: Matichon Online
Keep in contact with The Thaiger by following our Facebook page.
Never miss out on future posts by following The Thaiger.
Thousands of people evacuated due to flood in deep south Thailand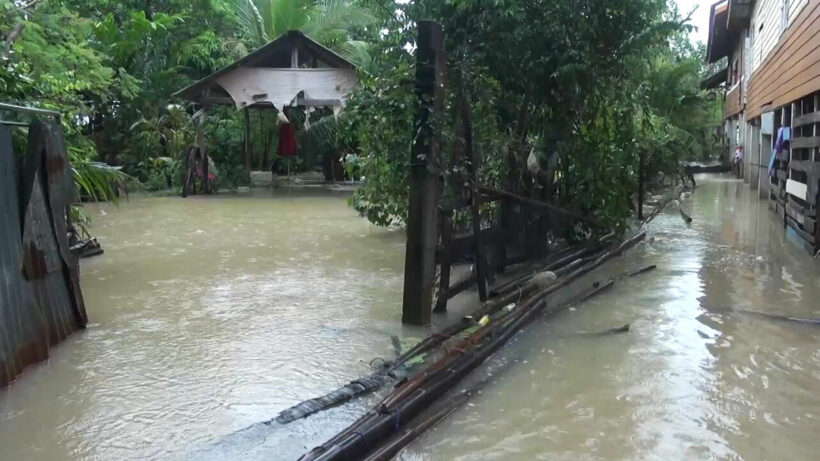 Thousands of residents in Songkhla, Yala and Narathiwat, in lower south of Thailand, evacuated their homes due to flash flooding from nearly a week of continuous heavy rain. Local authorities say a total of 18,024 households across 19 districts in the 3 provinces were affected.
In Yala, the continuous heavy rain throughout the week caused the Sai Buri River to burst its banks, flooding homes and farmland. The director of Yala's Irrigation Project Office, Chusak Sutthi, says he's worried about the low-lying areas, adding that the total amount of rainfall to date has broken the record set 10 years ago.
Yala governor, meanwhile, declared the 8 flood-hit districts the disaster zones. Landslides were also reported with no report of fatality or injuries.
In Songkhla, 2 districts were flooded by rainwater coming down from the mountain, while some residences and farmlands on riverbank areas of Narathiwat were flooded. Local government agencies said food and other aid were already sent to the affected areas.
Heavy downpours in the lower South were the result of a strong northeastern monsoon, which is covering the mainland and the Gulf of Thailand, as well as a low pressure system above Malaysia, according to the Department of Disaster Prevention and Mitigation. The department also said that they are working with all parties concerned to urgently deliver aid to the affected residents.
SOURCE: Phuket News
Keep in contact with The Thaiger by following our Facebook page.
Never miss out on future posts by following The Thaiger.
Muslim couples in Yala who show affection could be arrested and forced to marry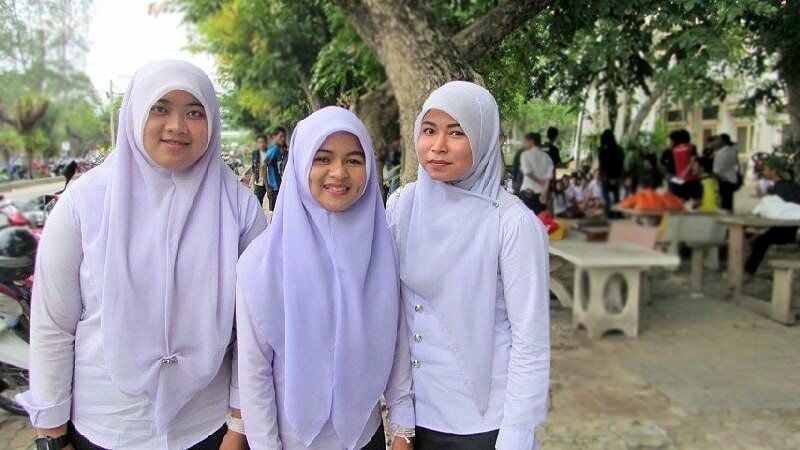 Muslim unmarried couples in the southern Thai province of Yala could be arrested, and even forced to wed immediately by Islamic authorities, if they are seen being 'affectionate' in public. The new rule was set by the Yaha Central Mosque last month, according to Khaosod English.
It's unclear what types of public displays of affection are considered inappropriate, but apparently even talking together can get a Muslim man and woman arrested. The imam of the Yaha Central Mosque told Khaosod English reporters that if a muslim man and woman are talking, then a third person should be present. Holding hands, kissing or hugging are strictly forbidden.
Under the new rule, unmarried Muslims are prohibited from displaying "actions of a couple" or "adulterous acts." Those who break the rules can potentially be ordered to get married at the local mosque after a meeting with the parents and local Imam. Violators can also be arrested by police and charged for sexual obscenity which carries a maximum penalty of 5 to 20 years.
So far, no one has been arrested or forced to marry under the draconian local codes. A couple was seen whispering to each other in public, but the Imam says they were berated at the mosque and told "not to do it again".
The restrictions were intended to keep teenagers out of trouble, a mosque committee member told Khaosod. Apparently, many teenagers in the area have been doing illicit drugs and drinking kratom. The committee member says some of their gatherings have even become violent and there was a shooting at a local gas station.
SOURCE: Khaosod English
Catch up with the latest daily "Thailand News Today" here on The Thaiger.
Keep in contact with The Thaiger by following our Facebook page.
Never miss out on future posts by following The Thaiger.