Peaceful Pattani – the other side of the southern province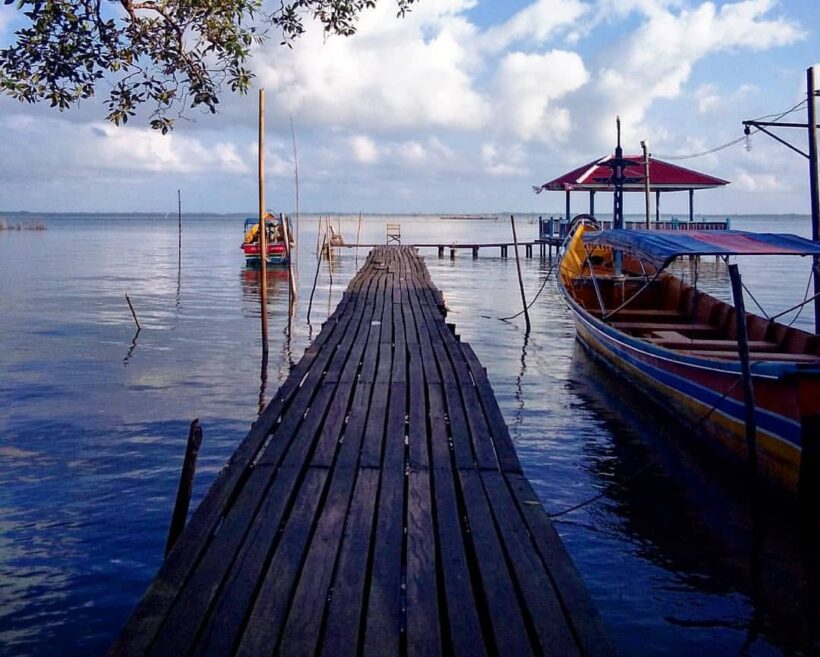 By Pattarawadee Saengmanee, The Nation Weekend
The former capital of the ancient Langkasuka Kingdom, Pattani province in Thailand's far south has traditionally been feted for its multiculturalism, though sadly the ongoing violence has kept it well off the tourist map for more than a decade.
But his southern province bordered by Narathiwat, Yala, and Songkhla has plenty to offer the visitor.
Not all the residents have given up on drawing visitors to their home. On a recent visit that saw a group of journalists wrap up a tour of all three southernmost provinces, we were taken around China Town by Melayu Living, a club of innovative artists who are hoping to bring tourists back to this thriving trading hub on the bank of the Pattani River and the border of Thailand and Malaysia.
Pattani's China Town is located on Anoru Road and lined with old Chinesestyle houses built in the reign of King Rama III
The group has also collaborated with the Association of Siamese Architects under Royal Patronage to create maps and guidebooks to illustrate the city layout and indicate the locations of tourist attractions.
Along the 1.4-kilometre walking route, visitors can learn about history, enjoy some local delicacies and get a feel for the simple way of Southern life. Contrary to the negative pictures painted by the media, it's normal to see Muslims sitting alongside Chinese-Buddhists eating roti and drinking coffee or tea and sharing space in an art gallery.
Sulaiman "Lee" Chemae is our tour guide for the walk and one of my travel companions greets him not with "hello" but a question – "It is safe to roam on foot?"
Lee doesn't appear put out. "This area is like the yolk of an egg, protected by checkpoints controlled by armed soldiers. So, yes, tourists can feel safe. I admit we can't guarantee 100% safety but we can recommend places to which visitors can go as well as those best avoided," he says.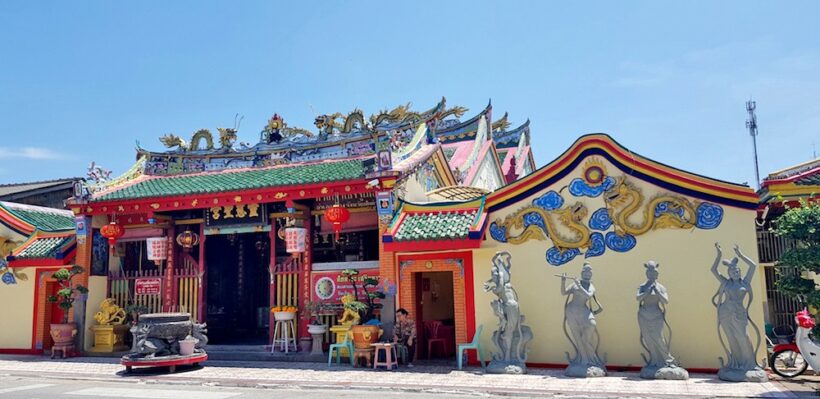 China Town is populated by Hokkian Chinese, whose ancestors migrated from Fujian and set up shop on Anoru Road. Lined with old Chinese-style buildings mostly constructed during the reign of King Rama III, it's home to the Lim Ko Nieo Shrine, worshipped by local residents and seafarers alike to ask for fortune, success, good health and protection. Built in 1634, it was originally called Leng Chu Kiang Shrine.
Legend has it that Lim Ko Niao crossed the South China Sea from China to Pattani to bring her brother back home to be with their dying mother. The young man, Lim To Kiam, declined her request, preferring to stay in Pattani because he had married a daughter of Phraya Tani and converted to Islam. Lim Ko Niao was frustrated by her brother's refusal and ended up hanging herself from a cashew nut tree. The villagers later carved a wooden statue to her memory.
Lim Ko Nieo Shrine is always packed with pilgrims and seafarers praying for protection and good fortune.
A short distance from the shrine is the former residence of taxman Luang Wichit Sulkakorn. Made from wood and cement, the main structure has been maintained to celebrate its long history.
When Wichit and his family moved out, the house was turned into a Thai dessert shop by Xuan Lui Kowittaya and became the first grocery on Anoru Road. Today, it's under the care of the Kamolwittaya family.
"In the past, the Chinese residents traded with sea merchants from Singapore, Malacca and the Malay Peninsula, while the Muslims made their living from fishing. King Rama III recognised the potential for border trade, so he sent a tax collector to Pattani, making our community stronger," Lee explains.

Next door is the White Building, which was constructed in 1883 by Luang Cheen Kananurak. Anan, the third generation of the Kananurak family, recently had it completely refurbished and gave it a more modern look.
The building is divided into three zones linked by walkways from the front building to an old wooden house in the middle. There is a kitchen and a lush courtyard at the back, where the air-raid shelter hastily constructed during World War II, has been turned into a fish and lotus pond.
Commonly known as Baan Kongsee, the bright blue, 150-year-old house was constructed by another tax collector, Luang Samret Kitjakorn Jangwang – an ancestor of the Kanaurak family, during the reign of King Rama III.
The roof has a perforated design that resembles ancient currency, symbolic of fortune, while the front of house features two windows to protect against inauspicious happenings in line with feng shui beliefs.
The structure is built with glazed bricks coated with white honey-mixed lime and oversize earthenware tiles cover the floor. The living room has a huge stand to accommodate the many statues of Chinese deities.
Baan Kongsee boasts traditional Chinese architecture and is based on feng shui philosophy.
Khun Phitak Raya, the two-storey house in the corner of the compound now belongs to Senator Anusat Suwanmongkol, who runs the Pattani's CS Hotel. He has poured some 8 million baht into restoring the old structure, working with skilled craftsmen from the Fine Arts Department.
Lee leads us to Pattani Phirom Road, once home to a theatre, a smattering of opium dens, Chinese-style taverns, a foundry and gold shops. Surrounded by European-style buildings, the Melayu Living club has set up its own 'In_t_af Cafe & Gallery' (that's not a typo, that's the actual name) and this has become a hip hangout for Pattani's younger generation.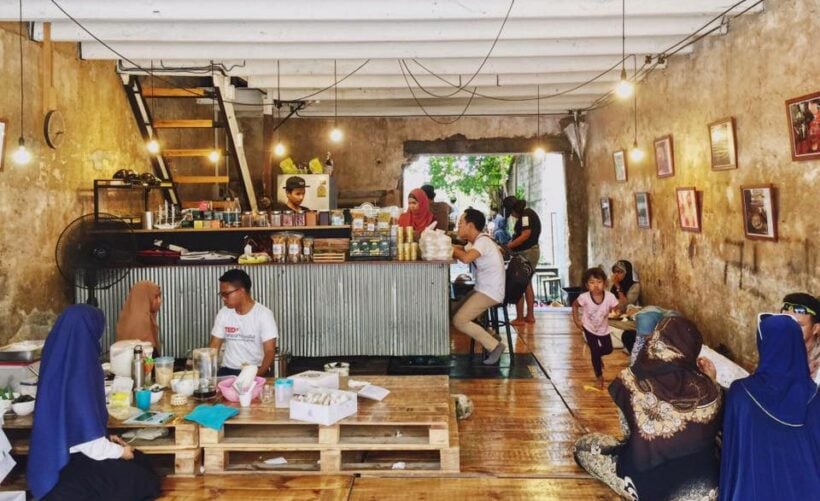 "It's not easy to teach other local residents what this art space is all about, which is setting aside fear of violence and bringing tourists to Pattani. Even with the support of the provincial officials, it took us a few years to persuade the Chinese residents to open their houses and welcome visitors," Lee says.
Our sightseeing tour ends at the present-day shopping district on Ruedee Road, home to a block of colonial buildings influenced by British construction designs with a gap between them to prevent fire from spreading. This street once housed a big market that sold fabrics and spices and was operated by Indian entrepreneurs.
The newly opened Sky Walk offers a panoramic view of the Gulf of Thailand and the swamp forest.
"Before the violence, this area was really colourful. It was lined with restaurants and always packed with foreign labourers and local fishermen. Because of its proximity to the huge fish market and pier, some 100 million baht changed hands every night," Lee says.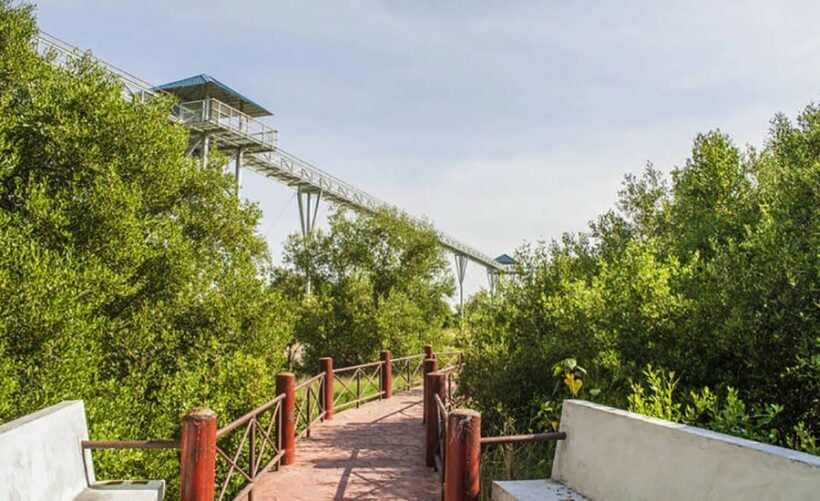 "We want to promote other tourist routes that take in artisan villages and encourage people to take a cruise to a swamp forest in Yaring district so that visitors can experience our culture."
Just a 15-minute drive away from downtown Pattani next to Her Royal Highness Princess Galyani Vadhana Garden is the recently opened Pattani Adventure Park, which is billing itself as the best vantage point for admiring Tachee Cape and azure waters of the Gulf of Thailand.
The 400 metre skywalk stands as high as a three-storey building and can hold up to 400 kilogram per square metre, thus ensuring safety for all visitors. It's also connected to a long nature trail on the ground, home to a lush massive swamp forest.
A mere 35 kilometres from town is Sai Khao, which won the Most Outstanding Community-based Tourism Award back in 2007 for its eco-cultural tours and homestay services. Local residents have modified their vintage Jeep trucks to transport visitors to the Namtok Sai Khao National Park, where a golden statue of the Buddha looks down at visitors from the top of the mountain.

"The province invested 32 million baht to construct the Buddha statue and it took 41 years to complete. It is a great viewpoint to look out over the verdant landscapes of Sai Khao district," says Uncle Chanin Siannin, the head of Baan Sai Khao community.
The mountain is also home to a sacred pond, which the monk Luang Pu Tuad discovered during a pilgrimage in the jungle, a huge snake-like rock attached to the steep cliff and the Sai Khao waterfall, which is a popular picnic spot for local families.
Our day out ends with a visit to the massive rubber plantations and orchards, where we're allowed to pick durian, bananas and rambutan straight from the tree and stock up on such snacks as preserved garcinia and miang kham made from banana to remind us of our visit.
• Tourists can arrange a walking tour with Melayu Living by visiting its Facebook page.
• The eco-cultural tour organised by the Baan Sai Khao community costs 500 baht per person.
• For a private tour by jeep, you pay an additional 1,000 baht.
• For more information, call (089) 737 9553.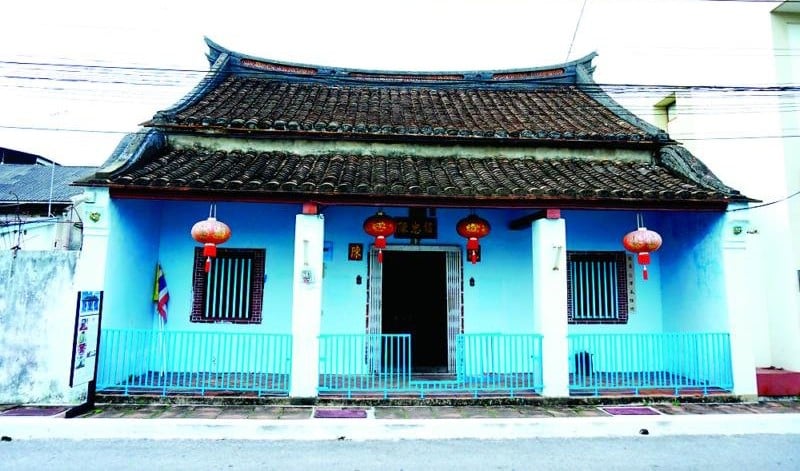 STORY: The Nation


Looking to jettison some items before jetsetting away or chartering a yacht? Look no further than Thaiger Classifieds where you can find and post items, work, property and more for free. Be sure to check out YonderTours for things to do in Thailand and tours across the country.

Read more headlines, reports & breaking news in South Thailand. Or catch up on your Thailand news.
Commerce Ministry talks up benefits of palm oil for generating power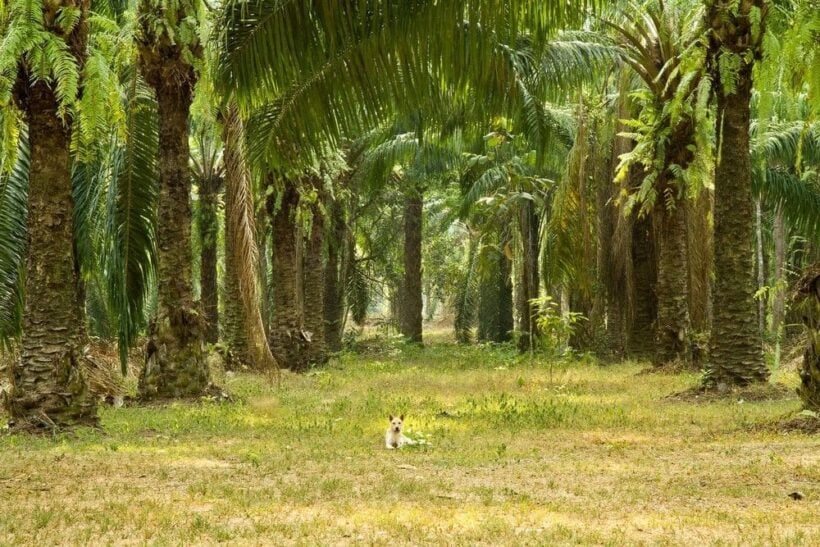 While the Thai government is promoting the use of palm oil to produce power, the latest price of the oil remains lower than the cost of producing it because the volume of output was 30% more than the expected quantity.
The Ministry of Agriculture and Cooperatives will survey the real quantity of palm oil to be released onto the market to determine a solution to the problem.
Deputy Commerce Minister Chutima Bunyapraphasara says apart from being used for electricity production, the Ministry of Energy has also extracted a bio-diesel oil B20 from the palm oil.
It was found that the amount of B20 usage had increased from 10 million litres per month to 20 million litres but is still below the intended target.
The Ministry of Agriculture and Cooperatives will explore palm growing areas to survey the quantity of production that will be released onto the market at this time. If the number seems likely to fall in May, the situation may improve.
The oversupply of palm oil earlier this year, despite the production area not increasing, was caused by farmers growing additional palms on existing farms instead of rubber, meaning their output grew this year though it was not included in the initial forecast.
The palm kernel product is turned into crude palm oil. It is mainly used for consumption. Some of it is processed in industrial factories and is used in the energy field. However, the use of palm oil for consumption and in the industrial sector cannot be increased anymore.
Therefore, the Ministry says, the only option is to use it to produce energy which is considered a long-term solution to the problem.
However, using palm oil as a fuel to produce power may not be such a good choice because the high cost might affect consumers and exports, as Thai exporters cannot compete with rival countries in terms of price at the present time.
SOURCE: National News Bureau of Thailand
Eight fishing tour boats destroyed at southern pier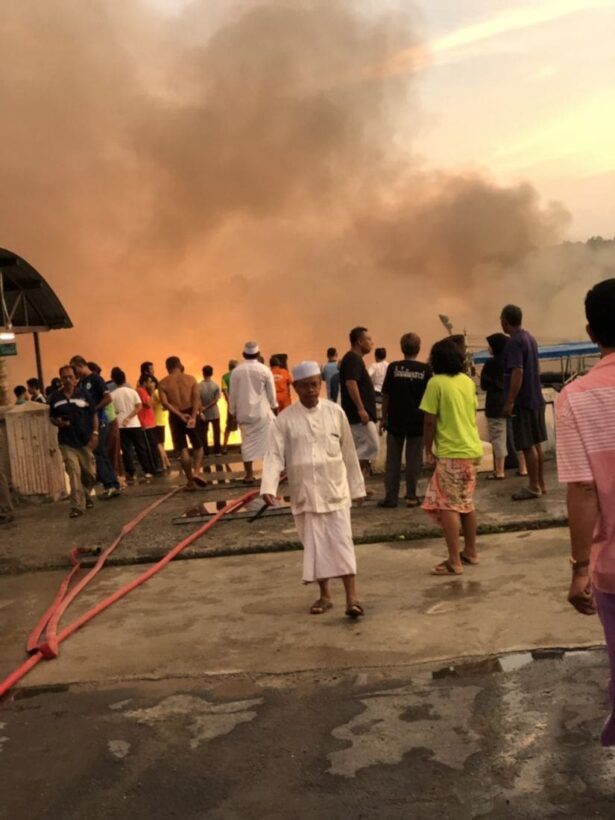 PHOTOS: The Nation
A fire has destroyed eight tourist fishing boats in Satun province earlier today.
Police report that the fire broke out at the Pak Bara pier and spread quickly from a fishing boat to seven other adjacent boats. The boats were used to take tourists out to fish in the sea. The pier is the take-off point for boats heading from the Satun mainland out to the nearby islands.
La-ngu district chief Thani Hayimasa rushed to the scene to direct the firefighting operation but the eight boats were completely gutted before he arrived.
The cause of the fire is being investigated.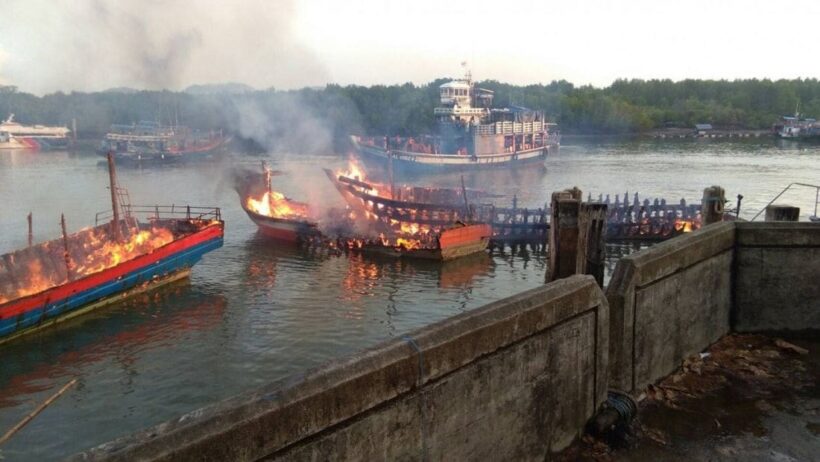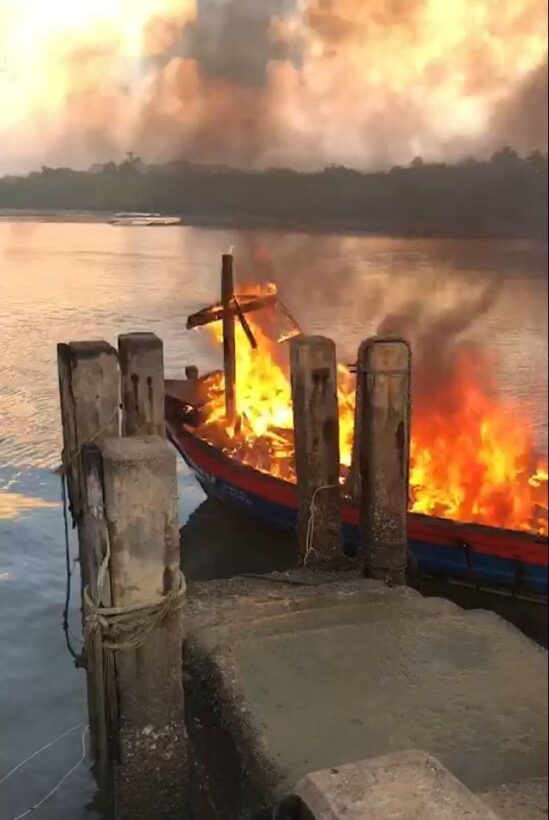 SOURCE: The Nation
Boonrod gets his own Facebook page – VIDEO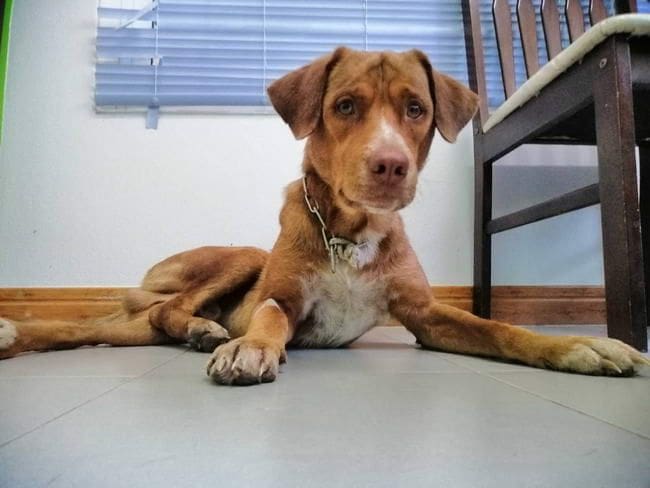 Boonrod, the dog rescued this week from an oil rig the middle of the Gulf of Thailand, can now show off his own Facebook page with more than 6,000 followers.
Launched just yesterday, Boonrod บุญรอดหมาอ่าวไทย (Boonrod Gulf of Thailand dog), has Facebook user Vitisak Payalaw serving as an administrator.
The rescue of the tan-coloured dog, named Boonrod ("Survivor" in Thai) by oil rig workers, hit both domestic and international headlines after he was fished out of the gulf last Friday by Chevron rig workers 220 kilometres from the shore.
บุญรอดเป็นหมาเรียบร้อยไม่สู้หมาตัวอื่น กับแมวก็ไม่ทำ วันนี้โดนแมวตบไป 5 ที ทำหน้า งงไปเลย#บุญรอดหมาอ่าวไทย#บุญรอด135ไมล์#Boonrod135milesWATCHDOG THAILAND#บ้านหมายิ้มหาดใหญ่

Posted by บ้านหมายิ้ม by หมาที่คอกนรกหาดใหญ่ on Friday, April 19, 2019
Boonrod recovering and meeting a few new friends
They spotted his head bobbing between the waves. How he got there and how long he had been lost at sea remains a mystery.
Boonrod was brought back to the Songkhla province to be under a vet's care and is said to be recovering well. His sad eyes, clearly visible exhaustion and quiet appearance pulled at the hearts of many who followed the rescue.
Boonrod will enjoy a new life, as the Chevron worker who rescued him has decided to adopt him. His Facebook page is now full of drawings and paintings of him made by his followers. Boonrod has been reported as being a girl dog in past articles but Boonrod is definitely a happy boy!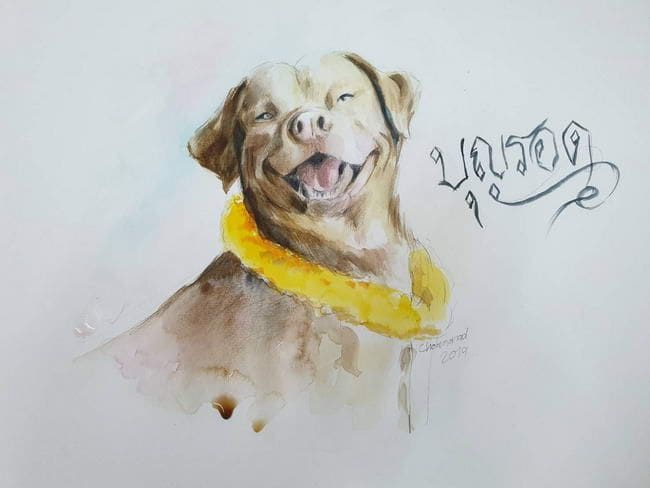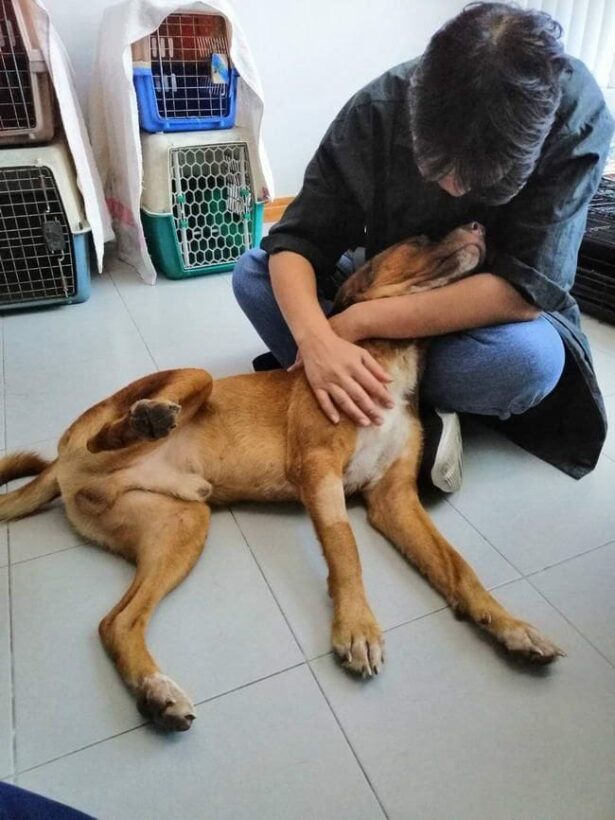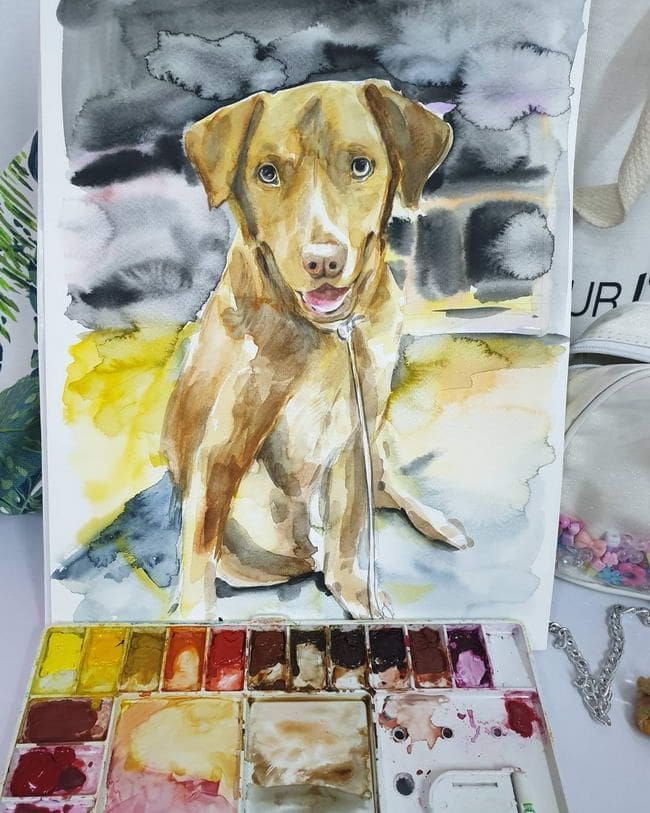 SOURCE: The Nation