PHOTOS: Mettatham Rescue Foundation
Four people are dead after a minivan collision in Narathiwat early today.
The Mettatham Rescue Foundation reports that they were notified of the accident early this morning in Bajoh, Narathiwat, in the far south of Thailand.
The minivan was carrying 12 teachers from a school in Narathiwat, from Malaysia back to the border province. Four people died at the scene and nine others sustained injuries and were rushed to hospital.
The minivan collided with a tree on the side of the road. Police currently speculate that the driver fell asleep at the wheel.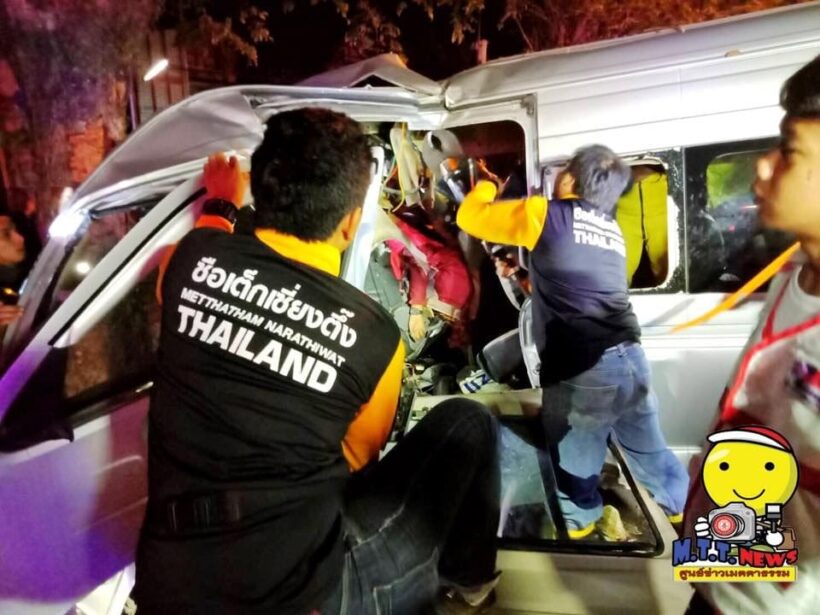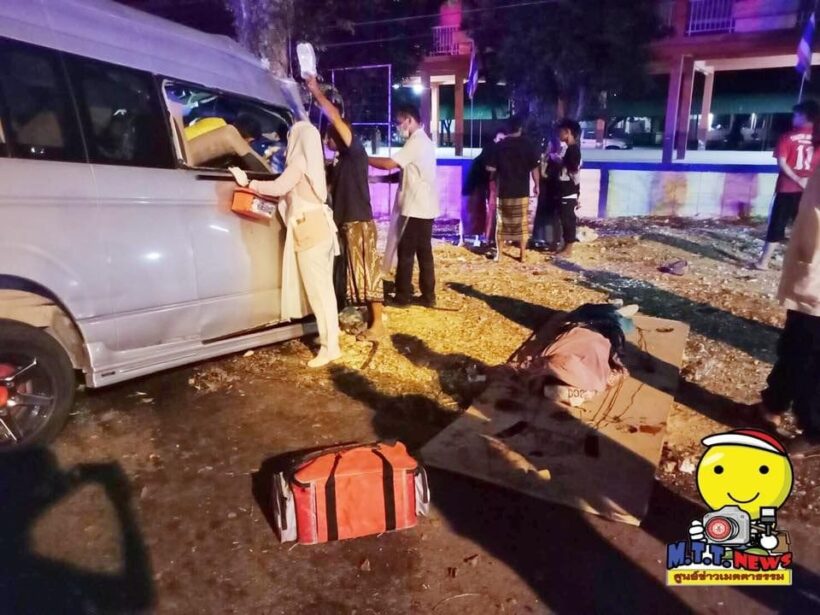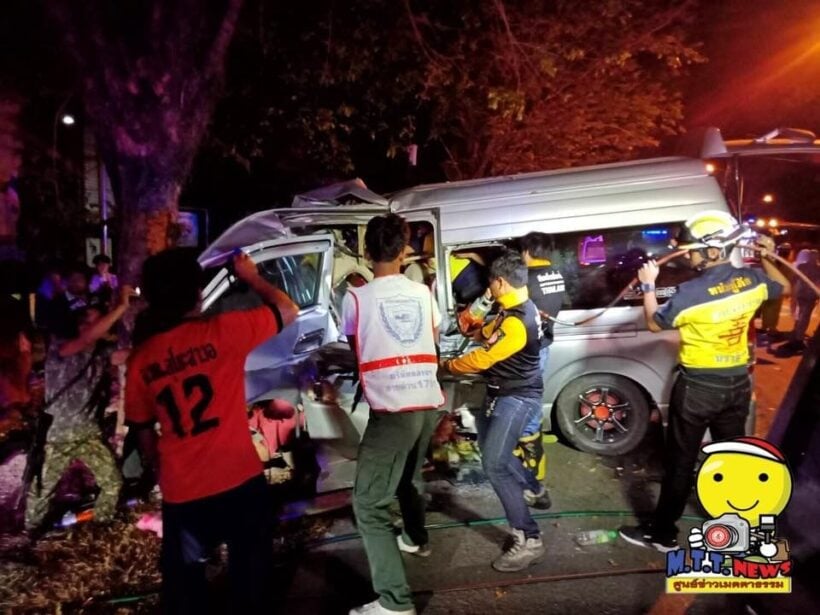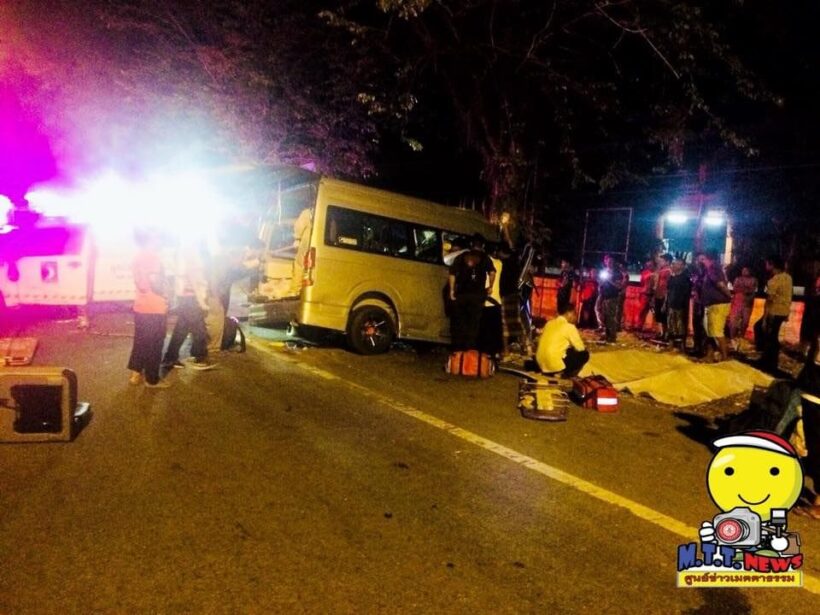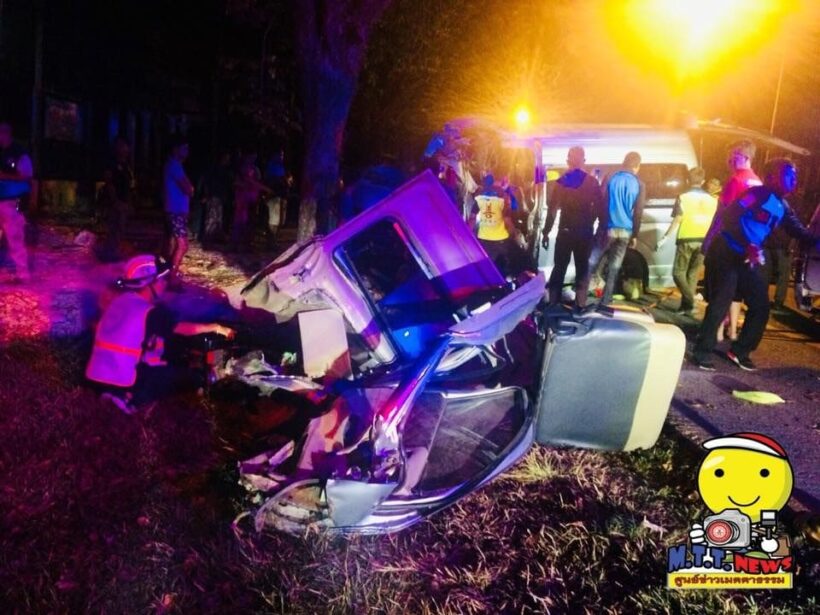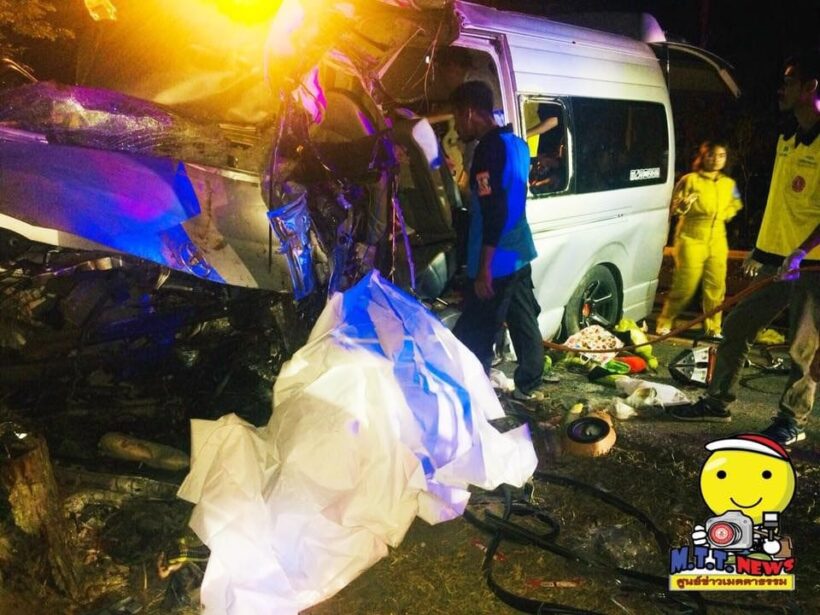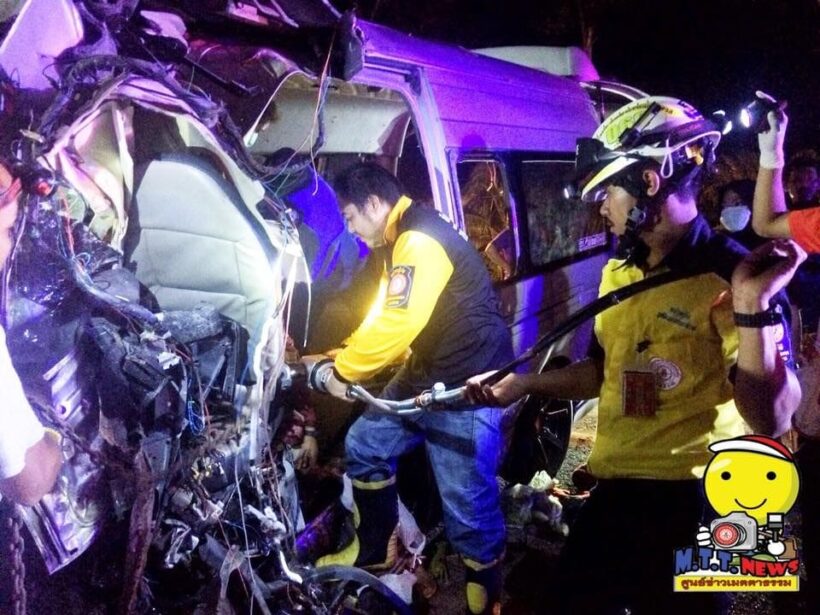 Read more headlines, reports & breaking news in South Thailand. Or catch up on your Thailand news.
Two killed, two injured in Pattani shootings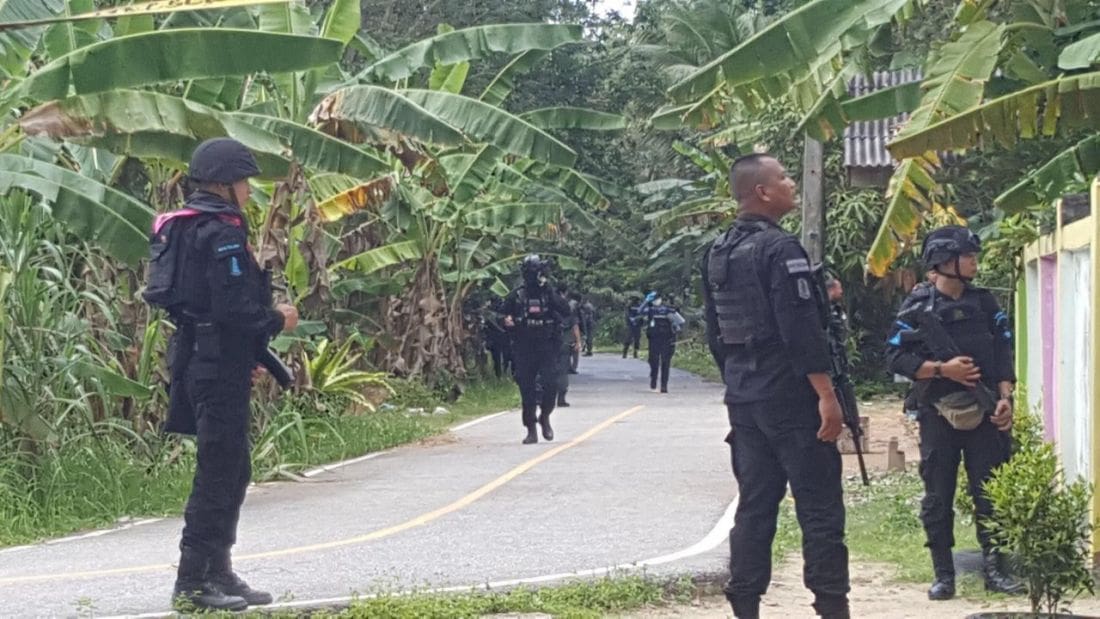 FILE PHOTO
Two people have been killed and two others injured during two separate shootings in Pattani province last night (Thursday).
In Sai Buri district, a 24 year old Narathiwat-based paramilitary ranger volunteer Pathompong Kaewthong and his 22 year old wife Nureehan Dengla, were shot and wounded in Tambon Kadunong while riding home on their motorcycle after shopping at a local market.
Two men on another motorcycle overtook them on Sai Buri-Kapor Road and the passenger shot Pathompong in the head. A stray bullet also hit Nureehan's right leg.
Police found that Pathompong was on leave and visiting his wife's hometown – they suspect that the assailants had been monitoring him for a while because he worked for the state military and launched a gun attack on him as part of the ongoing insurgency in the South.
Meanwhile, in Yarang district, a 45 year old ice-cream vendor Rosadee Nidae was shot dead at 6pm after parking his tricycle at the Jeh Bo Ngor Market in Tambon Khao Toom. A stray bullet also hit the knee of a 54 year old bystander.
Police found that the shooter had brazenly walked among the shoppers, then pulled out a gun and shot Rosadee twice before fleeing with an accomplice, who had kept his motorcycle running so they could make a speedy getaway.
Police are trying to establish if the second attack stemmed from the ongoing unrest or from a personal conflict.
SOURCE: The Nation
Boat carrying a Bangkok school group sinks at Koh Tao pier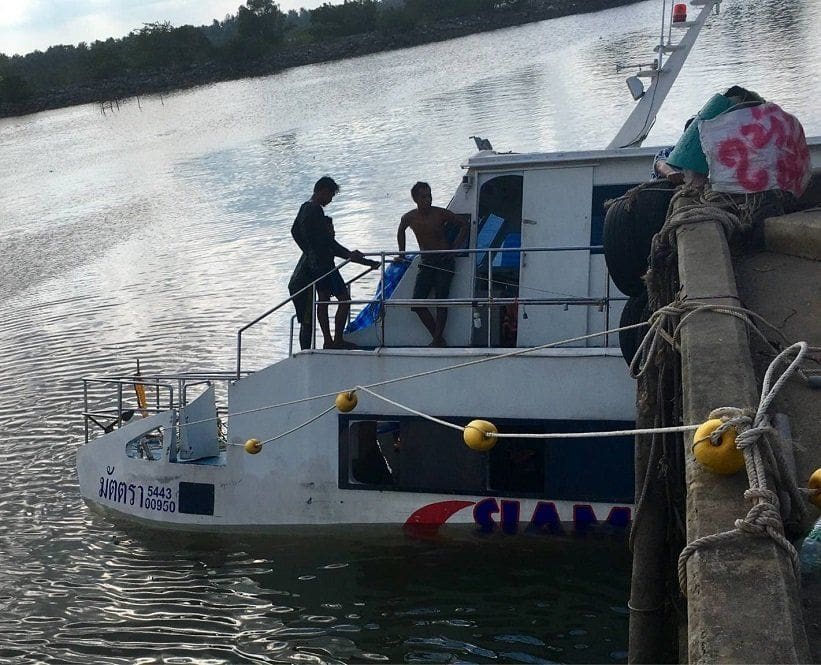 A boat carrying up to 40 schoolchildren has sunk after hitting underwater rocks next to a pier in Koh Tao last Monday. Koh Tao is a popular diving destination island in the Gulf of Thailand, north of Koh Samui.
The vessel "Mattha" was carrying around 50 people, including the group from a school in Bangkok on a snorkelling day trip  around the nearby islands. But when the boat returned later in the day, the tide was out and it hit rocks around the Songserm Pier on Koh Tao.
The rocks punctured a hole in the boat causing it to start sinking. Around 50 people including pupils, teachers and the boat's crew fled as the boat started sinking and lurching to startboard .
The vessel was operated by Siam Catamaran Tours.
A police source said the children were "very fortunate" to get off the boat without injury.
"They were lucky that they were at the pier and they got off quickly. Boats should all have systems to detect the depth of the water so questions need to be asked about why the boat sank in what is a busy pier used every day."
SOURCE: Viral Press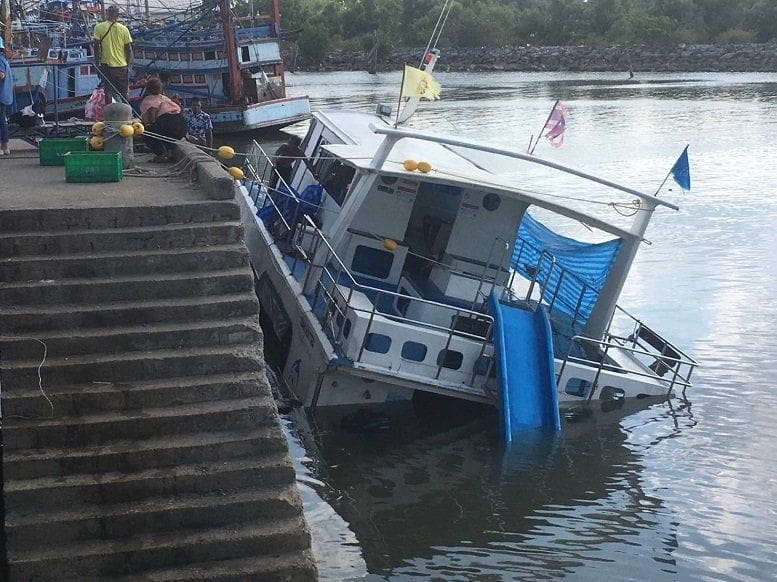 Five metre king cobra caught in Trang – VIDEO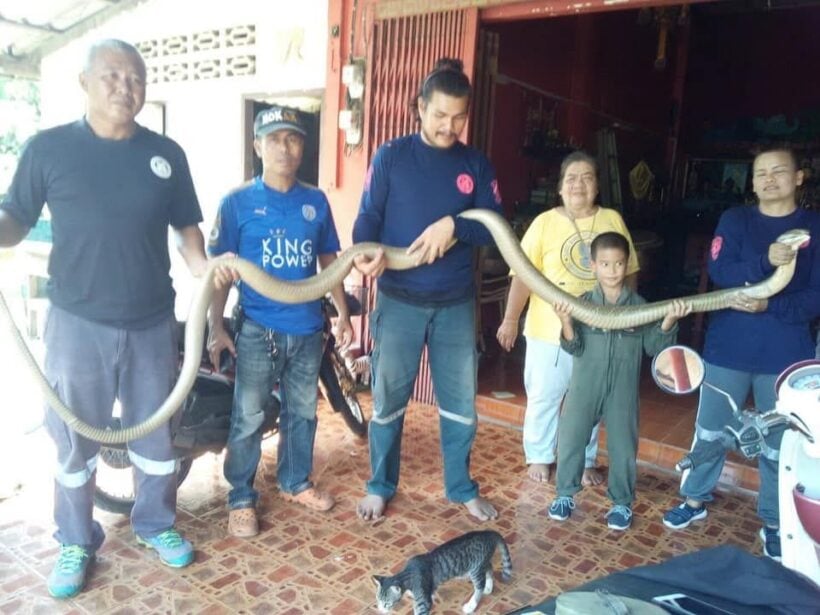 PHOTOS/VIDEO: Trang DDPM (Kantang) / Rak Trang News / Maetee Mueangkaew
A five metre king cobra has been caught in Trang, in southern Thailand, yesterday.
74 year old Amphon Srisombat, a resident at a house in Kantang district, Trang, called staff at the Department of Disaster Prevention and Mitigation to explain that the king cobra was inside her house.
A DDPM crew took a short time to catch the king cobra saying that it wasn't 'fierce' and was easily caught. The king cobra weighed about 10 kilograms. The cobra will be released back to a forest away from suburban areas.